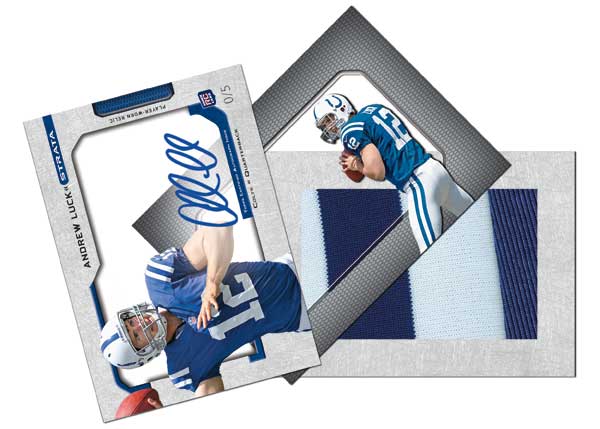 By Andrew Tolentino | Football Editor | Commentary
I'm not going to lie. These are some of the sweetest football cards (mocks of football cards, at least) I've seen in a while.
Making Monday a little more manic, Topps debuted its 2012 Strata football line, boldly noting its promise "to deliver the most cutting-edge technology collectors have ever seen." But before everybody gets their panties in a wad, neither video screens nor other gadget gimmicks are involved here. Just old-fashioned cardboard with some dramatic die-cut twists and printing surface surprises.
Slated for a late-October release (the week of Oct. 22), Strata is seeded with 18 packs per box and 12 boxes per case. Each pack contains six 2012 Topps Strata Signatures base cards and carries some serious pulling potential.
On-average Box Promises:
One Clear Cut Autograph Relic
One Rookie Autograph
One Rookie Relic
One Rookie Die-cut
On-average Case Promises:
One Strata Signature Relic Rookie Card
Three Clear Cut  Autograph Patch Rookie Cards
Three Rookie Patch cards
Base set bolsters:
100 veterans and 50 rookies and various parallels

Bronze (numbered to 150, hobby only)
Gold (numbered to 99, hobby only)
Blue (numbered to 50, hobby only)
Green (numbered to 10, hobby only)
Red (1/1, hobby only)
Printing plate (1/1, hobby only)
The autograph insert name Clear Cut seems pretty straightforward. Great, acetate. I get it. But think deeper. Think about those old encyclopedia pages dedicated to human anatomy.
Falling one per box, these cards showcase enormous jumbo jersey swatches — apparently, the largest that can be "tolerated within a card (measuring 2.875 inches x 1.875 inches)" — underneath a transparent card front with the featured player's image and autograph. Collectors who can't resist the urge to touch can get still get their fix with a die-cut window designed for feeling the Relic.  These dimensional delights come in multiple variations, falling three Autograph Patch parallels per case.
Bronze (numbered to 150)
Gold (numbered to 99)
Blue Patch (numbered to 75, hobby only)
Green Patch (numbered to 55, hobby only)
Red Patch (numbered to 30, hobby only)
Platinum Spikes (1/1 featuring cleat Relics, hobby only)
Platinum Gloves (1/1, hobby only)
Platinum RG3 Socks (1/1, hobby only)
Platinum Patch (1/1, hobby only)
The Clear Cut insert also comes in Dual Autograph Relic Rookie Patch booklet forms, including tandems like — you guessed it — Andrew Luck and Robert Griffin III. The super rare book cards should showcase up to 10 subjects in total and are one-of-one hobby exclusives.
One-per-case Strata Signature Relics continue the theme of depth with a three-layer look.
Layer one: Jumbo jersey swatches
Layer two: Die-cut cardboard frames with player portraits
Layer three: Transparent surfaces with player closeups and autographs (some stickers, some hard-signed)
Perhaps taking notes from Panini America's popular Crown Royale Rookie Silhouettes line, these cards come limited to 35 and appear in two parallel variations. Patch parallels feature jersey patches and are numbered to 15. Rarer (numbered to five) Rivet Patch parallels showcase jersey patches and rivets, allowing collectors to actually fan out all three layers of the card — ridiculous, in a good way.
After you've seen one of those Rivet Patch cards in action, regular one-per-box Rookie Autographs suddenly seem less impressive, depending on the player of course. For the collector praying to the one-of-one gods, Strata offers a Quad Rookie Autograph book card with RG3, Luck, Trent Richardson, and Justin Blackmon. Single-player Rookie Autographs feature up to 50 subjects paralleled by different levels of rarity.
Bronze (numbered to 150)
Gold (numbered to 99)
Blue (numbered to 75)
Green (numbered to 50)
Red (numbered to 25)
Platinum (1/1, hobby only)
Rookie Relic cards from Strata feature 40 subjects and their respective jersey swatches. Hobby-only parallels include:
Bronze (numbered to 150)
Gold (numbered to 99)
Blue Patch (numbered to 75)
Green Patch (numbered to 55)
Red Patch (numbered to 30)
Platinum Patch (1/1)
From autographs to inserts, die-cuts and special printing processes appear to take precedent in Strata. In due time, we'll find out just how much the cutting-edge technology means to collectors. Stay tuned to Beckett.com for more preview images and other details as they become available. In the meanwhile, enjoy the picture show.