Who's the Boss? Top Sasha Banks Cards
Over the last few years, a revolution has occured in women's wrestling and it doesn't need a tagline to make it legit. It's all about talent. While there are many names connected to this movement, Sasha Banks is definitely one of them.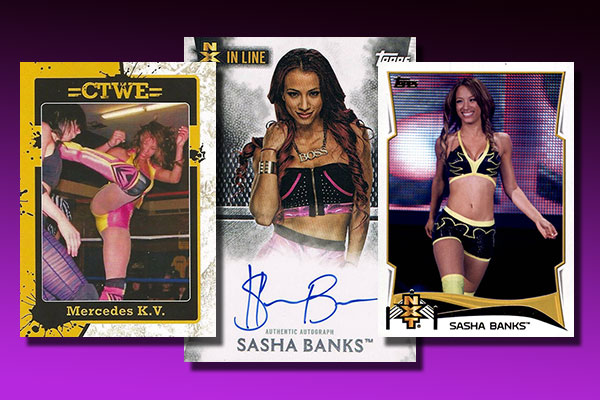 Being a focal point of the promotion, Sasha Banks trading cards are among the most popular in WWE products right now. This includes autographs, memorabilia cards and more.
But which are the best Sasha Banks cards? Here's a look at some of the most important that have been released so far.
Top Sasha Banks Cards
Here's a selection of key Sasha Banks wrestling cards. If you'd like a comprehensive list of cards and price guide (available to subscribers), here's a full checklist of Sasha Banks cards.
2012 CTWE Pro Wrestling Series 1 Mercedes K.V.
Before Sasha Banks, there was Mercedes K.V. Released by the Connecticut-based indie promotion, this isn't a card you're going to find in the wild all that often. That shouldn't downplay its importance, though. It's part of a 35-card set that also includes Bryan Danielson (Daniel Bryan) and Colt Cabana.
Buy on: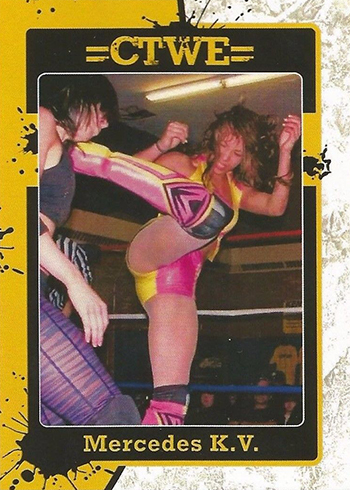 2014 Topps WWE NXT Prospects Sasha Banks #17
As for the first Sasha Banks card, it arrived in 2014 Topps WWE. Part of the NXT Prospects insert set, it has the same general design as the main set. And they're not tough to pull either. The idea behind them is to mimic the Prospect cards in Bowman Baseball products to save the eventual "Rookie Card" for when they get their call-up to the main roster. The significance here is the fact that it's Banks' first WWE card. 2014 Topps Chrome WWE has a similar card that's a little more upscale in its makeup due to the chromium card stock.
Parallels: Printing Plates Black (1/1), Printing Plates Cyan (1/1), Printing Plates Magenta (1/1), Printing Plates Yellow (1/1)
Buy on: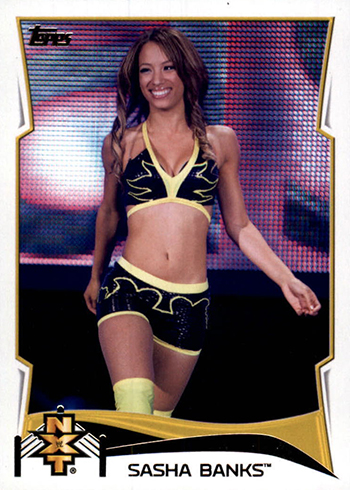 2015 Topps Heritage WWE Autographs Sasha Banks #SB
The first Sasha Banks autograph card is a good one. For almost a decade, every Topps WWE set used stickers for the autographs. That's slowly changing, even in products that aren't exactly high-end. This particular card, which is hard-signed, is based on the 1985 Topps Baseball design and features Banks as NXT Women's Champion. Parallels can be discerned by the border color and serial number.
Parallels: Black (/50), Silver (/25), Gold (/10), Red (1/1)
Buy on: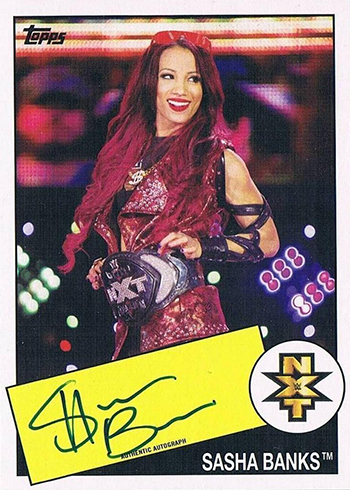 2015 Topps WWE Undisputed NXT In Line Autographs Sasha Banks #NASB
Releasing not long after Heritage, 2015 Topps WWE Undisputed was their first truly high-end wrestling set. Like Heritage, the signature comes on-card. But rather than nostalgia, this one takes a more premium and elegant approach. Part of the NXT In Line Autographs inserts, the base version isn't numbered but the parallels are.
Parallels: Black (/50), Purple (/25), Gold (1/1)
Buy on: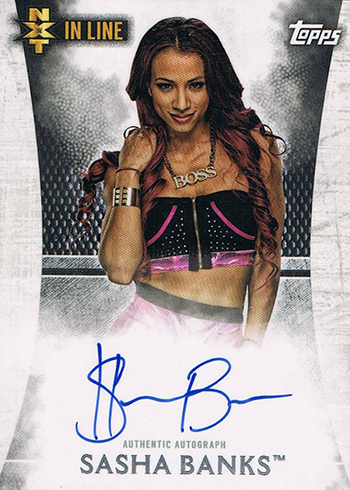 2016 Topps Heritage WWE Dual Autographs Sasha Banks/Bayley #11 /11
The rivalry between Sasha Banks and Bayley predates their time on the main WWE roster. And it's bound to continue for years to come. Both are cornerstone's of not only the Women's Division but WWE as a whole. Limited to just 11 copies, there are very few of these to go around.
Buy on: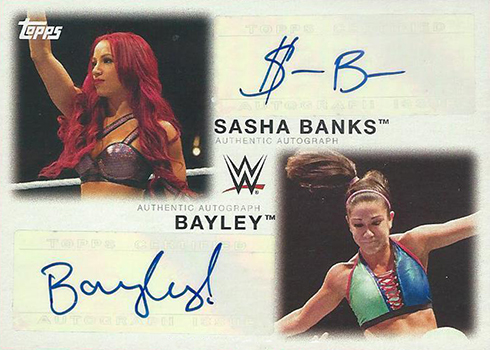 2016 Topps WWE Diva Kiss Sasha Banks #SB /99
Yes, those are Sasha Banks' lip prints on the card. Think of it as a different kind of autograph. Kiss cards have actually been around for more than a decade, going back to when Fleer had the WWE license. This particular card has both regular versions as well as an autograph. A similar Sasha Banks Kiss card is in 2016 Topps WWE Road to Wrestlemania.
Parallels: Autograph (/25), Gold (/10) Autograph Gold (/10), AutographPrinting Plates Black (1/1), Autograph Printing Plates Cyan (1/1), Autograph Printing Plates Magenta (1/1), Autograph Printing Plates Yellow (1/1), Red (1/1), Autograph Red (1/1)
Buy on: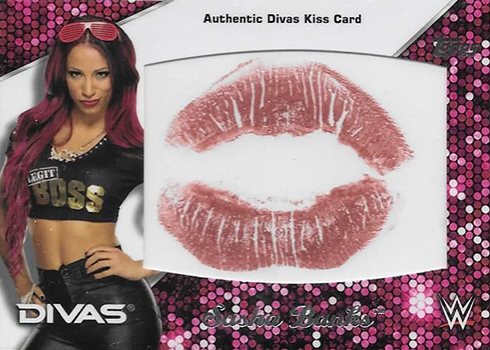 2016 Topps WWE Road to Wrestlemania Dual Autographs Sasha Banks/Becky Lynch #6 /11
Everything about the 2016 Topps Heritage WWE Sasha Banks/Bayley dual autograph applies here as well, including the extreme rarity. This one also has a thing for flamboyant eyewear.
Buy on: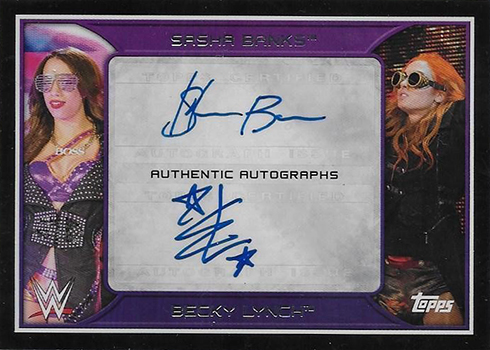 2016 Topps WWE Undisputed Faction Triple Autograph Booklets Sasha Banks/Naomi/Tamina #FTANBT /10
All right, so Team B.A.D. didn't have a lot of staying power as a faction. And they weren't overly memorable as a group. But when you talk about Sasha Banks' journey, Naomi and Tamina are important pieces in Banks' debut on the big stage. This tough card comes from Undisputed's high0end follow-up. The signatures are all on stickers but the card is limited to just ten copies.
Buy on: