Off-Takk: Takkarist McKinley Didn't Sign All of His 2017 Contenders Draft and Elite Draft Autographs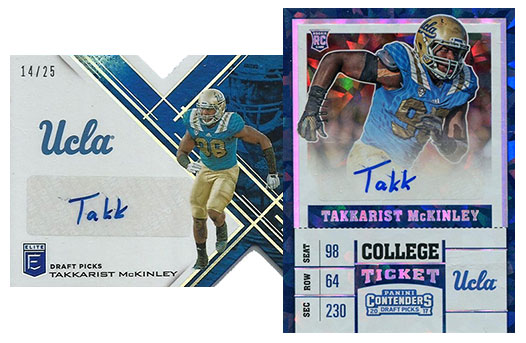 By Ryan Cracknell | Hobby Editor
2017 Panini Contenders Draft and 2017 Elite Draft both have Takkarist McKinley autograph cards on their checklists. But there's a problem — the signatures don't all belong to the Atlanta Falcons first round pick.
In a statement released on Panini's blog, they confirmed that somebody else signed at least some on his behalf.
"While this is an extremely unfortunate situation, Panini America officials have agreed to work with McKinley and his representatives to rectify the issue by offering to replace any McKinley autograph cards from the aforementioned products with versions featuring authentic McKinley signatures," part of the statement said.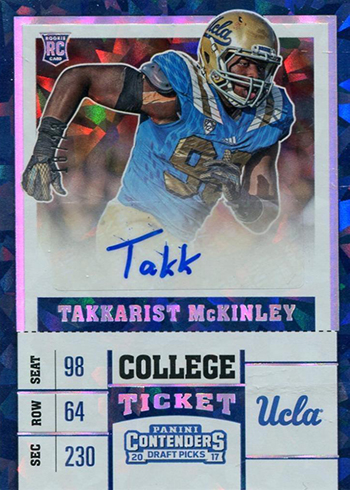 Collectors can send their Takkarist McKinley autograph cards from both products to:
Panini America
Takkarist McKinley Auto Replacement
5325 FAA Boulevartd, Suite 100
Irving, Texas 75061
McKinley autographs are not on the 2017 Score Football checklist.
The defensive end does have autographs in 2017 SAGE Hit Premier Draft and 2017 Leaf Draft. Both have since confirmed with that the signatures on their cards are authentic.
Leaf's Brian Gray spoke with McKinley's representatives following Panini's announcement. Gray said that the potential issue arose for signatures acquired after McKinley had shoulder surgery on the arm that he writes with.
SAGE said that the situation was the same with the signatures on their cards, which were also signed prior to his surgery.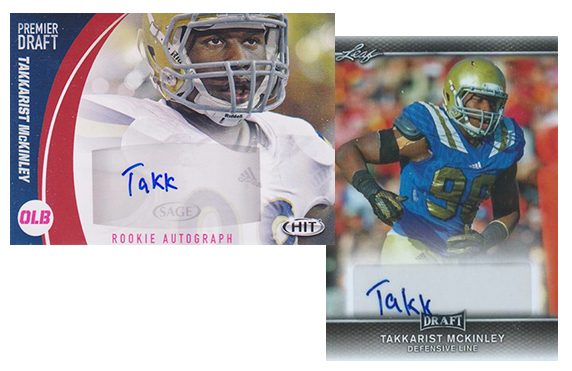 McKinley isn't the first person to not actually. In 2012, it was discovered that hockey's Devante Smith-Pelly originally used a rubber stamp for his cards from Panini and Upper Deck. A similar situation happened a couple of years later with Katie Cassidy autographs in Cryptozoic's Supernatural Seasons 1-3 release.
Comments? Questions? Contact Ryan Cracknell on Twitter @tradercracks.