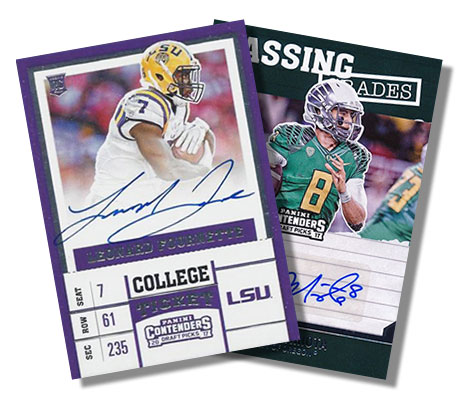 Just like its NFL counterpart, Contenders Draft Picks has plenty of autographs that are more scarce than others. Panini has released a full list of 2017 Contenders Draft Picks Football short prints.
These fall under several parts of the checklist, not just the main College Ticket Autographs. Inserts like Alumni Ink, School Colors Signatures, Collegiate Connections Signatures and more have short prints as well in 2017 Panini Contenders Draft Picks Football.
Although exact print runs have not been released, cards fall under two general categories. SP cards are limited to 200 copies or less. SSP cards have no more than 100 copies each.
2017 Panini Contenders Draft Picks Football Short Prints
SP = 200 copies or less
SSP = 100 copies or less
College Ticket Autographs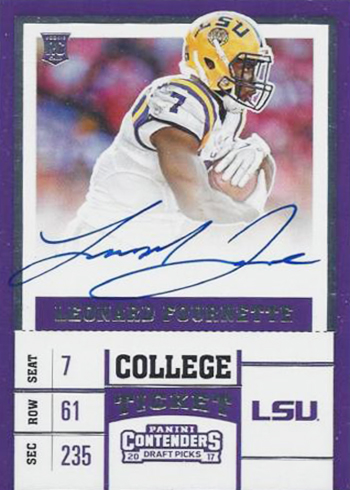 101 Deshaun Watson SP
102 Leonard Fournette SP
103 Dalvin Cook SP
104 Mitchell Trubisky SP
105 JuJu Smith-Schuster SP
106 Brad Kaaya SP
107 Christian McCaffrey SP
108 O.J. Howard SP
109 Mike Williams SP
111 D'Onta Foreman SP
113 Chad Kelly SP
114 Isaiah Ford SP
116 John Ross SP
117 Dede Westbrook SP
118 Samaje Perine SP
119 Corey Davis SP
120 Amara Darboh SP
121 Travis Rudolph SP
123 Jeremy McNichols SP
124 Cooper Kupp SP
129 Malachi Dupre SSP
130 Donnel Pumphrey SSP
141 Corey Clement SP
142 Zay Jones SP
145 Davis Webb SP
147 Curtis Samuel SP
158 Brian Hill SP
167 KD Cannon SSP
177 Jabrill Peppers SSP
178 Malik McDowell SP
180 Jonathan Allen SP
183 Marlon Humphrey SSP
185 Derek Barnett SSP
193 Cordrea Tankersley SSP
198 Malik Hooker SSP
206 Adoree' Jackson SP
226 Mack Hollins SP
299 Jalen Myrick SP
College Draft Ticket Blue Foil
101 Deshaun Watson SSP
102 Leonard Fournette SSP
103 Dalvin Cook SSP
104 Mitchell Trubisky SSP
105 JuJu Smith-Schuster SSP
106 Brad Kaaya SSP
107 Christian McCaffrey SSP
108 O.J. Howard SSP
109 Mike Williams SSP
111 D'Onta Foreman SSP
112 Jake Butt SSP
113 Chad Kelly SSP
114 Isaiah Ford SSP
116 John Ross SSP
117 Dede Westbrook SSP
118 Samaje Perine SSP
119 Corey Davis SSP
120 Amara Darboh SSP
121 Travis Rudolph SSP
123 Jeremy McNichols SSP
124 Cooper Kupp SSP
125 Artavis Scott SSP
126 Joe Mixon SSP
127 Jordan Leggett SSP
128 Evan Engram SSP
129 Malachi Dupre SSP
130 Donnel Pumphrey SSP
131 Noah Brown SSP
132 Cooper Rush SSP
133 Stacy Coley SSP
135 James Quick SSP
136 Ryan Switzer SSP
137 ArDarius Stewart SSP
138 Elijah Hood SSP
139 Jehu Chesson SSP
140 C.J. Beathard SSP
141 Corey Clement SSP
142 Zay Jones SSP
143 Chris Godwin SSP
145 Davis Webb SSP
146 Darreus Rogers SSP
147 Curtis Samuel SSP
148 Kareem Hunt SSP
149 Carlos Henderson SSP
150 Elijah McGuire SSP
151 Travin Dural SSP
153 Damore'ea Stringfellow SSP
154 Amba Etta-Tawo SSP
155 Marlon Mack SSP
156 Jerod Evans SSP
157 James Conner SSP
158 Brian Hill SSP
160 R. Joshua Dobbs SSP
164 Marcus Cox SSP
167 KD Cannon SSP
169 Taywan Taylor SSP
173 Alvin Kamara SSP
175 Seth Russell SSP
177 Jabrill Peppers SSP
178 Malik McDowell SSP
180 Jonathan Allen SSP
181 Jamal Adams SSP
183 Marlon Humphrey SSP
184 Tim Williams SSP
185 Derek Barnett SSP
187 Desmond King SSP
188 Jarrad Davis SSP
189 Carl Lawson SSP
190 Dan Feeney SSP
192 Ben Boulware SSP
194 Zach Cunningham SSP
196 Quincy Wilson SSP
197 Charles Harris SSP
198 Malik Hooker SSP
199 Sidney Jones SSP
200 Haason Reddick SSP
202 Marcus Williams SSP
206 Adoree' Jackson SSP
210 Adam Shaheen SSP
215 Trevor Knight SSP
218 Kenny Golladay SSP
221 Obi Melifonwu SSP
223 Brady Gustafson SSP
230 DeShone Kizer SSP
231 Mitch Leidner SSP
238 Carlos Watkins SSP
247 Joseph Yearby SSP
250 Jamaal Williams SSP
254 T.J. Watt SSP
255 Devine Redding SSP
258 Trent Taylor SSP
259 Billy Brown SSP
261 Kendell Beckwith SSP
265 Raekwon McMillan SSP
272 Ryan Ramczyk SSP
274 Ashton Lampkin SSP
279 Sefo Liufau SSP
282 Shelton Gibson SSP
285 Des Lawrence SSP
292 Tanner Vallejo SSP
293 Marshon Lattimore SSP
298 Patrick Mahomes II SSP
299 Jalen Myrick SSP
300 Gunner Kiel SSP
College Draft Ticket Red Foil
101 Deshaun Watson SSP
102 Leonard Fournette SSP
103 Dalvin Cook SSP
104 Mitchell Trubisky SSP
105 JuJu Smith-Schuster SSP
106 Brad Kaaya SSP
107 Christian McCaffrey SSP
108 O.J. Howard SSP
109 Mike Williams SSP
111 D'Onta Foreman SSP
112 Jake Butt SSP
113 Chad Kelly SSP
114 Isaiah Ford SSP
116 John Ross SSP
117 Dede Westbrook SSP
118 Samaje Perine SSP
119 Corey Davis SSP
120 Amara Darboh SSP
121 Travis Rudolph SSP
123 Jeremy McNichols SSP
124 Cooper Kupp SSP
125 Artavis Scott SSP
126 Joe Mixon SSP
127 Jordan Leggett SSP
128 Evan Engram SSP
129 Malachi Dupre SSP
130 Donnel Pumphrey SSP
131 Noah Brown SSP
132 Cooper Rush SSP
133 Stacy Coley SSP
134 Jeremy Sprinkle SP
135 James Quick SSP
136 Ryan Switzer SSP
137 ArDarius Stewart SSP
138 Elijah Hood SSP
139 Jehu Chesson SSP
140 C.J. Beathard SSP
141 Corey Clement SSP
142 Zay Jones SSP
143 Chris Godwin SSP
144 Blake Jarwin SP
145 Davis Webb SSP
146 Darreus Rogers SSP
147 Curtis Samuel SSP
148 Kareem Hunt SSP
149 Carlos Henderson SSP
150 Elijah McGuire SSP
151 Travin Dural SSP
152 Pharaoh Brown SP
153 Damore'ea Stringfellow SSP
154 Amba Etta-Tawo SSP
155 Marlon Mack SSP
156 Jerod Evans SSP
157 James Conner SSP
158 Brian Hill SSP
159 Speedy Noil SP
160 R. Joshua Dobbs SSP
161 Justin Davis SP
162 Fred Ross SP
163 Josiah Price SP
164 Marcus Cox SSP
165 Josh Reynolds SP
166 De'Veon Smith SP
167 KD Cannon SSP
168 Darrell Daniels SP
169 Taywan Taylor SSP
170 Gerald Everett SP
171 Jahad Thomas SP
172 Quincy Adeboyejo SP
173 Alvin Kamara SSP
174 De'Angelo Henderson SP
175 Seth Russell SSP
177 Jabrill Peppers SSP
178 Malik McDowell SSP
180 Jonathan Allen SSP
181 Jamal Adams SSP
182 Cole Hikutini SP
183 Marlon Humphrey SSP
184 Tim Williams SSP
185 Derek Barnett SSP
187 Desmond King SSP
188 Jarrad Davis SSP
189 Carl Lawson SSP
190 Dan Feeney SSP
191 Solomon Thomas SP
192 Ben Boulware SSP
193 Cordrea Tankersley SP
194 Zach Cunningham SSP
195 Budda Baker SP
196 Quincy Wilson SSP
197 Charles Harris SSP
198 Malik Hooker SSP
199 Sidney Jones SSP
200 Haason Reddick SSP
201 Eddie Jackson SP
202 Marcus Williams SSP
204 Dawuane Smoot SP
205 Michael Rector SP
206 Adoree' Jackson SSP
207 Charles Walker SP
208 Cameron Sutton SP
209 Tre'Davious White SP
210 Adam Shaheen SSP
212 Freddie Stevenson SP
213 Sam Rogers SP
214 Ricky Seals-Jones SP
215 Trevor Knight SSP
216 Phazahn Odom SSP
217 Corey Smith SP
218 Kenny Golladay SSP
220 Chris Carson SP
221 Obi Melifonwu SSP
222 Dare Ogunbowale SP
223 Brady Gustafson SSP
224 Gabe Marks SP
226 Mack Hollins SP
227 Shock Linwood SP
228 Rushel Shell III SP
229 DeAngelo Yancey SP
230 DeShone Kizer SSP
231 Mitch Leidner SSP
233 Channing Stribling SP
234 Taco Charlton SP
235 Anthony Walker Jr. SP
236 Elijah Qualls SP
237 DeMarcus Walker SP
238 Carlos Watkins SSP
239 Gareon Conley SP
241 Chris Wormley SP
243 Ryan Glasgow SP
244 Ryan Anderson SP
245 Josh Harvey-Clemons SP
246 Daeshon Hall SP
247 Joseph Yearby SSP
248 Marcus Maye SP
249 Steven Taylor SP
250 Jamaal Williams SSP
251 Bryan Cox SP
252 Justin Evans SP
253 Marquez White SP
254 T.J. Watt SSP
255 Devine Redding SSP
256 Jaleel Johnson SP
257 Josh Malone SP
258 Trent Taylor SSP
259 Billy Brown SSP
260 Jalen Reeves-Maybin SP
261 Kendell Beckwith SSP
262 Montravius Adams SP
264 Vince Biegel SP
265 Raekwon McMillan SSP
266 Takkarist McKinley SP
267 Josh Carraway SP
268 Jordan Willis SP
269 Davon Godchaux SP
270 Eddie Vanderdoes SP
271 Matt Milano SP
272 Ryan Ramczyk SSP
273 Damontae Kazee SP
274 Ashton Lampkin SSP
275 Keith Kelsey SP
276 Kevin King SP
277 Chidobe Awuzie SP
278 Deatrich Wise Jr. SP
279 Sefo Liufau SSP
280 Ejuan Price SP
281 Montae Nicholson SP
282 Shelton Gibson SSP
283 Hardy Nickerson SP
284 Riley Bullough SP
285 Des Lawrence SSP
286 Tony Conner SP
287 Randall Goforth SP
288 Calvin Munson SP
289 Fabian Moreau SP
290 Chad Hansen SP
291 Zach Pascal SP
292 Tanner Vallejo SSP
293 Marshon Lattimore SSP
294 Joe Mathis SP
296 Tyus Bowser SSP
297 Matthew Dayes SP
298 Patrick Mahomes II SSP
299 Jalen Myrick SSP
300 Gunner Kiel SSP
College Ticket Variation Autographs
101 Deshaun Watson SSP
101 Deshaun Watson SSP
101 Deshaun Watson SSP
102 Leonard Fournette SSP
102 Leonard Fournette SSP
102 Leonard Fournette SSP
103 Dalvin Cook SSP
103 Dalvin Cook SSP
103 Dalvin Cook SSP
104 Mitchell Trubisky SSP
104 Mitchell Trubisky SSP
104 Mitchell Trubisky SSP
105 JuJu Smith-Schuster SSP
105 JuJu Smith-Schuster SSP
105 JuJu Smith-Schuster SSP
106 Brad Kaaya SSP
106 Brad Kaaya SSP
106 Brad Kaaya SSP
107 Christian McCaffrey SSP
107 Christian McCaffrey SSP
107 Christian McCaffrey SSP
108 O.J. Howard SSP
108 O.J. Howard SSP
108 O.J. Howard SSP
109 Mike Williams SSP
109 Mike Williams SSP
109 Mike Williams SSP
111 D'Onta Foreman SSP
111 D'Onta Foreman SSP
111 D'Onta Foreman SSP
112 Jake Butt SSP
112 Jake Butt SSP
112 Jake Butt SSP
113 Chad Kelly SSP
113 Chad Kelly SSP
113 Chad Kelly SSP
114 Isaiah Ford SSP
114 Isaiah Ford SSP
114 Isaiah Ford SSP
116 John Ross SSP
116 John Ross SSP
116 John Ross SSP
117 Dede Westbrook SSP
117 Dede Westbrook SSP
117 Dede Westbrook SSP
118 Samaje Perine SSP
118 Samaje Perine SSP
118 Samaje Perine SSP
119 Corey Davis SSP
119 Corey Davis SSP
119 Corey Davis SSP
120 Amara Darboh SSP
120 Amara Darboh SSP
120 Amara Darboh SSP
121 Travis Rudolph SSP
121 Travis Rudolph SSP
121 Travis Rudolph SSP
123 Jeremy McNichols SSP
123 Jeremy McNichols SSP
123 Jeremy McNichols SSP
124 Cooper Kupp SSP
124 Cooper Kupp SSP
124 Cooper Kupp SSP
125 Artavis Scott SSP
125 Artavis Scott SSP
125 Artavis Scott SSP
126 Joe Mixon SSP
127 Jordan Leggett SSP
128 Evan Engram SSP
129 Malachi Dupre SSP
130 Donnel Pumphrey SSP
132 Cooper Rush SSP
133 Stacy Coley SSP
135 James Quick SSP
136 Ryan Switzer SP
137 ArDarius Stewart SP
138 Elijah Hood SSP
139 Jehu Chesson SP
140 C.J. Beathard SSP
141 Corey Clement SSP
142 Zay Jones SSP
143 Chris Godwin SP
145 Davis Webb SSP
147 Curtis Samuel SSP
148 Kareem Hunt SSP
149 Carlos Henderson SSP
150 Elijah McGuire SSP
College Draft Variation Ticket Blue Foil
101 Deshaun Watson SSP
101 Deshaun Watson SSP
101 Deshaun Watson SSP
102 Leonard Fournette SSP
102 Leonard Fournette SSP
102 Leonard Fournette SSP
103 Dalvin Cook SSP
103 Dalvin Cook SSP
103 Dalvin Cook SSP
104 Mitchell Trubisky SSP
104 Mitchell Trubisky SSP
104 Mitchell Trubisky SSP
105 JuJu Smith-Schuster SSP
105 JuJu Smith-Schuster SSP
105 JuJu Smith-Schuster SSP
106 Brad Kaaya SSP
106 Brad Kaaya SSP
106 Brad Kaaya SSP
107 Christian McCaffrey SSP
107 Christian McCaffrey SSP
107 Christian McCaffrey SSP
108 O.J. Howard SSP
108 O.J. Howard SSP
108 O.J. Howard SSP
109 Mike Williams SSP
109 Mike Williams SSP
109 Mike Williams SSP
111 D'Onta Foreman SSP
111 D'Onta Foreman SSP
111 D'Onta Foreman SSP
112 Jake Butt SSP
112 Jake Butt SSP
112 Jake Butt SSP
113 Chad Kelly SSP
113 Chad Kelly SSP
113 Chad Kelly SSP
114 Isaiah Ford SSP
114 Isaiah Ford SSP
114 Isaiah Ford SSP
116 John Ross SSP
116 John Ross SSP
116 John Ross SSP
117 Dede Westbrook SSP
117 Dede Westbrook SSP
117 Dede Westbrook SSP
118 Samaje Perine SSP
118 Samaje Perine SSP
118 Samaje Perine SSP
119 Corey Davis SSP
119 Corey Davis SSP
119 Corey Davis SSP
120 Amara Darboh SSP
120 Amara Darboh SSP
120 Amara Darboh SSP
121 Travis Rudolph SSP
121 Travis Rudolph SSP
121 Travis Rudolph SSP
123 Jeremy McNichols SSP
123 Jeremy McNichols SSP
123 Jeremy McNichols SSP
124 Cooper Kupp SSP
124 Cooper Kupp SSP
124 Cooper Kupp SSP
125 Artavis Scott SSP
125 Artavis Scott SSP
125 Artavis Scott SSP
126 Joe Mixon SSP
127 Jordan Leggett SSP
128 Evan Engram SSP
129 Malachi Dupre SSP
130 Donnel Pumphrey SSP
131 Noah Brown SSP
132 Cooper Rush SSP
133 Stacy Coley SSP
134 Jeremy Sprinkle SSP
135 James Quick SSP
136 Ryan Switzer SSP
137 ArDarius Stewart SSP
138 Elijah Hood SSP
139 Jehu Chesson SSP
140 C.J. Beathard SSP
141 Corey Clement SSP
142 Zay Jones SSP
143 Chris Godwin SSP
144 Blake Jarwin SSP
145 Davis Webb SSP
146 Darreus Rogers SSP
147 Curtis Samuel SSP
148 Kareem Hunt SSP
149 Carlos Henderson SSP
150 Elijah McGuire SSP
College Draft Variation Ticket Red Foil
101 Deshaun Watson SSP
101 Deshaun Watson SSP
101 Deshaun Watson SSP
102 Leonard Fournette SSP
102 Leonard Fournette SSP
102 Leonard Fournette SSP
103 Dalvin Cook SSP
103 Dalvin Cook SSP
103 Dalvin Cook SSP
104 Mitchell Trubisky SSP
104 Mitchell Trubisky SSP
104 Mitchell Trubisky SSP
105 JuJu Smith-Schuster SSP
105 JuJu Smith-Schuster SSP
105 JuJu Smith-Schuster SSP
106 Brad Kaaya SSP
106 Brad Kaaya SSP
106 Brad Kaaya SSP
107 Christian McCaffrey SSP
107 Christian McCaffrey SSP
107 Christian McCaffrey SSP
108 O.J. Howard SSP
108 O.J. Howard SSP
108 O.J. Howard SSP
109 Mike Williams SSP
109 Mike Williams SSP
109 Mike Williams SSP
111 D'Onta Foreman SSP
111 D'Onta Foreman SSP
111 D'Onta Foreman SSP
112 Jake Butt SSP
112 Jake Butt SSP
112 Jake Butt SSP
113 Chad Kelly SSP
113 Chad Kelly SSP
113 Chad Kelly SSP
114 Isaiah Ford SSP
114 Isaiah Ford SSP
114 Isaiah Ford SSP
116 John Ross SSP
116 John Ross SSP
116 John Ross SSP
117 Dede Westbrook SSP
117 Dede Westbrook SSP
117 Dede Westbrook SSP
118 Samaje Perine SSP
118 Samaje Perine SSP
118 Samaje Perine SSP
119 Corey Davis SSP
119 Corey Davis SSP
119 Corey Davis SSP
120 Amara Darboh SSP
120 Amara Darboh SSP
120 Amara Darboh SSP
121 Travis Rudolph SSP
121 Travis Rudolph SSP
121 Travis Rudolph SSP
123 Jeremy McNichols SSP
123 Jeremy McNichols SSP
123 Jeremy McNichols SSP
124 Cooper Kupp SSP
124 Cooper Kupp SSP
124 Cooper Kupp SSP
125 Artavis Scott SSP
125 Artavis Scott SSP
125 Artavis Scott SSP
126 Joe Mixon SSP
127 Jordan Leggett SSP
128 Evan Engram SSP
129 Malachi Dupre SSP
130 Donnel Pumphrey SSP
131 Noah Brown SSP
132 Cooper Rush SSP
133 Stacy Coley SSP
134 Jeremy Sprinkle SSP
135 James Quick SSP
136 Ryan Switzer SSP
137 ArDarius Stewart SSP
138 Elijah Hood SSP
139 Jehu Chesson SSP
140 C.J. Beathard SSP
141 Corey Clement SSP
142 Zay Jones SSP
143 Chris Godwin SSP
144 Blake Jarwin SSP
145 Davis Webb SSP
146 Darreus Rogers SSP
147 Curtis Samuel SSP
148 Kareem Hunt SSP
149 Carlos Henderson SSP
150 Elijah McGuire SSP
Alumni Ink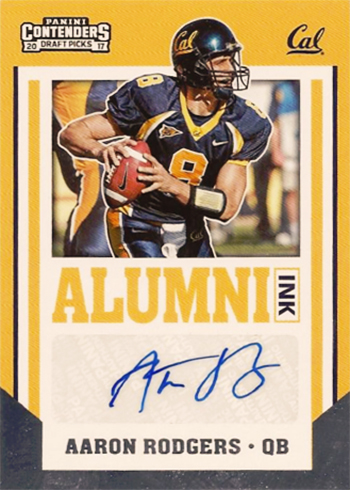 1 Aaron Rodgers SSP
2 Antonio Brown SSP
3 Archie Manning SSP
4 Bo Jackson SSP
5 Brett Favre SSP
6 Brian Bosworth SSP
7 Carson Wentz SSP
8 Dak Prescott SSP
9 Dan Marino SSP
10 Derrick Henry SSP
11 Earl Campbell SSP
12 Eli Manning SSP
14 J.J. Watt SSP
15 Jameis Winston SSP
16 Jerry Rice SSP
17 John Elway SSP
18 LaDainian Tomlinson SSP
19 Lawrence Taylor SSP
20 Marcus Allen SSP
21 Marcus Mariota SSP
22 Marshall Faulk SSP
23 Michael Irvin SSP
24 Peyton Manning SSP
25 Richard Sherman SSP
26 Roger Staubach SSP
27 Thurman Thomas SSP
28 Tim Tebow SSP
29 Tom Brady SSP
30 Tony Dorsett SSP
Collegiate Connections Signatures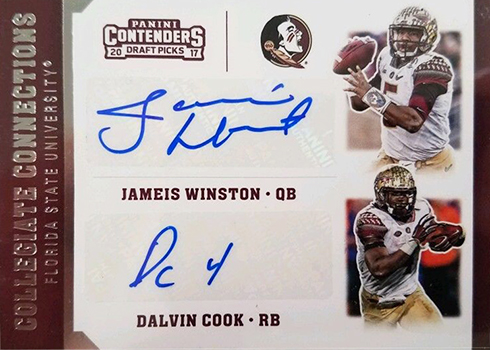 1 Deshaun Watson/Mike Williams SSP
2 Samaje Perine/Billy Sims SSP
3 Mitchell Trubisky/Ryan Switer SSP
4 Adoree' Jackson/Ju Ju Smith Schuster SSP
6 Samaje Perine/Dede Westbrook SSP
7 Jameis Winston/Dalvin Cook SSP
8 Donnel Pumphrey/Marshall Faulk SSP
9 Andrew Luck/Christian McCaffrey SSP
10 Ricky Williams/D'Onta Foreman SSP
Old School Colors Signatures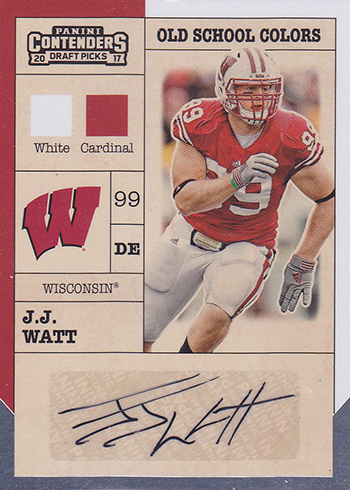 2 Carson Wentz SSP
3 Jared Goff SSP
4 Dak Prescott SSP
5 Derrick Henry SSP
6 Tim Tebow SSP
7 Brett Favre SSP
9 Antonio Brown SSP
10 Marcus Mariota SSP
11 Jameis Winston SSP
12 Roger Staubach SSP
13 John Elway SSP
14 Dan Marino SSP
15 Bo Jackson SSP
16 Archie Manning SSP
17 Eddie George SSP
18 J.J. Watt SSP
19 LaDainian Tomlinson SSP
20 Tony Dorsett SSP
Passing Grades Signatures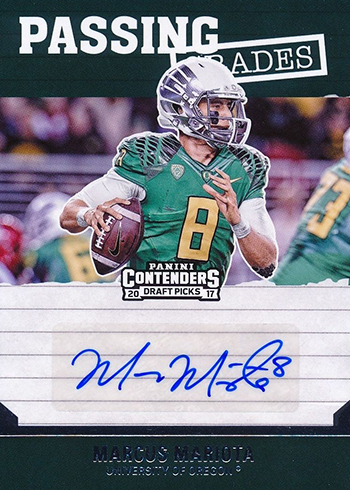 1 Deshaun Watson SSP
2 Mitchell Trubisky SSP
3 Brad Kaaya SSP
4 Chad Kelly SSP
5 Patrick Mahomes II SSP
6 Carson Wentz SSP
7 Jared Goff SSP
8 Dak Prescott SSP
9 Jameis Winston SSP
10 Marcus Mariota SSP
Rush Week Signatures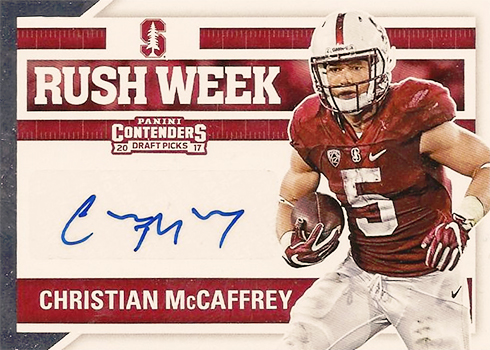 1 Leonard Fournette SSP
2 Dalvin Cook SSP
3 Christian McCaffrey SSP
4 Alvin Kamara SSP
5 Samaje Perine SSP
6 D'Onta Foreman SSP
10 Derrick Henry SSP
School Colors Signatures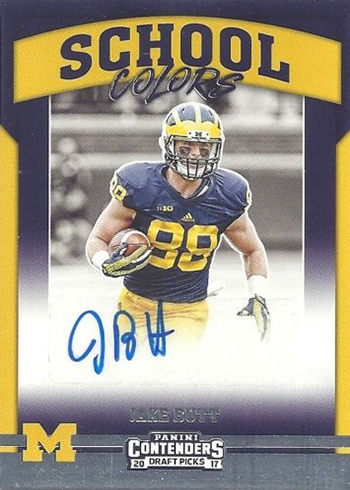 1 Deshaun Watson SSP
2 Leonard Fournette SSP
3 Dalvin Cook SSP
4 Mitchell Trubisky SSP
5 JuJu Smith-Schuster SSP
6 Brad Kaaya SSP
7 Christian McCaffrey SSP
8 O.J. Howard SSP
9 Mike Williams SSP
11 Alvin Kamara SSP
12 Jake Butt SSP
13 Chad Kelly SSP
14 Isaiah Ford SSP
15 Patrick Mahomes II SSP
16 John Ross SSP
17 Evan Engram SSP
18 Samaje Perine SSP
19 Corey Davis SSP
20 D'Onta Foreman SSP