Nick Charles appears on Topps trading card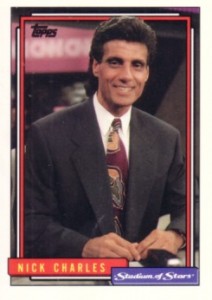 By Susan Lulgjuraj | Contributing Editor
Nick Charles was known for his smooth delivery and bushy black hair when he announced sporting events on television. He was iconic figure for many of us growing up, especially when it came to memorable boxing matches.
CNN recently examined Charles' current struggle with cancer and how he plans to live out the rest of his life. Physically, Charles is just a shell of the man he once was, but this article will show you just how much spirit he has.
Maybe now more than ever.
This is a great piece and well worth the read. In it, there is also a mention of  Charles' lone appearance on a trading card.
"Viewers tuned in every night to catch the latest sports news. Topps put Charles' million-dollar smile on a bubble gum card — rare for a TV personality."
Charles was featured on a 1992 Topps Stadium of Stars card.
What was your favorite Nick Charles moment?
Also, what TV sports personality would you like to see on a card?