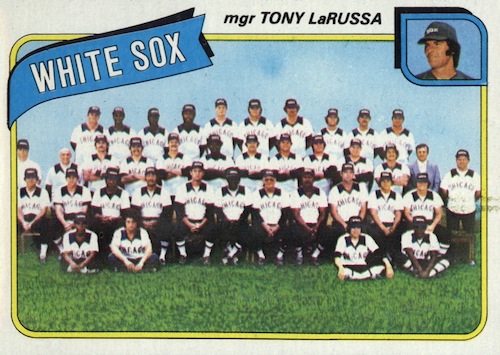 By Stan Carlberg | Collector Commentary
In an era of fabricated power numbers and mind-boggling moonshots, Tony LaRussa, Bobby Cox and Joe Torre made their indelible mark on baseball by calling the shots from the dugout. The trio enjoyed lengthy careers as big-league skippers, so it should come to nobody's surprise that the game's third-, fourth- and fifth-winningest managers of all time were elected into the Hall of Fame on Monday.
What's cool about their elections by the Veterans Committee is they will all enter Cooperstown at the same time. They may be going in as part of the special "Expansion Era" election, but their records are all among the greatest ever.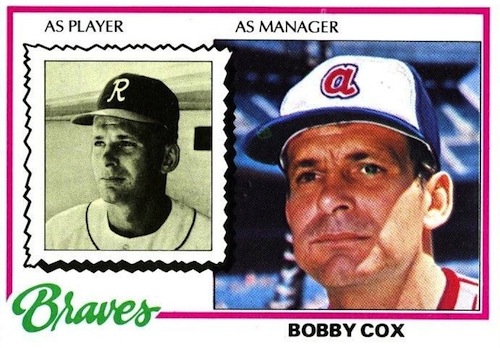 La Russa was a winner wherever he went. His first stop with the Chicago White Sox produced the South Siders' their first division title in two decades. His three consecutive pennants with the Oakland A's from 1988-1990 earned him his first World Series title. Three more pennants and two more titles  with the St. Louis Cardinals more than solidified his Cooperstown enshrinement.
La Russa's managerial debut came in the 1980 Topps set, card No. 112, where the insert photo shows him sporting a hip, 70s-style sideburns. The team photo actually shows fellow Hall of Famer, Bob Lemon, the manager he replaced midway through the 1979 season.
Cox's managerial debut came a year earlier with the Atlanta Braves. While his first five-year stint with the club was instrumental in building a team that Torre would eventually guide to his first division title in 1982, after four seasons in Toronto, which produced his first division title in 1985, Cox's return to the Braves in 1990 proved to be the start of his historic run. Fourteen division titles, which included 11 straight from 1995-2005, was highlighted by five NL pennants in the 1990s and his lone World Title in 1995.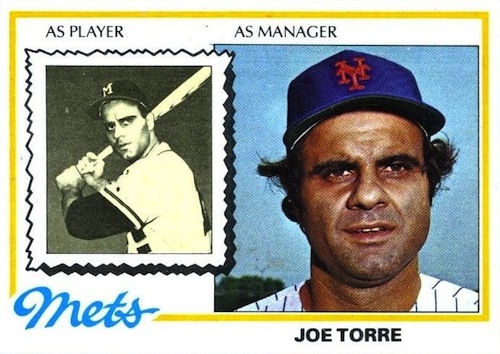 Torre was a journeyman manager with the Mets, Braves and Cardinals before his Yankees met Cox's Braves in the 1996 World Series. After losing the first two games of the series, Torre's team went on to capture four World Series titles in the next five years, including three in a row from 1998-2000. In each of his 12 seasons in New York, he led the Yankees to the playoffs. He added two more playoff appearances with the Los Angeles Dodgers before calling it quits.
Both Cox and Torre made their managerial cardboard debuts in the innovative 1978 Topps managers subset. Card Nos. 93 and 109 of Cox and Torre, respectively, show the young skippers alongside much younger player photos of themselves.