What errors might be in 2015 Topps Heritage? (Update: Confirmed SPs now listed)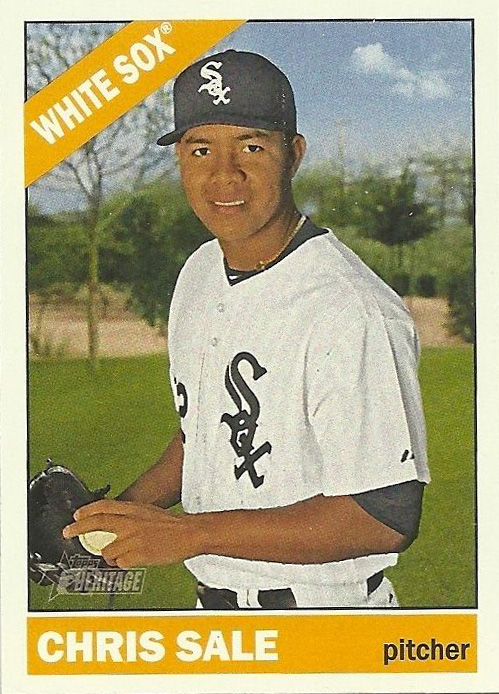 Updates: See bottom of story for the latest error and traded variations to be confirmed.  Click here for lists of the other three planned variation types.
—
By Chris Olds | Beckett Baseball Editor | Commentary
With the release of the final checklist for 2015 Topps Heritage coming any day now in advance of the product's arrival next Wednesday, we'll know a bit more about the ways Topps is adding a chase to this year's throwback issue, which is a re-imagining of the 1966 Topps brand.
We already know that we'll have throwback uniform and action image variations on top of the more-standard 75 short-printed cards in the set. We'll find out precisely what those cards are the second a checklist arrives.
But the rarer error variations? Those aren't typically revealed, so now it's time to guess on which cards in this year's set will have variations based on mistakes made back in 1966.
There are just 10 cards in the original 1966 set that have an uncorrected error, or UER. Only a single card — No. 101, a checklist — had a variation after an error was corrected. This year's set caps out at just 500 cards (Nos. 426-500 being SPs), so emulating three of the cards below based on card numbers alone will not be possible.
1966 TOPPS ORIGINAL ERRORS
No. 30 Pete Rose (Reds) DP UER/1963 hit total is wrong
No. 36 Jim Hunter (A's) DP/UER stats say 1963 and 1964, should be 1964 and 1965
No. 101A Checklist 2/115 W. Spahn ERR
No. 101B Checklist 2/115 Bill Henry COR
No. 126 Jim Palmer (Orioles) RC/UER described as lefthander on card back
No. 266 Pedro Gonzalez (Indians) UER misspelled Gonzales on card back
No. 324 John Boozer (Phillies) UER 1965 Record is incorrect
No. 365 Roger Maris (Yankees) UER wrong birth year listed on card
No. 447 Dick Ellsworth (Cubs) UER photo actually Ken Hubbs

No. 502 Lenny Green (Red Sox) UER/Born: aJn. 6, 1933
No. 544 Rookie Stars/Joe Hoerner/George Kernek/Jimy Williams (all Cardinals) RC SP/UER misspelled Jimmy
No. 583 Detroit Tigers TC SP/UER Text on back states Tigers finished third in 1965 instead of fourth
Personally, I'd check all of these numbers (save for Nos. 502, 544, 583) first when ripping into packs, particularly if the players on the 2015 cards share the same teams as the originals. That won't be a coincidence.
— POST-RELEASE INFO BELOW … more updates to come —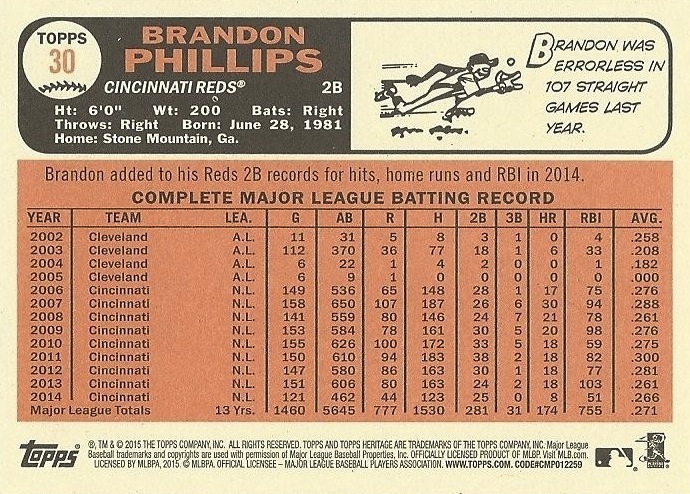 2015 TOPPS VARIATIONS (Batch code ends with 59) Odds are 1:840 packs
30 — Brandon Phillips (error bio says "Brandon added to his Reds 2B records for hits, home runs and RBI in 2014.")
36 — Sean Doolittle (error card does not list 2014 stats)
74 — Jarrod Parker (error card says born in 1989)
126 — Chris Tillman (error card says left-hander in paragraph)
192 — Kole Calhoun (error card says born in 1991)
266 — Lonnie Chisenhall (error card says Chisenhal on back)
365 — Brett Gardner (error card says born in 1980)
447 — Chris Sale (incorrect player, Jose Quintana, in photo)
—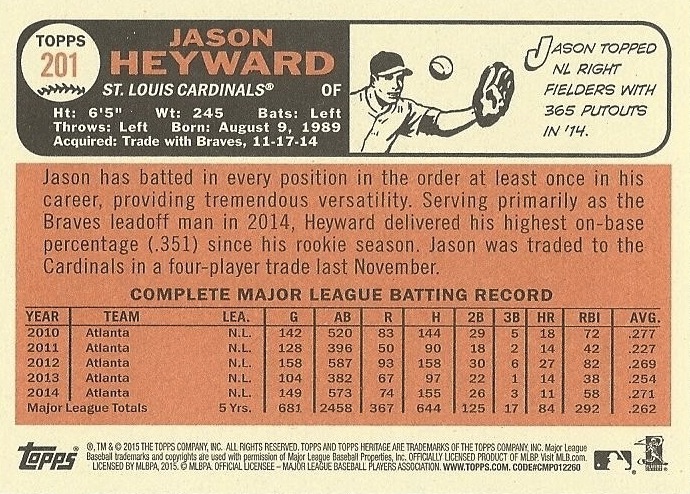 TRADED PLAYER VARIATIONS (Batch code ends with 60) Odds are 1:2,310 packs
Players who were traded have an additional line of type noting the transaction in the bio box on their card.
70 — Yoenis Cespedes
175 — Josh Donaldson
201 — Jason Heyward
387 — Shelby Miller
Chris Olds is the editor of Beckett Baseball and Beckett Sports Card Monthly magazines. Have a comment, question or idea? Send an email to him at colds@beckett.com. Follow him on Twitter by clicking here.