Love or Loathe: Oddball Triple Threads cards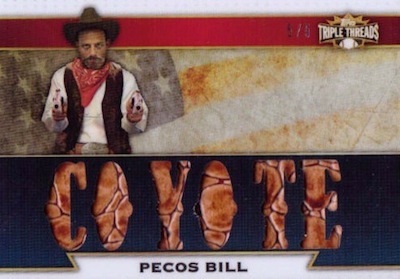 By Chris Olds | Beckett Baseball Editor
If there's one thing that can get some collectors wound up, it's perhaps something meant to be fun — something distinctly out of the ordinary — that's inserted into packs of sports cards often as bonuses and also as, well, a joke.
The three unusual American History Relics coming out of 2011 Topps Triple Threads are no different. Why? They're cards of Pecos Bill, John Henry and Leif Ericson — three either fictional or highly mythologized characters from U.S. history. Clearly, the Relics found in these cards are just as mythical as the tales of their stars, but they just might offer something different to those few who often find them — cash. These types of gag cards in products such as Allen & Ginter have sold relatively well, which is probably why they exist here, too.
Tell us what you think. Take the poll and leave a comment below if you're so inclined …
Loading ...