First look: 2011 Topps Triple Threads Baseball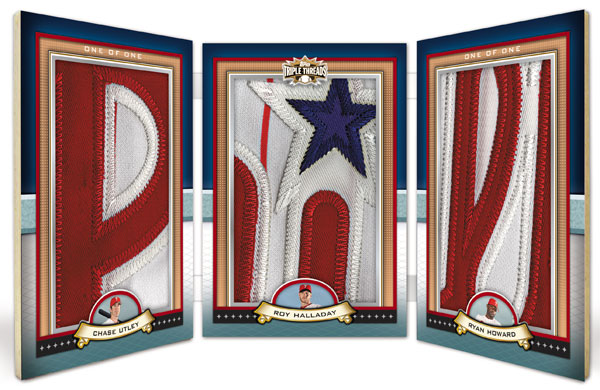 By Chris Olds | Editor
Topps released the basic product information and preview images for 2011 Triple Threads on Saturday, the sixth installment of the high-end line that will pack a bit more inside this year when it arrives in late-July.
How much more? Two hits per pack.
That's right, each pack will now include an autographed Relic and an additional Relic inside — the equivalent of a full box in past years. Each box will include one single Unity Relic (more on that in a second), one Autographed Unity Relic, one Autographed Triple Relic and one Triple Relic.
New this year will be Unity Relics where the background images for a group of players are shared and can be joined to gether to form a larger image. They will be found one per pack in standard and autographed forms. Since they only have one Relic piece, the "triple threads" theme only holds true if collectors complete a trio.  The Unity Relic checklist alone will include 243 players with 27 different backgrounds. The cards will be limited to just 36 copies with rarer Sapphire (/10), Gold (/25) and Emerald (/50) parallels.
Also new are Flashback Relic cards, which show players in the past as a rookie and also in the present … oh, and two new faces in the Topps lineup appear here too — Hank Aaron and Sandy Koufax.
Every 18-box case will include one 1/1 Autograph Triple Relic and a Triple Autograph Triple Relic card.
See a preview gallery — and more — after the jump.
Base cards will be found three per pack with a 100-card base set to be found. There will be two parallels per pack as well, with Platinum 1/1s and printing plates as well as Sapphire, Gold, Emerald and Sepia parallels.
The rookies and future stars component was perhaps improved in last year's release and this year's also includes a meaty young presence as there will be Rookies and Future Phenoms Pairs booklet cards (an autographed triple Relic card on each panel) as well as standard autographed triple Relics.Each of these sets will once again include on-card autographs with more than 40 players found as single cards and six booklets.
Among the high-end inclusions for autographed triple Relics are Jumbo Plus Autograph Relics that have the player's autograph and two Relic pieces on one panel and a jumbo swatch on the other. Letter Plus Autograph Relics will include a letter patch. There are several subsets in the triple Relic area, including Bat Knob Booklets, Bat Nameplate Booklets, All-Star tag and patch booklets and more.
Also back are the Presidential Cut Above Relics and Legends Cut Above Relics which will include a cut autograph with memorabilia pieces. There also will be dual Cut Above cards that make booklets out of said cards featuring two players.
The standard autographed triple Relic checklist will include more than 90 players with a signature and three memorabilia swatches. The standard cards will be limited to 18, while the Golds are limited to nine, Sapphires are limited to three and there are three 1/1 versions to chase — printing plates, Platinums and Woods.
The Flashback Relics are what Topps bills as a "double-fronted" card with one side showing the player as a rookie and the other one later in his career (or today if an active player). Among the 30 players set to appear here include Mickey Mantle, Babe Ruth, Nolan Ryan, Hank Aaron, Stan Musial, Roger Maris, Reggie Jackson, Jackie Robinson, Ty Cobb, Lou Gehrig and Mel Ott.
Examining the preliminary checklist, it's interesting to note that Joe DiMaggio appears on card No. 100 in the base set.
Among the other notable signers besides Aaron and Koufax in the product are (starting with younger players): NL Rookie of the Year Buster Posey, Mike Stanton, Jason Heyward, Freddie Freeman, Jeremy Hellickson, Pedro Alvarez, Jay Bruce, Starlin Castro and Aroldis Chapman.
Among the veterans and Hall of Famers to be found on autograph cards are Joe Mauer, Rickey Henderson, Alex Rodriguez, Frank Thomas, Juan Marichal, Stan Musial, Roberto Alomar, Joe Morgan, Frank Robinson, Eddie Murray, the late Duke Snider, Cal Ripken Jr., John Smoltz, Carlton Fisk, Nolan Ryan, Larry Walker, Ozzie Smith, Reggie Jackson, Johnny Bench, Tom Seaver, Ryne Sandberg, Ryan Howard, Willie McCovey, Mike Schmidt and Albert Pujols.
Some of the combos cards feature strong groupings as well. A sampling? Aaron-Koufax, Aaron-Heyward, Bench-Mauer-Posey, Schmidt-Rodriguez-Longoria, Ryan-Halladay-Hernandez and Sandberg-Dawson-Castro.
More than 60 players appear on a wide array of All-Star Relics, while the bat nameplates and knob sets are quite small at just 25 players total. Notables appearing on bat knob cards will include Ichiro Suzuki, Robinson, Roy Campanella, Tony Gwynn, Musial and Jackson among others, while nameplates will include Pujols, Robinson Cano, Gehrig, Cobb, Mantle, Darryl Strawberry, DiMaggio and Howard.

Chris Olds is the editor of Beckett Baseball. Have a comment, question or idea? Send an e-mail to him at colds@beckett.com. Follow him on Twitter by clicking here.
Click on the images below for a closer look…