Justin Tucker Rookie Card Rankings
For most modern superstars, collectors have lots of options when it comes to Rookie Cards. Exceptions exist, though. For example, if you're looking for a Justin Tucker Rookie Card, you have three choices. Taking it a step further, all are rare and don't have much in the the way of parallels.
When it comes to football cards, players who aren't quarterbacks, running backs or wide receivers have a tough time breaking through. They have fewer cards and often don't make much of a footprint when it comes to widespread hobby acceptance.
Which brings us to Justin Tucker. Already considered one of the greatest kickers of all-time, he likely still has a lot of football left in him. By the time his career is done, there's a chance that he could be the best at his position ever.
But he's still a kicker. Neither Panini or Topps knew the path that Tucker was on when he was a rookie with the Baltimore Ravens in 2012. As a result, he appeared in just a handful of sets that year.
Justin Tucker Rookie Card Overview
Tucker's name appears on four 2012 checklists: Panini Contenders, National Treasures, Playbook and Totally Certified. All are autographs and none has more than 300 copies for the base version.
It's a combination of few Justin Tucker Rookie Cards to choose from, each with small print runs.
Because that weren't challenging enough, there's another layer to the challenge. All were in packs as redemptions. It also appears that one — the potentially biggest from a value perspective — has not yet been completed. No matter how tough they are, Playbook, Totally Certified and Contenders copies are out there. National Treasures looks to be the one that's still not live in its final version. This leaves with just three Justin Tucker Rookie Card options for collectors to choose from.
When you dig into their print runs, it paints a picture of just how scarce they are, individually and collectively.
If you add up the print runs for Tucker's 2012 Contenders, Totally Certified and Playbook RCs, there are just 705 cards. Total. If you add in the parallels, it's still only 915 copies.
The lack of Justin Tucker cards continued as he went from rookie to veteran. He's in just two 2013 products, Score and with an autograph in Panini Prizm.
There were only a couple more options in 2014. This includes flagship Topps, the only product the company included him in before Panini became the exclusive NFL card maker in 2016.
Things started to pick up in 2017 and 2018 as Panini began including Tucker in several sets each year. He's still far from the levels of Tom Brady and Patrick Mahomes, but he's not nearly the cardboard stranger that he used to be.
Most Valuable Justin Tucker Rookie Card Rankings
The following ranks the three live Justin Tucker Rookie Cards with the RC tag in the Beckett Database. We haven't included National Treasures here as final copies do not appear to exist beyond the original redemption. A full checklist of Tucker's cards can be found here.
1. 2012 Panini Contenders Justin Tucker RC Autograph #237
When it comes to brand power and prestige, the 2012 Panini Contenders Justin Tucker Rookie Card is king. The line has a long history dating, producing landmark cards of players like Tom Brady and Peyton Manning.
Like Playbook and Totally Certified, the autograph comes on a sticker.
This is the only Tucker RC that isn't serial numbered. However, Panini did announce its print run of 275 copies. This card has no parallels.
Buy on: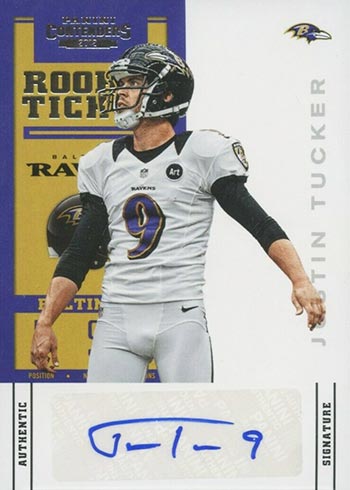 ---
2. 2012 Panini Playbook Justin Tucker RC Autograph #127 /140
With just 140 numbered copies, this is the rarest Justin Tucker Rookie Card on the market. Considering the hits-heavy product it comes from, it's relatively plain for a rookie autograph. For some, ample white space and minimal design elements are appealing.
Parallels: Gold (/49), Platinum (/25), Green (/5), Black (1/1)
Buy on: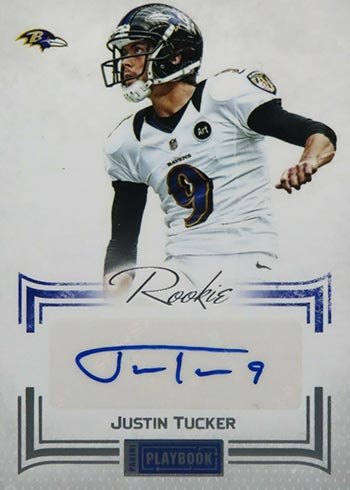 ---
3. 2012 Totally Certified Justin Tucker RC Autograph #148 /290
For those who want something more bold than Playbook, there's the 2012 Totally Certified Justin Tucker Rookie Card. Foil is the design focus here, which pops further with its handful of colorful parallels.
Parallels: Blue (/99), Gold (/25), Green (/5), Black (1/1)
Buy on: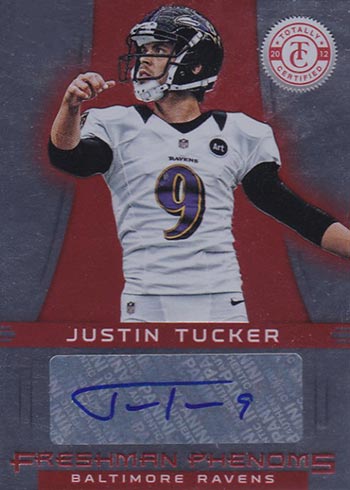 ---