Jordan Spieth Golf Cards: A Detailed, Albeit Concise Guide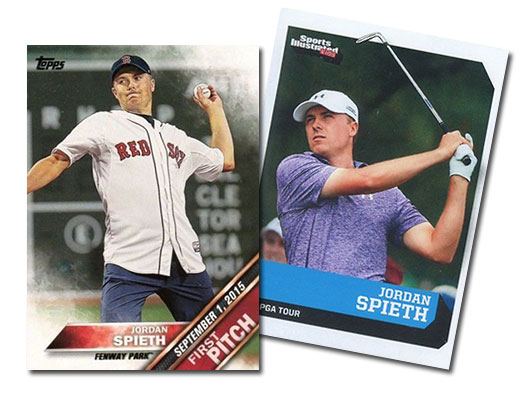 It has been several years since a new standalone set of golf cards was released. As a result, some big names in the sport have very little out there. If you're looking for Jordan Spieth golf cards, they're out there. However, the pickings are slim. And without any golf-specific sets since his rise to PGA prominence, what is out there comes from some interesting places.
Jordan Spieth Golf Cards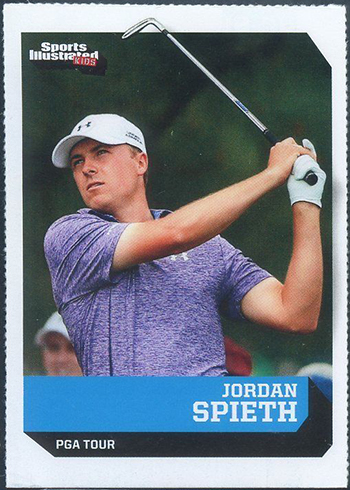 2015 Sports Illustrated for Kids Jordan Spieth #430
Like a lot of athletes outside of the major professional sports (from a trading card perspective), the first Jordan Spieth card came inside Sports Illustrated for Kids magazine. Included in the June, 2015 issue, it was part of a nine-card sheet. Perforated edges along the sides and top are normal as Spieth was placed on the bottom-middle part of the sheet. A second 2015 SI for Kids Jordan Spieth card was released later in the year. Number 481 in the set, the second card has an "All-Star" notation and the golfer is pictured crouching.
Buy on: 
• eBay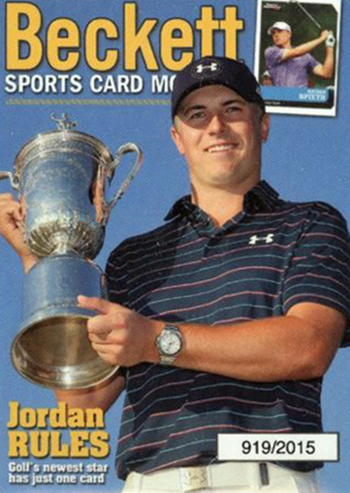 2015 Beckett National Convention Promo Cards Kris Bryant/Jordan Spieth /2015
This is a double-sided promo card handed out at the Blowout Cards booth at the 2015 National Sports Collectors Convention. Spieth is on one side. On the other? Chicago Cubs superstar Kris Bryant. Each of the cards is numbered to 2015.
Buy on: 
• eBay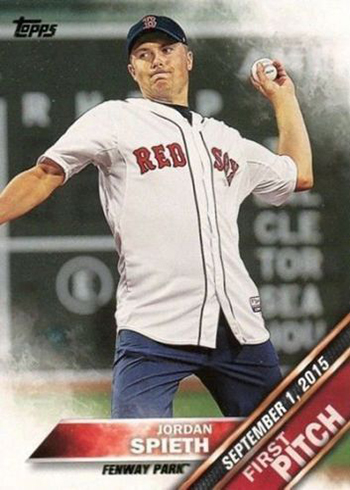 2016 Topps First Pitch Jordan Spieth #FP7
The first Jordan Spieth card included in packs is actually a baseball card. Included in 2016 Topps Series 1 Baseball packs, it's an insert honoring notable ceremonial pitches thrown out before games. Besides Spieth, the checklist includes a mix of other athletes from different sports, celebrities and other remarkable people.
Buy on: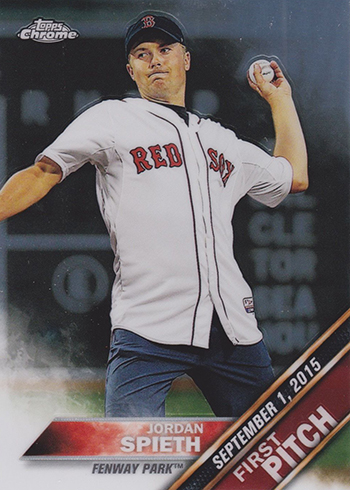 2016 Topps Chrome First Pitch Jordan Spieth #FPC5
The 2016 Topps Chrome First Pitch Jordan Spieth card is similar to his other insert except it's done with chromium card stock. It's also in different packs — 2016 Topps Chrome. The slight upgrade in style makes it worth a little more. It also appears to be available in smaller quantities. Besides the regular version, there are numbered Green Refractor (/99), Orange Refractor (/25), Red Refractor (/5) and Superfractor (1/1) parallels.
Buy on: 
Comments? Questions? Contact Ryan Cracknell on Twitter @tradercracks.