What Does It Take To Be A Beckett Grader?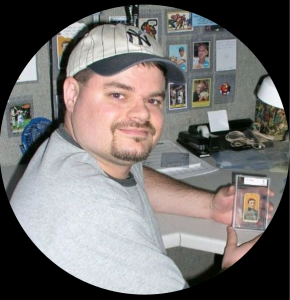 If you're a big collector, chances are you've thought about making a career out of your hobby, excuse me I mean The Hobby, at some point in your life. There are a number of ways that you can do that, like owning a shop or working for one of the card companies. But another great way would be working as a card grader.
We sat down with Beckett Senior Vintage Grader Andy Broome to see how he became a grader, what his favorites parts about it are, and what specific skills are needed to be a top-level grader.
SB: How long have you been collecting and what got you started in it?

AB: I have been a collector for 34 years. A pack of 1983 Topps baseball cards I purchased from a gas station in East Ridge, TN got me started. 
SB: What's your favorite thing you have in your personal collection?

AB: Wow, that's a tough one. It's like picking which of my kids is my favorite!
Favorites change day to day but I would say right now in my card collection it is between my 1876 Chicago White Stockings Carte De Visite and my Victor Starffin signed Japanese cards. I have really been diving deeper into my vintage Japanese baseball card collecting and research lately.

SB: How did you get into grading cards?

AB: I submitted my first card to be graded in 1991. I spent many hours studying cards and the grading of cards to teach myself about card grading, as well as counterfeit and alteration detection.

While I was a part-time card dealer for many years, being a card dealer for your living doesn't necessarily make you a grader or authenticator. It helps, but you have to have a passion for and invest the time in learning the nuances of cards.
To become a professional grader, you have to intimately know the characteristics of each card issue. How was a T206 card printed? Why do OPC cards have jagged edges? What are the different types of known fake Michael Jordan rookie cards, etc.

Handling as many cards as you can and studying them on a daily basis is the first step in training to become a professional grader.

I had a passion to understand counterfeit cards and card doctoring. I had to know just how card doctors alter cards. I had that burning to understand how cards were made and what affects their physical condition.
I began grading cards full time in 1999. I moved to Dallas and joined Beckett Grading in 2004.
SB: What is a typical day like as a grader?

AB: No matter how much you think you love cards, grading on a professional level is not for everyone. In fact, it is for the few who have the skills required and really want to do nothing else.
The ability to be laser focused is key in card grading. You will see hundreds and thousands of cards, but you need to stay concentrated on the nuances of each one to be a good grader.
You also have to be able to adapt to different sports, years, companies, issues, and types of cards. For me, as a vintage grader, I may grade an order of 100 T206 cards and then immediately switch to an order of 10 1975 Topps football cards in the next order.
 It may be tedious but it is fluid. Things change from order to order. Some cards have to be researched. Some require the consultation of multiple graders. You have to have a wide spectrum of card knowledge.
So, do you think you have what it takes to be a Beckett Grader? Do you have a vast knowledge of cards, their nuances, and how they are made? Do you want to put that knowledge to use and make a living working in The Hobby?
Check out our job postings and send us an application to see if you can be the next great card grader at Beckett.