12 Legendary Tiger Woods Cards
Over the years, Tiger Woods cards have brought attention to a sport that is often overlooked by the hobby. It's a testament to his iconic status in golf. Woods' story and career may be complicated but that doesn't take away from his lasting popularity. Not only is he one of golf's most decorated players, but he led a major evolution in the game and how it's perceived.
Like his playing career, collecting Tiger Woods cards can be a little complicated as well. Traditionally, golf cards have been  outside of the hobby's mainstream. Sets exist, but it's often as a result of starts and stops over the years as there hasn't been enough interest in annual releases. At the peak of Woods' popularity, that changed. But even he hasn't been able to anchor things continuously.
But that hasn't stopped the flow of Tiger Woods cards. Thanks to an exclusive deal with Upper Deck, the card maker has featured him prominently over the years, even during the spans where they haven't been making standalone golf releases. As of January, 2021, there were nearly 2,000 Tiger Woods cards in existence. At the top end are some extremely valuable autographs and rarities. But there are also lots of affordable cards of the 15-time Majors winner.
12 of the Greatest Tiger Woods Cards Ever Produced
The following is a list of a dozen key Tiger Woods cards. Each is important for its own reasons. It's not strictly based on values.
1996 Sports Illustrated for Kids Tiger Woods #536
Like a lot of athletes outside of the hobby's core sports, the first Tiger Woods card came inside the pages of Sports Illustrated for Kids. Included in the December, 1996 with Larry Johnson on the cover, it's part of a nine-card sheet. Customary for these sheets, they have perforated edges, leaving it a little jagged on all four sides due to Woods being the center card.
It's a tough card to find in top condition because of this. There's also the fact that it was inside a magazine intended for young sports fans — not the kind of crowd that often thinks about keeping things in top condition because the cards inside might become valuable.
But that's what's happened here. Of all the Tiger Woods cards that have followed, this marks the beginning. And, yes, it does carry significant value. Raw copies go for hundreds. Higher-end graded copies can run several thousands.
Buy on: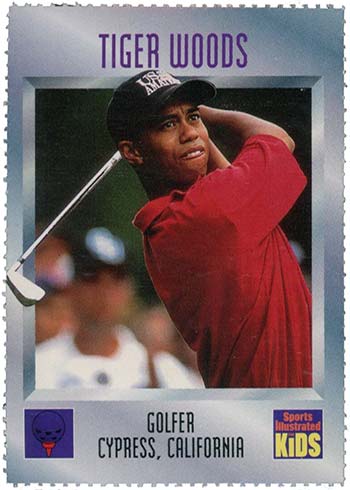 ---
1997-98 Grand Slam Ventures Masters Collection Tiger Woods
It can be argued that the 1997-98 Grand Slam Ventures Master Collection Tiger Woods can be seen as his first traditional trading card. Yes, the Sports Illustrated for Kids came first, but there's no denying its oddball status. This oversized tallboy came as part of Grand Slam Ventures' annual set honoring green jacket winners.
Under normal circumstances, black border cards are usually considered to be condition sensitive. However, this one's a little more extreme. It was the final card in a wrapped set, making it more susceptible to damage. This make top condition cards extremely tough to come by. Even then, that might be an understatement.
The card is somewhat confusing as Grand Slam Ventures released nearly identical copies over different years. The Beckett catalog has 1997-98 and 1997-99 versions. At a glance, the cards themselves are virtually the same. Only when you have them both side by side with the subtleties be visible.
There's also a Gold Foil version of the1997-98 card that was available to those with a subscription to the set through GSV. This is the rarest version.
Buy on: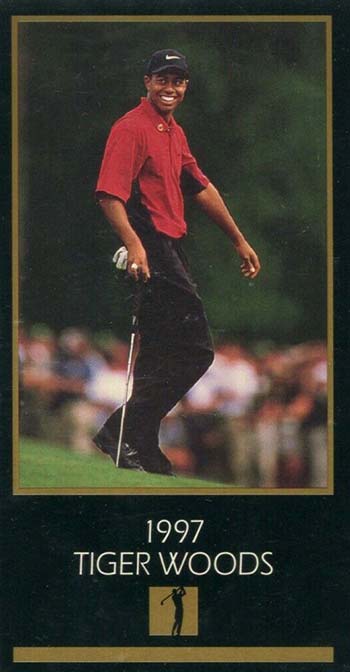 ---
2001 Upper Deck Tiger Woods Rookie Card #1
The 2001 Upper Deck Tiger Woods Rookie Card is probably his most iconic card. It's also one of the most readily available. Woods' popularity was enough to convince Upper Deck to offer the first mainstream golf cards since Pro Set made their last set for the sport in 1992.
Not only that, but Woods became an Upper Deck spokesman, which he has remained ever since. This also explains why nobody else has made official Tiger Woods cards ever since.
As the years pass, the large print run for this card appears to be mattering less and less. The days of finding the 2001 Upper Deck Tiger Woods RC in dollar boxes are likely over. It has risen significantly, a reflection of Woods' legendary status in the sport. Collectors will always gravitate towards the icons and that's exactly what's happening here.
Buy on: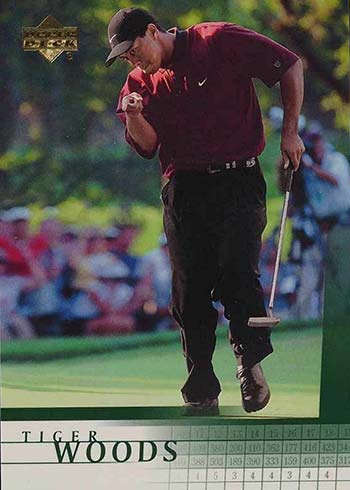 ---
2001 Upper Deck Player's Ink Tiger Woods #TW
It's the first Tiger Woods autograph card so there's a lot of clout here. Despite its lack of serial number, it's an understandably tough card as well. Player's Ink is a 24-card insert set with one landing every 3,000 packs. So the odds of finding any specific player are extremely long.
In addition to the base version, the card does have a Gold parallel that's numbered to 25.
Buy on: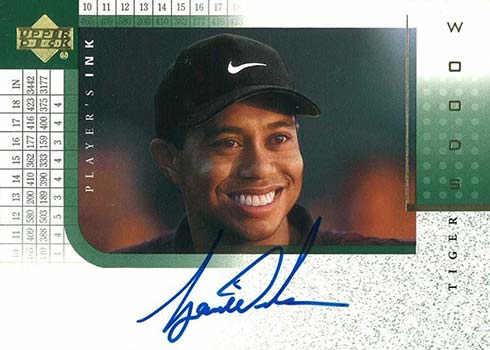 ---
2001 SP Authentic Tiger Woods RC Autograph #45 /900
If 2001 Upper Deck is for the masses, the 2001 SP Authentic Tiger Woods Rookie Card is the one to chase if you're going for elite. Because it's part of the base set, it gets the RC tag to give it added stature. Of course, there's also the autograph that goes a long way in making this such a prized and valuable card.
If a massive print run is a concern to some with the 2001 Upper Deck Golf card, it's the opposite here. With 900 serial-numbered copies, there's no guesswork.
The 2001 SP Authentic Tiger Woods also has a Gold parallel that's numbered to 100.
Buy on: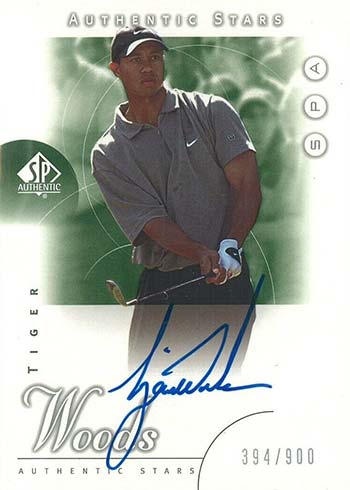 ---
2001 SP Authentic Sign of the Times Tiger Woods Autograph #TW
When it comes to autograph inserts, Sign of the Times has a long history. No matter the sport, it has been an SP Authentic staple for decades. This card is another chance at an early Tiger Woods signature.
At 1:16 packs, Sign of the Times cards may be relatively easy pulls. However, there are a couple of other things to take into consideration. The first is the set size. More than 80 cards make up the set. Woods is also a confirmed short print, meaning his card is even tougher.
In addition to the Gold parallel (/25), Woods also has six different Sign of the Times Red cards. Each commemorates a different tournament plus one for the Tiger Slam (/4). Print runs for the SOTT Red Tiger Woods autographs vary from a high of 274 copies to 4.
Buy on: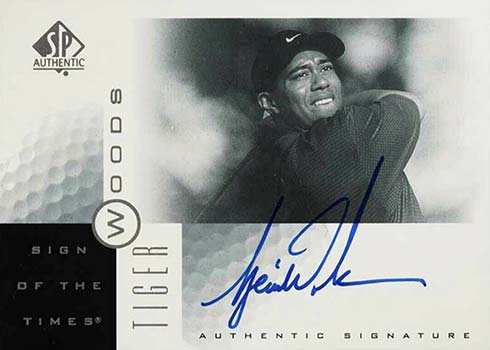 ---
2001 Upper Deck Tiger Slam 4 Employee Tiger Woods /325
Upper Deck has a history of creating special cards for its staff that aren't available in packs or even the general public. This is one such card. Numbered to 325, it commemorates Woods' four consecutive Majors victories between 2000 and 2001.
The swatch in the card isn't from a generic shirt either with no known history. Rather, it's one of the shirts he wore en route to winning the Bay Hill Invitational in March, 2001.
Buy on: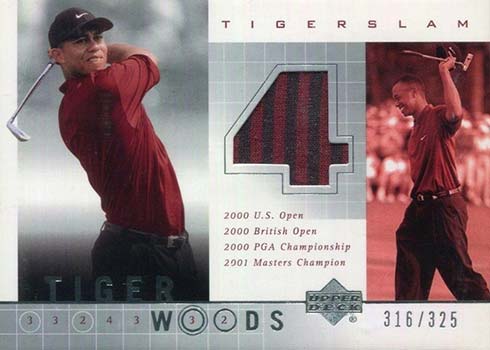 ---
2013 Upper Deck Tiger Woods Master Collection Exquisite Rookie Patch Autograph Tiger Woods #ERP-TW /25
There's no shortage of strong content in 2013 Upper Deck Tiger Woods Master Collection. The luxury-level product cost several thousands per box when it first came out. Among the contents were multiple autographs. This card gets an added level of impressiveness thanks to what it's modelled after.
If the layout seems familiar, it's because it's the one used for top rookies a decade earlier in 2003-04 Upper Deck Exquisite Basketball — the one with the top LeBron James Rookie Card. To say it's a landmark set and design might be an understatement. Upper Deck has revisited the '03-04 Exquisite RPA design in a variety of ways over the years and it still commands plenty of attention.
Buy on: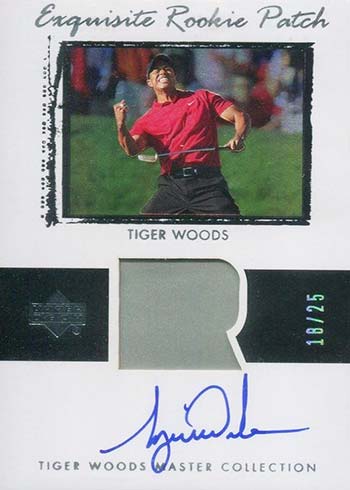 ---
2013 Upper Deck Employee Precious Metal Gems Purple Tiger Woods Master Collection #E-TW /125
Arriving more than a decade after the first Upper Deck employee Tiger Woods card, this one takes a very different approach than the 2001 memorabilia card. However, it falls under the Precious Metal Gems banner, one of the most iconic parallels of the modern hobby. What it lacks in swatch, it makes up for in brightness and boldness. It's a very different approach than virtually all of the other Tiger Woods cards out there.
This card also has a much smaller print run than Woods' 2001 employee card with just 125 copies.
Buy on: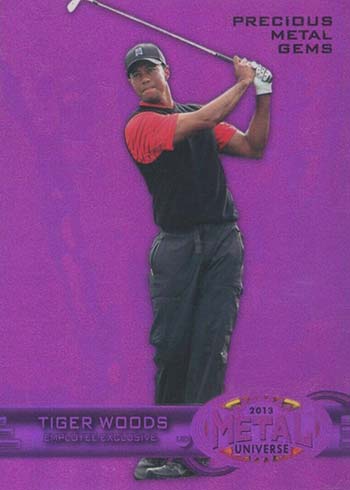 ---
2014 Upper Deck Exquisite Endorsements Triple #EE3PNW Tiger Woods / Arnold Palmer / Jack Nicklaus /5
If you were to ask 100 people to put together a golf Mt. Rushmore, Woods, Arnold Palmer and Jack Nicklaus would probably be three of the names across the board. All three are together on this elegant autograph, which is limited to just five copies. Yes, it's extremely valuable. But it's also a museum-quality tribute to the sport's biggest names.
Woods appears on several other multi-signature cards in 2014 Upper Deck Exquisite. Michael Jordan and Rory McIlroy are among the other names he appears alongside. Still, from a golf perspective, this is the one that should be considered the pinnacle.
Buy on: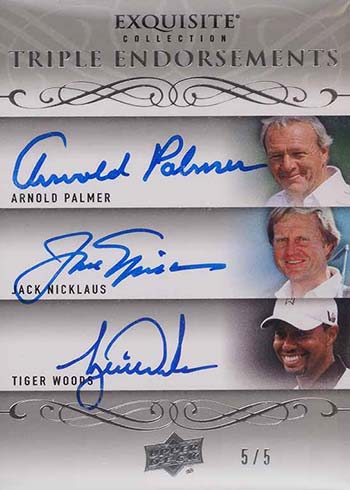 ---
2014 SP Authentic Sign of the Times Two Tiger Woods / Rory McIlroy #ST2-WM
Several great PGA players have come along since Tiger Woods but perhaps none have had bigger star power than Rory McIlroy. Upper Deck signed him to an exclusive deal and made him a focal point of products in 2014 when they rebooted their golf lines. The idea behind this one is simple with autographs from two of the sport's most famous contemporary stars.
Pair also appear together on an Authentic Moments Autograph as well as a Sign of Times Eight autograph card with six other golfers. This might be an instance where less is more.
Buy on: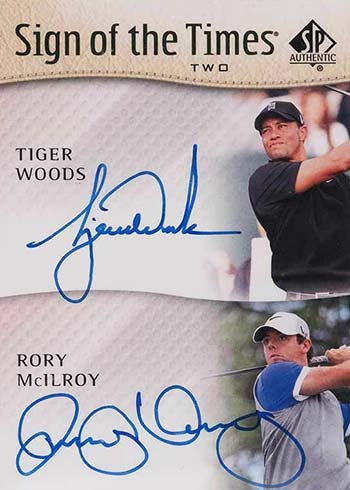 ---
2019 Upper Deck Goodwin Champions Exquisite Collection Signature Kicks Tiger Woods #SKH-TW
Although this card falls under the Exquisite Collection banner, it's actually found in packs of the multi-sport 2019 Upper Deck Goodwin Champions. The autograph is a big draw, but there's also the addition of the footwear. While it's from a model worn by Woods, it's not from something he actually wore. The sneaker connection is still there, though, and it makes for an impressive looking card. There are a couple different versions that take from different parts of the golf shoe.
Buy on: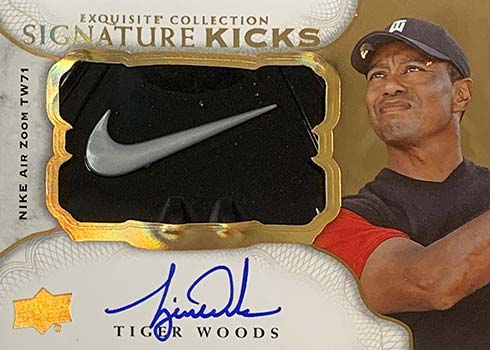 They're Not Cards, But…
Topps has never made a Tiger Woods card. However, they did something close. The 1997 Topps Tiger Woods Jumbo Photos is a set of six 8 x 10s with shots from his first Masters win and more.
Each sealed pack has a complete set inside.
The photos have no captions or card design elements. However, backs do have a Topps hologram.
The total production run is 10,000 sets.
Today, the 1997 Topps Tiger Woods Jumbo Photos are a relatively affordable alternative for collectors looking for something from early in the golfer's career. Although not traditional trading cards and oversized, there is that direction connection to the hobby that comes from being a Topps product.