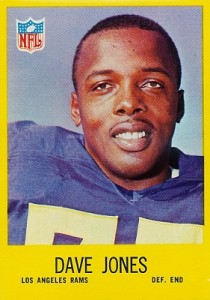 By Susan Lulgjuraj | Beckett Football Editor
David "Deacon" Jones was a menace for opposing offenses.
And the Hall of Fame defensive end wasn't shy about it.
"I could do things on the football field that you probably haven't seen done since that time," Jones said on an NFL.com video, "because it just flowed for me."
Jones died Monday at 74 years old.
He's considered one of the greatest defensive ends in NFL history. But you won't find his name among the best sack leaders. The league only started keeping statistics for sacks – a phrase in which he helped coin – during the 1981-82 season.
By Jones' own account, he registered 172 ½ sacks. Pro Football Weekly came up with a higher number – 194 ½. Either way, Deacon's sack count would rank third all-time behind Bruce Smith and Reggie White, two players who starred during an era of 16-game seasons.
Jones was drafted in 1961 by the Los Angeles Rams in the 14th round from Mississippi Vocational. He was part of the Fearsome Foursome with the Rams that devastated offenses.
"He was an icon among the icons," NFL commissioner Roger Goodell said in a press release. "Even with his fellow Hall of Famers, Deacon Jones held a special status. He was a hard-charging football player and the original sack artist who coined the term. He is warmly regarded by his peers not only as one of the greatest players in NFL history but also for his tremendous influence and sense of humor. Deacon Jones will be missed but always remembered. Our heartfelt condolences go out to his wife Elizabeth and the entire Jones family."
Jones has 509 collectibles in the Beckett database and just one Rookie Card from 1963 Topps. Most of his collectibles, including hundreds of cards, appeared after his retirement in 1974. Just 35 collectibles, including cards, bottle caps and stamps were logged during his 11-year career.
Jones was a welcomed addition to football products in recent years. His first certified autographs emerged in the mid-1990s.
He's been featured in Fleer Greats of the Game, Donruss Classic, Ultimate Collection and Topps Stars. His latest cardboard appearances came in 2012 for Leaf Legend of Sports and Panini Prizm.
Susan Lulgjuraj is an editor of Beckett Football. You can email her here with questions, comments or ideas. Follow her on Twitter here. Follow Beckett Media on Facebook and Twitter.