Digging for Diamonds: Scouting Top 2013 MLB Draft Prospects Already on USA Baseball Cards
The 2013 MLB Draft is on Thursday, meaning the newest crop of big-league hopefuls will have their first new fans.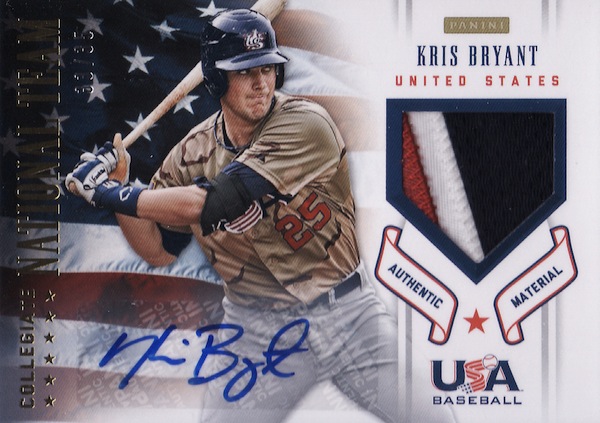 And, not surprisingly as most collectors know, many of them already have their own cardboard.
Thanks to officially licensed releases from USA Baseball alone, 23 of Baseball America's Top 100 draft prospects already appear on cards. Throw in other All-Star events that have their own cardboard presence such as the Perfect Game All-American Classic or the Power Showcase and the total is likely to be even higher.
Armed with the BA Top 500 list, here's a look at the top prospects who already appear on fully licensed, major-manufacturer cardboard.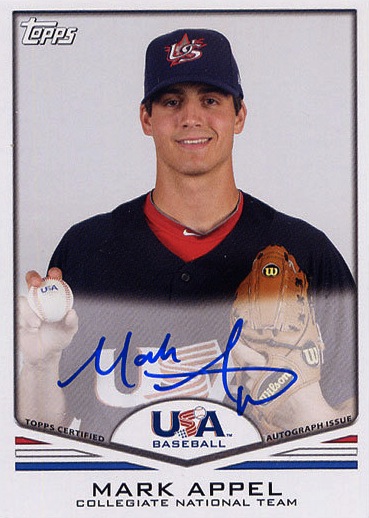 Mark Appel
RHP — Stanford
2011 Collegiate National Team
Beckett.com Stats: 58 total cards, 34 autographs, 15 memorabilia — $469.50 (OPG & checklist here)
The second-best prospect on the board this year was the eighth-overall pick by Pittsburgh last year but did not sign. Now, he's back once again after his senior season with the Cardinal where he went 10-4 with a 2.12 ERA and 130 strikeouts in 106 innings.(Check him out on eBay.)

—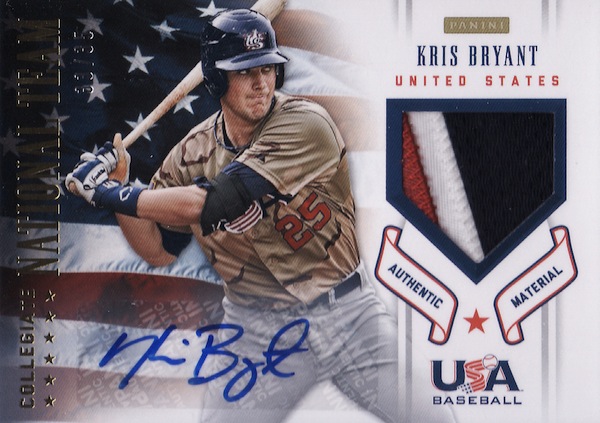 Kris Bryant
3B/OF —  San Diego
2012 Collegiate National Team
Beckett.com Stats: 36 total cards, 20 autographs, 13 memorabilia — $216.50 (OPG)
BA's third-best player overall, Bryant hit .329 with 31 home runs in 62 games this past season — that's the 16th-best total in NCAA history. Needless to say, he's the power bat in this draft. (Check him out on eBay.)
—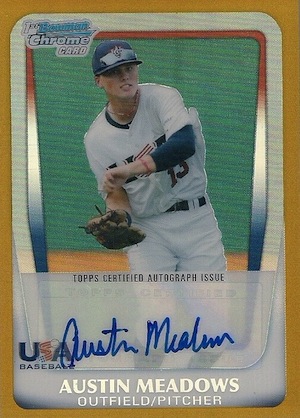 Austin Meadows
OF — Grayson High School, Loganville, Ga.
2011 16U National Team
Beckett.com Stats: 53 total cards, 20 autographs, nine memorabilia — $1,497.50 (OPG)
Sixth-best on the list, he's a five-tool player that MLB scouts say is a potential overall six our of eight player down the line. (Check him out on eBay.)

—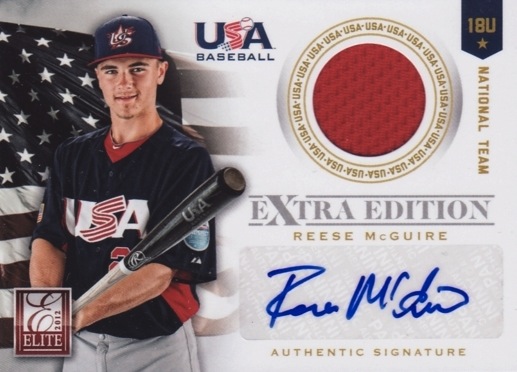 Reese McGuire
C — Kentwood High School, Covington, Wash
2012 18U National Team
Beckett.com Stats: 36 total cards, 16 autographs, nine memorabilia — $196.50 (OPG)
No. 10 overall for Baseball America, he's a left-handed catcher with six potential per the MLB scouts. (Check him out on eBay.)
—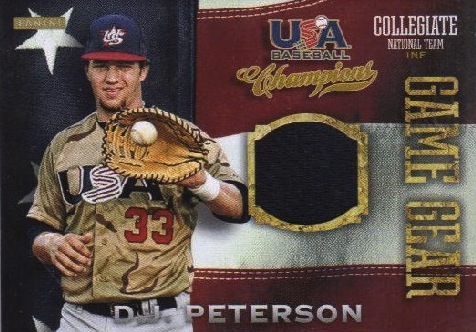 D.J. Peterson
3B — New Mexico
2012 Collegiate National Team
Beckett.com Stats: 41 total cards, 19 autographs, 15 memorabilia — $92.50 (OPG)
No. 12 overall, he hit .408 with 18 home runs and 72 RBI in 55 games this season. (Check him out on eBay.)

—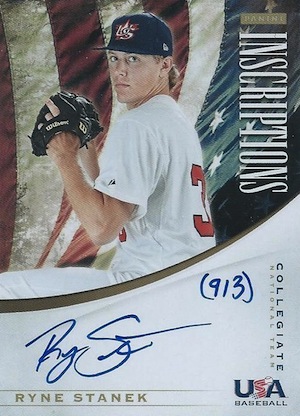 Ryne Stanek
RHP — Arkansas
2012 Collegiate National Team
Beckett.com Stats: 31 total cards, 17 autographs, 12 memorabilia — $292 (OPG)
No. 13 on the list, Stanek went 10-2 with a 1.39 ERA and 79 strikeouts in 97 innings, holding opponents to a .207 average in 16 starts.(Check him out on eBay.)
—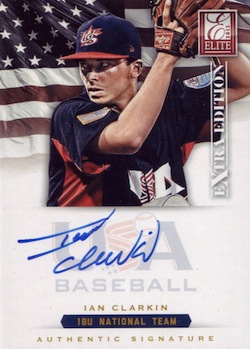 Ian Clarkin
LHP — Madison High School, San Diego Calif.
2012 18U National Team
Beckett.com Stats: 31 total cards, 16 autographs, 11 memorabilia — $95.50 (OPG)
Seventeenth-best in the country he's a potential six player per MLB scouts. (Check him out on eBay.)
—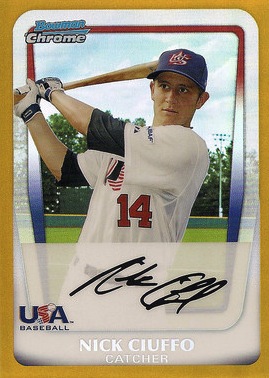 Nick Ciuffo
C — Lexington High School S.C.
2011 16U National Team
Beckett.com Stats: 53 total cards, 20 autographs, nine memorabilia — $191.25 (OPG)
Ranked No. 22, he's also a left-handed catcher who grades a potential five out of eight. (Check him out on eBay.)
—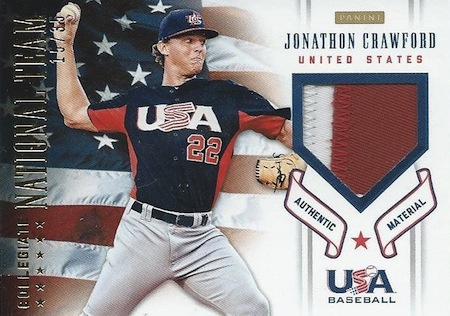 Jonathon Crawford
RHP — Florida
2012 National Team
Beckett.com Stats: 33 total cards, 18 autographs, 13 memorabilia — $117.75 (OPG)
Coming in at 24, he went 3-6 with a 3.84 ERA for the Gators. He struck out 69 batters in 86 innings. (Check him out on eBay.)
—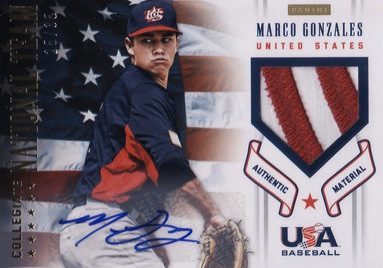 Marco Gonzales
LHP — Gonzaga
2012 National Team
Beckett.com Stats: 31 total cards, 17 autographs, 11 memorabilia — $103.50 (OPG)
At 28th overall, he hit .311 with two homers and 26 RBI in 47 games this past season. On the mound, he went 7-3 with a 2.80 ERA and 96 strikeouts in 106 innings. (Check him out on eBay.)
—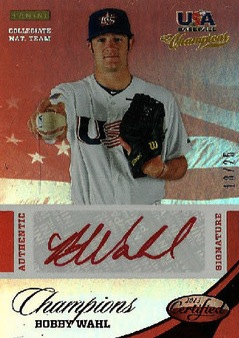 Bobby Wahl
RHP — Mississippi
2012 Collegiate National Team
Beckett.com Stats: 28 total cards, 17 autographs, nine memorabilia — $137.50 (OPG)
At 36th overall, he was a perfect 10-0 with a 2.03 ERA and 78 strikeouts in 97 innings this season. He held opposing hitters to a .197 average and walked only 44 batters in 16 starts. (Check him out on eBay.)
—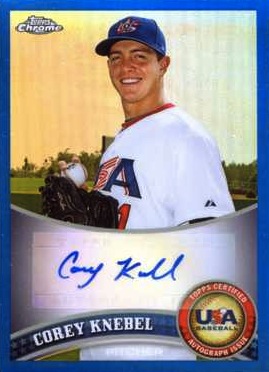 Corey Knebel
RHP — Texas
2011 Collegiate National Team
Beckett.com Stats: 56 total cards, 33 autographs, 14 memorabilia — $198 (OPG)
The 48th-best player in the country, he went 3-4 with a 3,38 ERA and 52 strikeouts in 40 innings this season as a reliever. That's 11.4 strikeouts per nine innings. (Check him out on eBay.)

—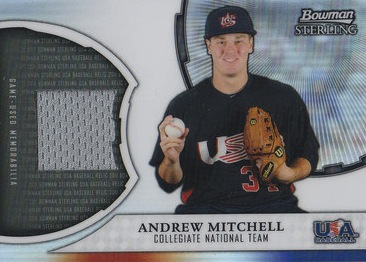 Andrew Mitchell
RHP — Texas Christian
2011 Collegiate National Team
Beckett.com Stats: 57 total cards, 33 autographs, 15 memorabilia — $178 (OPG)
Splits the Top 100 in half at No. 50, Mitchell went 1-2 with a 3.49 ERA and 57 strikeouts in 49 innings. He pitched in 20 games, starting 10, and struck out an average of 10.4 batters for every nine innings of work. (Check him out on eBay.)

—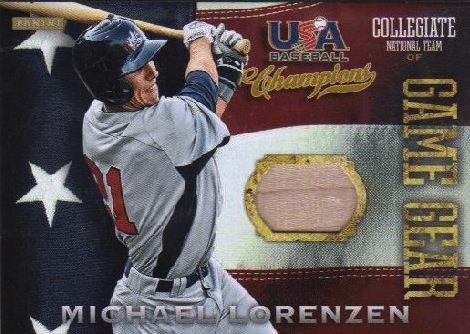 Michael Lorenzen
OF — Cal State Fullerton
On four past USA National Teams (2008-12)
Beckett.com Stats: 146 total cards, 83 autographs, 42 memorabilia — $832.75 (OPG)
You may recognize this guy. A USA Baseball vet, he's 52nd on BA's list. He went 3-0 as a pitcher this past season, striking out 20 in 22 innings, while also hitting .335 with seven home runs and 53 RBI in 59 games played. (Check him out on eBay.)
—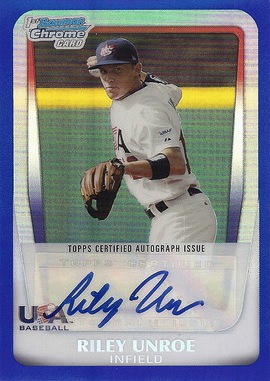 Riley Unroe
SS — Desert Ridge High School, Mesa, Ariz.
2011 16U National Team
Beckett.com Stats: 52 total cards, 20 autographs, nine memorabilia — $201.25 (OPG)
Coming in at 53, he's the son of a former big-leaguer and a switch-hitting middle infielder with six speed. (Check him out on eBay.)
—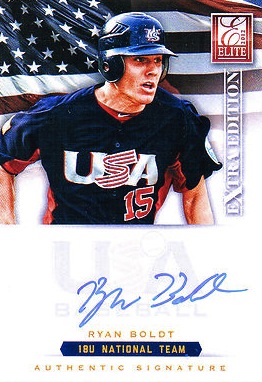 Ryan Boldt
OF — Red Wing High School Minn.
2012 18U National Team
Beckett.com Stats: 31 total cards, 16 autographs, 11 memorabilia — $116.25 (OPG)
No. 58 on the list, he's a speedy kid who can get on base, a potential five out of eight. (Check him out on eBay.)
—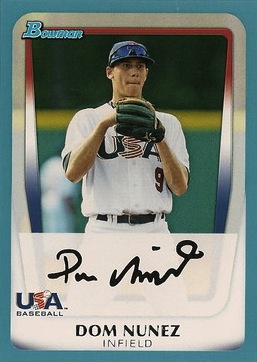 Dom Nunez
C — Elk Grove High School Calif.
2011 16U National Team
Beckett.com Stats: 79 total cards, 36 autographs, 18 memorabilia — $252.75 (OPG)
The 65th player on BA's list is another left-handed catcher who is seen as a potential five per MLB.com. (Check him out on eBay.)
—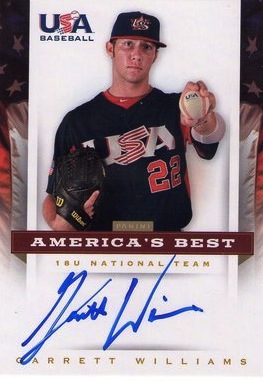 Garrett Williams
LHP — Calvary Baptist High School, Shreveport, La.
2012 18U National Team
Beckett.com Stats: 26 total cards, 16 autographs, eight memorabilia — $84.75 (OPG)
Coming in at 66, he's a potential six with three of his pitches and a five overall. (Check him out on eBay.)
—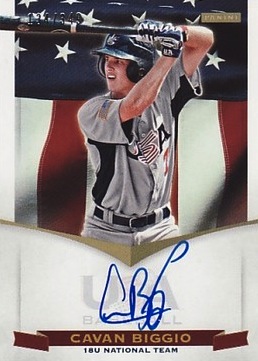 Cavan Biggio
2B — St. Thomas High School, Houston, Texas
2012 18U National Team
Beckett.com Stats: 38 total cards, 16 autographs, 17 memorabilia — $161.25 (OPG)
The son of future Hall of Famer Craig Biggio checks in at 67th. (Check him out on eBay.)
—
Chris Okey
C — Eustis High School, Fla.
Three National Teams (2010-12)
Beckett.com Stats: 125 total cards, 61 autographs, 23 memorabilia — $576.90 (OPG)
No. 72 overall, he's seen as a potential above-average hitter with a strong arm. (Check him out on eBay.)
—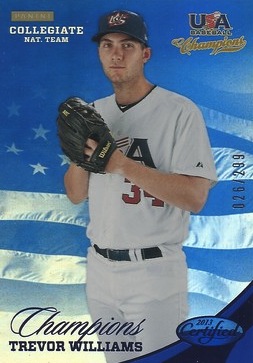 Trevor Williams
RHP — Arizona State
2012 Collegiate National Team
Beckett.com Stats: 28 total cards, 16 autographs, 10 memorabilia — $66.75 (OPG)
No. 74 overall on the list, he went 6-6 with a 4.12 ERA and 81 strikeouts in 16 starts this past season. (Check him out on eBay.)
—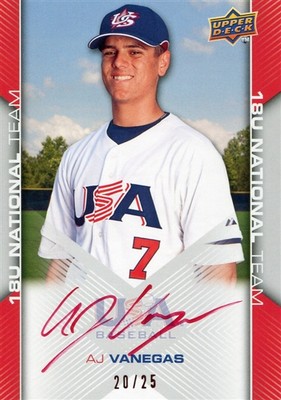 A.J. Vanegas
RHP — Stanford
Two National Teams (2009-10)
Beckett.com Stats: 87 total cards, 51 autographs, 22 memorabilia — $513.75 (OPG)
No 78 overall, Vanegas went 1-1 with a 3.12 ERA and 12 strikeouts in less than nine innings of work. (Check him out on eBay.)
—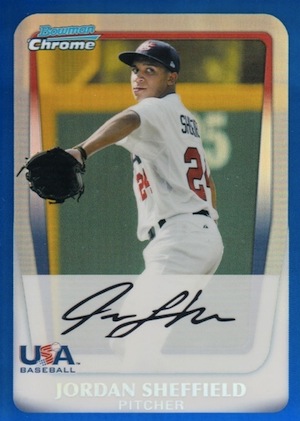 Jordan Sheffield
RHP — Tullahoma High School Tenn.
2011 16U National Team
Beckett.com Stats: 53 total cards, 20 autographs, nine memorabilia — $246.25 (OPG)
No. 88 overall on the list. Positive? He's a nephew of Gary Sheffield.  Negative? He's recently had Tommy John surgery. (Check him out on eBay.)