From non-paying bidder to $30K … Team Jack gets its money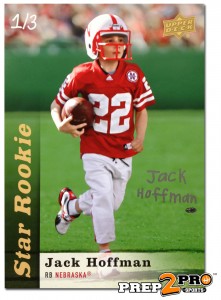 By Susan Lulgjuraj | Beckett Footall Editor
Even though the Team Jack Foundation didn't get paid from the initial eBay auction for a signed blow-up card of 7-year-old Jack Hoffman who is fighting brain cancer – the family is pretty happy with the ending.
After Beckett reported the news of the non-sale, many potential buyers contacted Mike Schnoor, owner of Prep 2 Pro Sports in Norfolk, Neb., who was handling the auction on behalf of the charity, to buy the card.
Three different buyers offered $10,000, and since Schnoor had three versions all signed in silver pen, he sold all three and raised $30,000 – a big difference from the $6,100 they should have received from the eBay auction.
"We had at least a dozen people call looking to buy the card," Schnoor said on Tuesday to Beckett Media. "We are just overwhelmed with the generosity. There are so many good people out there and can confirm that."
Upper Deck created these promotional cards on behalf of the Team Jack Foundation to help raise money for pediatric cancer awareness. Hoffman, a Nebraska resident, received national attention when he ran for a 69-yard touchdown in the University of Nebraska's spring game in April.
The video of Jack's run aired on ESPN and received nearly eight million page views on YouTube. He has since done interviews on national news station, including Fox News.
Supporters of Jack's were disappointed when the news broke that an auction selling one of five blow-up cards (Jack received one for himself) was not paid. However, fans rallied around the cause by bringing attention to it through social media.
Supporters can also purchase 5-by-7 inch Upper Deck promo cards from the charity's website for $10 each.
"I'd like to sincerely thank the gentlemen that stepped up to offer to purchase the card," Schnoor said. "The word got out on the Internet and the story got picked up by a lot of places. There were people who were upset about it and they wanted to help.
UPDATE: The Team Jack Foundation named the three buyers, which included a Hollywood celebrity. The three buyers were:
– Dr. Darold Opp, a dentist from Aberdeen, South Dakota
– Tom Holman, a business owner from Van Alstyne, Texas
– James Denton, Minneapolis, Minnesota (actor, Desperate Housewives)
Susan Lulgjuraj is an editor of Beckett Football. You can email her here with questions, comments or ideas. Follow her on Twitter here. Follow Beckett Media on Facebook and Twitter.