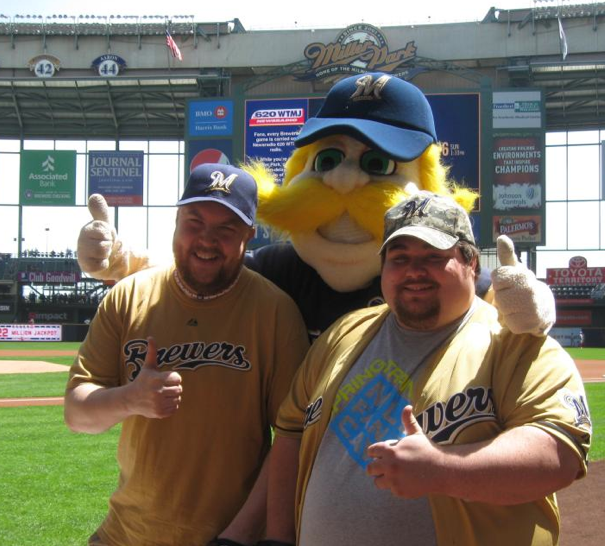 Beckett SuperCollector Kevin Kimmes, left, recently threw out the first pitch at a Milwaukee Brewers game — and he also added a little something to his John Axford collection.
—
By Kevin Kimmes | Guest Writer | Opinion & Commentary
I have a bucket list.
A few years ago, I purchased a book — The Baseball Fan's Bucket List: 162 Things You Must See, Do, Get & Experience Before You Die by Robert Santelli and Jenna Santelli on a whim from Barnes & Noble. I figured that it appealed to the collector/checklist-chaser side of me and that I would probably never complete it, but it would give me some great ideas for road trips, leisure reading and films that I may have missed.
One entry, however, caught my eye right away … No. 139: Throw Out The First Pitch.
The entry struck me due to the presumed difficulty associated with it, despite the fact that the author claimed that it is actually easier to accomplish than one might think, especially at the minor-league level. I filed the idea away, assuming that it would be one of those entries that I would probably never complete. That was until I decided to get married.
When it came time for planning my bachelor party, my brother asked me what I wanted to do. I told him that I wanted to skip all the cliché stuff and just have a day filled with baseball: batting cages, tailgating, oh yeah … and throwing out the first pitch at a game.
"So, like a t-ball game? Little league?" was my brother's response. "I don't think the Brewers are going to let you do this just because you're getting married."
"Great, don't make it the Brewers, make it the Timber Rattlers," I replied.
For those that don't know, the Timber Rattlers are Milwaukee's Single-A squad based out of Appleton, Wisc. They are commonly used for the team's rehab assignments due to the close proximity to Milwaukee. The team also was the 2012 Midwest League champions.
To my brother's surprise, the Rattlers were willing to do it, and the date was set for May 5, 2012 (Cinco de Mayo). On that day, I delivered an Eephus pitch that my good friend Jake Erb described as my "12-6", a high arcing junker that landed will a dull thud right on home plate. I got to keep the ball and even had it signed by that night's catcher, Tyler Roberts.
For most people, this would be the end of the story, but not for me. Exactly one year to the day, I'd find myself doing it all over again.
Welcome to Miller Park.
You see, earlier this year, I was selected as one of 52 finalists for the this year's MLB Fan Cave competition, Despite not advancing to the second round, the Brewers decided to recognize my accomplishment and dedication to the team by letting me throw out a ceremonial first pitch. I would get to share the honor with fellow Fan Cave participant Peter Gourlie (aka Super Fan Pete) who also represented Milwaukee this year. We just had one question: Can you set us up with personal catchers?
The team made it clear that this would not be something that could be done, so being the resourceful gentlemen that we are, we decided to take matters into our own hands. It was time to make a call to the bullpen.
Pete was quick to lock down Brewer's reliever Brandon Kintzler. Brandon was the one who had initially pushed Pete to enter a submission this year and didn't hesitate to answer the call. For me, there was only one choice, Milwaukee's all-time single season saves leader, John Axford.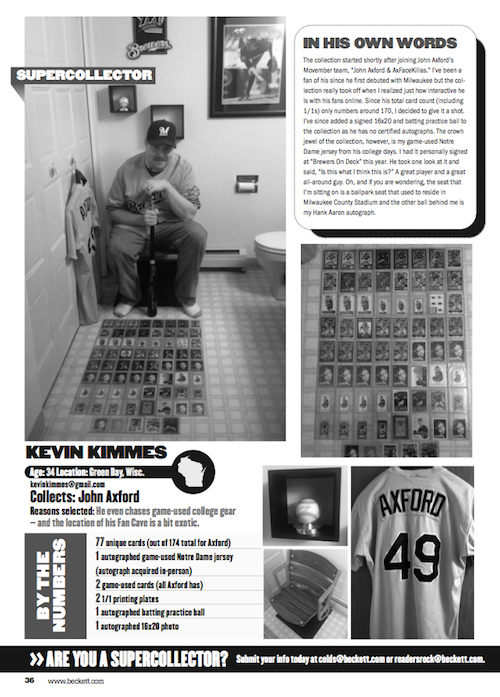 I had my first interactions with John during this year's off-season, first as a member of his Movember team, raising money for men's health and cancer research and later in person at Brewers On-Deck when he signed his game-used Notre Dame college jersey for me. The jersey would become the crown jewel of my SuperCollection, which was featured in the April issue of Beckett Sports Card Monthly (No. 337).
The question was, would he agree?
It wasn't until the day before that I heard a response via Twitter: "I'm in!"
I floated through the next 24 hours in a haze of unreality, barely able to wrap my head around what I was about to do. The next morning as John Fogerty's "Center Field" played over the PA, my wife and I found ourselves in the lobby of the Brewers' corporate offices waiting to meet with Caitlin Moyer, the teams Senior Manager of Advertising and Marketing. It was Caitlin's idea to have us do this as soon as the Fan Cave finalists were announced.
When we reached the field, Pete was already there waiting for us. Things started to become a blur as friends, family and Brewers' staff all started having us pose for pictures (even Bernie Brewer got into the act). About 10 minutes before we were supposed to take the mound, John came out of the dugout, and I immediately thanked him for agreeing to do this for me.
"It's kind of hard to say no to a guy who has 180 tiny pictures of you at home," he said with a grin. Apparently he saw the Beckett article.
John posed for some pictures with my wife and I, even finding time to sign a ball for a kid that had snaked his way down to the front row. Before we knew it, it was time to take the mound.
Since there were two of us, the team had us set up on the sides of the mound. Now, as someone who isn't used to throwing from the mound, this is tricky enough, but now I was going to be throwing downhill and on an angle. Needless to say, the results were "interesting." We both managed to fire in pitches that were straight as arrows, unfortunately both balls hopped up into our catchers' gloves.
Walking back from the mound, I felt bad about hopping it, but John cheered me up by saying, "It's OK if it hops, some guys will swing at those. As long as your catcher can block it, it's no big deal."
When we reached the edge of the field, he started signing my ball and was about to hand it over when he hesitated.
"Here, why don't you have this, too."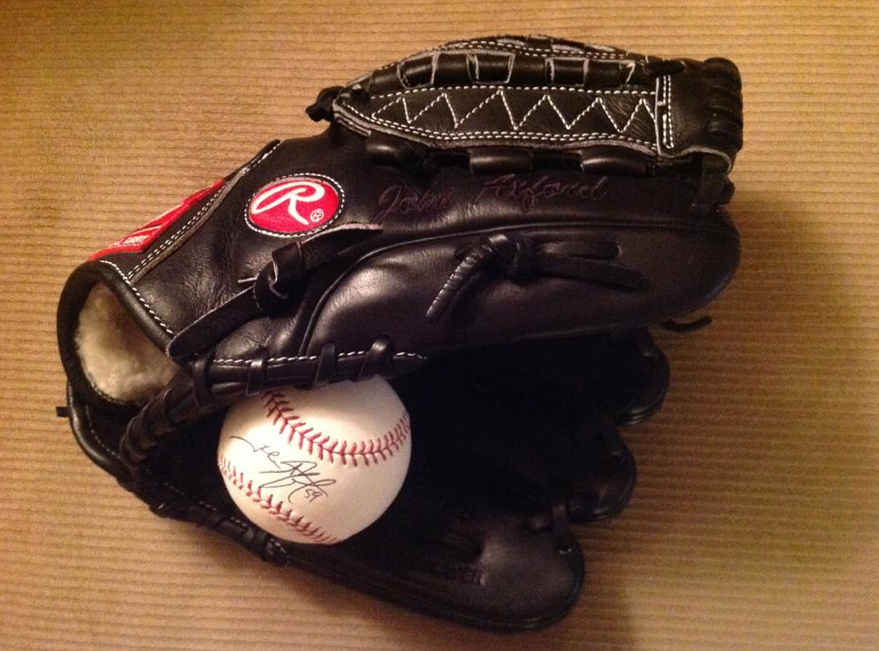 With that, he slid off his glove with the ball still inside and gave it to me. I was beside myself. This was the coolest gift I had ever been given and it came from my favorite player.
So, the next time that you hear some horror story about Mr. Something or Another being a jerk to a fan, just know that the good guys do still exist, and John Axford is one of them.
Kevin Kimmes is a regular contributor to creamcitycables.com. You can follow him on Twitter at @kevinkimmes.