First Look: 2014-15 Upper Deck Ultimate Collection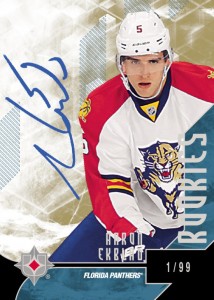 By Stephen Laroche | Beckett Hockey Editor
This June, hockey fans will be watching the 2014-15 NHL season wind down with the Stanley Cup Final, but those that collect cards will have something new to bust while watching the action on the ice as Upper Deck is set to release its latest edition of Ultimate Collection.
With an all-new configuration which sees the number of cards per pack increase from four to six, each pack of 2014-15 Upper Deck Ultimate Collection will include one base card and one 2004-05 Retro card along with four autograph or memorabilia hits.
What else can be found in packs? Find out after the jump.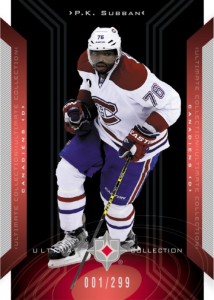 Hockey's brightest stars will make up the Ultimate Collection base set once again and each card is limited to 299 copies. As usual, there will be plenty of freshman content to enjoy and the Autographed Ultimate Rookies will be split into two levels and numbered to either 99 or 299. Some of these cards will have parallel versions such as Base Set Jerseys (#d to 199) and the Ultimate Rookies Autograph Patch parallel (#'d to 25) that give player collectors an added challenge.
Those that recall the first Ultimate Collection release from 10 years ago (after being called Premier Collection previously) will be happy to see that set's visually appealing design return with a 50-card bonus set. Like the regular base cards, these will be numbered out of 299 and there will also be cards from a 10th Anniversary Retro Ultimate Signatures series offered once in every four packs plus a Game Jersey edition numbered to 99 along with some limited tag and stick parallels.
There are plenty of new features in Ultimate Collection that will generate some excitement. Obsidian Silver Scripts (1:4) make their debut this season and in addition to the autographs being done on black paper with silver paint pens, there will also be versions with one oversized piece of memorabilia (#'d to 25) or two-player Script Combos (#'d to 10). The lineup has also been bolstered by Rare Materials (#'d to 99 or less), which come in triple patchs, stick and strap editions along with Ultimate Gear (1:4), which also come in four-piece combos or six-piece trios. All of those cards will have extremely limited patch, fight strap, button and stick versions, too, that can be as limited as just one copy.
Returning again this season are Ultimate Signature Masterpieces (1:5), one of the most underrated aspects of last year's release. As expected, there will be all-new art and they will have gold ink signatures. The original painted cards are also inserted into packs and are one-of-one treasures.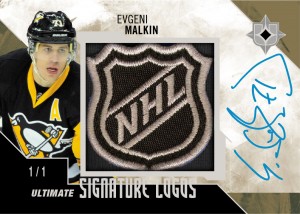 As many have come to expect with Ultimate Collection, the product is loaded up with autographed one-of-one cards featuring NHL shield patches. This time, there will be up to 100 Ultimate Signature Logos or Autographed Rookie Shields. Other hits to watch out for are Debut Threads (#'d to 100), Memorable Materials (#'d to 49 or less) and Ultimate Materials (#'d to 25).
An average 10-box case of 2014-15 Upper Deck Ultimate Collection can expect to find 10 Autographed Rookies, 10 premium autographs (which could include 1/1 NHL Shields), and 20 premium memorabilia hits.
Stephen Laroche is the editor of Beckett Hockey and Beckett Basketball magazines. Have a comment, question or idea? Send an e-mail to him at SLaroche@beckett.com. Follow him on Twitter @Stephen_Laroche.