First Look: 2015 Topps High Tek baseball cards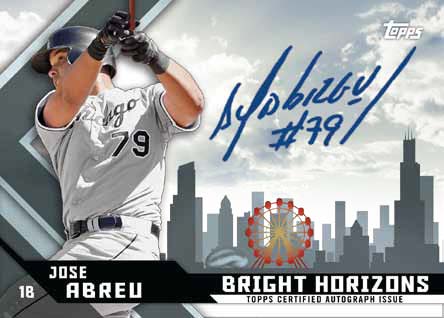 By Chris Olds | Beckett Baseball Editor
High Tek won't be a one-year wonder — not after its popularity last year.
Topps revealed the basics and first teasers for 2015 Topps High Tek on Friday evening, a follow-up to the popular autograph-focused brand that returned last year after several years on the sidelines.
This time around, Tek will once again include an autograph in every box along with one parallel card when it arrives on Oct. 14. Every 12-box case will now include an insert card limited to no more than 50 copies.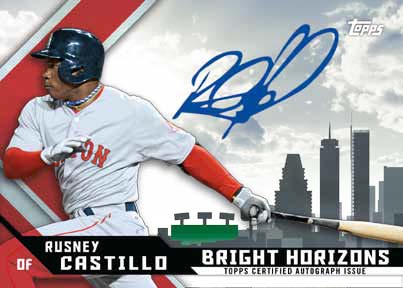 With every card printed on clear plastic with several patterns per player, this one presents not only a visual challenge but also a collecting one. New this year will be Bright Horizons inserts and autos where the skylines of the players' home cities add a gothic touch.
Also to be found will be DramaTEK Performers cards, a nod to the 2000 release. These will have autographed versions as well as unsigned versions for collectors to chase.
The standard cards will have nine parallels per player — Purple Rainbow (limited), Confetti Diffractor, Tidal Diffractor, Gold Rainbow, Clouds Diffractor, Red Orbit Diffractor, Black Rainbow, Black Galactic and printing proofs. The last three are 1/1 creations. Some basic cards will also have Red Orbit Diffractors limited to five copies and 1/1 Black Galactics.
On the autograph front, there will be three types of sigs to chase — High Tek autos, Bright Horizons and buybacks from past Tek sets made from 1998-2000. Horizons will have Red Orbit parallels limited to five as well as 1/1 Black Galactics. The Tek autos will have six types — 1/1 proofs and Black along with Red Orbit (/5), Clouds (/25), Gold (/TBD) and Tidal (/TBD).
Insert-chasers will have the DramaTEK Performers with their auto versions as well as Red Orbit (/5) and 1/1 Black parallels, while Low-Tek Diffractors will continue this year with the same design from 2014. The autos in these two sets will have no more than 25 copies signed.
A preliminary checklist for this product was not released.
Chris Olds is the editor of Beckett Baseball and Beckett Sports Card Monthly magazines. Have a comment, question or idea? Send an email to him at colds@beckett.com. Follow him on Twitter by clicking here.