BGS Diary: Seeing gold, stickers … and furry autos?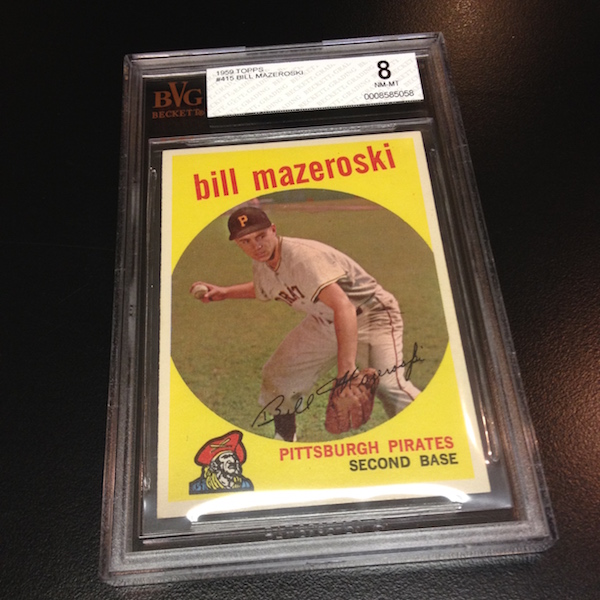 By Chris Olds | Beckett Sports Card Monthly Editor | Commentary
For the last few months, I've submitted a few cards a month to Beckett Grading Services to finally get some of the cards I like into slabs. Selecting which cards to submit has been easier said than done — and the results can be interesting, too.
Here is the batch I got back from BGS for April — so here is my latest BGS Diary entry. See which cards I decided to submit … after the jump.
1959 Topps #415 Bill Mazeroski, $12 (raw)
During a recent visit to my local card shop, this card jumped out at me among the 1959 Topps cards in a box. It had a $9 price tag on it (and I might already own a mangled copy somewhere in one of my vintage boxes) but the centering and its visual appeal all said a single thing to me — "get me graded." The card's upper-left corner has a minor indention but otherwise it looked good to me. A BVG 8 isn't easy — but on this card it might be, according to the pop report.
Pop Report: Of the 66 copies of this card slabbed by BGS, only five have a higher grade than this one. There are three 8.5s, a single 9 and a single 9.5. There are nine other cards with the same grade as mine, which ties the 7.5 as the most-common grade to receive. (For the record, there is a BVG 2.0 out there somewhere, too.)
—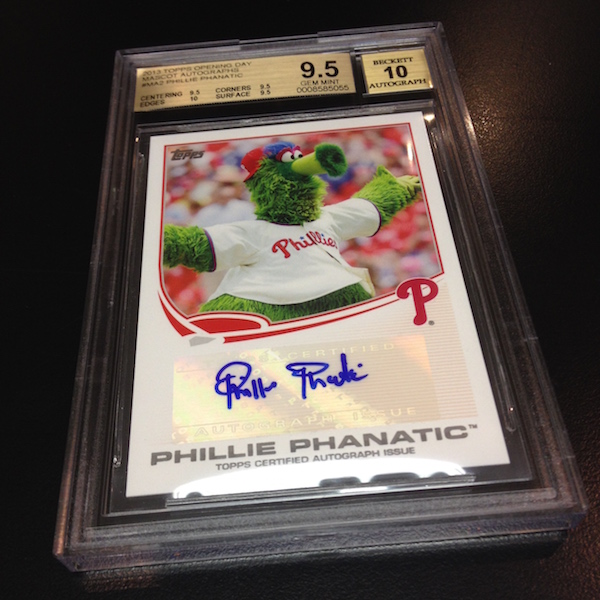 2013 Topps Opening Day Mascot Autographs #MA2 Phillie Phanatic, $80 (raw)
I was genuinely amused when I pulled this autographed card out of a 2013 Topps Opening Day retail Blaster Box. Why? It was a discounted box that cost only $5 at a Walmart. The bigger reason why? The Phanatic is a legend of the fur — a first-ballot Mascot Hall of Famer if there is one. (There is.) But the biggest reason why I like this card even more now? It came back with a solid grade — and it turns out that there's a lot more demand for the card than I thought there was. (I had no idea it was as valuable as its listing indicates.)
Pop Report: Believe it or not, there is another Phanatic auto like this one in a BGS slab. It got a 9.0, making mine tops in the land. (At least for now — I'm betting the mascot card submissions come in fast and furious now.)
—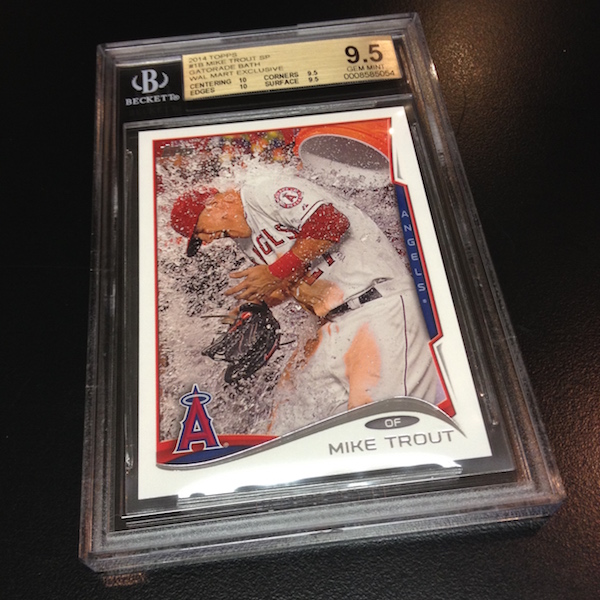 2014 Topps #1B Mike Trout SP Gatorade Walmart Exclusive, $30 (raw)
This card was a hot one last summer when a second wave of Topps jumbo packs appearing only at Walmart stores around Opening Day with one of these cards inside every one of them. Each $5 pack included one of these and they initially sold quite well. Will the packs and, in turn, this card be tougher to find in the future? Maybe, so I opted to cherry pick the best one of a handful I still have and landed this grade. This was more of a "just for fun" card to get graded — but it doesn't hurt that he's the most-popular player in the game today.
Pop Report: A mere 38 copies of this card have been slabbed by BGS, but none top my grade. In fact, there are 27 others just like mine — none of them perfect but all very, very close. For the record, every other copy of the card below 9.5 came back a BGS 9. Do you have it in you to see if yours will be the first 10?
—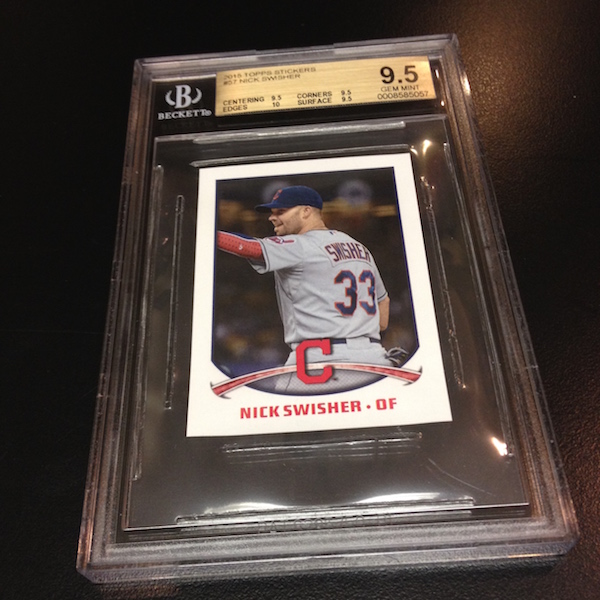 2015 Topps Stickers #57 Nick Swisher, 30 cents (raw)
Yep, that's right … soak it in. I got a sticker graded. Last month, I pondered whether these quickly and inexpensively made collectibles might be an overlooked option for grading fans. This year's set will yield one, sometimes two, stickers of a particular player in an entire box of packs — and there are often corner issues, wrinkles and centering problems on them. Those aren't issues if a sticker is merely destined for an album, but it's a much bigger deal if they're headed to a BGS slab. In this case, I put my money where my mouth is and it came back a 9.5 — not sure if I could have handled it if it were a 9 or lower. On 1980s key players, I could see there being definite demand in top grades.
Pop Report: This is the only sticker from this year's set that has been slabbed.
—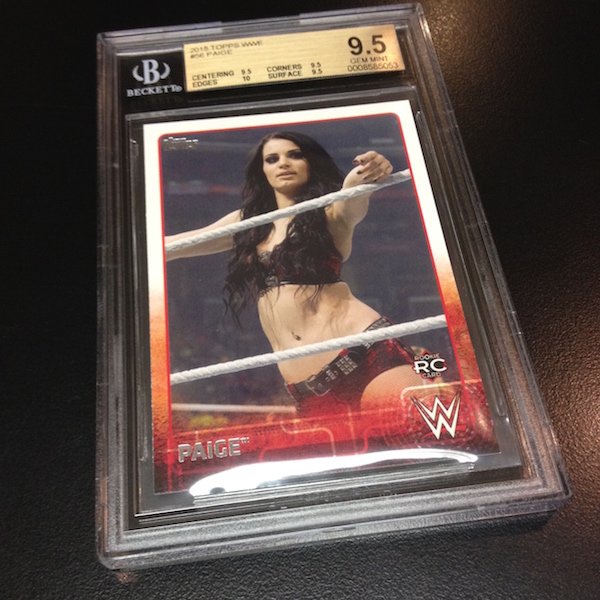 2015 Topps WWE #56 Paige, $12 (raw)
If you saw my BGS Diary last month, then you saw where I submitted her 2014 NXT insert (a "rookie card") and her 2015 Topps Relic. This one didn't make the cut for my submissions last time but it was clean enough I did it this time. Those bottom corners are tough to find without a spec of white showing and these do tend to have common centering flaws based on my somewhat-heavy buying this year. Paige is among the best-selling stars of anyone in WWE right now (the $12 price surprised me), so I figured I would see how it would grade to go with my other two cards.
Pop Report: This is the first copy of the card to be graded by BGS, according to the report, and it's the highest of the four Paige cards of any type submitted for grading from the entire product. The rest have been an 8.5 or 9.
—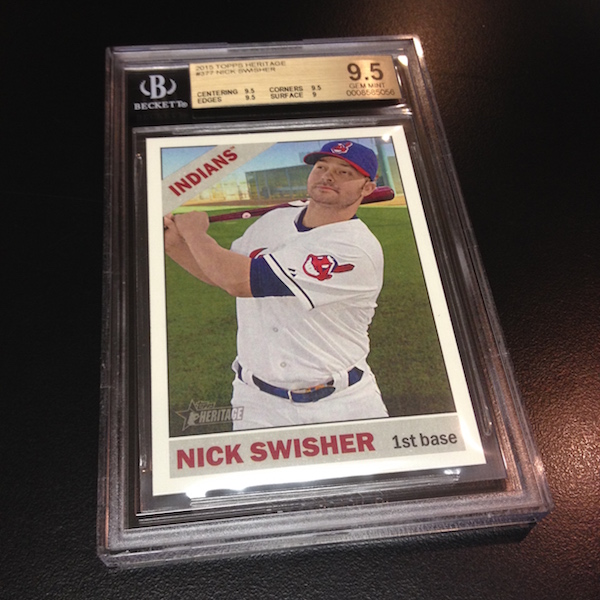 2015 Topps Heritage #377 Nick Swisher, 50 cents (raw)
Of the baseball sets released this year, Heritage has been the one I have personally purchased most (so far), so I figured I would submit the best-looking of the three Swishers I had pulled from packs. Eventually, I'll get an entire run of Swisher Heritage cards into slabs just for fun — and maybe a BGS Registry — so this was the start. Why? Just for fun.
Pop Report: This is the only Swisher and, interestingly, just the fourth base card from the popular product to be slabbed. The three others are all Mike Trout cards — one was a card I pulled and contemplated sending in, myself, but it didn't make the cut. Maybe next month.
—
That's my latest BGS Diary … let me know what you think, or if you want to see more, in the comments below.
Chris Olds is the editor of Beckett Baseball and Beckett Sports Card Monthly magazines. Have a comment, question or idea? Send an email to him at colds@beckett.com. Follow him on Twitter by clicking here.
—
How did Beckett readers do with predicting this batch? Look for a new BGS Diary Predictor next month.
BGS Diary Predictor (April): What will Olds submit?
1975 Topps Mini #228 George Brett (17%, 70 Votes)
1959 Topps #415 Bill Mazeroski (14%, 58 Votes)
2013 Topps Opening Day Mascot Autographs #MA2 Phillie Phanatic (13%, 55 Votes)
2015 Topps WWE #56 Paige (13%, 52 Votes)
2014 Topps #1B Mike Trout (Gatorade) (10%, 40 Votes)
2010 Bowman Chrome #BCP1 Stephen Strasburg (8%, 35 Votes)
2015 Topps Heritage #377 Nick Swisher (7%, 29 Votes)
2015 Donruss #176B Bryce Harper SP/Mohawk (7%, 29 Votes)
2015 Topps Heritage #500 Mike Trout (6%, 24 Votes)
2015 Topps Stickers #57 Nick Swisher (6%, 24 Votes)
Total Voters: 120
Loading ...
—
PAST BGS DIARY POSTS
– October: Rookie Cards, Moneyball & Watergate
– November: Vintage, booklets Dr. Beckett & more
– December: Saban, Cerrano, Hawk, Animal & practice
– January: Bull Durham, Star hoops, "Macho Man" … and Bill Murray's baseball card?
– February: Chasing Amy, metal minis, USA Baseball green and, of course, Crimson Tide
— March: WWE Divas and cardboard icons Sandy Koufax and Sy Berger make their way into slabs