First look: 2013 Topps Strata Football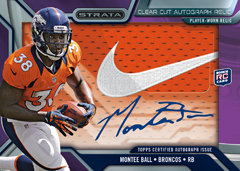 By Susan Lulgjuraj | Beckett Football Editor
Topps is bringing back Strata back for a sophomore campaign.
The card company debuted the layered product last season with one of the most hyped rookie classes. It hasn't changed much in 2013 Topps Strata football, and left in what collectors enjoyed about the product.
Each box guarantees two autographs, one relic card and a rookie die-cut. Case hits include one Strata Signature Relic, three Clear-Cut Autographed Patch cards and three Rookie Patch cards.
The Clear Cut Autograph Relic cards are back and collectors win find one in each box featuring up to 40 rookies (think the players that were at the NFL Players Association Rookie Premiere). The autograph relics have nine parallels, but seven of them are exclusive to hobby.
Bronze (numbered to 150) and Gold parallels (#'d to 99) are widely available. The Sapphire Patch (#'d to 60), Emerald Patch (#'d to 30), Ruby Patch (#'d to 15) and Quartz Gloves, Quartz Pigskin, Quartz Swoosh and Quartz Patch (all 1-of-1) are only available in hobby.
Strata will include up to 50 veteran and base autographs without relics.
Collectors will also get a chance to get redemptions for Uncut Sheets of veteran, Hobby Rookie, Retail Rookie and Rookie Die-Cut forms.
One of the biggest upgrades is in the design of the base cards. There will be 150 cards in the base set with 50 rookies. Parallels of the base include Bronze (#'d to 150), Gold (#d to 99), Sapphire (#'d to 50), Emerald (#'d to 10), Ruby (1/1) and Printing Plates (1/1).
Last year, the base cards had different pictures of the rookie between hobby and retail and it seems as Topps taking that road once again.
Each box will have six 18-card packs and release in December.
Susan Lulgjuraj is an editor of Beckett Football. You can email her here with questions, comments or ideas. Follow her on Twitter here. Follow Beckett Media on Facebook and Twitter.
---
2013 Topps Strata checklist
BASE CARDS
1 Percy Harvin Seattle Seahawks    76 Hakeem Nicks New York Giants
2 Reggie Bush Detroit Lions    77 Frank Gore San Francisco 49ers
3 Ryan Nassib New York Giants – RC    78 Earl Thomas Seattle Seahawks
4 Landry Jones Pittsburgh Steelers – RC    79 James Laurinaitis St. Louis Rams
5 Calvin Johnson Jr. Detroit Lions    80 Von Miller Denver Broncos
6 Aaron Hernandez New England Patriots    81 Denarius Moore Oakland Raiders
7 Ben Roethlisberger Pittsburgh Steelers    82 Andrew Luck Indianapolis Colts
8 Jake Locker Tennessee Titans    83 E.J. Manuel Buffalo Bills – RC
9 Stedman Bailey St. Louis Rams – RC    84 Steven Jackson Atlanta Falcons
10 Adrian Peterson Minnesota Vikings    85 Russell Wilson Seattle Seahawks
11 Kenjon Barner Carolina Panthers – RC    86 Christine Michael Seattle Seahawks – RC
12 Matt Barkley Philadelphia Eagles – RC    87 Tony Romo Dallas Cowboys
13 Vance McDonald San Francisco 49ers – RC    88 Sam Bradford St. Louis Rams
14 Wes Welker Denver Broncos    89 Andre Ellington Arizona Cardinals – RC
15 Robert Woods Buffalo Bills – RC    90 Montee Ball Denver Broncos – RC
16 Antonio Cromartie New York Jets    91 Victor Cruz New York Giants
17 Giovani Bernard Cincinnati Bengals – RC    92 Aaron Dobson New England Patriots – RC
18 Luke Kuechly Carolina Panthers    93 Marshawn Lynch Seattle Seahawks
19 Rob Gronkowski New England Patriots 94 DeAndre Hopkins Houston Texans – RC
20 Steve Johnson Buffalo Bills 95 Tom Brady New England Patriots
21 Justin Blackmon Jacksonville Jaguars    96 A.J. Green Cincinnati Bengals
22 Charles Tillman Chicago Bears     97 Tyler Wilson Oakland Raiders – RC
23 C.J. Spiller Buffalo Bills    98 Stevan Ridley New England Patriots
24 Knile Davis Kansas City Chiefs – RC    99 Colin Kaepernick San Francisco 49ers
25 Jay Cutler Chicago Bears    100 Mike Gillislee Miami Dolphins – RC
26 Patrick Willis San Francisco 49ers    101 Richard Sherman Seattle Seahawks
27 BenJarvus Green-Ellis Cincinnati Bengals    102 Vernon Davis San Francisco 49ers
28 Vincent Jackson Tampa Bay Buccaneers    103 Clay Matthews Green Bay Packers
29 Antonio Brown Pittsburgh Steelers    104 Pierre Garcon Washington Redskins
30 Aaron Rodgers Green Bay Packers    105 Matt Schaub Houston Texans
31 Dee Milliner New York Jets – RC    106 Terrance Williams Dallas Cowboys – RC
32 Quinton Patton San Francisco 49ers – RC   107 Trent Richardson Cleveland Browns
33 Alex Smith Kansas City Chiefs    108 Matthew Stafford Detroit Lions
34 Eli Manning New York Giants    109 Chris Johnson Tennessee Titans
35 LeSean McCoy Philadelphia Eagles 110 Kenny Stills New Orleans Saints – RC
36 Dion Jordan Miami Dolphins – RC 111 Manti Te'o San Diego Chargers – RC
37 Cecil Shorts Jacksonville Jaguars 112 Ezekiel Ansah Detroit Lions – RC
38 Tyler Eifert Cincinnati Bengals – RC 113 Peyton Manning Denver Broncos
39 Darren Sproles New Orleans Saints 114 Cam Newton Carolina Panthers
40 Roddy White Atlanta Falcons 115 DeMarco Murray Dallas Cowboys
41 Andre Johnson Houston Texans 116 Johnathan Franklin Green Bay Packers – RC
42 Reggie Wayne Indianapolis Colts 117 Geno Smith New York Jets – RC
43 Jamaal Charles Kansas City Chiefs 118 David Wilson New York Giants
44 Larry Fitzgerald Arizona Cardinals 119 Antonio Gates San Diego Chargers
45 Michael Vick Philadelphia Eagles 120 J.J. Watt Houston Texans
46 Ryan Swope Arizona Cardinals – RC 121 Carson Palmer Arizona Cardinals
47 Aldon Smith San Francisco 49ers 122 Maurice Jones-Drew Jacksonville Jaguars
48 Doug Martin Tampa Bay Buccaneers 123 Josh Freeman Tampa Bay Buccaneers
49 Anquan Boldin San Francisco 49ers 124 Denard Robinson Jacksonville Jaguars – RC
50 Stepfan Taylor Arizona Cardinals – RC 125 Eddie Lacy Green Bay Packers – RC
51 Keenan Allen San Diego Chargers – RC 126 Brandon Marshall Chicago Bears
52 Mike Glennon Tampa Bay Buccaneers – RC 127 Arian Foster Houston Texans
53 Christian Ponder Minnesota Vikings 128 Barkevious Mingo Cleveland Browns – RC
54 Chris Harper Seattle Seahawks – RC 129 Cordarrelle Patterson Minnesota Vikings – RC
55 Josh Boyce New England Patriots – RC 130 Dez Bryant Dallas Cowboys
56 Alfred Morris Washington Redskins 131 Cobi Hamilton Cincinnati Bengals – RC
57 Mike Wallace Miami Dolphins 132 Andy Dalton Cincinnati Bengals
58 Joe Flacco Baltimore Ravens 133 Steve Smith Carolina Panthers
59 Santonio Holmes New York Jets 134 Drew Brees New Orleans Saints
60 Markus Wheaton Pittsburgh Steelers – RC 135 Philip Rivers San Diego Chargers
61 Eric Decker Denver Broncos 136 Justin Hunter Tennessee Titans – RC
62 Jared Allen Minnesota Vikings 137 Zach Ertz Philadelphia Eagles – RC
63 Torrey Smith Baltimore Ravens 138 Ray Rice Baltimore Ravens
64 Ed Reed Houston Texans 139 Marquise Goodwin Buffalo Bills – RC
65 Manti Te'o San Diego Chargers – RC 140 Demaryius Thomas Denver Broncos
66 Matt Ryan Atlanta Falcons 141 Jason Witten Dallas Cowboys
67 Jimmy Graham New Orleans Saints 142 Robert Griffin III Washington Redskins
68 Tavarres King Denver Broncos – RC 143 Le'Veon Bell Pittsburgh Steelers – RC
69 Brandon Weeden Cleveland Browns 144 Ryan Tannehill Miami Dolphins
70 Troy Polamalu Pittsburgh Steelers 145 Marcus Lattimore San Francisco 49ers – RC
71 Dwayne Bowe Kansas City Chiefs 146 Julio Jones Atlanta Falcons
72 Matt Forté Chicago Bears 147 Jordan Reed Washington Redskins – RC
73 Gavin Escobar Dallas Cowboys – RC 148 Randall Cobb Green Bay Packers
74 Patric kPeterson Arizona Cardinals 149 Tavon Austin St. Louis Rams – RC
75 Darren McFadden Oakland Raiders 150 Joseph Randle Dallas Cowboys – RC
Featuring Autograph Cards, Autographed Relic Cards and/or Relic Cards of, but not limited to, the following:
Aaron Dobson, New England Patriots
Andre Ellington, Arizona Cardinals
Christine Michael, Seattle Seahawks
Cordarrelle Patterson, Minnesota Vikings
DeAndre Hopkins, Houston Texans
Denard Robinson, Jacksonville Jaguars
Dion Jordan, Miami Dolphins
E.J. Manuel, Buffalo Bills
Eddie Lacy, Green Bay Packers
Gavin Escobar, Dallas Cowboys
Geno Smith, New York Jets
Giovani Bernard, Cincinnati Bengals
Johnathan Franklin, Green Bay Packers
Jordan Reed, Washington Redskins
Joseph Randle, Dallas Cowboys
Justin Hunter, Tennessee Titans
Keenan Allen, San Diego Chargers
Kenny Stills, New Orleans Saints
Knile Davis, Kansas City Chiefs
Landry Jones, Pittsburgh Steelers
Le'Veon Bell, Pittsburgh Steelers
Manti Te'o, San Diego Chargers
Marcus Lattimore, San Francisco 49ers
Markus Wheaton, Pittsburgh Steelers
Marquise Goodwin, Buffalo Bills
Matt Barkley, Philadelphia Eagles
Mike Gillislee, Miami Dolphins
Mike Glennon, Tampa Bay Buccaneers
Montee Ball, Denver Broncos
Quinton Patton, San Francisco 49ers
Robert Woods, Buffalo Bills
Ryan Nassib, New York Giants
Stedman Bailey, St. Louis Rams
Stepfan Taylor, Arizona Cardinals
Tavon Austin, St. Louis Rams
Terrance Williams, Dallas Cowboys
Tyler Eifert, Cincinnati Bengals
Tyler Wilson, Oakland Raiders
Vance McDonald, San Francisco 49ers
Zach Ertz, Philadelphia Eagles