First Look: 2012 Bowman (update w/final AU list)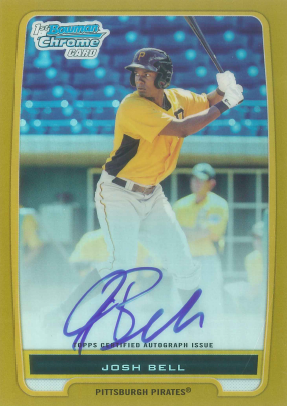 By Chris Olds | Beckett Baseball Editor
Topps released on Tuesday the basic product information and preview images for its flagship prospecting product for 2012, Bowman.
Scheduled to arrive on May 9, Bowman will include one Chrome autograph per 24-pack hobby box with a few new introductions to the line, too.
New for 2012 will be Bowman Black autographs, autographed Rookie Originals — signed buybacks of players who never had Bowman autographed prospect cards in the past — Aflac All-American autographs and a wrapper redemption program, too.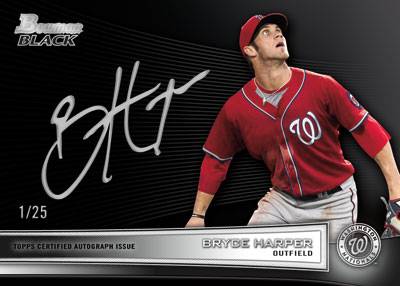 Bowman Black (above) will showcase 25 players on its checklist, while 10 players will sign buybacks also limited to 25 copies. The number of Aflac players is still TBD.
The wrapper redemption program will yield a five-card pack of Blue Wave Refractors for every 24 wrappers submitted. This set will parallel the 110-card prospect set.
As with past releases, Bowman Chrome prospect autographs will be found with Refractors as well as Blue (/150), Gold (/50), Orange (/25), Purple (/10), Red (/5) and SuperFractor (1/1) versions. The printing plates and Purples will only be found in the 12-pack HTA Jumbo boxes. (Jumbo boxes will include 32 cards per pack and three autographs per box.)
Autographed Rookies will not have Purples with their Blues slightly more plentiful at 250 copies per.
The 2012 Bowman's Best set will be 50 cards — each apparently diecut — with Refractor, Xfractor and Atomic Refractor.
Also new will be Bowman Silver Ice cards — a one-per-box insert — paralleling the 330 cards in the product.
The prospects set will consist of 110 cards with two Chromes per pack and two regular cards per pack. There will be International, Blue, Orange and Red parallels of the basic cards along with Refractor, Blue, Gold, Orange, Red and Supers for the Chromes.
Also found in the wrapper redemption packs will be Red Wave Refractors limited to 25 copies along with Blue Wave Refractor Prospect autos limited to 50.
Among the signers already committed to having Chrome autographs in the product are Gerrit Cole, Danny Hultzen, Anthony Rendon, Jesus Montero, Matt Moore and Brad Peacock.
Those presently slated to have Bowman Black autographs are Bryce Harper, Cole, Hultzen, Rendon, Andrelton Simmons, Trevor Bauer and Francisco Lindor.
—
Loading ...
—
Chris Olds is the editor of Beckett Baseball magazine. Have a comment, question or idea? Send an email to him at colds@beckett.com. Follow him on Twitter by clicking here.
Click on the images below for an un-obstructed view if necessary.
APRIL 5 UPDATE: FINAL PROSPECT AUTO CHECKLIST
Andrelton Simmons    Braves
Andrew Susac    Giants
Anthony Rendon    Nationals
Austin Hedges    Padres
Brandon Drury    Atlanta Braves
Brandon Jacobs    Red Sox
Bryan Brickhouse    Royals
Carlos Martinez    Cardinals
Charlie Tilson    Cardinals
Cheslor Cuthbert    Royals
Clay Holmes    Pirates
Daniel Norris    Blue Jays
Danny Hultzen    Mariners
Dante Bichette Jr.    New York Yankees
Dean Green    Detroit Tigers
Dillon Howard    Indians
Dillon Maples    Cubs
Drew Hutchison    Blue Jays
Eddie Rosario    Minnesota Twins
Eric Arce    Blue Jays
Gerrit Cole     Pirates
Greg Bird    Yankees
Jackie Bradley Jr.    Red Sox
Jacob Anderson    Blue Jays
Jeimer Candelario    Chicago Cubs
Joc Pederson    Los Angeles Dodgers
Joe Ross    San Diego Padres
Josh Bell    Pirates
Julio Rodriguez    Phillies
Kes Carter    Tampa Bay Rays
Matt Purke    Nationals
Nick Delmonico    Orioles
Nick Maronde    Angels
Oscar Taveras    Cardinals
Rookie Davis    New York Yankees
Tommy Joseph     Giants
Tyler Collins    Detroit Tigers
Xander Bogaerts    Red Sox