Ever wanted a T206 Honus Wagner? It can be yours for $325,000 …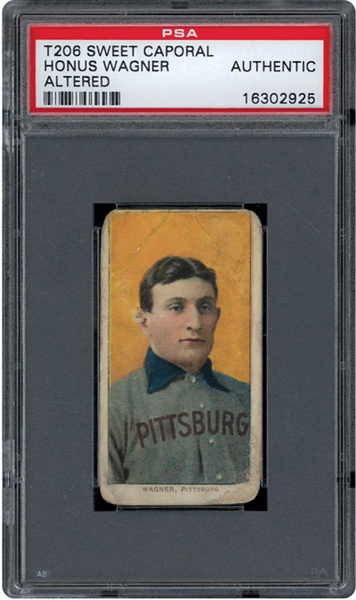 By Chris Olds | Editor
Few of us have the means to purchase a T206 Honus Wagner — there's something about a six-figure price tag — but often those who do can't find one.
Now, they can — and there's no auction block necessary, either. It can be purchased — straight up — for $325,000.
The PSA Authentic specimen of the hobby's Holy Grail — a card limited to roughly 60 copies — is up for grabs in Memory Lane Inc.'s Own It Now event that launched on Friday.
The auction house has plenty of other treasures up for grabs — a Babe Ruth autographed baseball ($160,000), a 1911 T201 Hassan set ($90,000), a PSA 8 1948 Leaf Sid Luckman rookie ($70,000) and a PSA 8 1952 Topps Eddie Mathews ($39,500). Memory Lane will offer this type of sale four times this year — a first-come, first-served format that will also allow for offers to be made on the items in coming weeks.
For more information — and to see more of what's up for grabs — visit Memory Lane's site here.