Panini America sues The Art of the Game alleging trademark infringement, autograph counterfeiting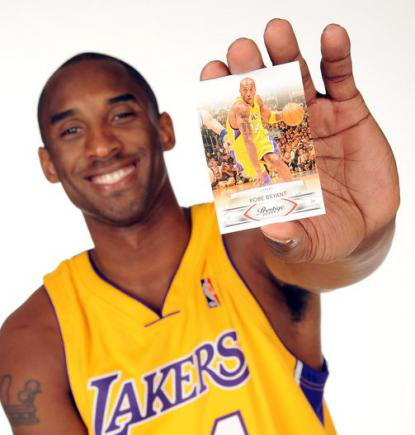 Update: The case was settled out of court in August. Terms were not disclosed.
By Chris Olds | Basketball Editor
Panini America sued a Los Angeles-based company on Monday in a U.S. District Court alleging that its sales of unauthenticated and counterfeited Kobe Bryant autographed merchandise are in violation of its exclusive contract with the NBA superstar.
In its 66-page filing obtained by Beckett Media, Panini claims that The Art of the Game has sold items online and in kiosks at the Staples Center — the home of the Lakers — that are "in violation of [Bryant's] rights of publicity and are accompanied by certificates that fail to properly warrant the authenticity of signatures" under California law.
As part of its four-year deal with Bryant signed in 2009, Panini has exclusive rights to use his "name, nicknames, voice, likeness, photograph, picture, biography, statistics, image, caricature, game-used equipment and signature … in connection with the manufacture, packaging, advertisement, promotion, distribution, sale and general endorsement" of stickers, trading cards and sports memorabilia.
As part of that exclusive, Bryant will not offer his services to any other company and, according to the legal filing, "Kobe has not provided any such services to Art of the Game."
In its filing, Panini alleges that consumers would believe that the autographed items sold by Art of the Game were authenticated by the Irving, Texas-based company.
The lawsuit originates with an April 3, 2011, purchase of a photograph signed by Bryant and Blake Griffin (who has subsequently become a Panini-exclusive spokesman along with Bryant on April 12) made by Panini Memorabilia Business Manager Brian Bayne. Bayne purchased the photo at Art of the Game's kiosk in the Staples Center, where, according to the filing, he was told by AOTG salesman Jason Rosen that the company has an exclusive license agreement with Bryant, that Bryant has signed memorabilia for the company and that the particular item was signed for AOTG and not purchased on the secondary market.
On April 12, a private investigator hired by Panini purchased a Bryant-signed Black Mamba movie poster. At that time, the court filing says, salesperson Carlos Lecanda told the investigator that the signature is authentic, that AOTG obtains its signatures directly from Bryant, that it would not purchase items signed via other companies and that it has an exclusive deal with Bryant. In addition, the private investigator was told by Lecanda that employees have items signed by Bryant at the Staples Center and that he had witnessed the signing of the particular Black Mamba poster. In addition, the private investigator was told that AOTG would be offering additional signed items from Bryant before the playoffs, the document said.
Under California law, a dealer must provide a detailed certificate of authenticity with specific details when selling signed items. Panini's filing alleges that the items in question were misrepresented as being authenticated by a company called Online Authentics. That company, according to the filing, does not authenticate memorabilia but "simply provides an online registry" for an item.  In addition, the private investigator was told by Lecanda that the companies were not related. However, Panini alleges in its filing that Online Authentics was co-founded by Harlan J. Werner, who owns Art of the Game.
Panini alleges that the autographed items were not signed by Bryant and that AOTG "deliberately and willfully represents this sports memorabilia as an authentic collectible autographed by Kobe in his own hand knowing that the autograph is a counterfeit, and without a reasonable basis in fact for believing that the items sold are authentic." In turn, Panini claims that AOTG is "thus knowingly, intentionally, willfully and maliciously infringing upon the exclusive rights to Kobe's [rights] licensed to Panini."
Panini, which is seeking a jury trial, claims the value of its deal with Bryant has been diluted "to the detrimental and general damage of Panini" among other damages and is seeking damages "in an amount that is not yet fully ascertainable but which is in excess of the jurisdictional limit" of the court. Panini is seeking a preliminary and permanent injunction preventing AOTG from selling or marketing Bryant items, is seeking all profits from sales of Bryant-signed items, damages, attorney's fees, punitive damages and additional claims.
Art of the Game's lawyer, Keith Fink, commented on the case to TMZ.
"The gallery we have in Staples has been selling art signed by Kobe with Kobe's image for a decade," he said. "Virtually every night Kobe's agent or marketing team passed by the gallery and never once has someone had an issue with the art."
Chris Olds is the editor of Beckett Basketball. Have a comment, question or idea? Send an e-mail to him at colds@beckett.com. Follow him on Twitter by clicking here.