Dmitri Young puts collection on auction block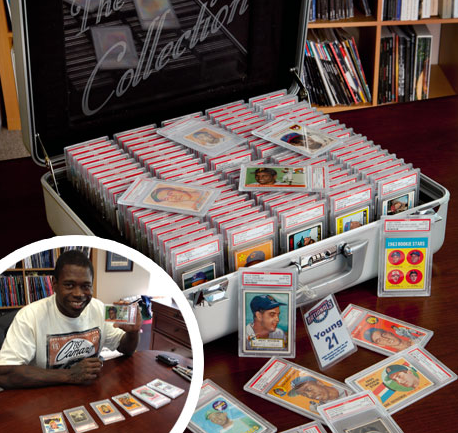 Update: The auction brought in more than $2.4 million.
—
By Chris Olds | Beckett Baseball Editor
If you ripped wax in the early 1990s, you probably know Dmitri Young as a once up-and-coming prospect for the St. Louis Cardinals — a Rated Rookie back in 1993. Younger collectors might know him as a recently retired journeyman and the older brother of former No. 1 pick Delmon Young.
But what you might not know is that he's been a serious baseball card collector for some time — a collector of only PSA 10 grade Gem Mint Rookie Cards.
Young's stash ranges from Stan Musial, Roy Campanella and Ernie Banks to modern-day cards of Derek Jeter, Prince Fielder,  Ryan Braun and even his little brother. Now, through Laguna Niguel, Calif.-based SCP Auctions, he's decided to part with his collection and some game-used memorabilia in a 497-lot auction that ends on May 18. (Need a Young checklist or OPG? Click here.)
"I love the hobby and what it has meant to my life," Young told SCP before the auction opened. "I hope the legacy of this collection lives on for many years to come."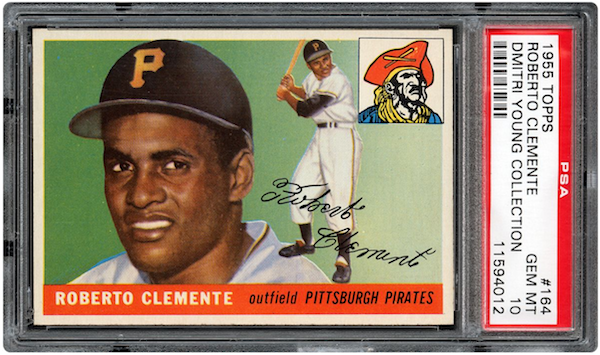 The leader so far is his 1955 Topps Roberto Clemente RC at $139,015, while his 1963 Topps Pete Rose RC is at $89,568 — each with plenty of time remaining. His 1969 Topps Reggie Jackson RC is $87,304, while his Hank Aaron 1954 Topps RC is at $86,316 and his Banks RC from the same year is at $67,188. According to the PSA Population Report, the top three are the only cards to receive grades that high, while the Aaron and Banks are both one of only two cards in that grade.
But the collection also isn't just about the rarest of the rare, but it's also a who's who of baseball history with Hall of Famers alongside memorable — and perhaps not-as-memorable — players. Flipping through the 112-page auction catalog is a time capsule — Al Kaline, Moose Skowron, Harmon Killebrew, Luis Aparicio, Whitey Herzog, Rocky Colavito, Brooks Robinson … the names just come page after page — all in PSA 10 condition.
Fast-forward to the early 1980s and you'll find guys like Dan Petry, Rick Sutcliffe, Tim Raines, Harold Baines and, of course, Fernando Valenzuela. Later, you'll find Canadian O-Pee-Chee and Leaf counterparts for many of the biggest stars of that decade before you'll even find Young himself in lot No. 447 — his 1991 Upper Deck Final Edition card, which is up to $28 after two bids.
Cards from famous collections can carry a premium at times — whether they are Hall of Famers or commons. Nearly all of the PSA slips are marked with "Dmitri Young Collection" — so even lesser cards could command more than one might expect before the auction closes.
Chris Olds is the editor of Beckett Baseball magazine. Have a comment, question or idea? Send an email to him at colds@beckett.com. Follow him on Twitter by clicking here.