Broad Street Bullies get their own set from ITG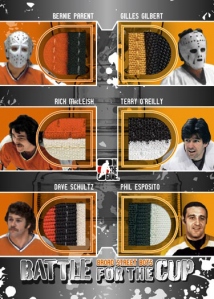 By Susan Lulgjuraj | Contributing Editor
One of the most popular hockey franchises is getting its own trading card set from In The Game.
The Philadelphia Flyers will get a set aptly named set Broad Street Boys – The History of the Philadelphia Flyers Hockey Franchise.
It is scheduled to arrive on June 15.
The base set will depict the history of the Flyers from some of the most famous games and wins, including Stanley Cup championships in 1973-74 and 1974-75. The Flyers were the first non-Original Six team to win the NHL crown.
ITG will have special game-used commemorating those feats.
Battle of the Cup will feature six players, three from each side. On the 1974 Stanley Cup card where Philadelphia beat the Boston Bruins, the Flyers will have Bernie Parent, Rick MacLeish and Dave Schultz. The Bruins side will highlight Gilles Gilbert, Terry O'Reilly and Phil Esposito.
Each box will contain 14 cards: eight base and six inserts. The inserts will be a combination of game-used memorabilia cards and authentic autographs.
Some of the players in the checklist include Bobby Clarke, Peter Forsberg, Mark Howe, Ilya Bryzgalov, Jeremy Roenick, Ron Hextall, Bernie Parent, Brian Propp and Eric Lindros.
ITG will highlight several moments in Flyers history and the subsets include:
・ Expansion Year
・ Broad Street Bullies
・ Triumph and Tragedy
・ Contending in the 90s
・ New Millennium
・ Continuing the Tradition.
Susan Lulgjuraj is a contributing editor for Beckett Media. You can email Susan here. Follow her on Twitter here.