College Football Stars You Can Collect NOW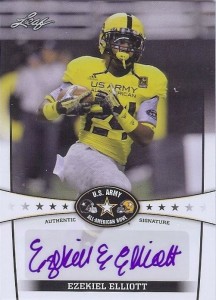 It's never too early to start talking about next year's rookie class. With the college football regular season winding down and the playoff picture becoming more clear every week, we thought we'd take a look at several college stars who already have cards on the market. Here are seven players who are projected to enter the 2016 NFL Draft who you can add to your collection now.
by David Lee
Editor | Beckett Football
Ezekiel Elliott, RB, Ohio State
The rumbler from Ohio State captured everyone's attention last year in the National Championship when he dominated with 246 yards and four touchdowns. Elliott finished 2014, his sophomore season, with 1,878 yards and 18 touchdowns. In 2015, he has also been impressive with over 1,500 yards and 17 touchdowns near the end of the season. He's the consensus top running back prospect for the 2016 NFL Draft. Elliot was included in the 2013 Leaf Army All-American Bowl set and has a Jersey Autographs Bronze #JAEE1 that's currently listing for $50. He has several other cards in the product. His 2015 Sports Illustrated for Kids #398 can be found for just a few dollars.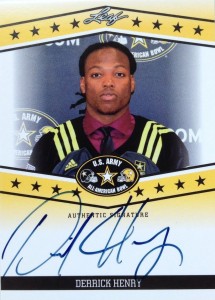 Derrick Henry, RB, Alabama
In the mold of former Alabama back Eddie Lacy, Derek Henry is a big bruiser who can also break big plays. At 6-3, 240 pounds, few defenses have been able to contain him for an entire game. He has had success against some of the SEC's toughest defenses. Last season he rushed for 990 yards while sharing carries with T.J. Yeldon. This season he was at 1,526 yards and a national-best 21 touchdowns after 11 games. He should be a first-round pick in the draft. Henry had one of the most prolific high school careers ever, breaking a 51-year-old career high school rushing record. He finished with more than 12,000 yards in high school. He was included in 2013 Leaf Army All-American Bowl and the 2013 Leaf Metal Draft Army All-American Bowl. He has autographs that can be found for about $50-$80 right now.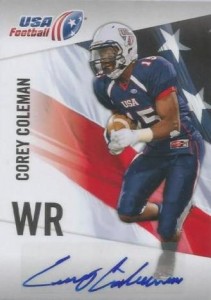 Corey Coleman, WR, Baylor
The Heisman candidate in the nation's top scoring offense is projected to be one of the top receivers drafted. Corey Coleman has a big frame and has shown the ability to wrestle the ball away from defenders, which will be a huge benefit in the NFL. He was leading the nation with 20 touchdowns after 10 games this season, and had totaled nearly 3,000 career yards. Baylor looked on track to possibly make the top four in the College Football Playoff but a loss to Oklahoma likely derails that. Still, Coleman could definitely be one of the hottest 2016 rookies to collect if he does declare for the draft. You can find his first card in 2012 Upper Deck USA Football, including an autograph for less than $20.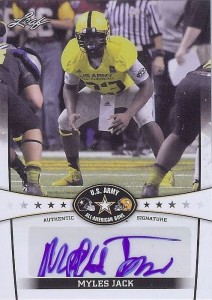 Myles Jack, LB, UCLA
Myles Jack has been one of the most versatile players in the nation since his freshmen season of 2013, playing linebacker and running back. He is projected as a linebacker in the NFL, and even though he suffered a season-ending injury this year, he has already said he plans to enter the NFL draft. Right now he is likely to be drafted in the first or second rounds. Jack had 87 total tackles in 2014, including eight tackles for loss. His first cards are in the 2013 Leaf Army All-American Bowl, which include a few autographs signed in different color ink. They can be found for around $10-$25.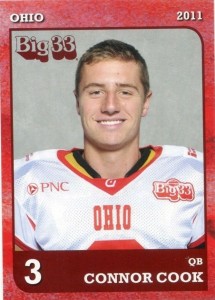 Connor Cook, QB, Michigan State
The senior quarterback for the Spartans is one of the most experienced in the country with three years as a starter. He will likely finish his career with more than 9,000 passing yards and 70 touchdowns. He and Cal QB Jared Goff are the top two quarterback prospects for next year's draft. Cook has a career record of 34-4 as a starter, including bowl wins over Stanford and Baylor. His team also beat the defending champion Buckeyes last week. He doesn't have any major nationally distributed cards, but he does have a 2011 Ohio High School Big 33 card that can be found for around $5.
Sterling Shepard, WR, Oklahoma
The big-play senior will remind a lot of people of Odell Beckham with his shifty, fast style. Sterling Shepard topped 1,000 yards for the first time this season, but has totaled more than 3,300 yards for his career. It will be interesting to see how NFL teams grade him entering the draft. He's smaller than the ideal NFL receiver, but has the skills to be a star. He has a basic card in the 2012 Topps Under Armour High School All-America set.
Christian Hackenberg, QB, Penn State
The three-year starter for Penn State is having a pretty impressive junior season with 14 touchdowns to just three interceptions after 11 games. Christian Hackenberg is expected to enter the draft and be one of the top choices after Goff and Cook. He has more than 8,000 passing yards for his career and a rating of 121.5. He also has a card in the 2013 Topps Under Armour High School All-America set.