Collecting blues: What to do when your favorite player finds a new team
When you click on links to various merchants on this site, like eBay, and make a purchase, this can result in this site earning a commission.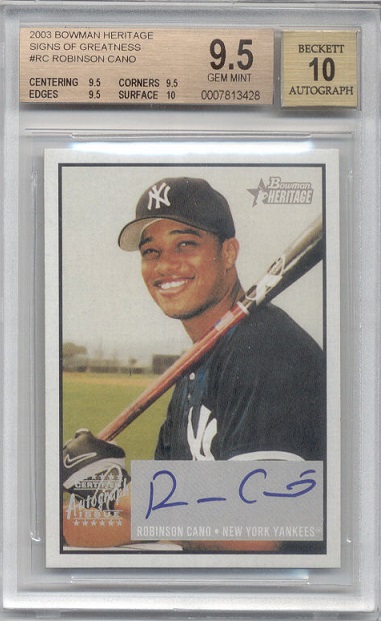 By Susan Lulgjuraj | Beckett Sports Card Monthly Editor
The baseball offseason can make your head swirl as you try to watch all the moves being made. Guys get traded to division rivals while others are signing big contracts to move across the country.
But what happens when one of your favorite players on your favorite team decides to pack his bags?
As a collector, you probably have a decent stash of his cards, including autographs and memorabilia. And that's where my friend Marie Pecora found herself. She has close to 400 unique Robinson Cano cards with more than 51 autographs in her collection.
The day Cano signed with the Seattle Mariners, I immediately thought of her and what she planned to do with her Cano collection.
Her first response involved some sort of bonfire, but she has since calmed down – kind of.
"When I read the news my initial reaction was well the "value" of my collection just took a hit," Marie said. "Now I see the upside, maybe his cards will be cheaper in his new uniform. I still love my collection, it has taken years to build and right now I still plan to collect his cards."
I've thought about this before – what if my favorite player left my favorite team? Luckily for me, Derek Jeter will probably die with Yankees pinstripes on. But other collectors aren't so lucky. Free agency has made it difficult to be a player collector because of how often a guy will likely move throughout his career. In baseball, he could be on three or more teams before his career is over.
If you collect a player that is on another team, it's easier to cope. However, losing a player from your own team – that usually hurts.
At least Marie doesn't plan on selling her collection. Although there were probably people hoarding Cano cards who thought they might cash in one day if he ever won an MVP and perhaps another World Series.
"I think the resale value would have been higher as a Yankee if I was tempted to sell my collection, but I am in no way tempted to do so," Marie, a Yankees season ticket holder, said. "I joked earlier on Twitter about setting it on fire but that was before I had a chance to cool off about it."
Even so, Cano will not be playing for the Yankees any longer, and West Coast players tend to have a tough time getting noticed unless your name is Mike Trout.
Susan Lulgjuraj is an editor at Beckett Media. You can email her here with questions, comments or ideas. Follow her on Twitter here. Follow Beckett Media on Facebook and Twitter.