Cheap Wax Wednesday Box Breaks: 2002 Upper Deck Vintage Baseball
This week's #CheapWaxWednesday break features a box of 2002 Upper Deck Vintage Baseball. This product has always been a confusing one for me. How Upper Deck was able to use the 1971 Topps design for this set is something I can't explain. Hopefully someone else knows the answer to that mystery.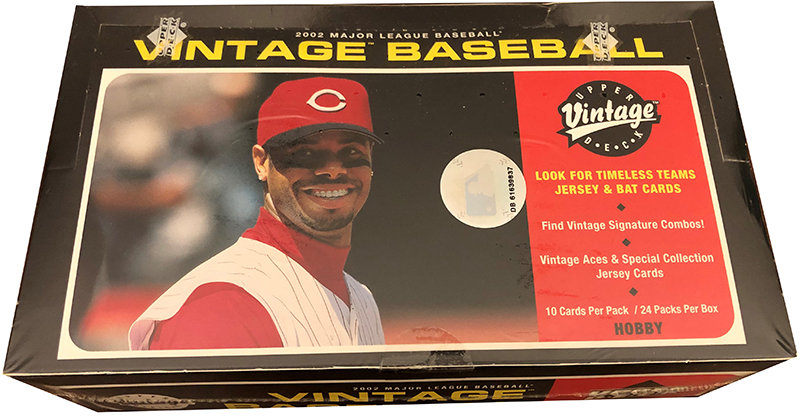 This box was an eBay cheap wax find.
2002 Upper Deck Vintage Baseball Box Break
Cards per pack: 10
Packs per box: 24
Price paid: $49
The box and packs all feature the same picture of a smiling Griffey, showing off his braces!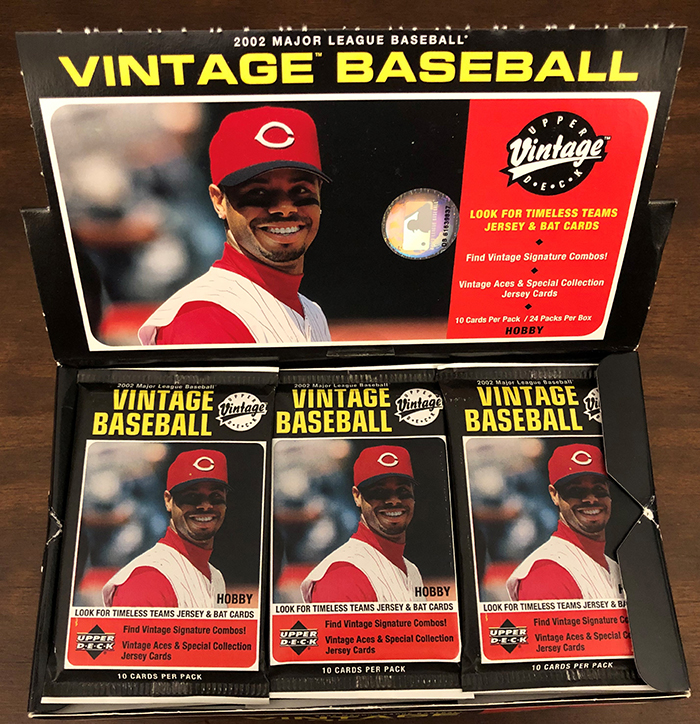 Pack 1 highlights:
Shawn Green, Carlos Delgado CL, Ken Griffey, Jr. CL & Chipper Jones/Brian Jordan CL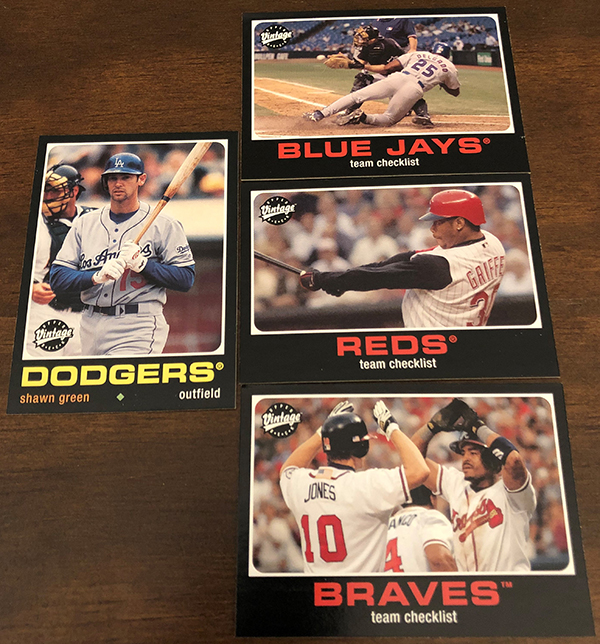 Pack 2: 
Rafael Furcal, Derek Jeter, Abraham Nunez/Josh Beckett, Jim Thome PS & Edgar Martinez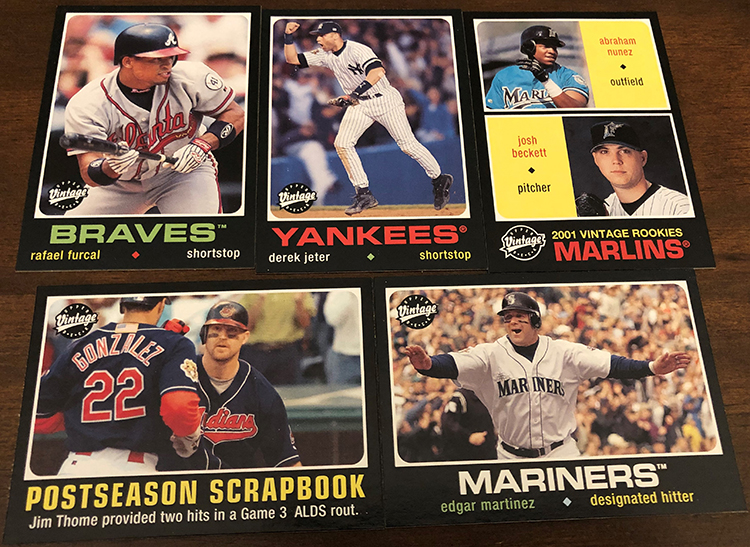 Pack 3: 
Mark Buehrle, Juan Gonzalez, Troy Percival, Mike Mussina PS & Jorge Posada CL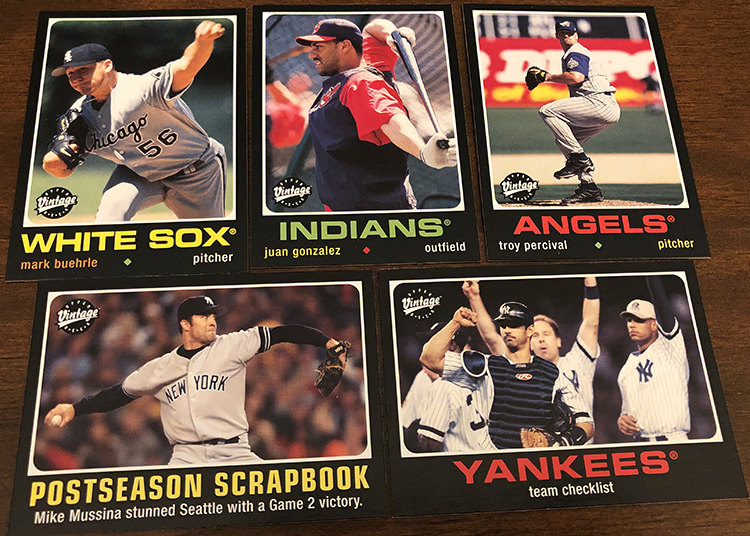 Pack 4:
Gary Sheffield, Sammy Sosa, Jeff Bagwell, Andruw Jones PS & Ichiro Suzuki Day at the Park (1:23 packs)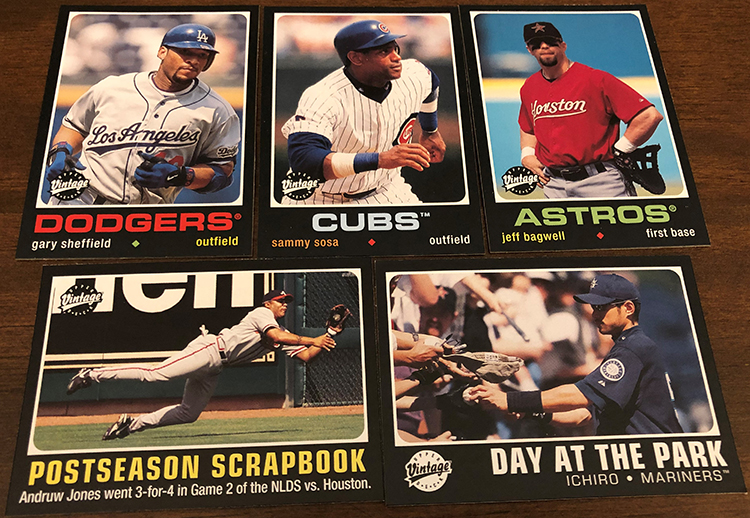 Pack 5:
Magglio Ordonez, Manny Ramirez, Ben Sheets, Raul Mondesi & Curt Schilling PS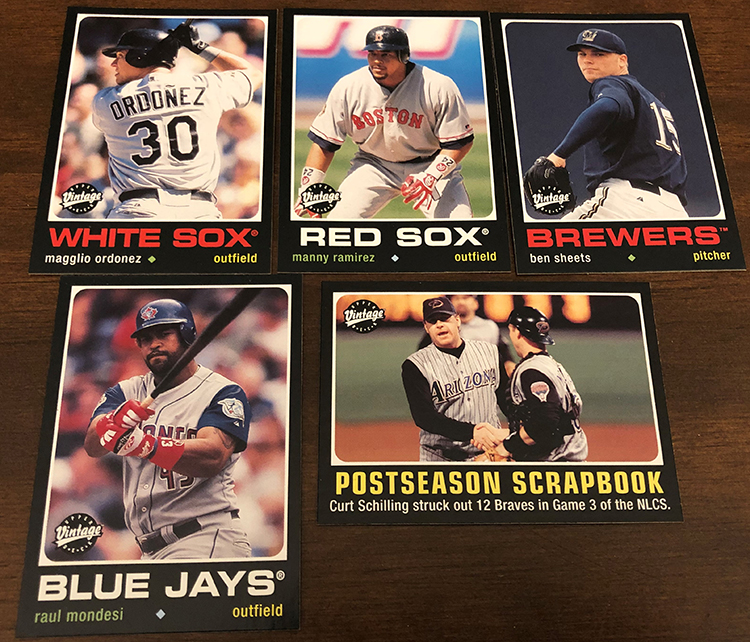 Pack 6: 
C.C. Sabathia, Mo "Hit Dog" Vaughn, Larry Walker, Orlando Cabrera (I once ran into Orlando at a grocery store and got the chance to shake his hand and say "thank you" for his contributions to the 2004 World Series champion Red Sox!), Mike Mussina & Randy Johnson PS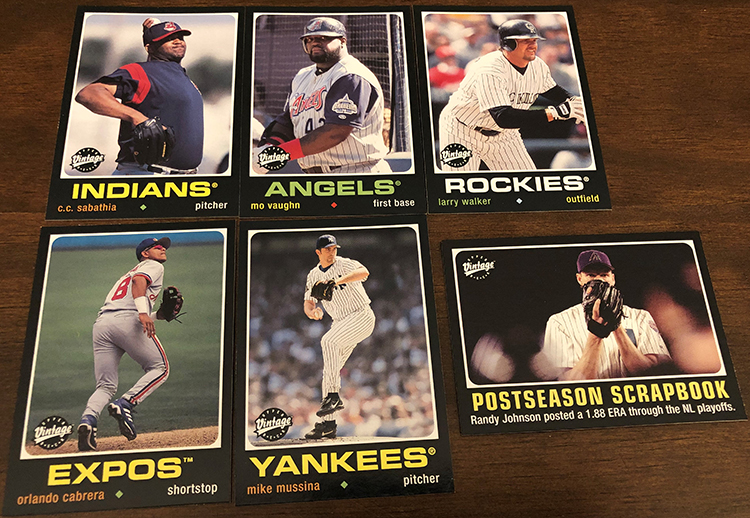 Pack 7:
Jason Giambi, Scott Rolen, Paul O'Neill, Juan Cruz/Mark Prior, Mark McGwire, Andruw Jones & Jorge Posada PS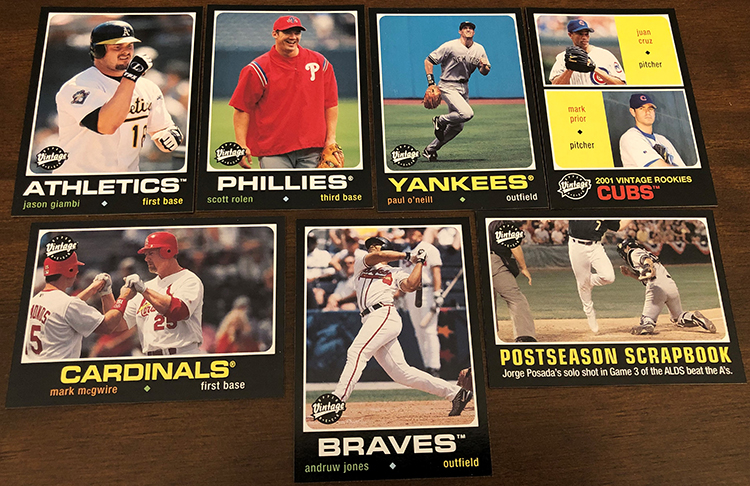 Pack 8: 
Kerry Wood, Moises Alou, John Olerud, Ken Griffey, Jr., Barry Bonds CL, Tom Glavine PS & Mark McGwire Sandlot Stars (1:11 packs)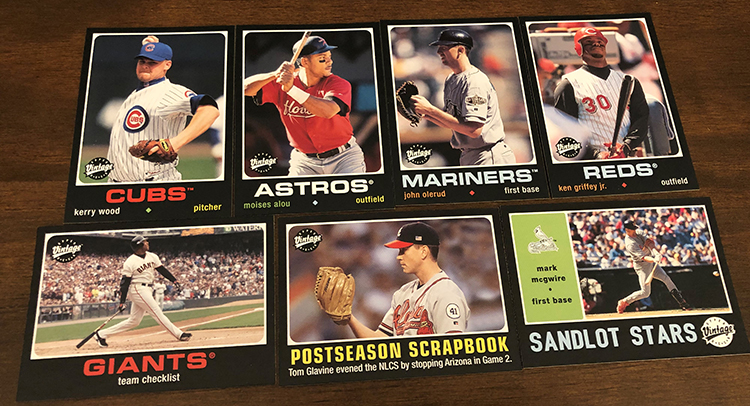 Pack 9:
Fred McGriff, Craig Biggio, Mark Mulder/Roger Clemens/Jamie Moyer, Jimmy Rollins & 2000 AL Rookie of the Year Kazuhiro Sasaki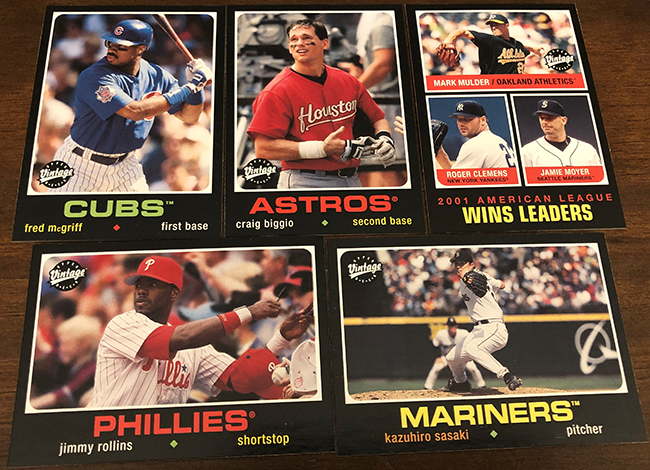 Pack 10: 
Edgar Martinez PS, Barry Bonds & Ivan Rodriguez Night Gamers (1:11 packs)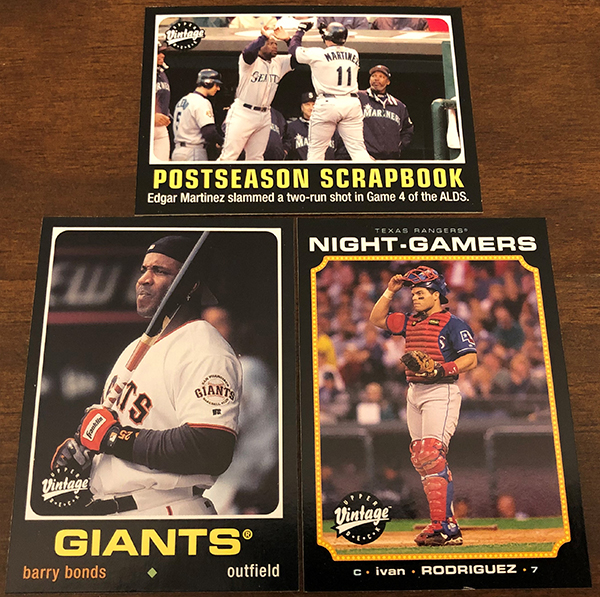 Pack 11:
Adrian Beltre, Chipper Jones PS, Lance "Puma" Berkman & Mike Piazza CL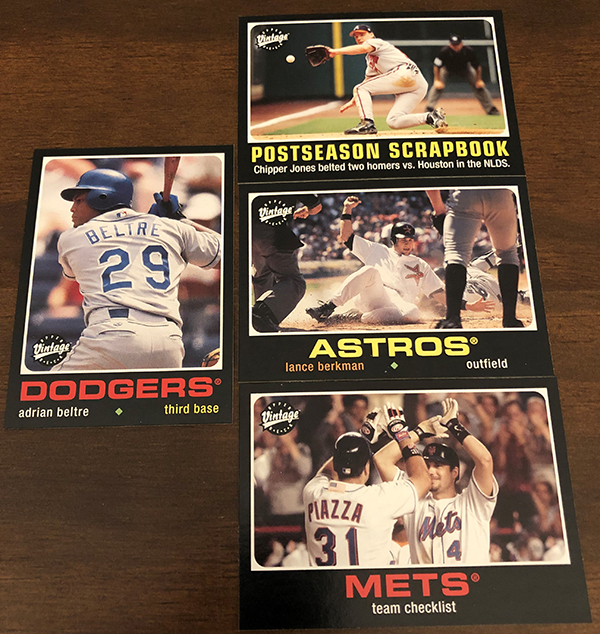 Pack 12: 
Alfonso Soriano, Kevin Brown, Curt Schilling PS & Alex Rodriguez/Jim Thome/Rafael Palmeiro

Pack 13: 
Ivan Rodriguez, Adam Dunn, Freddy Garcia/Mike Mussina/Joe Mays & J.D. Drew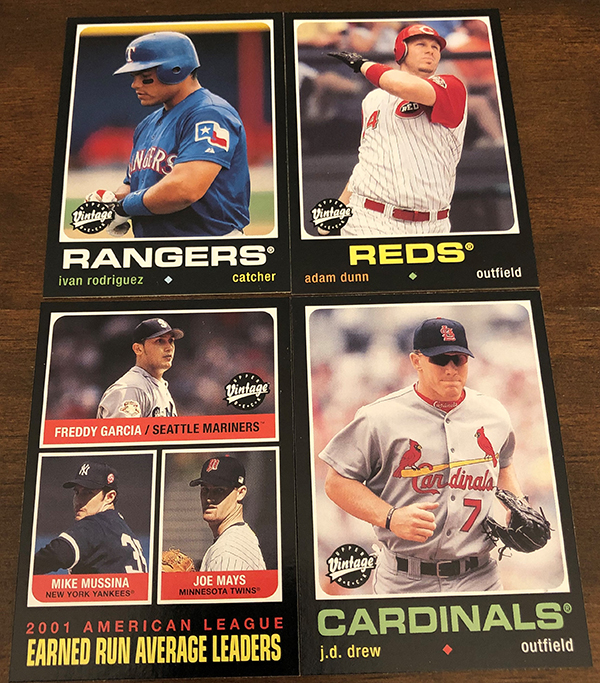 Pack 14:
Jeff Kent, Mark Teixeira/Carlos Pena, Carlos Delgado, Curt Schilling/Matt Morris/Randy Johnson, Mariano Rivera, Mike Cameron & Vladimir Guerrero Sandlot Stars (1:11 packs)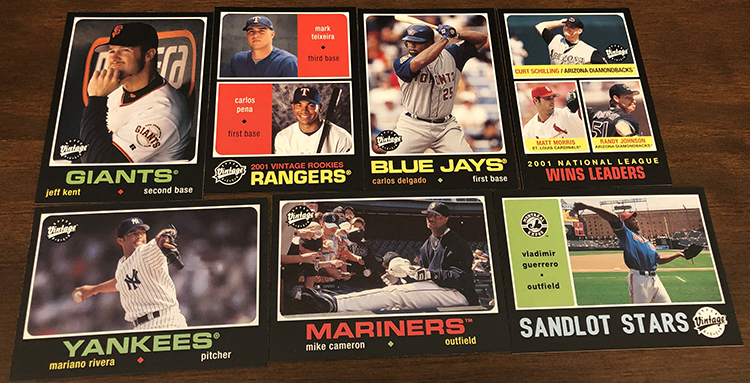 Pack 15: 
Roy Oswalt, David Ortiz, Bret Boone PS, Tim Hudson & Cal Ripken, Jr. CL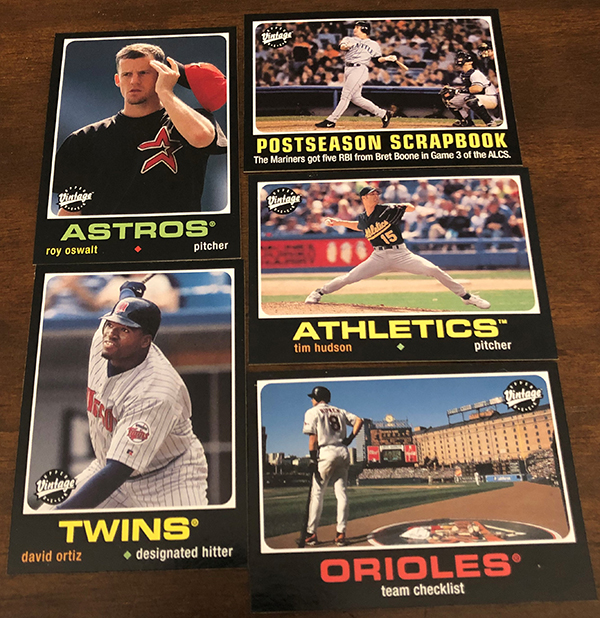 Pack 16:
Albert Pujols, Carlos Beltran, Troy Glaus, Vladimir Guerrero & Jorge Posada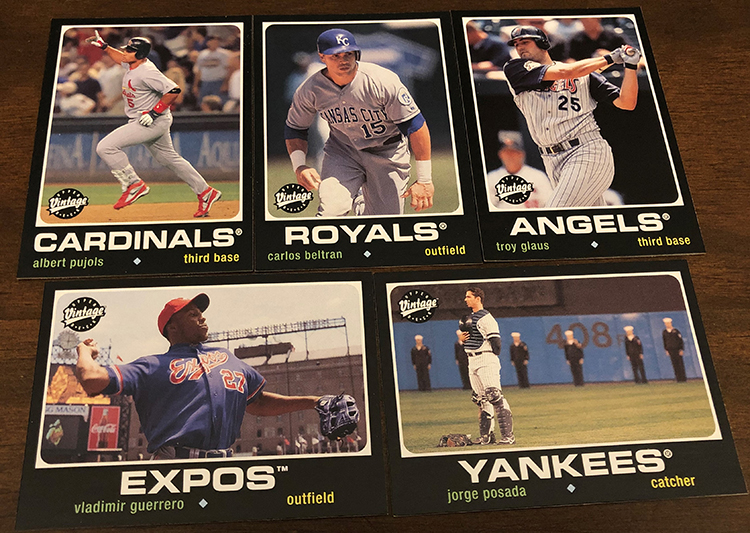 Pack 17:
Rafael Palmeiro, Carlos Lee, Roberto Alomar, Pedro Martinez (my 9th copy of this card in my Pedro collection), Jason Giambi PS & Barry Larkin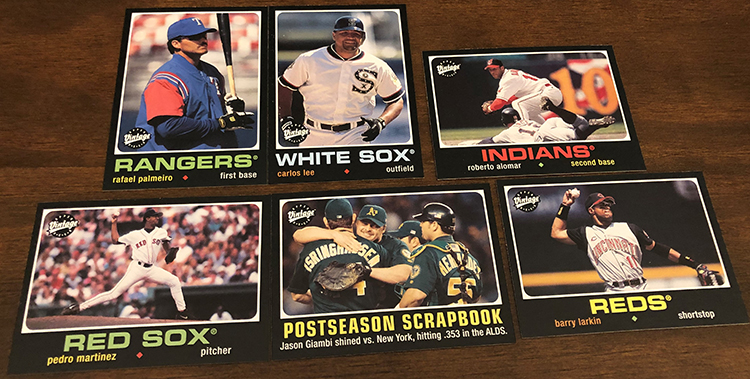 Pack 18:
Luis Gonzalez (I have always been a fan of Gonzalez because of his game winning hit in game 7 of the 2001 World Series to beat the hated Yankees), Robb Nen/Armando Benitez/Trevor Hoffman & Greg Maddux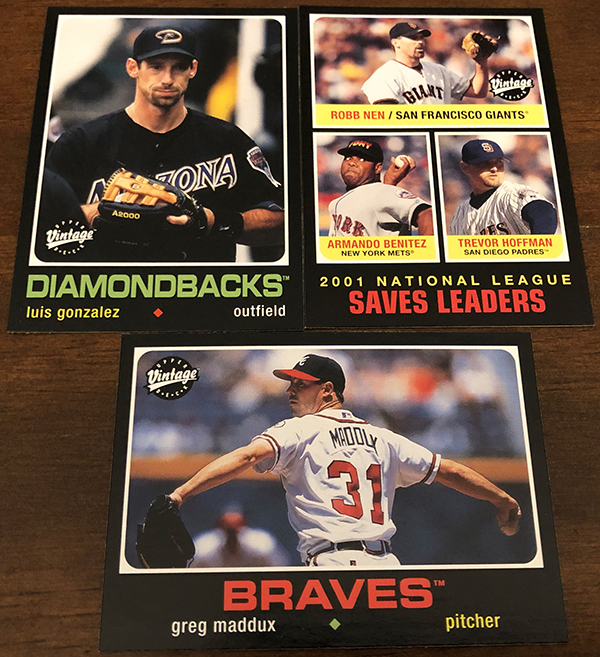 Pack 19:
Mariano Rivera/Kazuhiro Sasaki/Keith Foulke (I had the chance to go hiking with Foulke last fall! Really cool experience!), Roger Clemens, Alex Rodriguez, Todd Helton, Jose Vidro/Vlad Guerrero CL & Manny Ramirez CL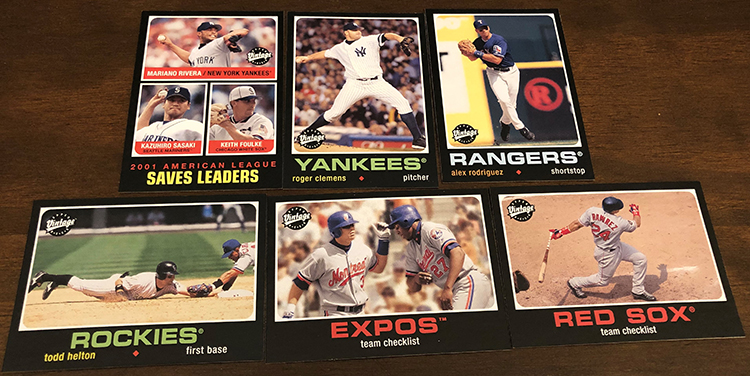 Pack 20:
Trevor Hoffman, Jim Edmonds, Tim Salmon, Randy Johnson PS & Greg Maddux Night Gamers (1:11 packs)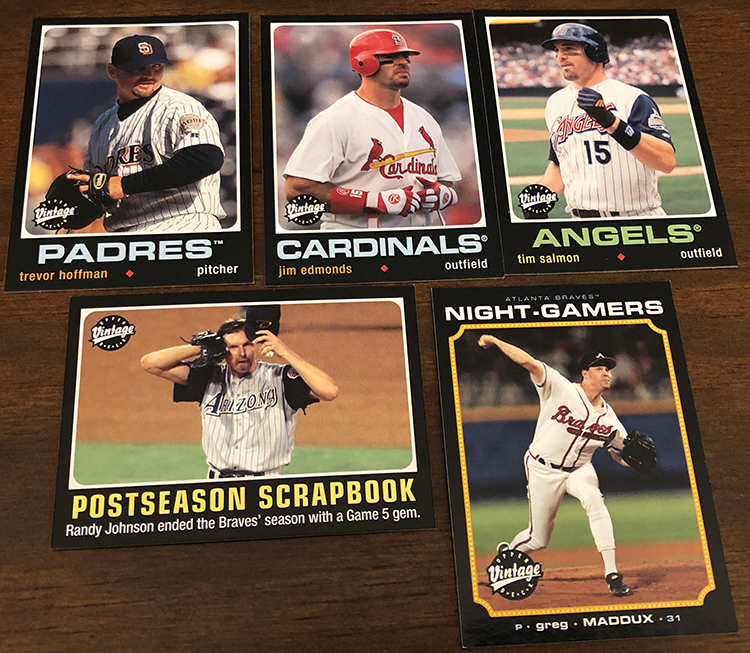 Pack 21:
Jose Canseco, Tino Martinez, Curt Schilling & Larry Walker CL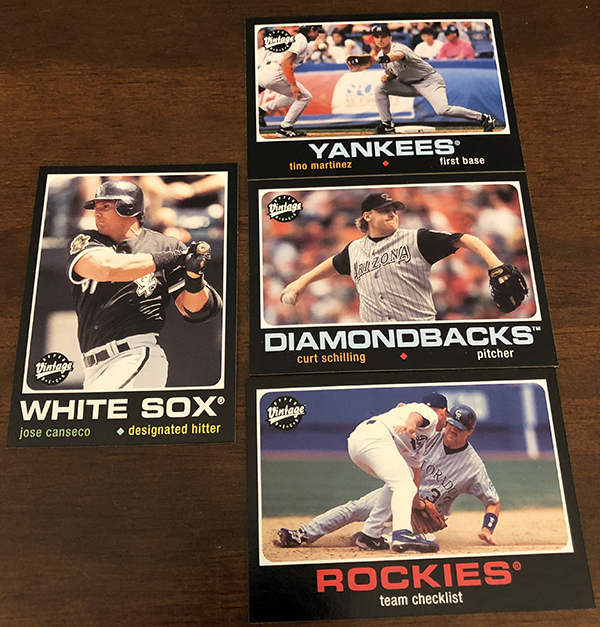 Pack 22:
Omar Vizquel, Bobby Abreu, Randy Johnson/Curt Schilling/John Burkett, Dante Bichette, Alex Rodriguez CL, Darin Erstad & Bartolo Colon
Pack 23:
Matt Williams PS, Ichiro Suzuki & Miguel Tejada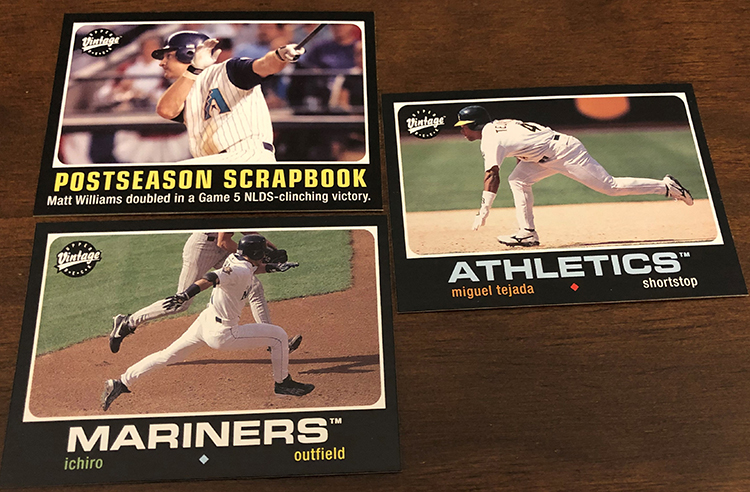 Pack 24:
Randy Johnson, Chipper Jones, Tony Gwynn CL, Tom Glavine, Curt Schilling PS & Alex Rodriguez Day at the Park (1:23 packs)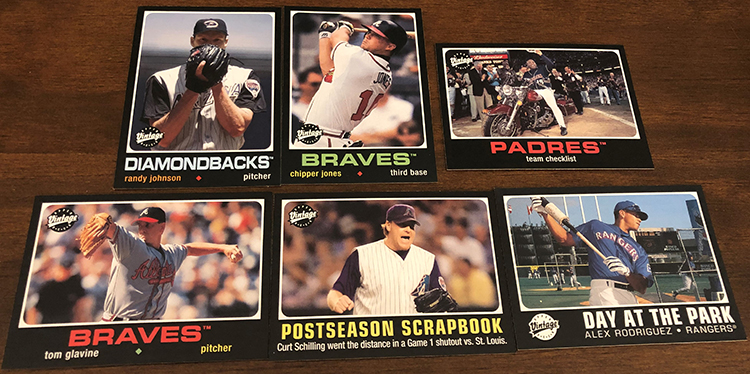 Finally, a Randy Johnson card back. The backs in this set stayed true to the '71 Topps design. Are you still confused? I am too.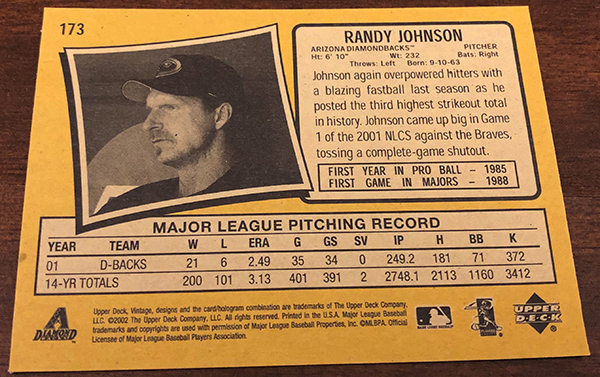 Unfortunately I didn't hit any of the relic or autograph cards featured in this set. All are tough pulls!
Timeless Teams relics come in single player, triple, and quad versions, with odds from 1:144 packs to 1:288 packs for the triple and quad relics.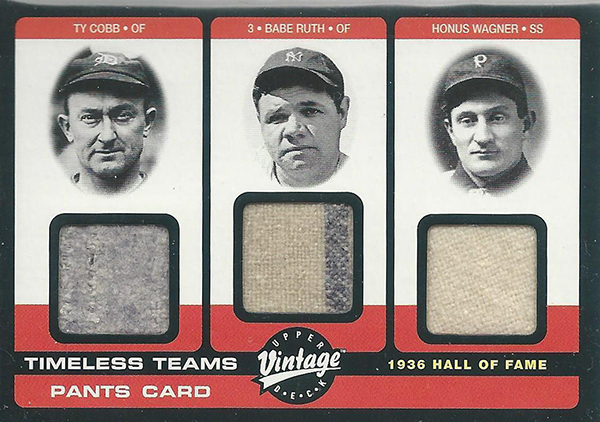 Aces game jersey cards are found 1:144 packs
Special Collection jerseys are found 1:144 packs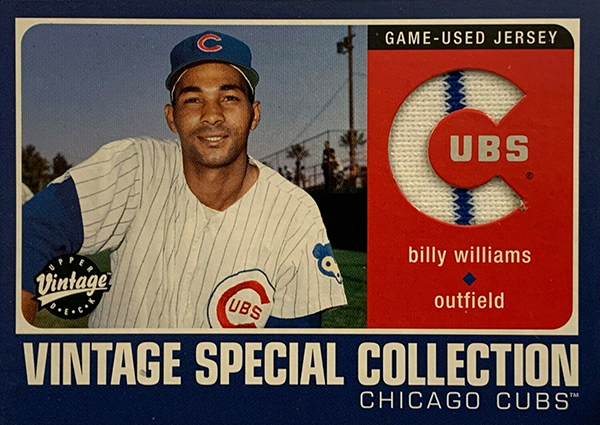 Lastly, Signature Combos dual autographs are limited to 100 copies each. I just might have to track a few of these down.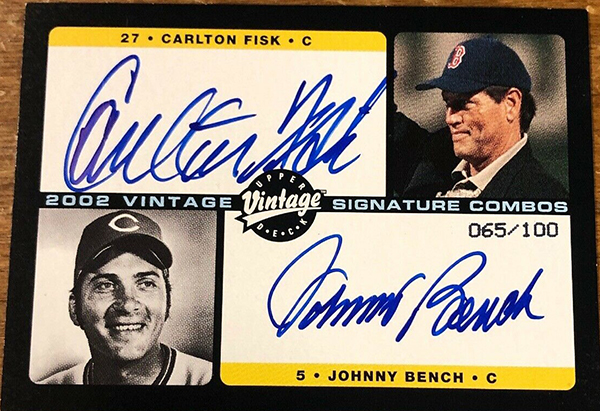 Overall, 2002 Upper Deck Vintage Baseball was a fun product to break. I have always liked the throwback sets, and this one certainly fits that bill, à la Topps Heritage. I would certainly give this one another shot!
Shop for 2002 Upper Deck Vintage Baseball cards on: