Cheap Wax Wednesday Box Breaks: 2002 Bowman Baseball
Much like today's version of the product, 2002 Bowman Baseball focuses mainly on the prospects. Of the 440 cards in the set, the first 110 feature veterans and have a red border. The last 330 cards in the base set are blue bordered and include a mix of prospects and rookies.
There are no insert sets to chase after in this set, just Gold parallels, autographs and relic cards. Today's Bowman boxes guarantee an autograph, but back in 2002 the only guarantee was either an autograph or a relic card.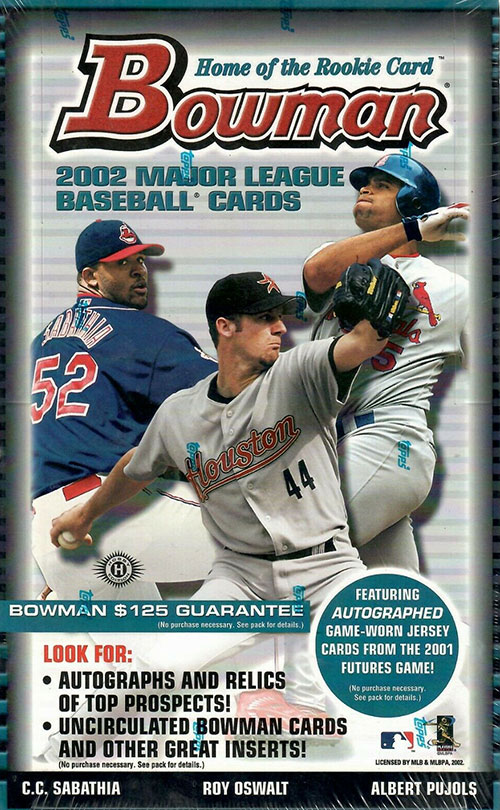 At the top of each box of 2002 Bowman Baseball you find a lone silver pack with a redemption card for an uncirculated first year card.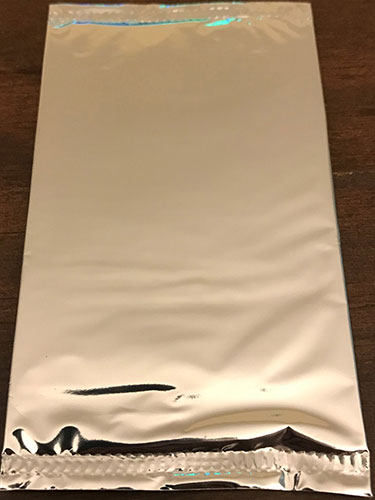 All you had to do to claim your card was register on thePit.com and enter your pin number. At the time, the site was owned by Topps. You were assigned a card at random. It was announced that just 672 copies of each uncirculated card were produced.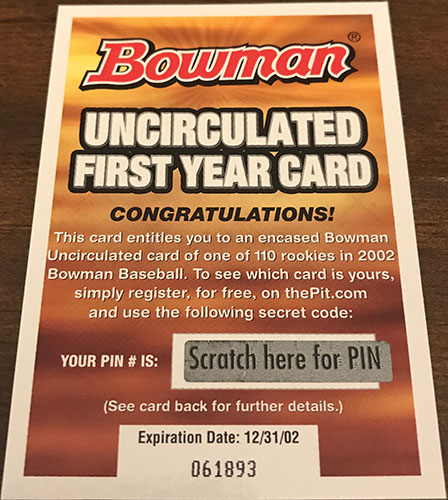 The list of the 110 players chosen to have uncirculated cards did not end up being all that impressive. There were a few big names, though, including Joe Mauer, David Wright and Jose Bautista. Unfortunately, I was 17-years late in opening this one.
2002 Bowman Baseball Box Break
Cards per pack: 10
Packs per box: 24
Price paid: $24

Pack 1 highlights:
Carlos Delgado, Andy Pettitte, Roy Oswalt, David Wright RC & Justin Wayne Gold Parallel (one per pack)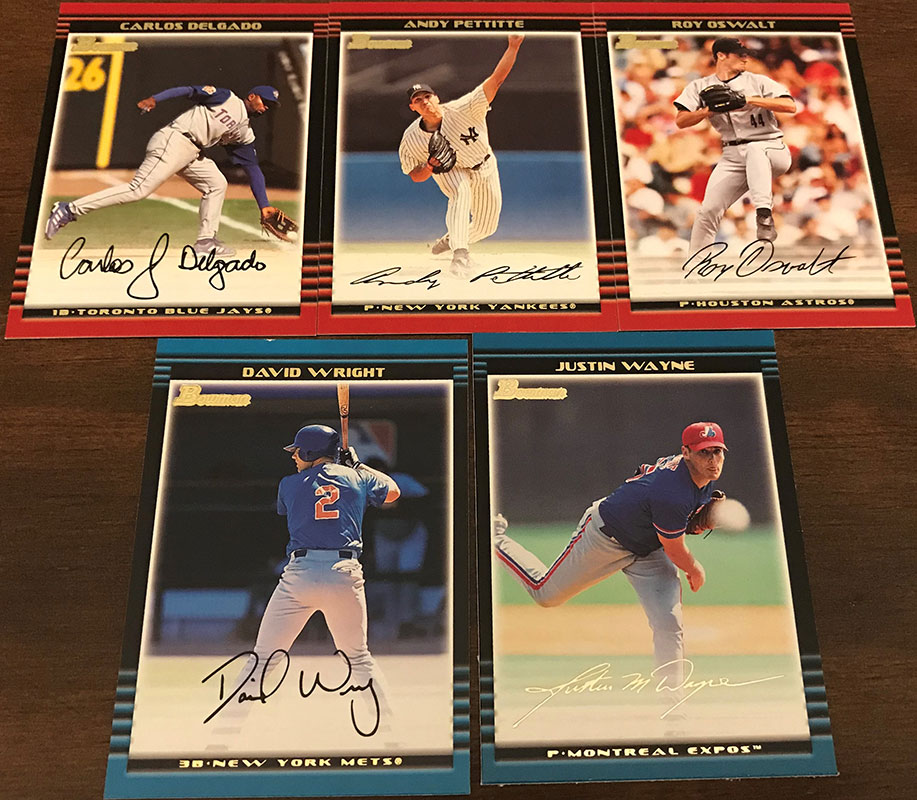 Pack 2:
Dennis Tankersley Futures Game Autograph Relic (1:196 packs). A 38th round draft choice of the Red Sox in 1998, Tankersley was traded to the Padres in June, 2000. He was selected to pitch in the Futures Game during the 2001 season, a season in which he had a 1.98 ERA.
Tankersley would go on to pitch in just 27 major league games, including a lone start in 2003. In that start, Tankersley would walk four batter, give up three hits and surrender seven earned runs without recording a single out.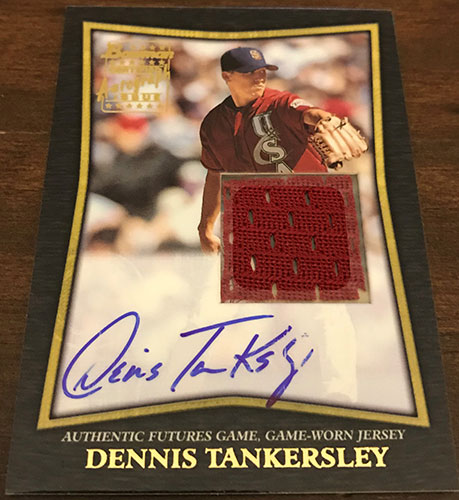 Pack 3:
J.D. Drew, Todd Helton, Carlos Pena & Xavier Nady Gold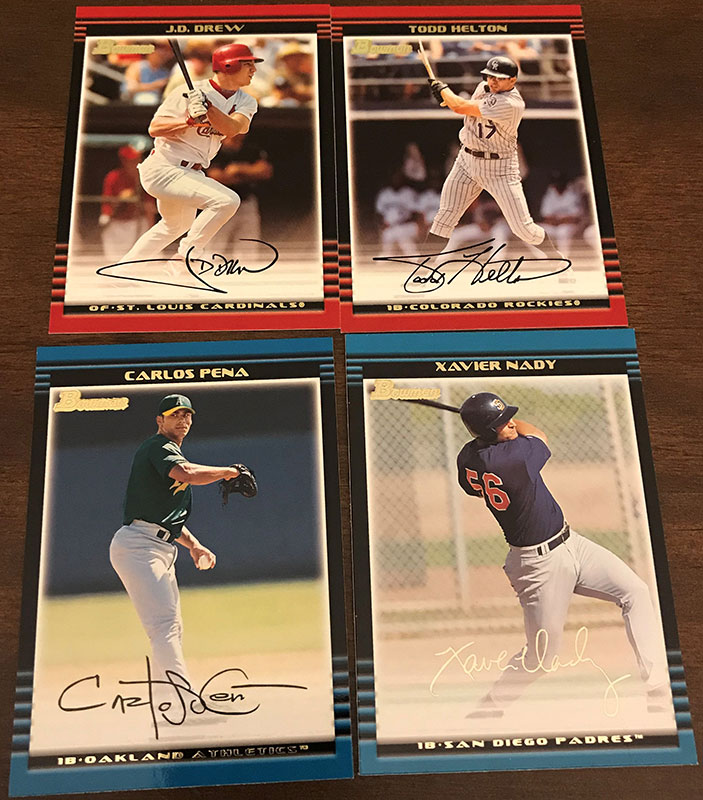 Pack 4:
Adrian Gonzalez, Jonny Gomes RC & Deivi Mendez Gold

Pack 5:
Kevin Brown, Jorge Posada, Orlando "O Dog" Hudson & Matt Parker Gold RC
Pack 6:
Jeff Bagwell, Magglio Ordonez, 2003 AL Rookie of the Year Angel Berroa & Brandon Duckworth Gold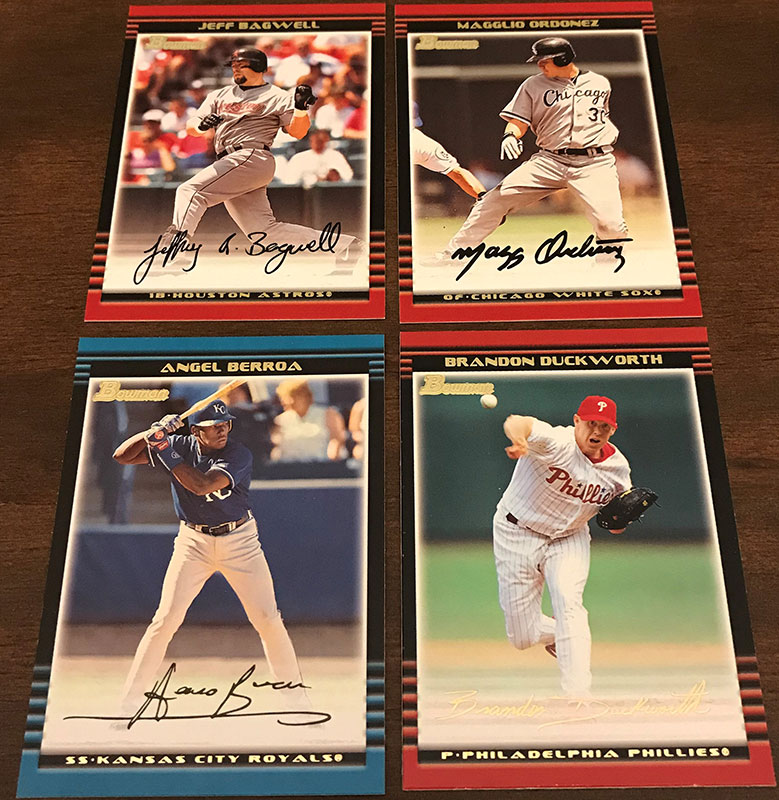 Pack 7:
Josh Hamilton, Joe Mauer RC & Nick Johnson Gold

Pack 8:
Matt Holliday & Jerry Hairston, Jr. Gold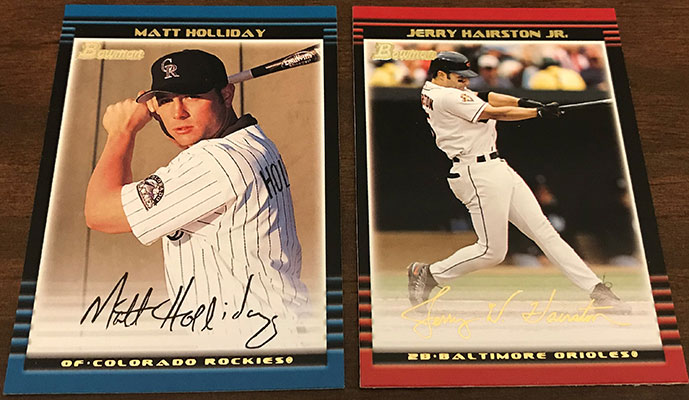 Pack 9:
Ryan Madsen & Francisco Liriano Gold RC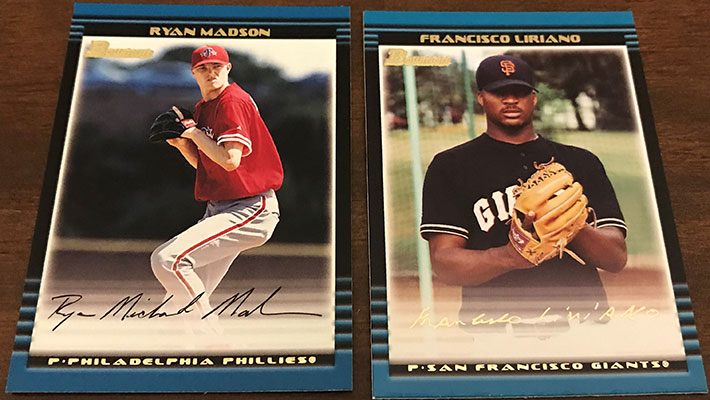 Pack 10:
Jose Bautista RC & Grant Balfour Gold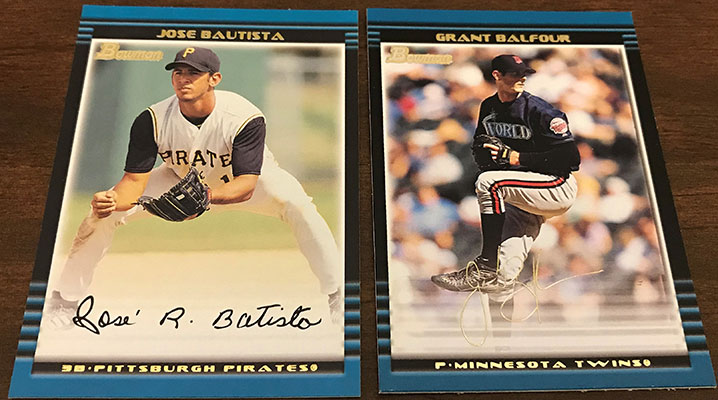 Pack 11:
Jeff Kent & Michael Floyd Gold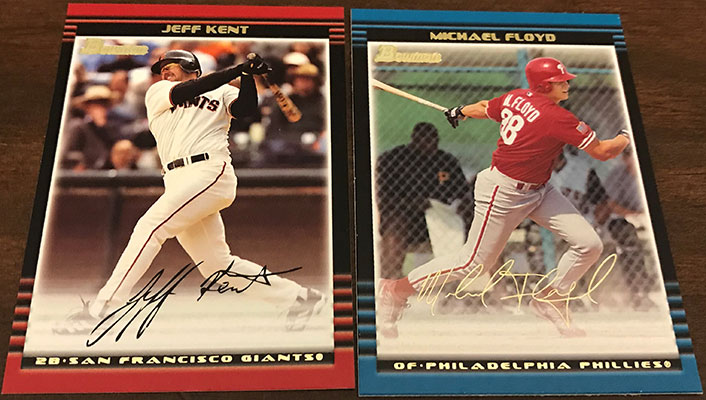 Pack 12:
Alex Rodriguez, Brett Myers & Phil Nevin Gold

Pack 13:
Justin Morneau & Shayne Wright Gold RC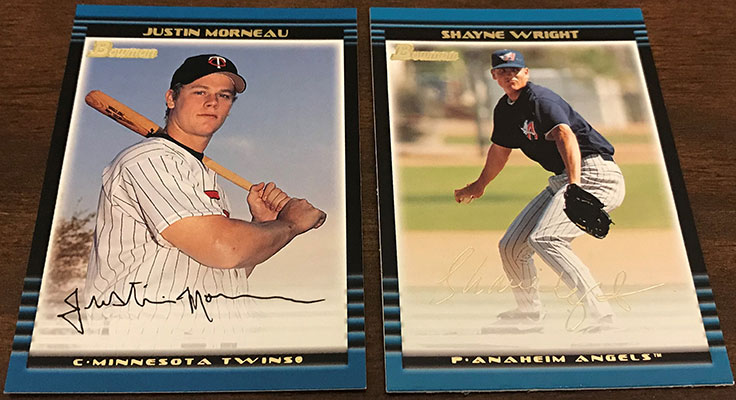 Pack 14:
So Taguchi RC & Terrance Hill Gold RC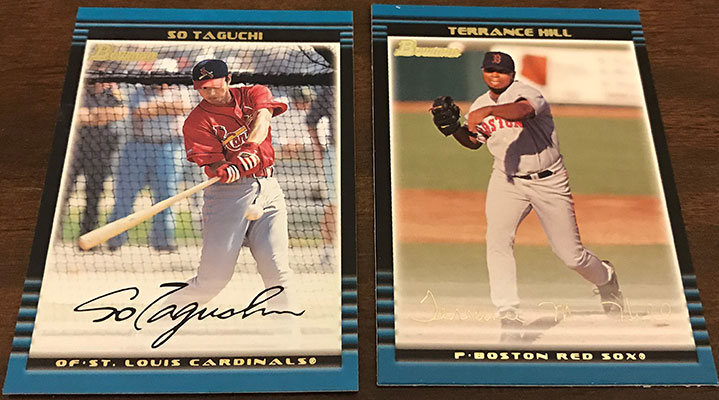 Pack 15:
Scott Rolen & Mike Piazza Gold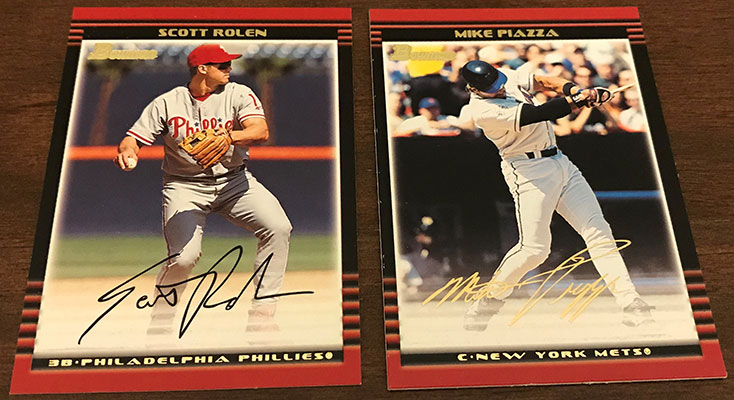 Pack 16:
Adrian Beltre & Ramon Moreta Gold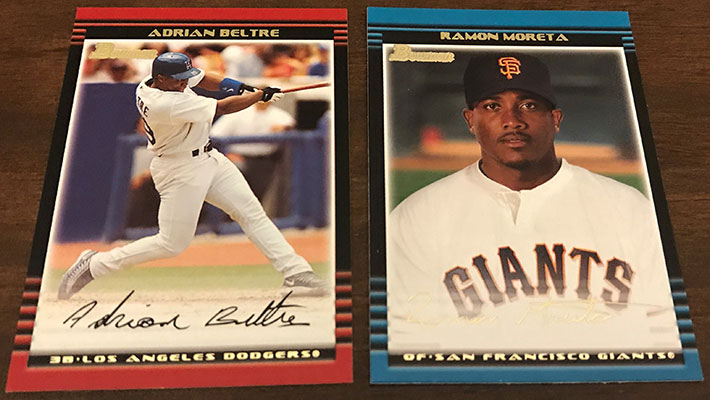 Pack 17:
Angel Pagan RC & Jose Ortiz Gold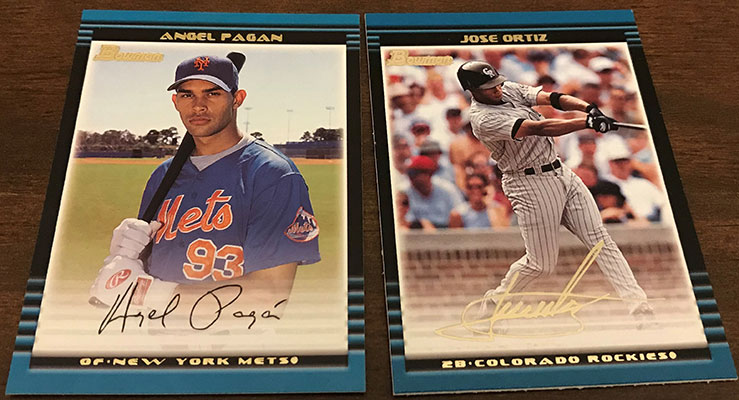 Pack 18:
Grady Sizemore, Mark Prior & Jeff Lincoln Gold

Pack 19:
Nomar Garciaparra & Keith Ginter Gold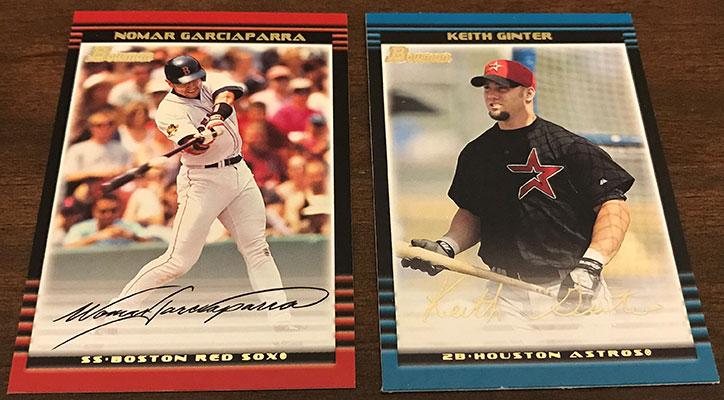 Pack 20:
Jimmy Rollins & Gary Cates, Jr. Gold RC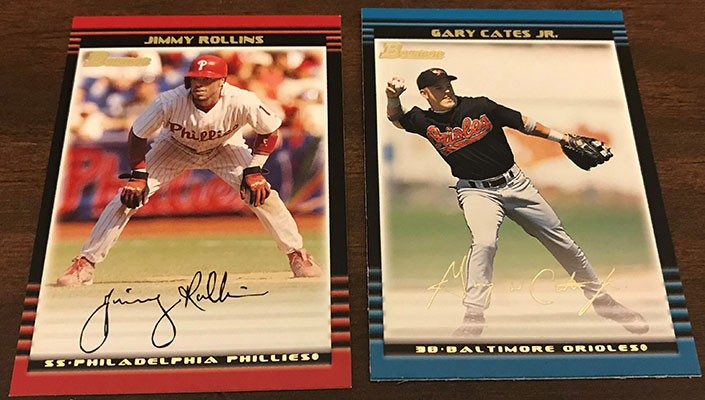 Pack 21:
Freddie Money RC (no relation to Eddie Money) & Troy Glaus Gold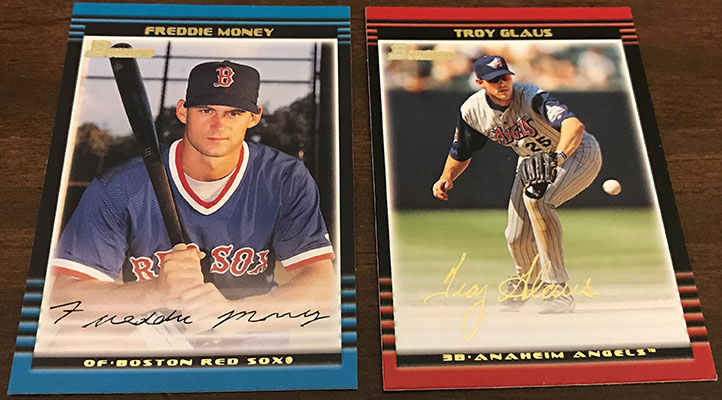 Pack 22:
Jake Mauer RC (Jake couldn't quite keep up with his younger brother, Joe. Jake hit .256 over five minor league seasons), Carl Crawford & Scott Wiggins Gold RC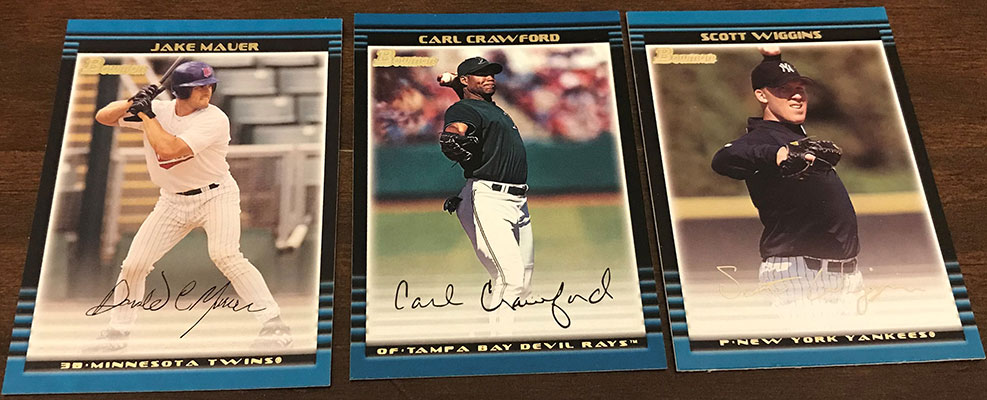 Pack 23:
Derek Jeter, Craig Biggio, Johnny Damon, Ken Griffey, Jr., Greg Maddux & Grant Balfour Gold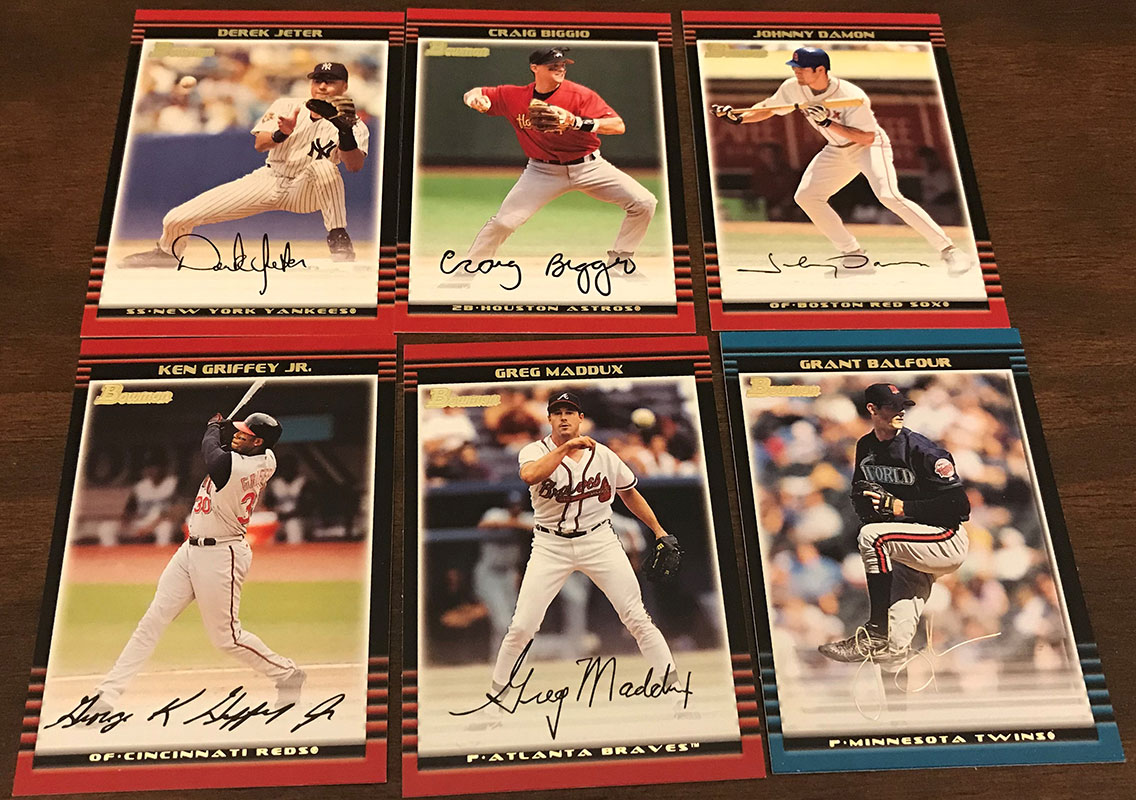 Pack 24:
Eric Byrnes & Chris Duffy Gold RC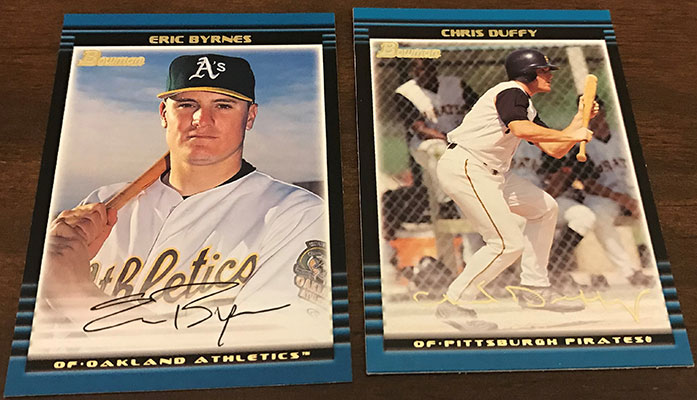 Lastly, the Joe Mauer card back. High baseball draft picks don't always pan out. But it's safe to say this choice worked out well for the Twins. Another interesting point from this card back is the source of the facsimile autographs featured on the fronts of the cards, "Facsimile signature is as appears on original (Rookie) Topps contract." That is something I did not know.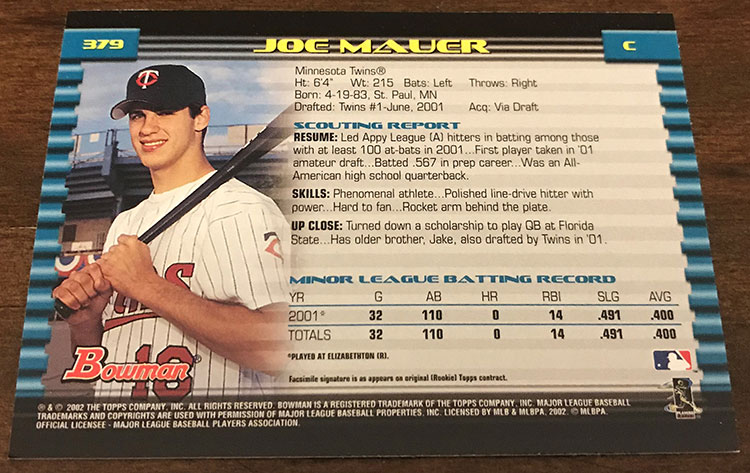 This was a fun break. I always enjoy pulling Rookie Cards of big-name players. Here, I got Joe Mauer, David Wright and Jose Bautista. The autograph I pulled probably isn't worth much, but it was still a fun pull. I have always appreciated the Futures Game relic cards, as you know exactly which game the relic is from. That is rare in today's hobby.
At just $24, I would grab another box of 2002 Bowman Base. Next time around I would be hoping to pull some better Gold parallels as most in this box were duds.
Shop for 2002 Bowman Baseball on:
Want more installments of Shane Salmonson's Cheap Wax Wednesday? Check out his other breaks in the archives.