Cheap Wax Wednesday Box Breaks: 1999 Team Best Player of the Year Baseball
Team Best released severa; different minor league products in 1999. One of them even included a Salvino bear in each box. No bears for this Cheap Wax Wednesday break, though, outside of some Cubs prospects.
1999 Team Best Player of the Year Baseball features a base set of just 50 cards. Each of those 50 cards can also be found with Silver Foil (limited to 150 copies) and Gold Foil (50 copies) parallels. There are also two inserts, Player of the Year and the tough Player of the Year Contender cards, found just once in every five boxes.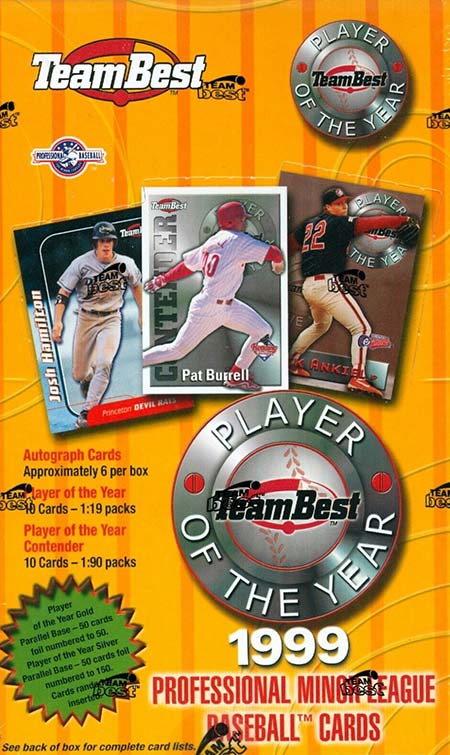 You can expect to find six autographs in each box. The autograph checklist is made up of 29 names including Rick Ankiel, Eric Chavez, Troy Glaus, Andruw Jones, Paul Konerko, and C.C. Sabathia.
1999 Team Best Player of the Year Baseball Box Break
Cards per pack: 6
Packs per box: 18
Price paid: $15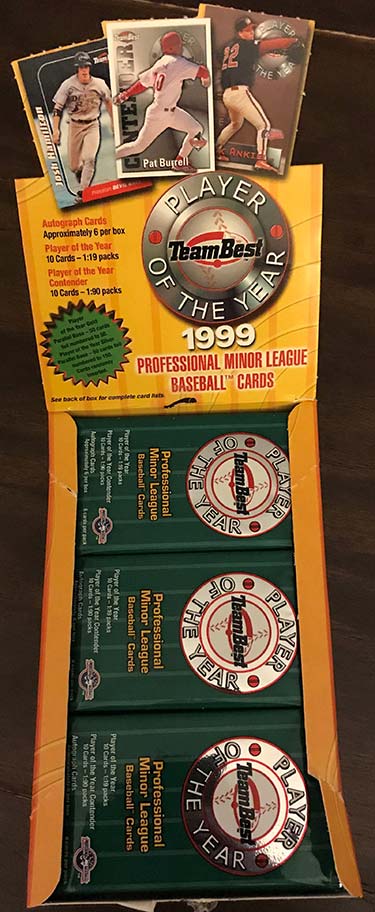 Pack 1 highlights:
Carlos Pena, Alfonso Soriano, Nick Johnson & Jesus Colome Autograph
Alfonso Soriano was an all-star for seven straight seasons 2002-2008. He posted a 40/40 season in 2006, after missing a 40/40 year in 2002 by just one home run.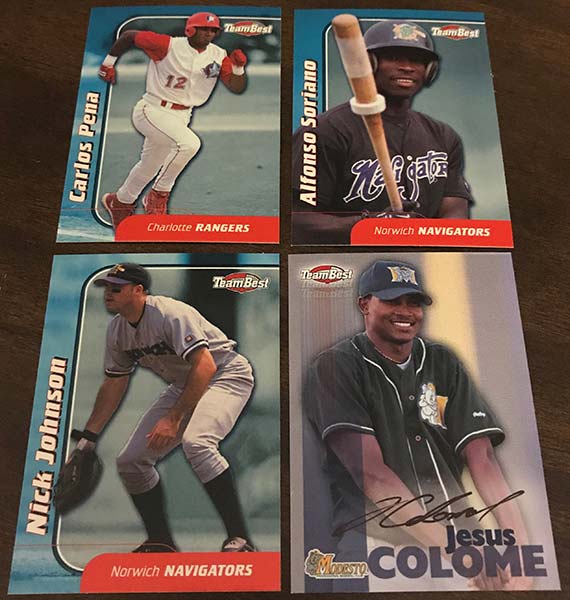 Pack 2:
Rafael Furcal & Adam Kennedy
Rafael Furcal won NL Rookie of the Year honors in 2000 at the age of 22. He finished the season with a .295 average, .394 on base percentage, and 40 stolen bases.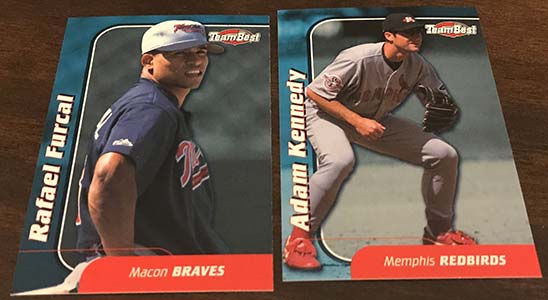 Pack 3:
Felipe Lopez & Jayson Werth
Jayson Werth's main position in the minor leagues was catcher, where he appeared in 403 games. How many times did he appear behind the plate in the major leagues? Zero.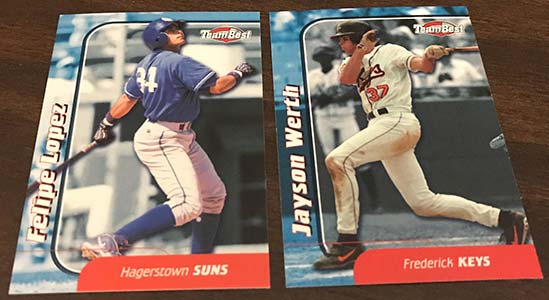 Pack 4:
Jason Marquis & Aubrey Huff Autograph
Jason Marquis pitched parts of 15 major league seasons. Possibly his most impressive feat? He hit .310 for the Cardinals during the 2005 season. Marquis finished the season with 27 hits, including eight doubles, one triple, and one home run.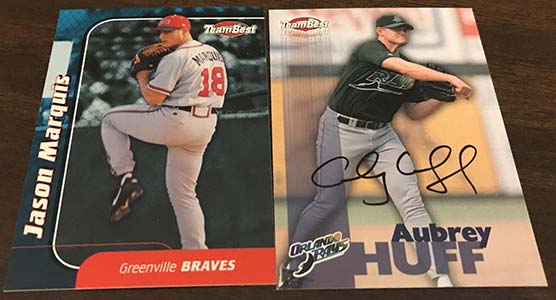 Pack 5:
Pat Burrell & Hee-Seop Choi
Hee-Seop Choi put together some impressive minor league season, reaching #22 on Baseball America's top prospects list prior to the 2003 season. He never did have much major league success, and played just 363 games. He would return to play professionally in Korea starting in 2007 and hit 33 home runs during the 2009 KBO season.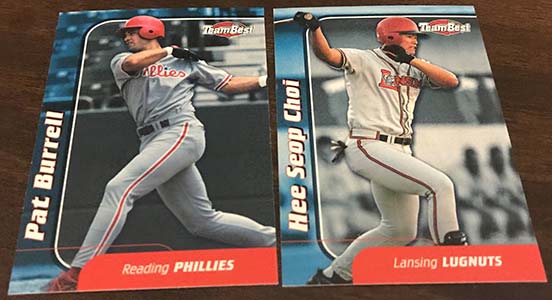 Pack 6:
Aaron Rowand & Kelly Dransfeldt Autograph
Aaron Rowand would run through walls to make catches in center field. He was completely fearless.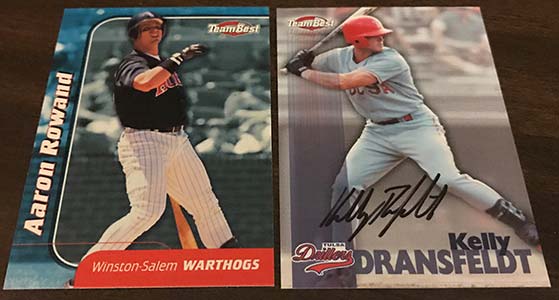 Pack 7:
Pat Burrell & Jamie Brown Autograph
Jamie Brown pitched in just four major league games, all in 2004. He pitched to a 5.87 ERA in those four games.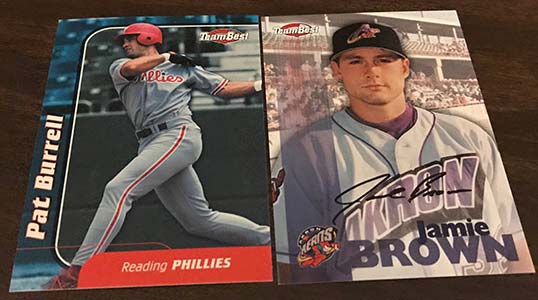 Pack 8:
Josh Hamilton
Hamilton was drafted first overall by the Rays in 1999. The 2010 AL MVP would never appear in a major league game for Tampa Bay, though, making his major league debut for the Reds during the 2007 season.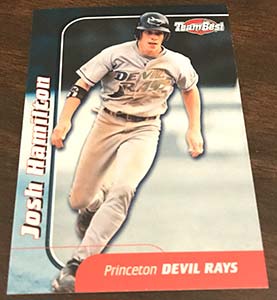 Pack 9:
Brent Butler
Butler earned his major league call-up during the 2001 season. He played 65 games in AAA before his promotion, hitting .335 with 30 extra base hits.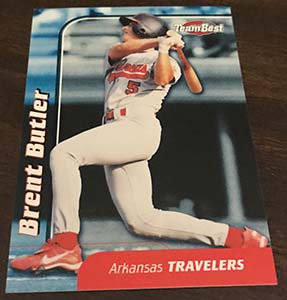 Pack 10:
Corey Patterson & Vince Faison Autograph
Faison was a first round selection of the Padres during the 1999 draft. He never made the majors and bounced around minor league levels for nine seasons.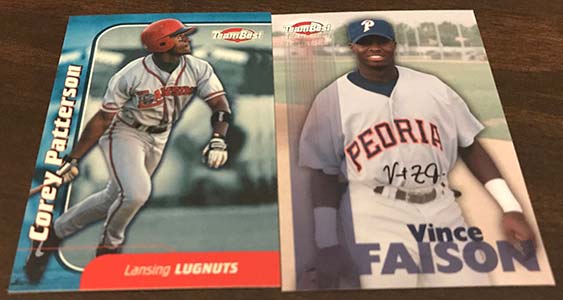 Pack 11:
Joe Crede, Jay Gibbons & Aaron Rowand
Joe Crede played ten major league seasons earning one all-star selection (2008) and winning the 2005 World Series with the White Sox.

Pack 12:
Marcus Giles & C.C. Sabathia
It took Sabathia just 54 minor league games to earn his major league promotion. He would go on to win 251 games over 19 major league seasons. What is he up to now? Playing men's league softball in New York.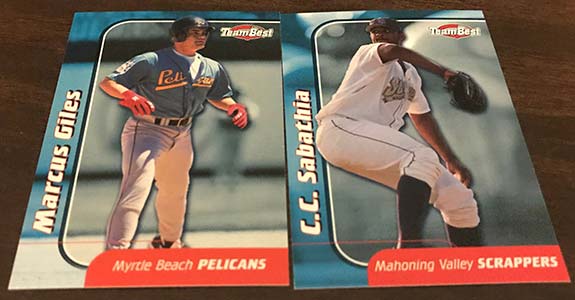 Pack 13:
Josh Hamilton & Nick Johnson Silver #ed 033/150
Nick Johnson was ranked as high as the #5 top prospect prior to the 2000 season. Though he was a solid major league player, injuries hampered him for much of his career.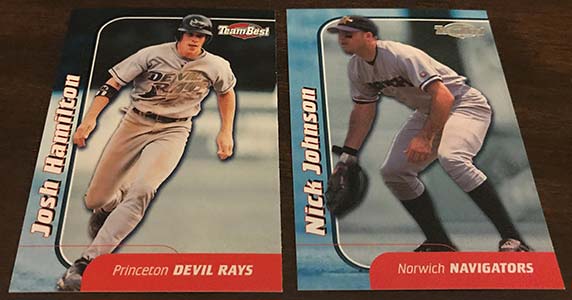 Pack 14:
Aaron Rowand & Chin-Feng Chen Player of the Year Contenders (1:90 packs)
Chen was a legitimate prospect, ranked #17 prior to the 2000 season. Over seven minor league seasons, he hit .288 with 146 home runs but appeared in just 19 career major league games.
Rick Ankiel won the 1999 Minor League Player of the Year award, going 13-3 with a 2.35 ERA.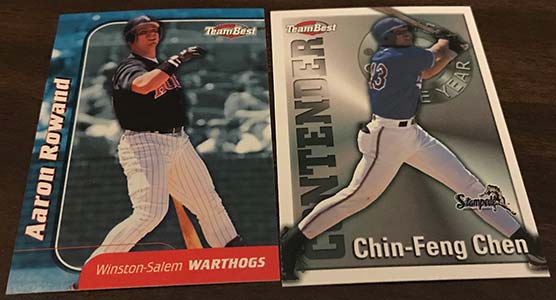 Pack 15:
Corey Patterson & C.C. Sabathia
Now this is the kind of minor league matchup I can get behind, the Lansing Lugnuts against the Mahoning Valley Scrappers.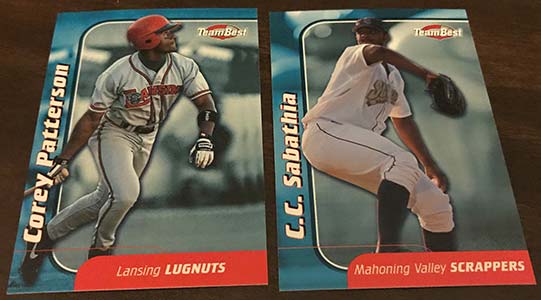 Pack 16:
Rafael Furcal, Carlos Pena & Nick Bierbrodt Autograph
Whenever I see Carlos Pena's name I think of Moneyball. "Carlos, you've been traded to the Detroit Tigers."

Pack 17:
Rick Ankiel
Ankiel's major league career was an interesting one. He developed a case of the yips in 2001, and was never able to fully recover on the mound. He came back as an outfielder, though, and in 2008 he hit 25 home runs with 71 RBI.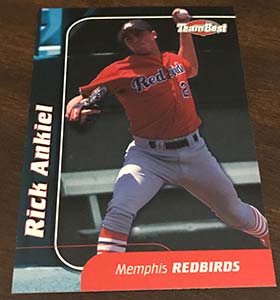 Pack 18:
Alfonso Soriano & Jayson Werth
Did you know that Werth is the grandson of 1960 World Series champion Dick Schofield?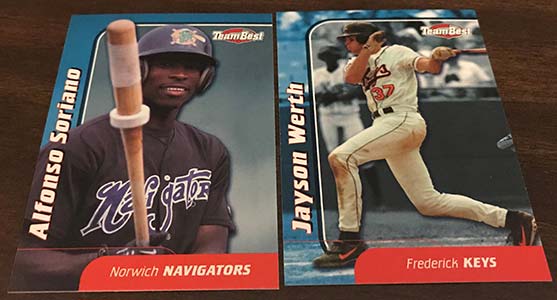 Lastly, the card back, which is pretty plain and simple.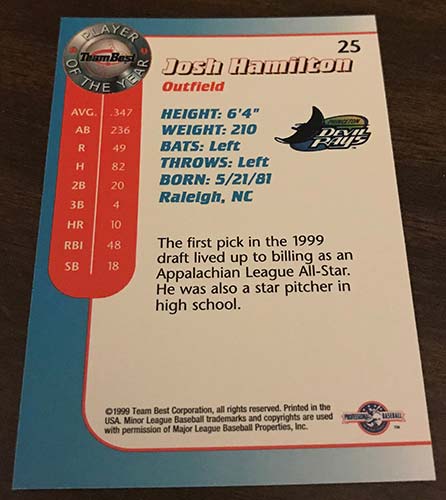 The price tag on these boxes makes them a no-brainer for me. Just $15 for 18 packs? Sign me up. Obviously it is a bonus that this set includes some star names. Unfortunately, I was unable to pull one of the top autographs, though. With six autographs per box and six solid names on the checklist, you have pretty good odds to hit one of them.
Shop for 1999 Team Best Player of the Year Baseball on:
Want more installments of Shane Salmonson's Cheap Wax Wednesday? Check out his other breaks in the archives.