Cheap Wax Wednesday Box Breaks: 1996 Topps Stadium Club Series 2 Football
With baseball season over, Cheap Wax Wednesday is switching over to football products for the remainder of the NFL season.
1996 Topps Stadium Club Football was split into two 180-card series. The base cards are borderless, and feature foil stamped names and Stadium Club logos. Both series shared a partial parallel set, Matrix. Card numbers 1-135 in Series 1 and cards 181-310 in Series 2 could be found in Matrix parallels. Each series contained it's own list of insert sets to chase.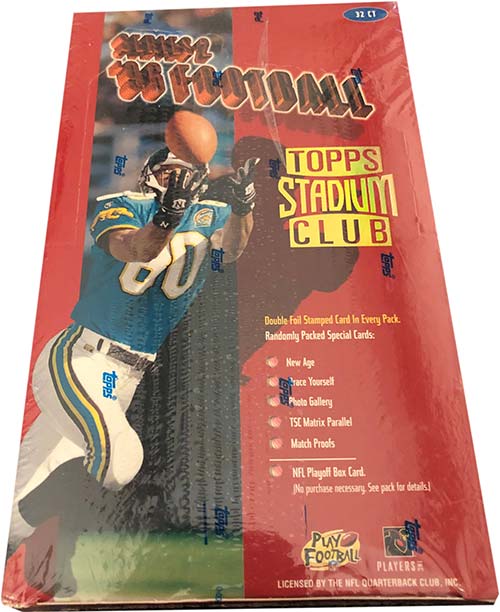 1996 Stadium Club Series 2 has multiple base designs. In addition to the regular base cards, any first-year players had a different orange foil Stadium Club logo. Not all of these cards in Series 2 are considered Rookie Cards, though. Some first-year players appeared in Series 1 as well. The big name RCs contained in Series 2 include Eddie George, Terrell Owens, Brian Dawkins, Lawyer Milloy, and Ray Lewis.
1996 Topps Stadium Club Series 2 Football Box Break
Cards per pack: 7
Packs per box: 32
Price paid: $40

Pack 1 highlights:
Jake Reed, Derrick Brooks, Shannon Sharpe & Amani Toomer RC
Amani Toomer was a second round choice of the Giants in the 1996 draft. He spent his entire career in New York, racking up 9,497 receiving yards.

Pack 2:
Curtis Martin, Kerry Collins & Jonathan Ogden

Pack 3:
Joey Galloway & Marvin Harrison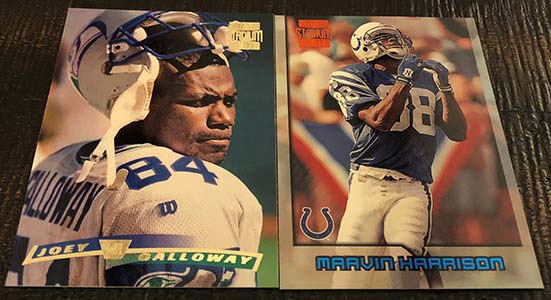 Pack 4:
Leeland McElroy RC
McElroy was an early second round Cardinals draft pick. He played just 30 NFL games, scoring three touchdowns.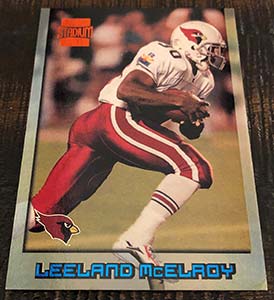 Pack 5:
Qadry Ismail & Neil O'Donnell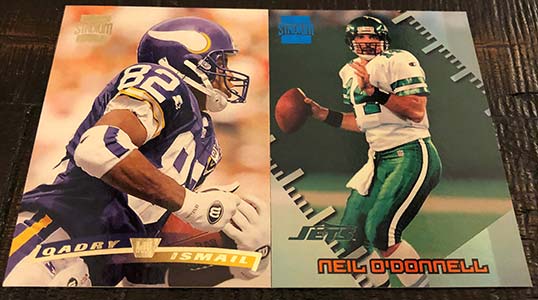 Pack 6:
Brett Favre, Eddie Robinson & Derrick Brooks Matrix (1 in every 16 packs)

Pack 7:
Willie McGinest, Chris Spielman & Jonathan Ogden New Age (1:32 packs)
Ogden was the fourth overall pick of the 1996 NFL draft. The Hall of Fame offensive lineman was selected to the Pro Bowl eleven times, and was named an All-Pro four times.

Pack 8:
Bruce Smith, Marshall Faulk & Boomer Esiason

Pack 9:
John Elway & Walt Harris RC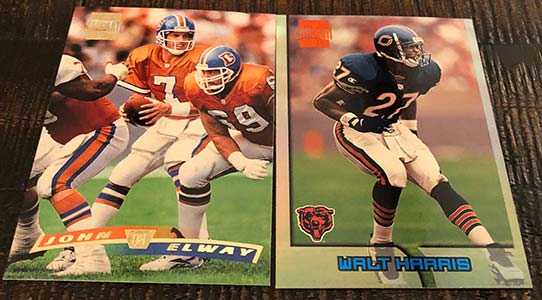 Pack 10:
Trent Dilfer, Emmitt Smith & Daryl Gardener RC
Super Bowl winner Trent Dilfer threw more interceptions (129) in his career than touchdowns (113).

Pack 11:
Rodney Hampton & Lawyer Milloy RC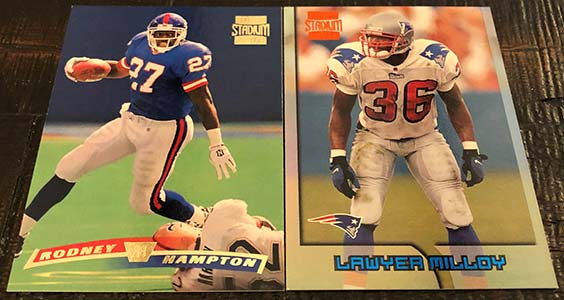 Pack 12:
Bobby Engram RC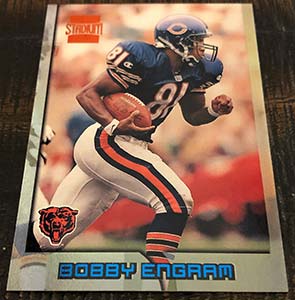 Pack 13:
James Stewart & Andre Rison
Andre "Bad Moon" Rison cleared 1,000 receiving yards in a season five times.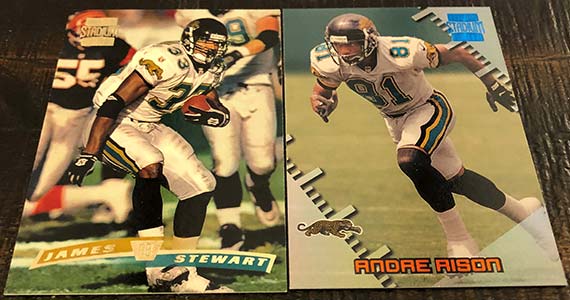 Pack 14:
Marshall Faulk, Irving Fryar & NFL Playoff Box Card
You've probably all heard of Super Bowl squares. That is pretty much what these Playoff Box Cards were. If your card matched any of the scores from any playoff game that season, you were a winner. I checked the scores from that year's playoffs. I would not have been a winner.

Pack 15:
Wayne Chrebet & Jeff Graham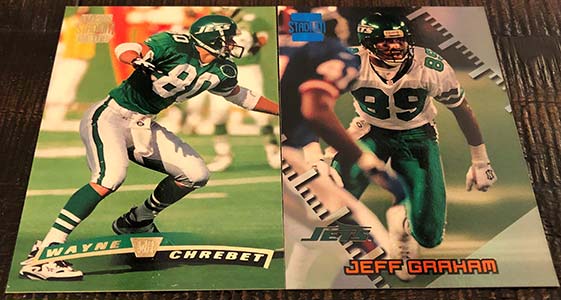 Pack 16:
Darren Woodson, Kordell Stewart & Kevin Hardy
Strong safety Darren Woodson was selected to the Pro Bowl five straight seasons 1994-1998. He intercepted 14 passes during those five seasons, returning two for touchdowns.

Pack 17:
Trent Dilfer, Kordell Stewart & Ray Mickens RC

Pack 18:
John Elway & Danny Kanell RC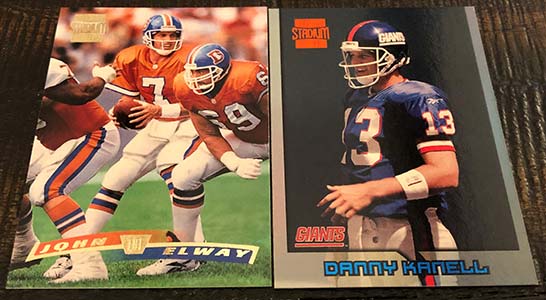 Pack 19:
Steve Young, Bruce Smith & Eric Moulds
Speedster Eric Moulds finished just five receiving yards shy of 10,000 for his career.

Pack 20:
Stepfret Williams RC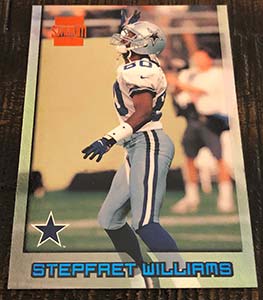 Pack 21:
Cornelius Bennett & Jeff Blake Photo Gallery (1:24 packs)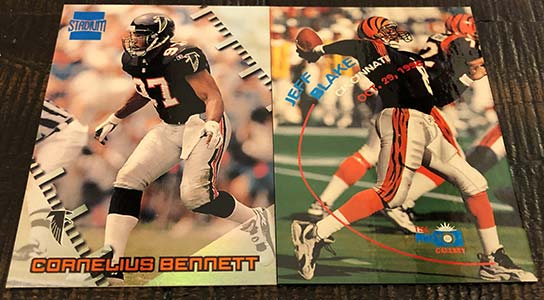 Pack 22:
Ben Coates & Bryan Cox
Playing tight end and wearing #87 for the Patriots before Gronk was out of diapers, Ben Coates caught 50 touchdown passes over nine seasons in New England.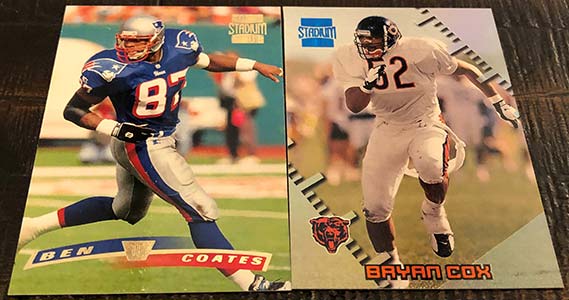 Pack 23:
Robert Brooks, Dan Marino & Ray Lewis RC

Pack 24:
Steve Young, Raghib "Rocket" Ismail & John Mobley

Pack 25:
Kerry Collins, Curtis Martin & Danny Kanell RC
Curtis Martin played 11 seasons in the NFL, all in the AFC East. He rushed for over 14,000 yards, and scored 100 (90 rushing and 10 receiving) touchdowns during his career.

Pack 26:
Ray Mickens RC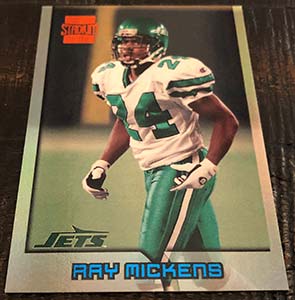 Pack 27:
Darren Woodson, Willie McGinest & Alex Van Dyke

Pack 28:
Kordell "Slash" Stewart & Lawrence Phillips
Kordell Stewart was nicknamed Slash because of his ability to play multiple positions. Though mostly a quarterback in the NFL, Stewart did record 41 receptions, while also punting six times.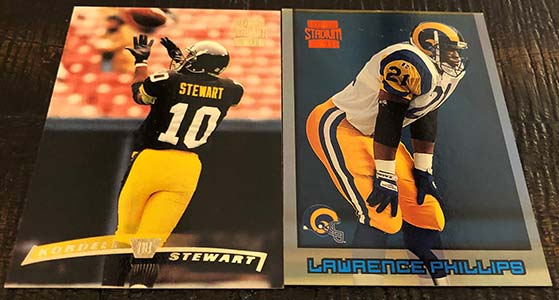 Pack 29:
Quinn Early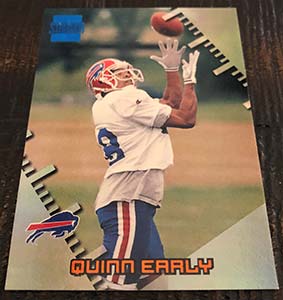 Pack 30:
Derrick Brooks, Quinn Early & Emmitt Smith Matrix (1:16 packs)
These Matrix parallels are some of my favorite cards. Photos really do not do these cards justice.

Pack 31:
Lawrence Phillips & Chris Warren Brace Yourself (1:32 packs)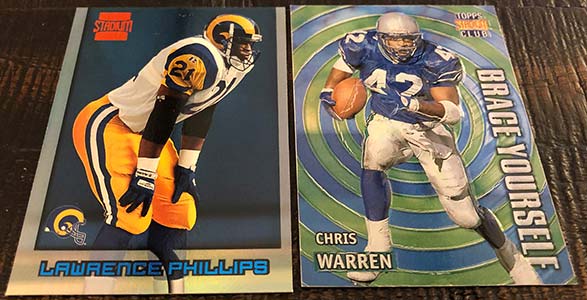 Pack 32:
Rodney Hampton, Shannon Sharpe & Alex Van Dyke

Lastly, the Shannon Sharpe card back. As you can see by the positional ranking, Shannon was one of the top pass-catching tight ends in 1995.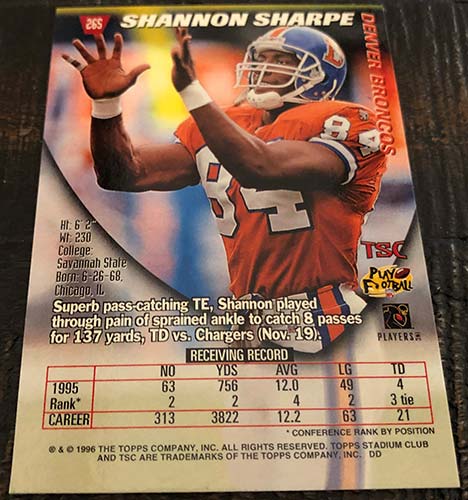 1990s Stadium Club Football is as fun to break as baseball. The inserts are all both really attractive and not that easy to pull. No insert in either series has better than 1:12 pack odds. Considering the Matrix checklist for Series 2 includes 130 cards, I did extremely well pulling two Hall of Famers in Derrick Brooks and Emmitt Smith.
Buy 1996 Topps Stadium Club Football cards on:
Want more installments of Shane Salmonson's Cheap Wax Wednesday? Check out his other breaks in the archives.