Cheap Wax Wednesday Box Breaks: 1991 Pro Line Portraits Football
1991 Pro Line Portraits Football is….different. The most obvious difference compared to other sets of the time is the photography. No in-game action shots were used in the set. Remember high school senior portraits? Kind of like that. The photography features everything from Starter jackets and saxophones to belt buckles and Zubaz.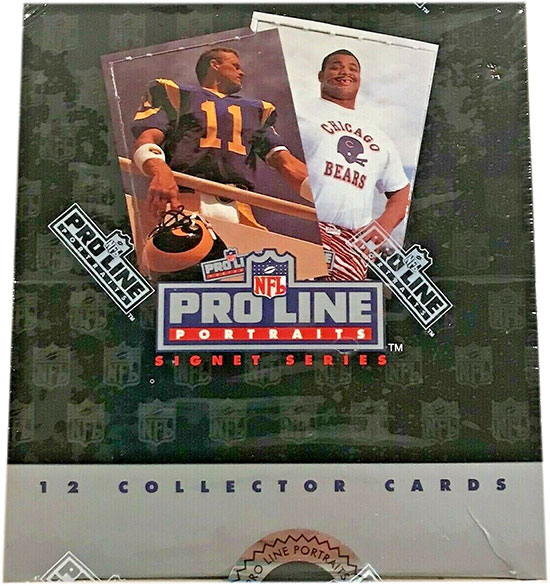 There's also the inclusion of some of the players' wives in a seven-card insert set called Spirit.
The last, and most innovative, difference is the inclusion of certified autographed cards. The cards were signed on the back, with an embossing that can be seen on both sides of the card.
The 1991 Pro Line Portraits base set consists of 300 cards including 24 rookies. The base cards are borderless, with the card fronts showcasing just the release's logo on top of the player photo. No names are on the fronts, though.
The set also features a 302-card autograph checklist. Some of the game's biggest names signed for the set including Troy Aikman, Dan Marino, Walter Payton, Jerry Rice and Emmitt Smith are on it.
1991 Pro Line Portraits Football Box Break
Cards per pack: 12
Packs per box: 36
Price paid: $22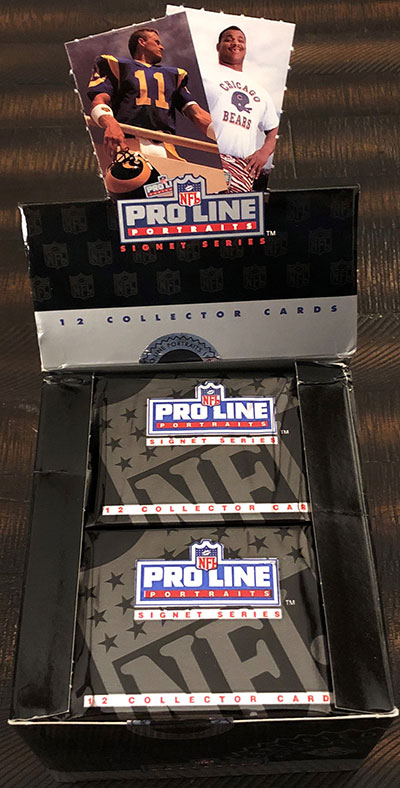 Pack 1 highlights:
Thurman Thomas & Jeff Hostetler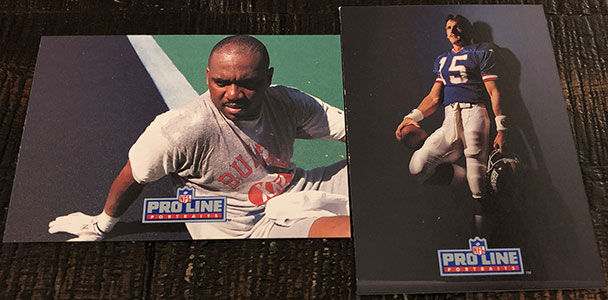 Pack 2:
Eric Dickerson & Jim Everett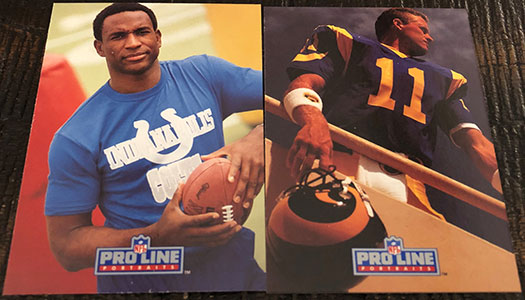 Pack 3:
Jack Kemp, Lawrence Taylor, Chuck Noll, Steve Largent & Boomer Esiason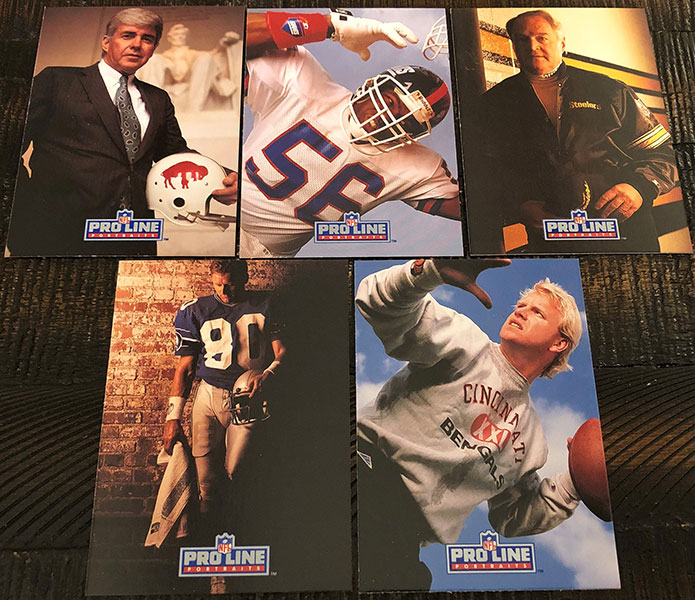 Pack 4:
O.J. Simpson & Michelle Oates Spirit (wife of Bart Oates)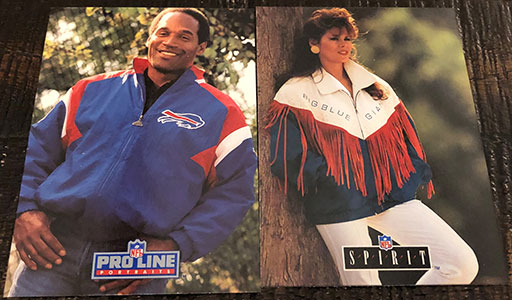 Pack 5:
Steve DeBerg & Junior Seau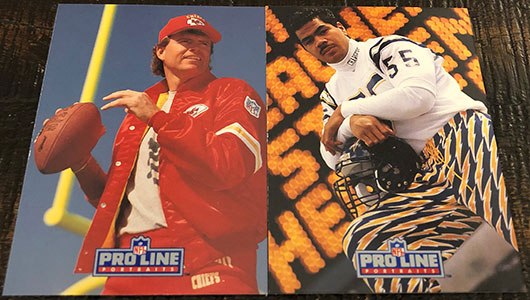 Pack 6:
Jim Kelly, Steve Tasker & Ed McCaffrey RC

Pack 7:
Kevin Greene & Pat Swilling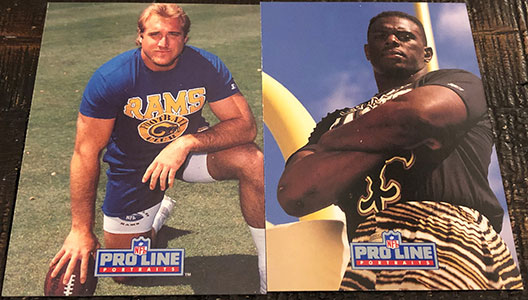 Pack 8:
Marty Schottenheimer, Roger Craig & Ahmad Rashad
Pack 9:
Jackie Slater & Dick Macpherson. Can you imagine Belichick wearing this Patriots sweater on the sidelines today? Cut off sleeves, of course.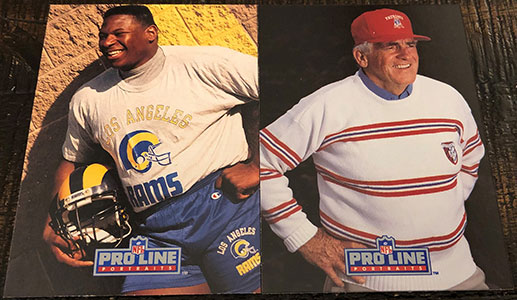 Pack 10:
Dan Reeves, John Riggins, Brian Blades & Jimmy Johnson

Pack 11:
Troy Aikman & Andre Rison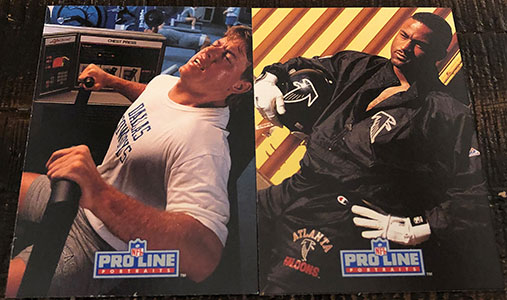 Pack 12:
Gale Sayers, Thurman Thomas & Phylicia Rashad Spirit (wife of Ahmad)

Pack 13:
John Elway & Steve Young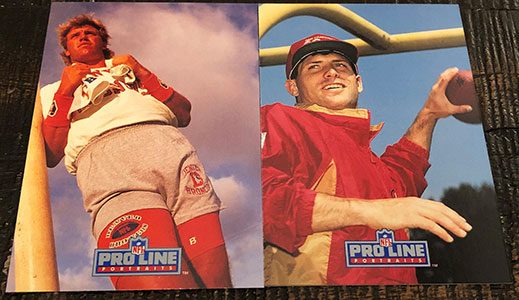 Pack 14:
Joe Gibbs & Walter Payton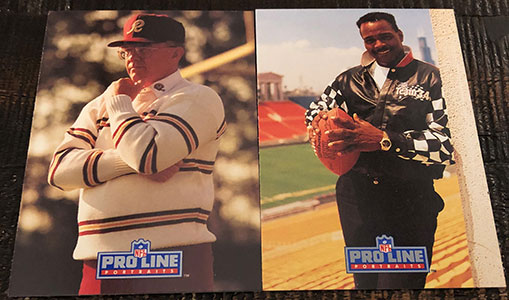 Pack 15:
Bernie Kosar, Roger Staubach, Mike Singletary & Jennifer Montana Spirit

Pack 16:
Franco Harris, Babette Kosar Spirit (Bernie's wife) & Bruce Smith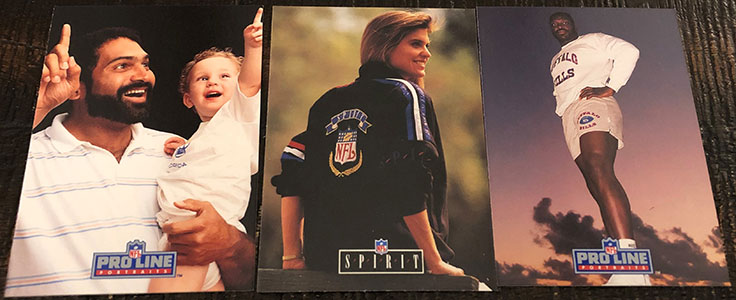 Pack 17:
Warren Moon, Dan Marino, Ickey "Shuffle" Woods & Rod Woodson

Pack 18:
Dave Krieg, Irving Fryar & Herman Moore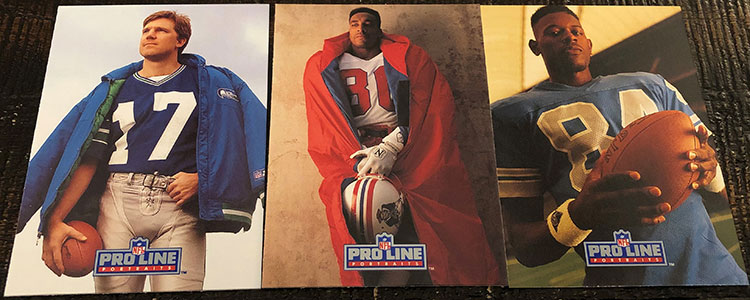 Pack 19:
Bruce Smith & Eugene Robinson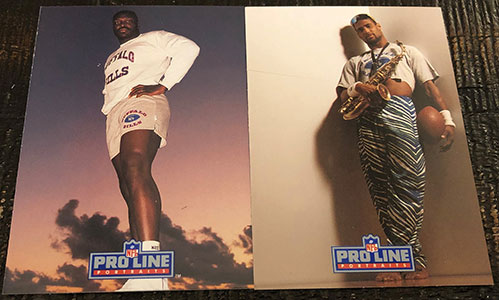 Pack 20:
Roger Staubach, James Lofton & Warren Moon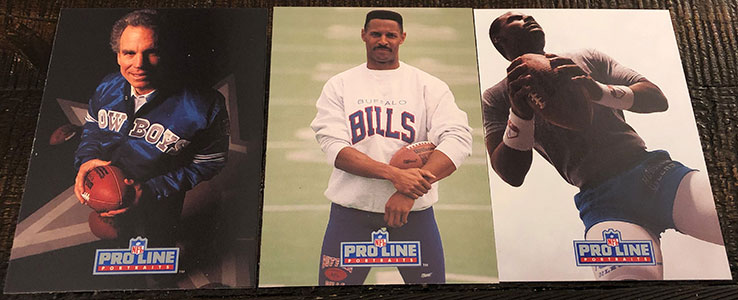 Pack 21:
Dan Marino & Rod Woodson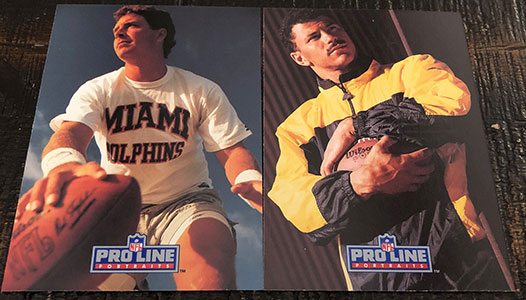 Pack 22:
Mark Clayton, Franco Harris & Jim Harbaugh. No doubt Jim is trying to decide if he wants to coach in the NFL or college ranks after his career here.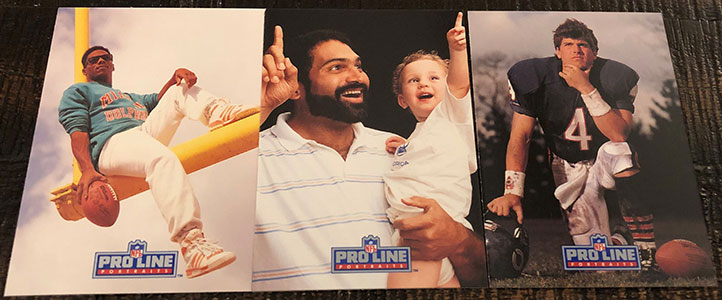 Pack 23:
Derrick Thomas, Mike Ditka & Howie Long. How many of you had a Starter jacket as a kid? I proudly wore my Patriots Starter jacket for years!

Pack 24:
Phil Simms, Joe Theismann, Jerry Rice & Janet Elway Spirit

Pack 25:
Don Shula, Darryl Talley & Toni Lipps Spirit (wife of Louis Lipps)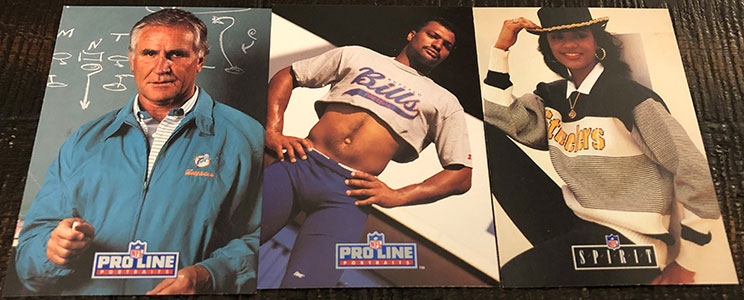 Pack 26:
William "Refrigerator" Perry, Bill Belichick (considered Bill's RC), Michael Irvin, Stacey O'Brien Spirit & Ken O'Brien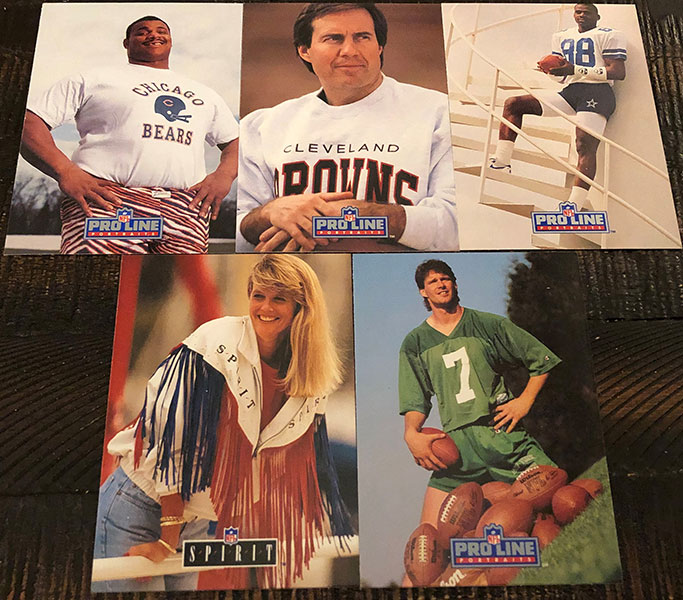 Pack 27:
Mel Blount, Ronnie Lott & Vinny Testaverde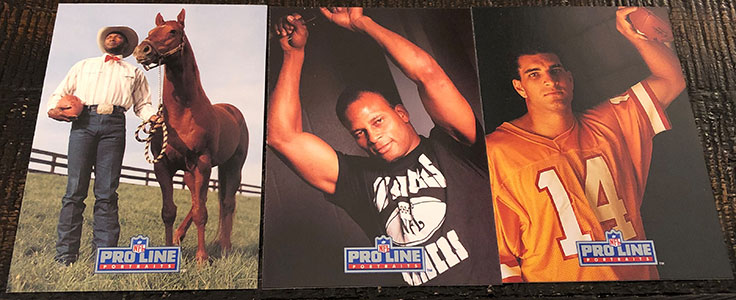 Pack 28:
Chuck Noll & Eric Dickerson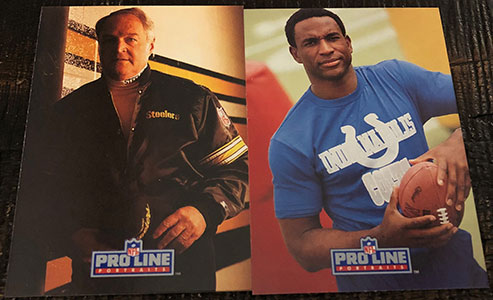 Pack 29:
Lawrence Taylor & Boomer Esiason. Is anyone else seeing Gary Busey here? No? Just me?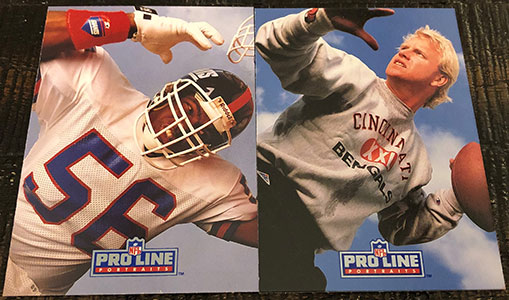 Pack 30:
Brent Jones & O.J. Simpson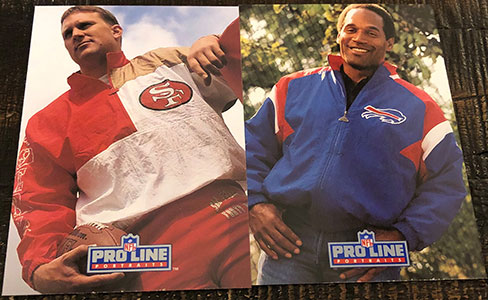 Pack 31:
Jerry Glanville, Steve Tasker & Junior Seau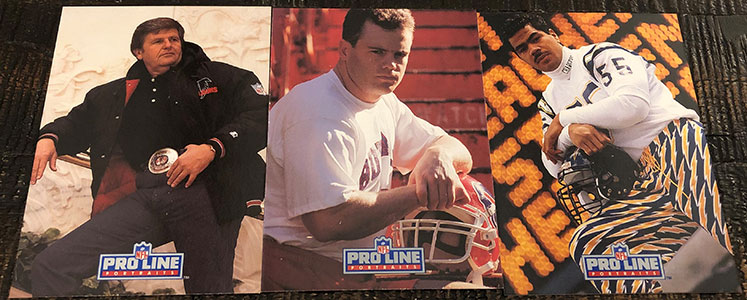 Pack 32:
Marty Schottenheimer & Jim Kelly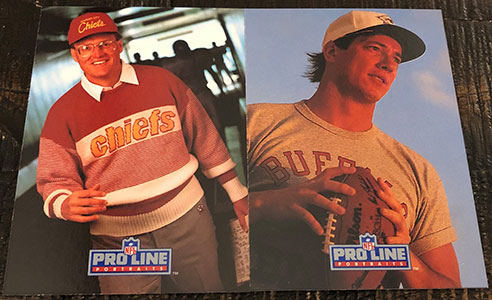 Pack 33:
Andre Reed & Kevin Greene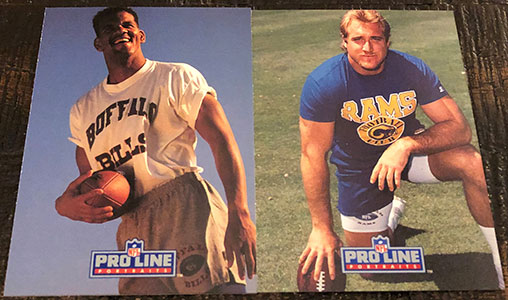 Pack 34:
Cornelius Bennett & Ahmad Rashad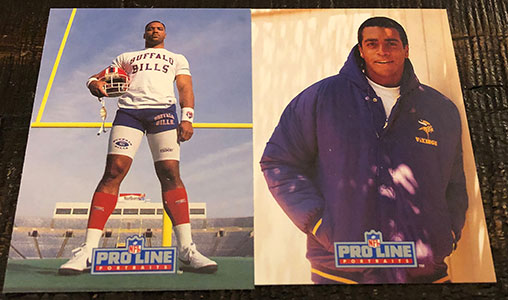 Pack 35:
Jeff George & Joe Theismann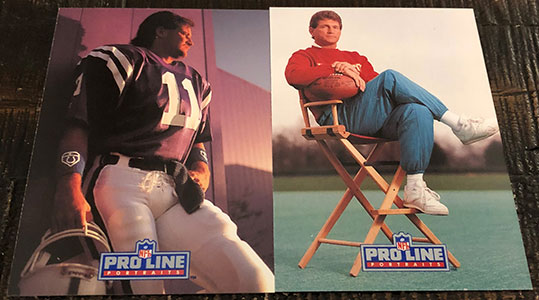 Pack 36:
Morten Anderson & Jim McMahon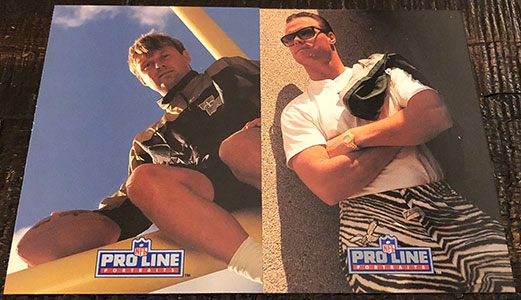 Lastly, the card back. No stats on these backs, just a quote from the player.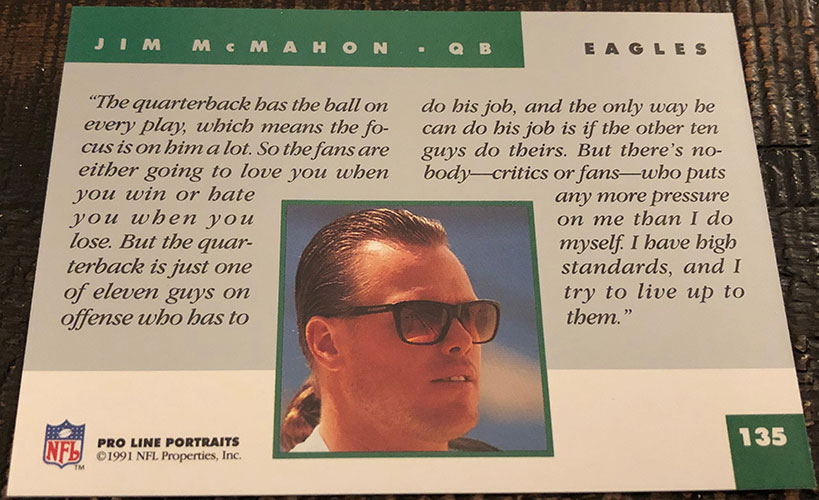 So I didn't pull an autograph. Bummer. This set is definitely different. As a player sorter, I don't mind adding some variety into my player binders. This set absolutely fits that bill, as it is so far out there, even by early '90s standards.
It certainly would have made the box to pull an autograph. Autographs do fall typically a couple per case, so you have about a 1 in 6 chance of pulling one from a single box. Considering how cheaply these boxes can be found, it is well worth the risk to chase an autograph.
Shop for 1991 Pro Lines Portraits Football on:
Want more installments of Shane Salmonson's Cheap Wax Wednesday? Check out his other breaks in the archives.