Coming off the NBA's All-Star Weekend, and a pretty unimpressive dunk contest, Jake and I wanted to go back to 1991 for this edition of Cards & Kicks. Back in 1991 the NBA dunk contest looked a lot different than what we see today. There were no props. There were no assist from the crowd, and there no gimmicks. It was all about speed, power, and flight.
Well, alright, there may have been one gimmick. Dee Brown and his Reebok Pumps felt a little gimmicky. Before each dunk attempt, he would bend down to pump up. The Charlotte crowd would cheer and it made for a good show. Brown took home the trophy that year defeating Shawn Kemp in the finals, but Reebok were the real winners.
I'll explain more about that later, but first here is Jake Roy with a little more in the Cards & Kicks: Dee Brown edition.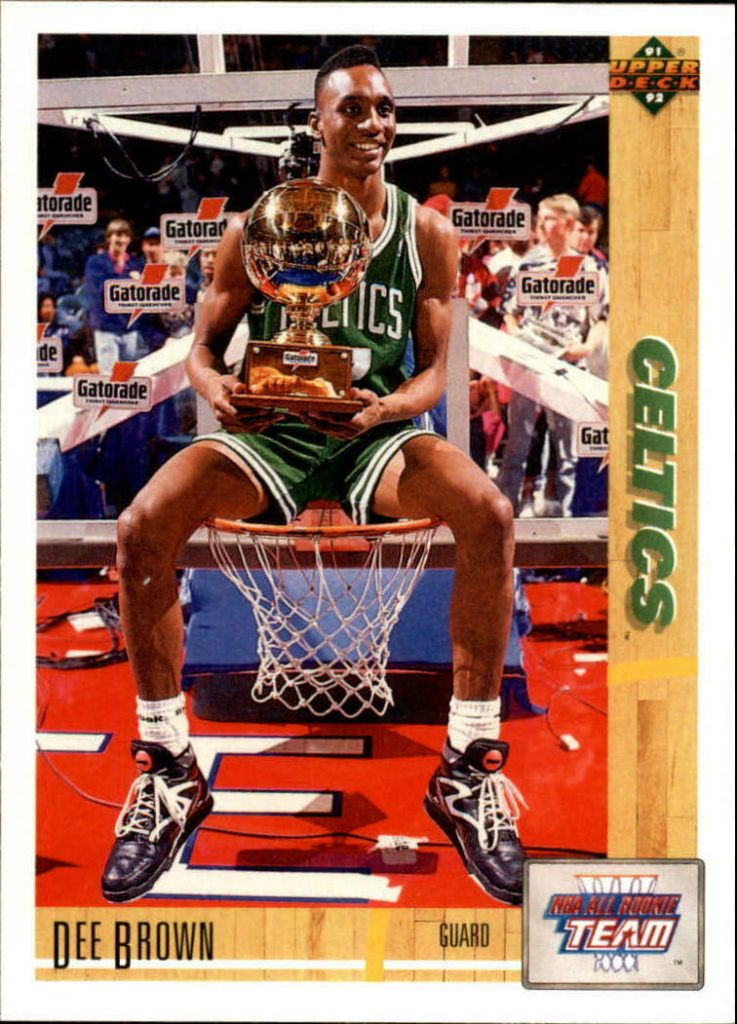 Jake Roy – 90s BBall Cards
What do you think of when you reminisce over Reebok Basketball shoes from the '90s? Surely one of the very first things to come to mind will be The Pump! Well, this was more of a technology or a feature used by Reebok but the Reebok Pump Omni Lite was the first to show us how cool these shoes really were.
The Shoes
These shoes were thrust into the spotlight by a player that isn't talked about much today. In the 1991 Slam Dunk Contest Championship was being hotly contested by Dee Brown and Shawn Kemp. Before each dunk that night the long-armed rookie pumped up his shoes and the crowd loved it!

A little showmanship but it worked for Dee Brown and it really worked for Reebok. The intent of the pump wasn't to help you get more "air" as you jump, it was to offer a unique and custom fit. But it didn't matter, this event showcasing the shoes made them very popular.

So, the Reebok Pump Omni Lite is sometimes also called the Reebok Pump Omni Zone but most people just call these the Reebok Pump. In addition to the Pump technology, these also featured Hexi-lite cushioning in the heel. There were 2 original colorways, essentially a white pair and a black pair, but the Black pair was THE one to have.

In the end, this technology was not long-lived. It had the cool factor. However, it lacked durability. The air bladder that filled while pumping was made of heat-fused plastic. Seems would spring leaks easily. People could overfill them by putting an added strain on the air bladders. The continuous pumping and the deflating that Dee Brown showed us also took their toll. But then again, leaving them fully inflated could also prove problematic. So today the shoes are more of a cool nostalgic piece with novelty technology. It's like the '90s shoe version of the '90s cassette tape.
The Card
On this card, you can clearly see the major customization Dee Brown had made to these shoes. However, he wore these with white laces. The black pair came with black laces. It's a subtle difference. If kids REALLY wanted to wear the same shoes as Dee Brown they could grab some white laces and create them. What they couldn't recreate were his dunks! Today they aren't as impressive after seeing guys like Vince Carter, Jason Richardson, Gerald Green, or Zach Lavine but in 1991 a dunk like the blind dunk or jamming 2 balls with one resting on the rim was mind-blowing.

If you are in the market for a Dee Brown rookie card, this is the one I'd go for. Technically, this is part of a subset and not THE base rookie of Dee Brown. But for me, this is the coolest of the bunch from 1991. This photo also reminds me of those photos of MJ after winning the dunk contest and sitting on the hoop with the trophy. Why don't they do that anymore? Let's that bring back!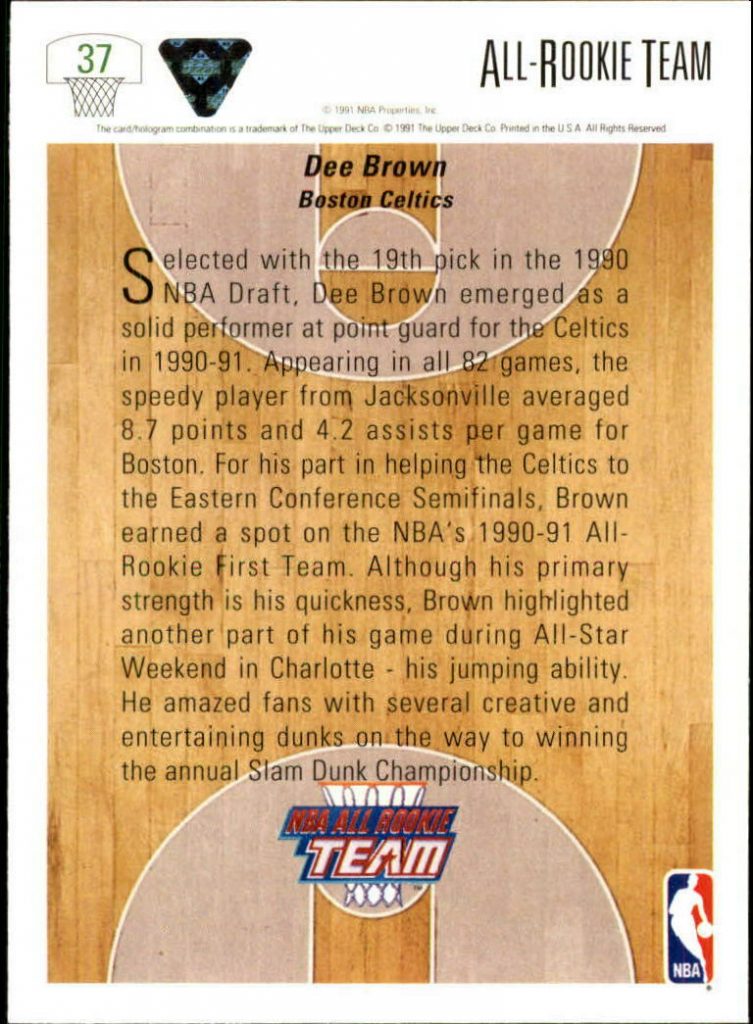 Final Thoughts
As I mentioned above, though Brown took home the trophy it, it was Reebok that won. With Brown rocking the Pumps, and his theatrics before each attempt, Reebok grabbed exposure that otherwise they not have. Nike was the king of the shoe brands and everything else was a distance second. Dee Brown's win in his Reebok Pumps help close the gap.
Within just a few years Reebok brand ambassadors would include Shawn Kemp, Shaquille O'Neal, Nick Van Exel, Allen Iverson, and Steve Francis. Not to mention Dominque Wilkins who won the 1990 NBA Dunk Contest in Pumps as well.
These shoes had their flaws for sure, but they are a '90s NBA classic in every sense of the word.
Thank you for checking in this week. Jake and I would love to know your thoughts about Dee Brown, so please share them in the comment section. Also, if you aren't following Jake already, please check out his YouTube channel and hit that subscribe button. You will find lots of great basketball content there. Also, the Cards & Kicks: Dee Brown edition art was created by Scott Hodges. Make sure to check out Scott over on his site as well. Finally, if you missed our Eddie Jones piece, go back and check it out here.