Cards & Kicks: Eddie Jones
I wouldn't typically sit down to write a Cards & Kicks piece and feel bad for the subject. I mean these guys were/are all NBA players. They were trendsetters, for the most part. They all had their own signature shoes. Life is good, right? However, this time in the Cards & Kicks: Eddie Jones edition, that logic goes out the window. I feel horrible for Eddie and I think he was very much overlooked after Kobe Bryant arrived in LA.
You can't blame the Lakers for sending him packing after Kobe hit the scene, but there was a reason that his nickname was Steady Eddie. If nothing else he was consistent. In his career, he averaged just a tick under 15 points a night and he was clutch when he needed to be. There was a reason that Team Jordan added him to their roster, but we in the hobby overlook that.
But, hey, you don't have to take my word for it. So, here's Jake Roy with a little more on Eddie Jones and his Jordan Team 1s.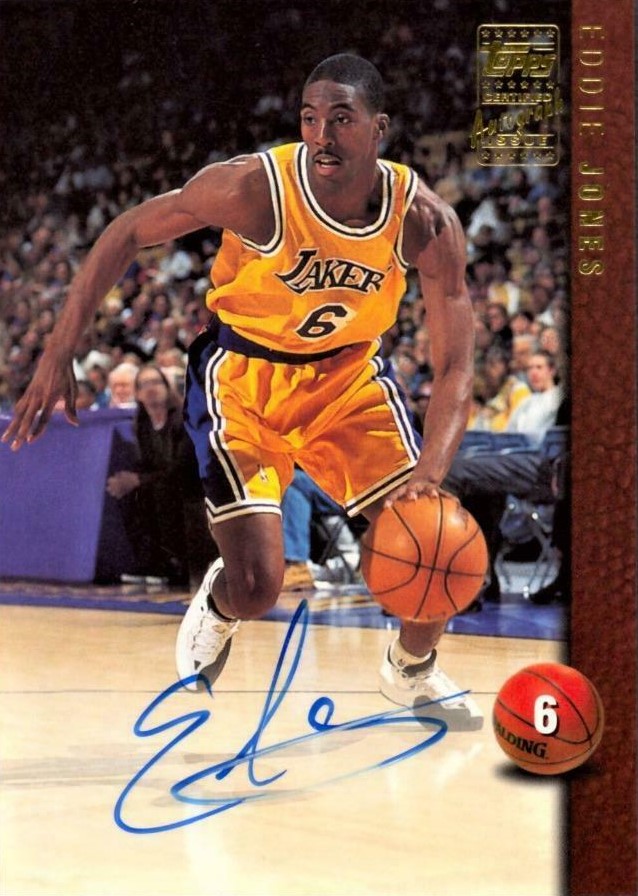 Jake Roy – 90s BBall Cards
Look quickly and you may think this is a Kobe Bryant card. Nope! It's the original young high-flying budding star in LA, Eddie Jones! He may not have turned into the star his potential indicated was possible, but he was really fun to watch. He was a good scorer with a consistent 3-point shot, a smooth mid-range jumper, and dazzling arial displays when driving. His perimeter defense was even more impressive than his offensive skills.

The competition between Kobe and Eddie was the main reason the Lakers traded Jones for Glen Rice in 1999. In hindsight, those Lakers Championship teams could have been even more dominant with Eddie Jones. I understand the desire to give Kobe the space to grow, but I don't think it would be unreasonable for two smart and talented wing players like Eddie and Kobe to manage to play together. It was clear to everyone in 1999 that Kobe was the superior player of the two. Eddie went on to have a very good career for the next 10 seasons and Glen Rice was out of the league in just over 2 years. But anyway, enough with LA's missed opportunity.
The Shoe
There is good reason that Eddie Jones was the first player to get his own unofficial shoe under the Jordan Brand. Those were the Jordan Pro Quick, but we are here to talk about the Jordan Team 1. The Jordan Team 1 came out in 1997. This was the first time there was a shoe made under the Jordan Brand that wasn't made for or intended to be worn by Michael Jordan. These took many design leads from the Air Jordan 12 but didn't carry the same hefty price tag of the flagship Jordan's.

During the run to the 1997 Championship, many of the Bulls players wore these kicks. You may have noticed them on the feet of Scottie Pippen, Toni Kukoc, Ron Harper, or Luc Longely. But to many, my brothers and I included, we saw these as the Eddie Jones shoes.

They were distinctive with a color scheme that made them stand out. Here we see Eddie rocking the white pair with a black toe on the medial side. My favorite original colorway was mostly black with a white toe. They also released these in an all-white pair with a Carolina blue toe and outsole. Later they would introduce additional color options and different color blocking.
Now, even though these had a more affordable price tag and weren't made for MJ they were still made to be high-performance shoes. The Jordan Team 1 offered heal and forefoot zoom air. When lacing an OG pair, you will notice the ankle color is cut a bit higher than many mid-top shoes. For that reason, most people did not see any need to lace them to the top eyelet. If you preferred more ankle support or rolled your ankle, the option was there for you. The Nike Zoom Air units gave great cushioning and allowed your foot to feel like it could sink into a shoe that from the outside looked like it sat very high. With the Zoom and the aggressive herringbone traction pattern, these kicks gave you a superior court feel when playing.
The Card
So, Eddie Jones was a really good player that MJ saw as worthy of his brand. The Jordan Team 1 was a great pair of basketball performance shoes. This card too is noteworthy.
When it comes to autographed cards from the 90s, Skybox Autographics cards get all the headlines. Just one year after Skybox introduced us to their pack-pulled autos, Topps would rise to the competition. The Topps offering gave collectors much more to enjoy on the back of their autographs. In the 2nd year of Topps Autographs, they really stepped up their game. The checklist was small, and the odds were long. All the names were noteworthy at the time and series 2 even included 5 of the most highly anticipated rookies. Today, the Kobe Bryant autographs in both series one and series 2 steal the show just like the time he and Eddie Jones shared with the Lakers.
Take a quick look at the series 1 autograph of Kobe Bryant (AG2) and Eddie Jones (AG6) and you'll see how similar the two cards are. I particularly love the Eddie Jones card. He is a player that always transports me to nostalgic memories of the 90s NBA. Whenever I find a card of Eddie in the Jordan Team 1, it becomes a must-have for me. Then shortly after getting it, I find myself yearning to get a pair of these kicks in my favorite colorway.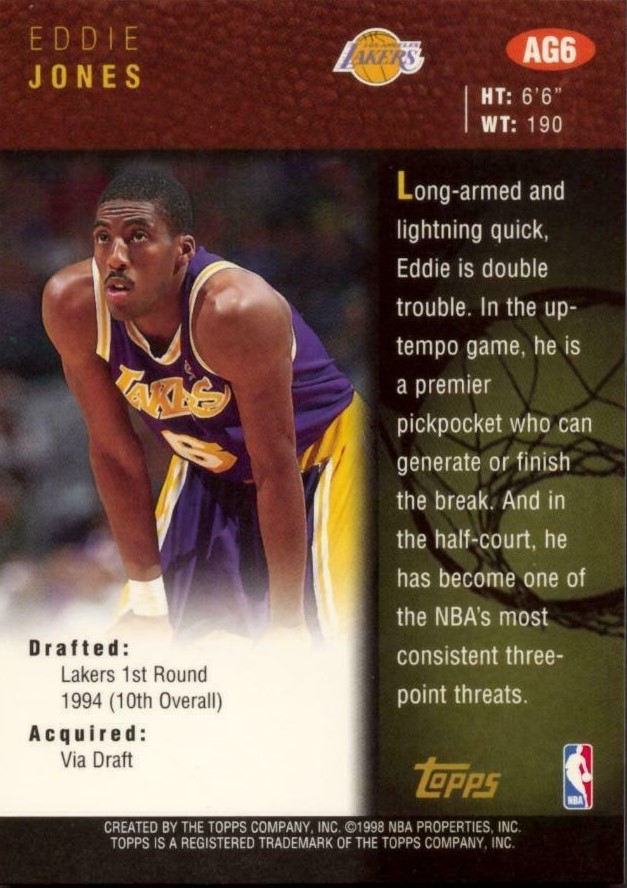 Final Thoughts
Not to sound like a broken record here, but I would echo everything that Jake said above. The shoes, the card, the Lakers woes, all of it. Eddie Jones isn't on that OMG Superstar level, and I don't think he should be either, however, I do think he should get a little more love than he does from collectors.
Though we all probably remember him most for his time in LA he had a long career that saw him with stops in Miami, Memphis, Dallas, and Charlotte as well. Fan bases everywhere loved him because of how tough of a competitor he was, and I encourage you to add some Eddie Jones to your collection. If for no other reason than those Team Jordan 1s.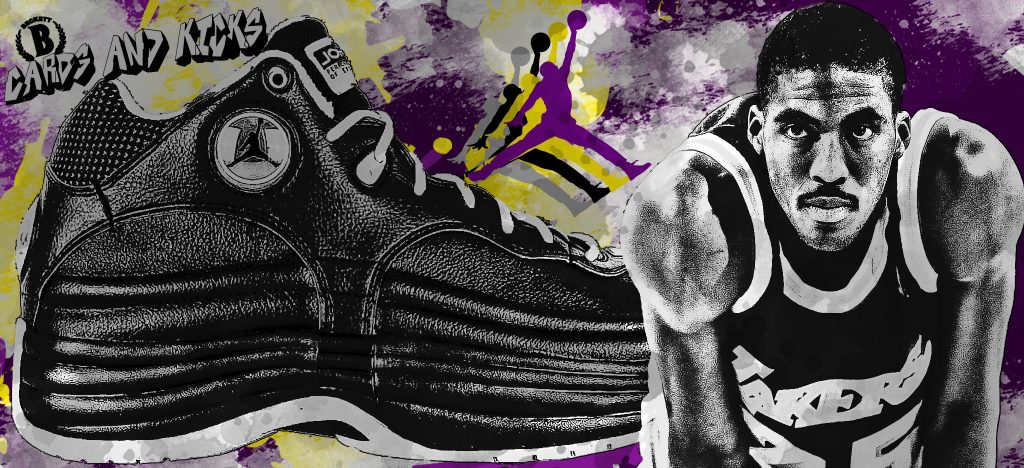 Thank you for checking in this week. Jake and I would love to know your thoughts about Eddie Jones, so please share them in the comment section. Also, if you aren't following Jake already, please check out his YouTube channel and hit that subscribe button. You will find lots of great basketball content there. Also, the Cards & Kicks: Eddie Jones edition art was created by Scott Hodges. Make sure to check out Scott over on his site as well. Finally, if you missed our Grant Hill piece, go back and check it out here.