Brooks Robinson World Series rings, awards heading to auction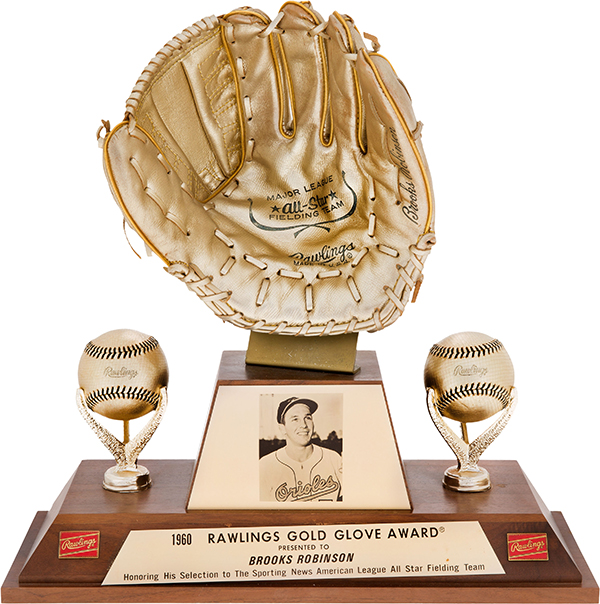 By Ryan Cracknell | Hobby Editor
Baltimore Orioles legend Brooks Robinson is parting way with some of his greatest treasures. He's auctioning off many of his personal items including a pair of World Series rings, his 1964 American League MVP award and his 16 Gold Gloves.
All proceeds from the sales are going to the Constance & Brooks Robinson Charitable Foundation.
The sale is being done through Heritage Auctions with online bidding wrapping up November 5-7.
"This is one of the most significant player collections ever to reach the collecting hobby's auction block," said Chris Ivy, Director of Sports Auctions at Heritage in a press release. "While the extraordinary treasures tell the tale of one of the greatest careers in American sports, Robinson's decision to part with all of it to benefit his philanthropic endeavors is arguably even more illustrative of his legacy as one of the greatest men in American sports."
Other highlights include several pieces of game-used gear. Among them are bats from the All-Star Game, a fielding glove, cap, cleats and a custom batting helmet. Even a pair of Robinson's iconic flip-down sunglasses are available.
Dozens of awards and honors charting Robinson's accomplishments on and off the field make up a big portion of the extensive collection. These range from standard plaques and trophies to ceremonial clocks, crystal and silver trays.
Unique personal items are also part of the Brooks Robinson Collection being sold by Heritage Auctions. You can buy an expired passport, a scrapbook with his rookie contract, letters from President Richard Nixon and even Robinson's birth certificate.
A famous painting of Robinson done by Norman Rockwell is being sold by private treaty.