Brandon Crawford 3-Pack Picks – Beckett Pricing Insider
The Giants have been plagued with injuries this season, causing a somewhat rollercoaster of a season. One constant for them, however, has been Brandon Crawford, who was rightfully voted in as the starting shortstop for National League in this year's All-Star Game.
Crawford's first card is from 2006-07 USA Baseball and has had about 1250 since. Of those are just over 200 autographs and 200 cards with memorabilia. Luckily for Crawford collectors, almost all of his cards can be found for a reasonable price.
Here are a few cards of his to consider:
The SP: 2018 Finest Brandon Crawford #115
Part of Finest's extended set (#101-125), this card is a short print that is only inserted in 1:28 packs, or every 2-3 boxes. Short prints also have three parallels: Gold Refractors (/50), Red Refractors (/5) and one-of-one Superfractors.
While these are numbered the same as the rest of the base set, the odds for the Gold Refractors (1:333 packs for the SP vs. 1:84 packs for the base) and the Red Refractors (1:3,285 packs for the SPs vs 1:830 packs for the base) are clearly different. The odds for the Superfractors remain the same at 1:15,896 packs.
Crawford's base card can normally be found in the $5-$10 range and his Gold Refractor for $15-$25, a bargain for any Crawford collector or someone who is trying to build the set.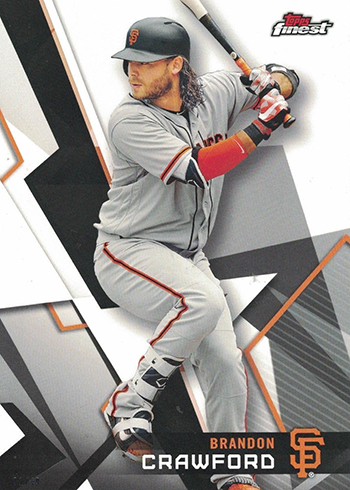 The Memorabilia Card: 2017 Immaculate Collection Shadowbox Materials Brandon Crawford #57 /25
Part of Panini's high end Immaculate Collection set, the Shadowbox Materials insert was a first for the product in baseball. These cards are thick cards that feature player's images in front of a shadow box along with two pieces of memorabilia.
Crawford's card is numbered out of 25 and is currently going for around $20. This is a great deal on a card that is perfect to display with the picture looking like it pops out at you.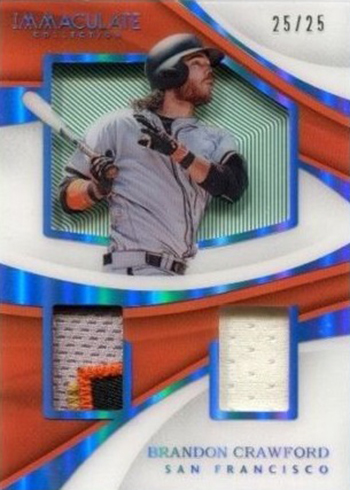 The Autograph: 2015 Finest Autographs Brandon Crawford #FA-BC
Basically a parallel of the base set with the same image, this set was more veteran focused than past Finest products. These cards have multiple parallels including Refractors in Blue, Green, Gold, Orange and Red, and Superfractors. Printing Plates also exist.
Sales for the Crawford card range from around $8-$15. While Finest might not carry the value as other products that use Chrome, this is a steal for a beautiful card to add to your collection.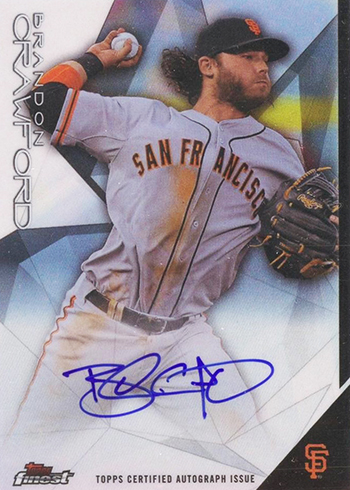 This edition of the Beckett Pricing Insider is sponsored by MVP Sports Collectibles.