AT THE NATIONAL: Dealers, collectors benefit from Black Swamp Find discovery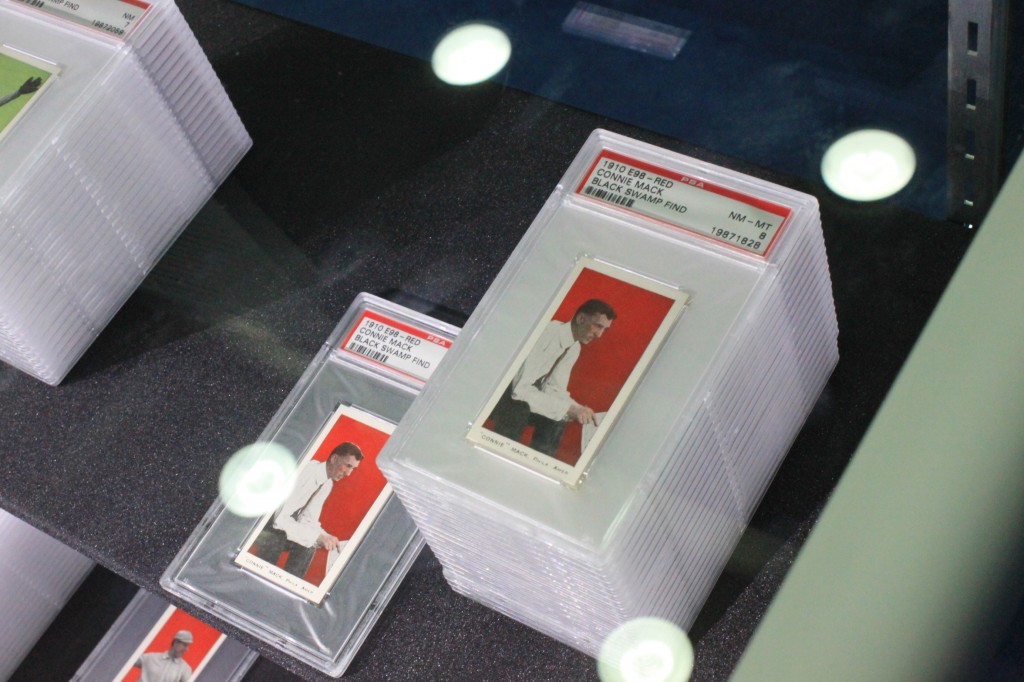 Update: The first batch of auctions brought in little more than $565,000 Thursday night in Baltimore.
By Dan Good | Contributing Editor
BALTIMORE – Father and son glimpsed into the glass display Thursday, studying the most talked-about cards in the hobby.
"Look, that one's a 10," the boy said, examining the cards' grades.
"Those cards are 100 years old," the father said.
Actually, 102 years old – and for all but a month or two, the 1910 E-98 "Series of 30" cards remained hidden in an Ohio attic. Honus Wagner (whose cards say Hans Wagner) and Ty Cobb posed from underneath a doll house. Connie Mack sat, and sat, and sat …
You know the story from here: a family found a stack of 700 old cards, many pristine, while cleaning their attic, and a portion of those cards are being auctioned this week. The entire group could be worth millions.
The "Black Swamp Find" cards – as they've been called – are the stars of this week's National Sports Collectors Convention through auctions, VIP giveaways and collector chatter.
Heritage Auctions is auctioning 37 of the cards this week, and PSA is showcasing some of the other beauties for collectors.
In addition, VIPs to the show receive four replicas of the "Black Swamp" cards numbered to 1500. The slabbed replicas are already a hit online, with sets selling for $50 to $150 on eBay.
VIP packages to this year's show have sold out for the first time in years, said Brooke Petruzzelli, who's involved with show management.
"Those cards have definitely created buzz for the show," Petruzzelli said. "Collectors are excited about receiving the replica cards and seeing the actual cards on the convention floor."
Vin Quach, a Chicago native, studied the cards at PSA's booth, walking to the reverse of the display to see the crisp print on the card backs.
"Look at the backs, how clean they are," Quach said. "You can pull cards today that don't look this nice."
Lee Behrens has been collecting vintage cards for more than a decade, trying to secure one card from as many old-time sets as he can. The E-98, a set with dubious beginnings and limited hobby reach, eludes him.
"The set is condition-sensitive, and some of the 'Black Swamp Find' cards have received inflated grades," Behrens said. "They're 8s and 9s, but not 10s."
Jim Fleck and Levi Bleam, who work at 707 Sportscards in Bucks County, Pa. fielded questions about the E-98 set Thursday. A green Chief Bender sat in the company's display case, graded 2.5, Good+ – not a gem mint, but still an in-demand card in the wake of the Ohio find.
"People are always looking for a discovery," Fleck said. "We'll receive calls from people who find 'old' cards in their attic, and they'll send us pictures and the cards end up being fakes, only five or 10 years old."
Steve Sabow, a longtime dealer with Dynamic Duo Comics and Cards, has benefitted personally from the Ohio attic discovery. After news of the discovery spread, he sold a number of E-98 cards on the vintage baseball website Net54baseball.com.
Sabow was excited about the "Black Swamp Find," sure. But every dealer's got a similar story – maybe not so much value, but a crazy tale about a home brimming with in-demand cardboard. Sabow's favorite story is from 1979, when he visited a home full of dozens of 1960s Topps sets.
And by the home being filled, "there were cards in the refrigerator," Sabow said. "The fridge was turned off, and cards were stored in the compartments.
"The bathtub was even full with cards," Sabow said, laughing.
Sabow brought some off-condition E-98 cards to Baltimore – Tinker in blue, Evers in Orange among them – hoping to translate the set interest into sales. In terms of the E-98 cards, condition is key, Sabow said.
"People are either looking for low-grade or high-grade cards," Sabow said. "The condition of the Ohio cards is what sets them apart."
Pristine conditions and swirling attention brought collectors past the "Black Swamp Find" displays Thursday. These are the cards that Yahoo! wrote about and your mother asked about.
So father and son glanced at the cards, studying vibrant pre-WWI cardboard, wishing their attic held something so valuable – and then it was onto the next display, the next distraction, the next discovery.
Dan Good is a contributing editor. You can email Dan here . Follow him on Twitter here.