Beckett reveals its plans for the 2017 Spring Sportcard & Memorabilia Expo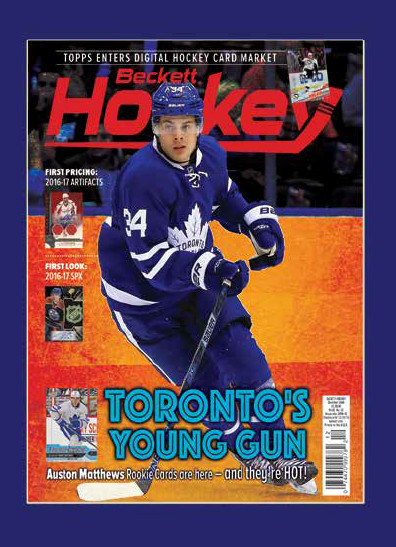 The Spring 2017 Sportcard & Memorabilia Expo is just a few days away and hockey card collector are gearing up for the semi-annual show. Beckett Media will be right there to meet them as all of our latest titles will be on sale in addition to the chance to get your cards and autographs examined by Beckett Grading Services and Beckett Authentication Services.
Those in attendance at the International Centre in Mississauga, Ontario from May 5 to 7 should get ready to go on a scavenger hunt as 16 different over-sized promos featuring classic Beckett covers are spread across the show. Finding them all before the daily drawing will ensure that you are eligible for some amazing prizes courtesy of Universal Distribution.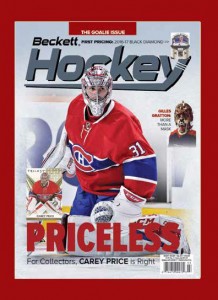 Please note that in order to ensure that the scavenger hunt runs smoothly and fairly for everyone, those bringing their 16 promos over to the booth will have to have the back of their promos marked before receiving their entry for the draw. The first draw takes place at 8:00 p.m. on Friday, May 5 while the Saturday selection goes down at 4:00 p.m. Closing out the show on Sunday is a 1:00 p.m. draw. You must be present to win and all entries are only eligible for the day entered. Multiple entries are allowed upon completion of multiple sets. Only 250 total scavenger hunt sets are being produced.
June issues of Beckett Hockey, Beckett Baseball, and other monthly magazines will be on sale for $13 CDN/$10 USD. Additionally, there are also some other publications like Beckett Vintage Collector that will be available in limited quantities.
For those looking for our larger books, this is the first show where you will find the freshest editions of the Beckett Hockey Price Guide and more. All books will be $10 off the cover price, depending on which currency you pay in.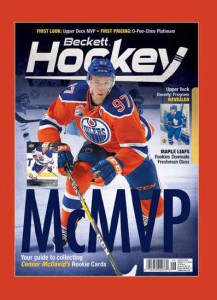 Collectors that wish to participate in Raw Card Review from Beckett Grading Services can come to the booth for some show specials. For those wishing to submit one to five cards, the rate is $13 CDN ($10 USD) each. Larger quantities will get price breaks as six to 50 cards are $11 CDN ($8 USD) each while a submission of 51 to 99 cards drops the rate to $10 CDN ($7 USD) per card. For orders of 100 cards or more, the discount moves down to $9 CDN ($6 USD) each. Please note that autograph fees remain at $2 per customer, per card, regardless of currency.
It should also be noted that over the weekend, collectors and dealers dropping off cards for Raw Card Review should arrive at the Beckett booth early since a cut-off time will be in effect. If you are interested in having your cards slabbed and graded by Beckett Grading Services, you also have the option of shipping them to us via Grosnor Distribution and further details can be obtained at our booth.
Steve Grad and the team from Beckett Authentication Services will also be on hand offering opportunities to authenticate your autographed pieces of memorabilia.
Pricing for authentication can be found in advance on the Beckett Authentication Services website. This is the first time the BAS team has been to the Expo (or Canada), so be sure to bring all your autographed items by the booth for examination. As an added bonus, there is a show special for authentication of signatures from guests that are appearing at the Expo of $13 CDN/$10 USD.
Customers wishing to pay via credit card should note that their cards will be charged at the U.S. price levels.
On top of all this, Beckett Radio will be live recording podcasts and upcoming shows and talking about the latest developments in the hobby. Host Eric Norton will be joined by hobby media personality David Wright and Beckett Hockey Editor Stephen Laroche on a special new stage, set up near our booth, sponsored jointly by Beckett Media and Universal Distribution. Be sure to watch out for other events at this location as well.
We look forward to meeting you there!