2022 Topps Gallery Baseball Variations Guide
The base set might not have original art work, but the 2022 Topps Gallery Baseball Variations do.
Instead of alternate photos like most sets have, the SSPs in 2022 Topps Gallery switch out the photograph entirely and use a painted image instead.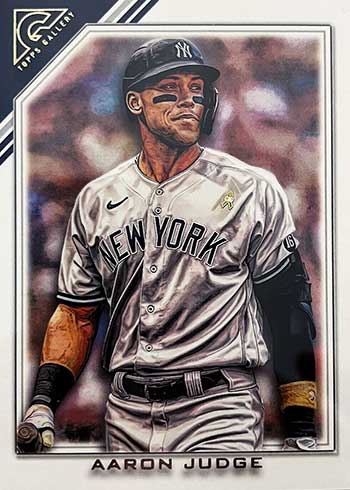 Topps didn't include them on the checklist but there are 10 of them. The big change in formats makes them stand out.
It's worth noting that the images for Spencer Torkelson's variation and base card are different. A possible scenario is that the illustration's original photo was the plan but that changed too late to have another one done.
The odds of pulling one is a long shot, though. Variations are easier to find in hobby-like monster boxes, but they're not easy at 1:850 packs. With 20 packs in a box, that's about one in every 42 or 43 boxes. For blasters, they're even tougher at 1:1,063 packs.
Do the Codes on the Back Work?
In case the artwork is a little too realistic or you just want some ironclad confirmation, the tiny little fine print on the back will work. Simply go to the last three digits of the code at the end of the fine print . These are the two you need to know for when it comes to SSPs:
Base – 688
Variations – 715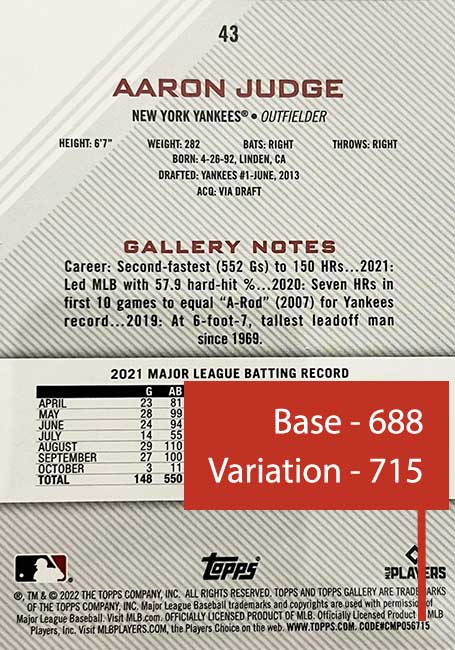 Other card types and inserts in the product have other codes. But if you're wondering what you have, go with the regular card number instead. They're much easier to see and less confusing. The codes aren't actually meant for collectors to use. It's just a trick that can be helpful.
2022 Topps Gallery Baseball Variations Checklist
If you're looking for a specific card, click on the links to see what's currently available on eBay.
1 Bryce Harper
35 Julio Rodriguez
43 Aaron Judge
55 Wander Franco
98 Fernando Tatis Jr.
100 Mike Trout
132 Spencer Torkelson
147 Ronald Acuna Jr.
190 Shohei Ohtani
200 Bobby Witt Jr.
2022 Topps Gallery Baseball Variations Gallery
1 Bryce Harper, Philadelphia Phillies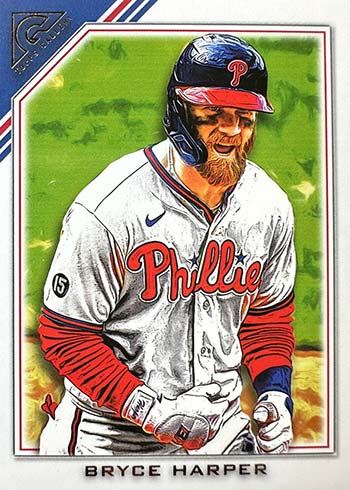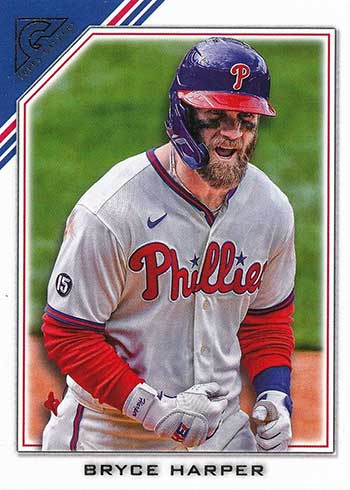 35 Julio Rodriguez, Seattle Mariners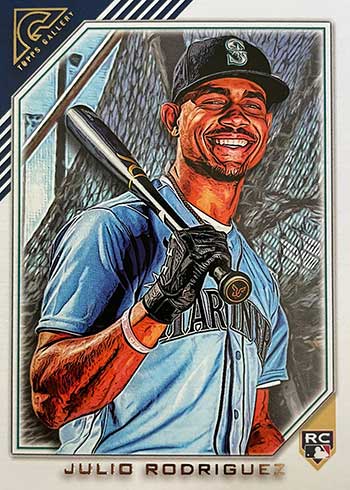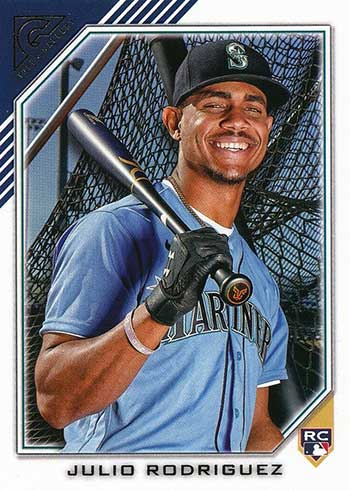 43 Aaron Judge, New York Yankees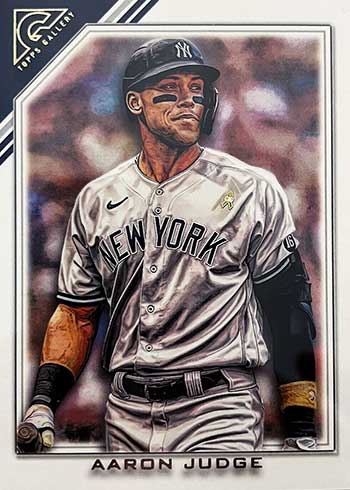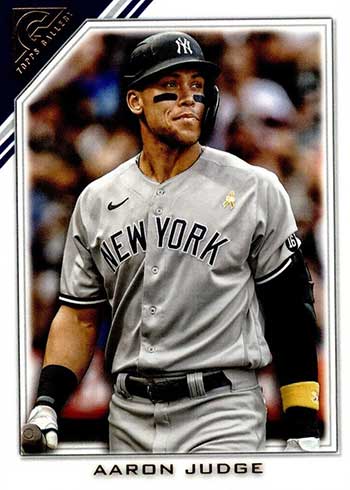 55 Wander Franco, Tampa Bay Rays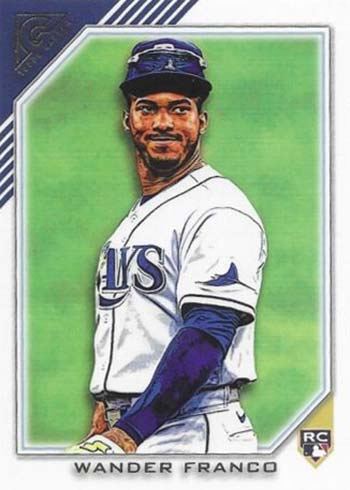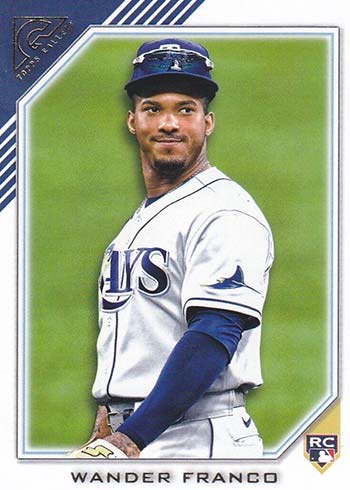 98 Fernando Tatis Jr., San Diego Padres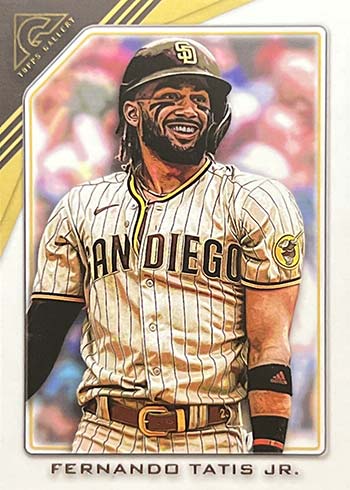 100 Mike Trout, Los Angeles Angels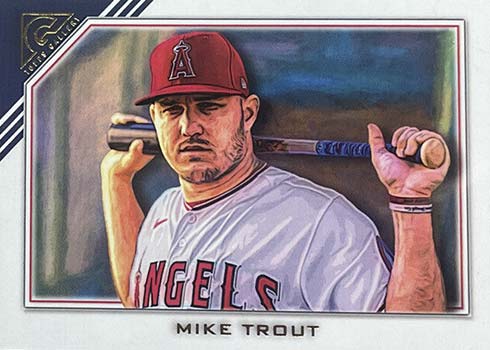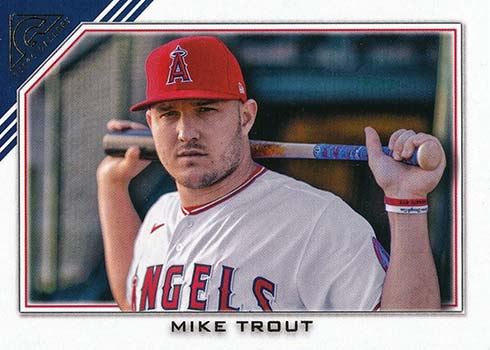 132 Spencer Torkelson, Detroit Tigers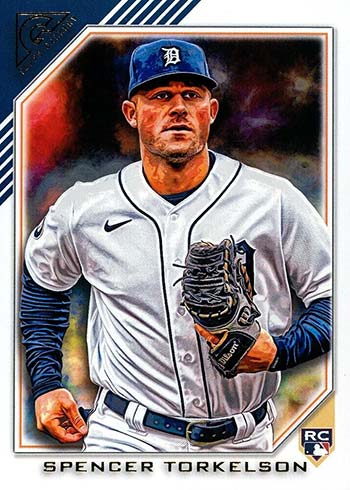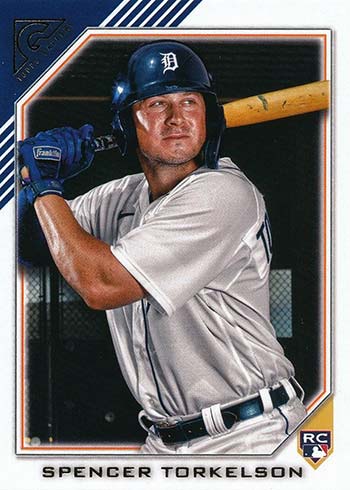 147 Ronald Acuña Jr., Atlanta Braves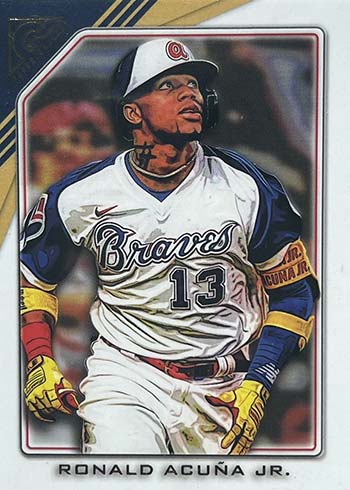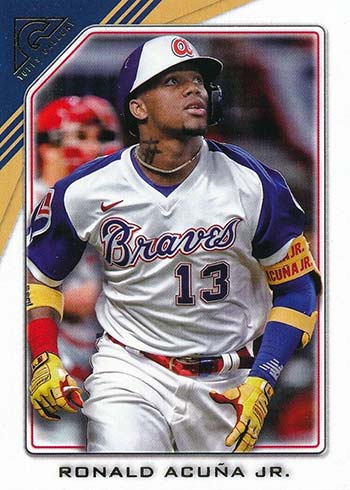 190 Shohei Ohtani, Los Angeles Angels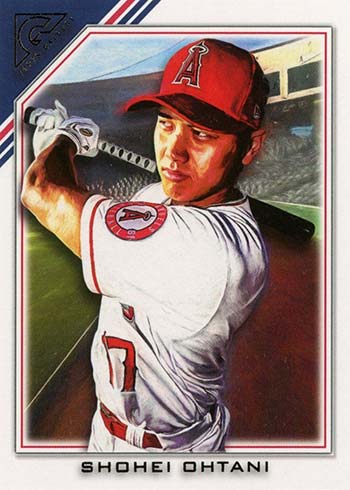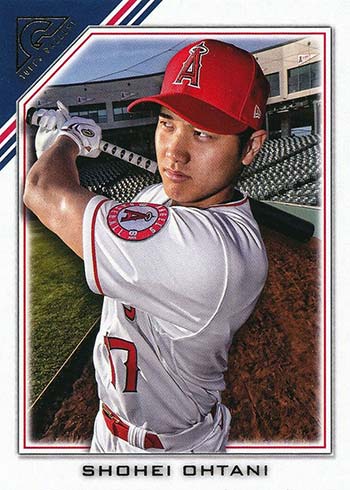 200 Bobby Witt Jr., Kansas City Royals