2022 Panini Instant World Cup Checklist, Team Set Lists and Details
2022 Panini Instant World Cup soccer cards chronicle the tournament as it unfolds. New cards are dropped shortly after games wrap, highlighting key moments.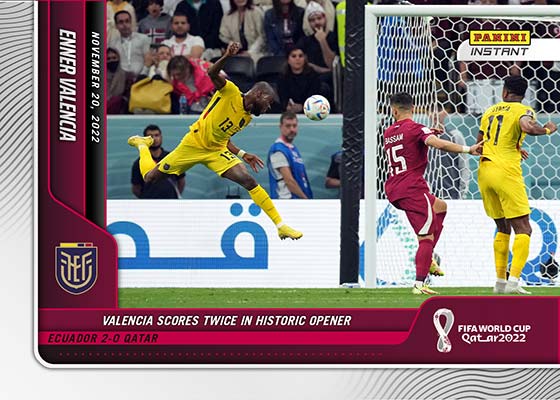 Like other Panini Instant sets, it's a print-on-demand product meaning whatever's ordered is what the final print run ultimately is. Naturally, the biggest players and highlights typically get the highest print runs. This format also leads to some short prints that can become tough to find on the secondary market over the long term.
2022 Panini Instant World Cup cards are available for a limited time on Panini's website. Individual copies are $9.99 but there are discounts for lots of five, 10 or 25 copies of the same card. These leads to some buying in bulk and offering discounted singles on eBay during the pre-sale window.
The line actually kicked off with a Class of the Cup subset highlighting a top player from each of the 32 participating countries. In addition to the regular single sales, collectors could also buy all 32 at once as a bundle.
While print runs for base cards vary, there are also parallels with predetermined print runs. Versicolor (/5) and Black (1/1) versions are sold separately and remain listed for sale until they're sold out. For some players, it's nearly instant. Others may remain available indefinitely.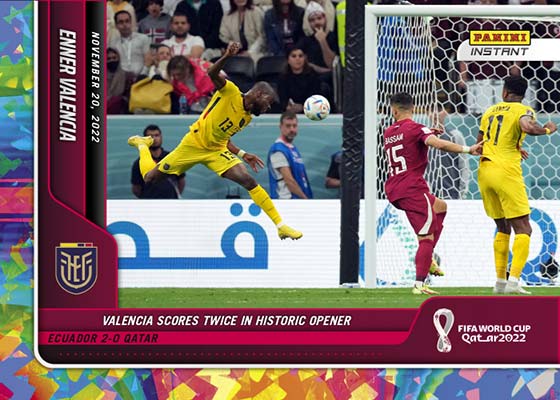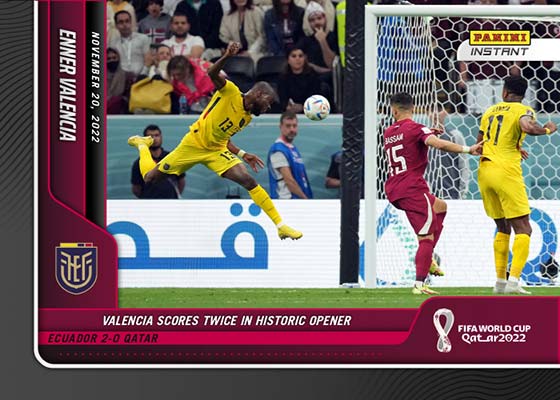 2022 Panini Instant World Cup Checklist
This checklist will continue to evolve throughout the duration of the 2022 FIFA World Cup. If you're looking for a specific card, click on the links to see what's currently available on eBay.
Checklist
Base Set Checklist
Parallels:
Versicolor – /5
Black – 1/1
Class of the Cup
1 Lionel Messi
2 Mathew Ryan
3 Kevin De Bruyne
4 Neymar Jr.
5 Vincent Aboubakar
6 Alphonso Davies
7 Keylor Navas
8 Luka Modric
9 Christian Eriksen
10 Moises Caicedo
11 Harry Kane
12 Kylian Mbappe
13 Jamal Musiala
14 Inaki Williams
15 Mehdi Taremi
16 Takumi Minamino
17 Heung-Min Son
18 Guillermo Ochoa
19 Achraf Hakimi
20 Cody Gakpo
21 Robert Lewandowski
22 Cristiano Ronaldo
23 Hassan Al-Haydos
24 Salem Al-Dawsari
25 Edouard Mendy
26 Dusan Vlahovic
27 Pedri
28 Grant Xhaka
29 Wahbi Khazri
30 Federico Valverde
31 Christian Pulisic
32 Gareth Bale
November 21, 2022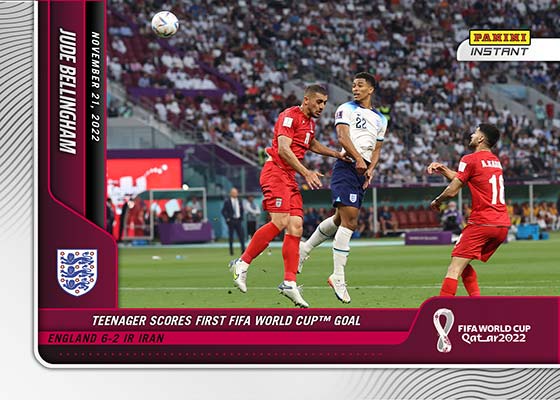 33 Enner Valencia – Valencia Scores Twice in Historic Opener (Ecuador 2-0 Qatar)
34 Jude Bellingham – Teenager Scores First FIFA World Cup Goal (England 6-2 IR Iran)
35 Bukayo Saka – Three Lions Let Loose in Group B Debut (England 6-2 IR Iran)
36 Cody Gakpo – Late Goal Lifts Oranje to Opening Victory (Netherlands 2-0 Senegal)
37 Timothy Weah – Stars & Stripes Strike First Vs. Dragons (USA 1-1 Wales)
38 Gareth Bale – Wales Fights for Draw in Finals Return (USA 1-1 Wales)
November 22, 2022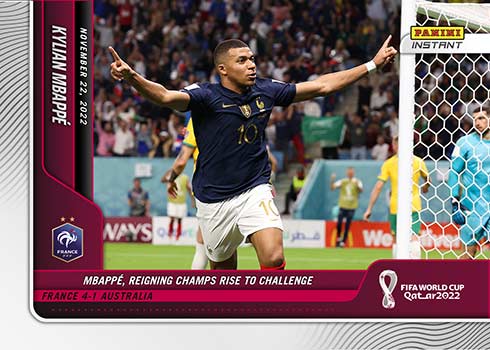 40 Salem Al-Dawsari – Electric Saudis Shock Messi-Led Argentina (Saudi Arabia 2-1 Argentina)
41 Guillermo Ochoa – Mexican Hero Denies Lewandowski's Penalty (Mexico 0-0 Poland)
42 Kylian Mbappe – Mbappé, Reigning Champs Rise to Challenge (France 4-1 Australia)
43 Olivier Giroud – Multiple Goals, Milestones for French Forward (France 4-1 Australia)
November 23, 2022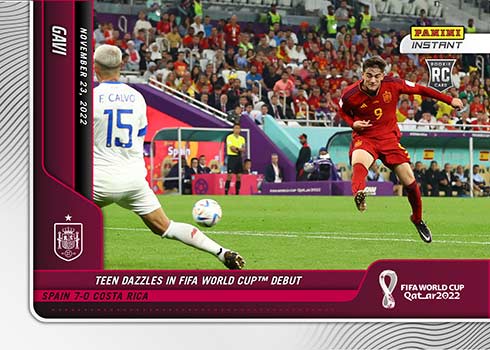 44 Jamal Musiala – Rising Star Makes FIFA World Cup Debut (Japan 2-1 Germany)
45 Ritsu Doan – Super Sub Kick-Starts Samurai Blue Comeback (Japan 2-1 Germany)
46 Takuma Asano – Japan Shocks Germany with Second-Half Surge (Japan 2-1 Germany)
47 Ferran Torres – La Roja Rolls to Historic Win (Spain 7-0 Costa Rica)
48 Gavi – Teen Dazzles in FIFA World Cup Debut (Spain 7-0 Costa Rica)
November 24, 2022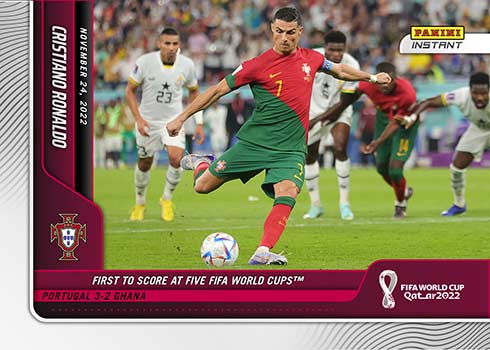 49 Cristiano Ronaldo – First to Score at Five FIFA World Cups (Portugal 3-2 Ghana)
50 Rafael Leão – Sub Grabs Winner in Five-Goal Thriller (Portugal 3-2 Ghana)
51 Richarlison – Wonder Strike Seals Brazilian Victory (Brazil 2-0 Serbia)
November 25, 2022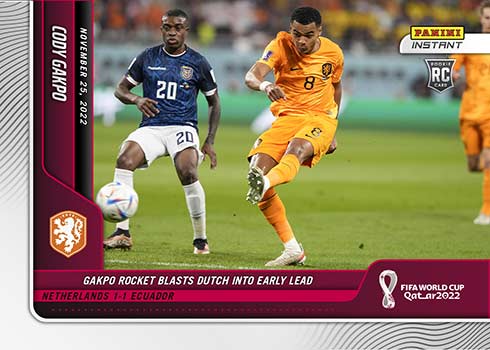 52 Cody Gakpo – Gakpo Rocket Blasts Dutch Into Early Lead (Netherlands 1-1 Ecuador)
53 Enner Valencia – Valencia Continues Writing Ecuador History (Netherlands 1-1 Ecuador)
54 Christian Pulisic – United States Takes the Fight to England (USA 0-0 England)
November 26, 2022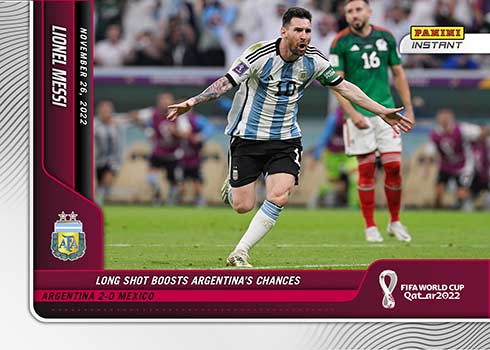 55 Robert Lewandowski – Polish Star Nets First FIFA World Cup Goal (Poland 2-0 Saudi Arabia)
56 Lionel Messi – Long Shot Boosts Argentina's Chances (Argentina 2-0 Mexico)
November 27, 2022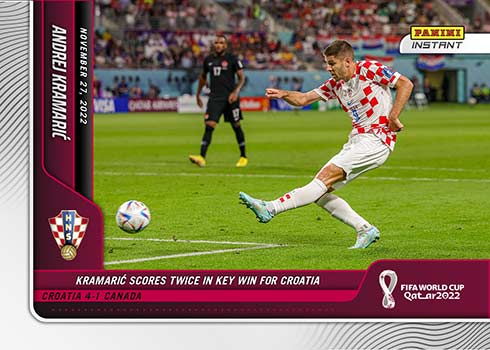 57 Alphonso Davies – Speedster Makes Quick Leap Into History (Croatia 4-1 Canada)
58 Andrej Kramarić – Kramarić Scores Twice in Key Win for Croatia (Croatia 4-1 Canada)
59 Álvaro Morata – Man of the Match Honors for Sapnish Sub (Spain 1-1 Germany)
60 Niclas Füllkrug – New Addition Makes Name for Himself vs. Spain (Spain 1-1 Germany)
November 28, 2022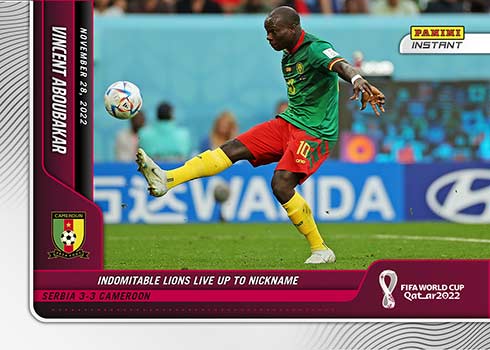 61 Aleksandar Mitrović – Forward Stays Hot with Goal vs. Cameroon (Serbia 3-3 Cameroon)
62 Vincent Aboubakar – Indomitable Lions Live Up to Nickname (Serbia 3-3 Cameroon)
63 Gue-sung Cho – Cho Heads Korea Republic Attack with Double (Ghana 3-2 Korea Republic)
64 Mohammed Kudus – Shooting Star Shines with Two-Goal Outing (Ghana 3-2 Korea Republic)
65 Casmeiro – Unlikely Source Sends Seleção Into Next Round (Brazil 1-0 Switzerland)
66 Bruno Fernandes – Pair of Goals Pushes Portugal Into Last 16 (Portugal 2-0 Uruguay)
November 29, 2022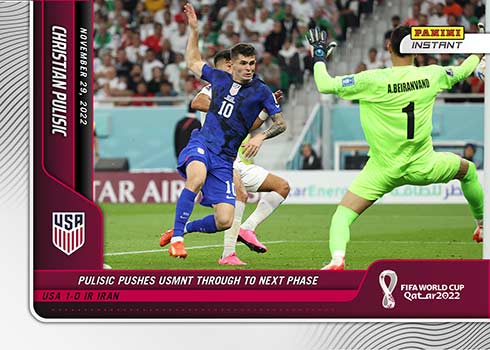 67 Cody Gakpo – Breakout Star Sends Oranje to Knockout Rounds (Netherlands 2-0 Qatar)
68 Kalidou Koulibaly – Koulibaly Claws Senegal to Round of 16 (Senegal 2-1 Ecuador)
69 Marcus Rashford – Historic Goal for England National Team (England 3-0 Wales)
70 Phil Foden – Foden, England Post Firsts in Win vs. Wales (England 3-0 Wales)
71 Christian Pulisic – Pulisic Pushes USMNT Through to Next Phase (USA 1-0 IR Iran)
November 30, 2022
72 Mathew Leckie – Awesome Achievement for Aussies (Australia 1-0 Denmark)
73 Eduardo Camavinga – Deep French Side Begins to Eye Next Round (Tunisia 1-0 France)
74 Aurélien Tchouaméni – Standout Stars in Middle of Group D Action (Tunisia 1-0 France)
75 Wahbi Khazri – Tunisia Takes Down Trophy Holders (Tunisia 1-0 France)
76 Julián Álvarez – La Albiceleste Finishes in Driver's Seat (Argentina 2-0 Poland)
December 1, 2022
77 Hakim Ziyech – Atlas Lions Crowned Kings of Group F (Morocco 2-1 Canada)
78 Joško Gvardiol – Croatia Draw Up Plans to Reach Next Round (Croatia 0-0 Belgium)
79 Ao Tanaka – Japan Beats Spain to Top Group E (Japan 2-1 Spain)
80 Kai Havertz – Havertz Hits Net Twice in Group-Stage Finale (Germany 4-2 Costa Rica)
December 2, 2022
81 Heung-Min Son – Slick Pass Opens Path Into Round of 16 (Korea Republic 2-1 Portugal)
82 Hee-Chan Hwang – Hwang to the Rescue with Dramatic Winner (Korea Republic 2-1 Portugal)
83 Gabriel Martinelli – Brazil Shows Off Depth as Group G Winner (Cameroon 1-0 Brazil)
December 3, 2022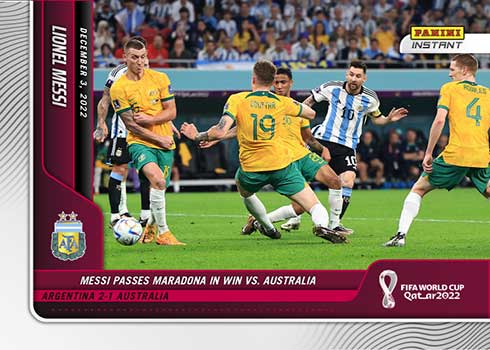 84 Denzel Dumfries – Do-It-All Dumfries Delivers in Round of 16 (Netherlands 3-1 USA)
85 Lionel Messi – Messi Passes Maradona in Win vs. Australia (Arentina 2-1 Australia)
86 Julián Álvarez – Argentina's Álvarez Scores Against Socceroos (Arentina 2-1 Australia)
December 4, 2022
87 Dayot Upamecamo – Defense Holds Strong in Victory vs. Poland (France 3-1 Poland)
88 Harry Kane – Cool Finish Puts England in Control (England 3-0 Senegal)
December 5, 2022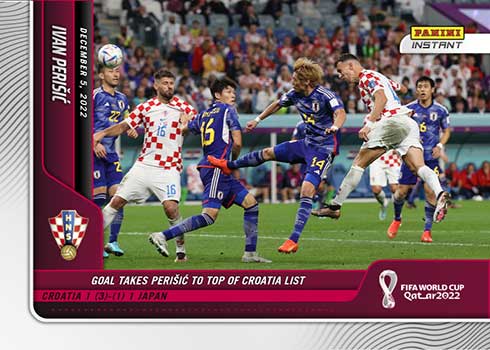 89 Daizen Maeda – Japan Jumps Out to Lead in Round of 16 (Croatia 1 (3)-(1) 1 Japan)
90 Maya Yoshida – Captain Assists Opening Goal in Knockout Match (Croatia 1 (3)-(1) 1 Japan)
91 Ivan Perišić – Goal Takes Perišić to Top of Croatia List (Croatia 1 (3)-(1) 1 Japan)
92 Dominik Livaković – Goalkeeper Saves His Best for Shootout (Croatia 1 (3)-(1) 1 Japan)
93 Vinícius Jr. – Verde-Amarela Puts Offensive Might on Display (Brazil 4-1 Korea Republic)
94 Neymar Jr. – Astro in Company of Brazillian All-Time Greats (Brazil 4-1 Korea Republic)
December 6, 2022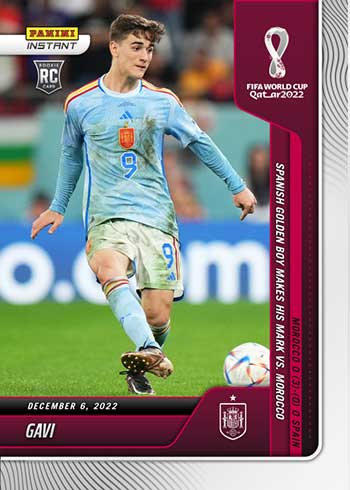 95 Gavi – Spanish Golden Boy Makes His Mark vs. Morocco (Morocco 0 (3)-(0) 0 Spain)
96 Yazzine Bounou – Bounou Lifts Atlas Lions to Massive Upset (Morocco 0 (3)-(0) 0 Spain)
97 Donçalo Ramos – First-Time Starter Does the Trick for Portugal (Portugal 6-1 Senegal)
December 9, 2022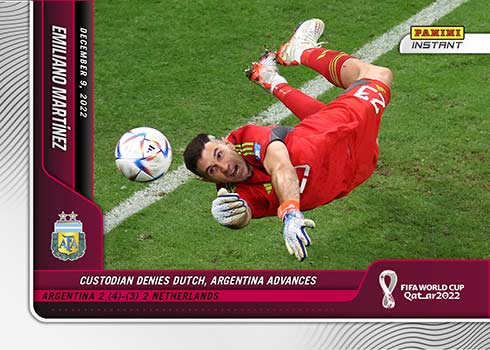 98 Neymar Jr. – Brilliant Finish Takes Neymar Level with Pelé (Croatia 1 (4)-(2) 1 Brazil)
99 Bruno Petlović – Never-Say-Die Croatia Survives Brazil Duel (Croatia 1 (4)-(2) 1 Brazil)
100 Wout Weghorst – Perfect Free-Kick Play Provides Electric Finish (Argentina 2 (4)-(3) 2 Netherlands)
101 Lionel Messi – Messi Thrives in Tough Quarterfinal Test (Argentina 2 (4)-(3) 2 Netherlands)
102 Emmillano Martinez – Custodian Denies Dutch, Argentina Advances (Argentina 2 (4)-(3) 2 Netherlands)
<strong>Team Sets</strong>