2022 Elite Football Details
2022 Elite Football is sticking with lots of color and big designs. One of the longest-running brands in the hobby today, the set also offers a varied checklist with autographs, memorabilia cards, parallels and inserts, not to mention some of the earliest NFL cards of the season's rookie crop.
Hobby boxes include three hits, two of which are autographs.
2022 Elite Football Checklist Overview
The base set is a mix of 100 veterans plus a deep list of rookies. First-year players are short prints with three landing in each hobby box.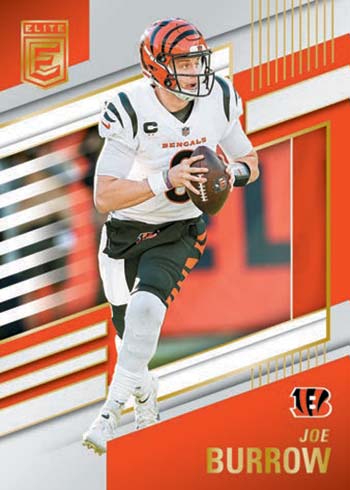 Parallels, which are six per box, include:
Red – /399
Purple – /99
Aspirations – /99 or less
Status – /99 or less
Yellow – /75
Orange – /49
Teal – /25
Aspirations Die-Cut – /24 or less
Status Die-Cut – /24 or less
Blue – /10
Black – 1/1
There's also patterned Razzle Dazzle versions. Although not numbered, according to Panini, these are tough pulls.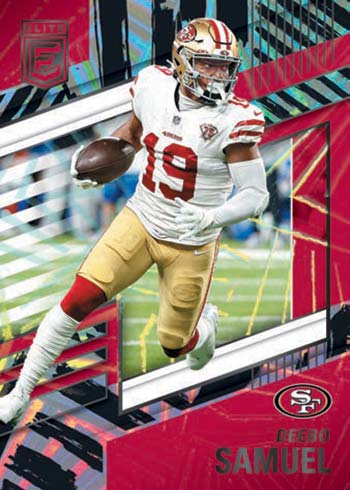 Autographs, Memorabilia Cards and Other Inserts
Pen Pals are one of Elite's staples. Back once again, these are the first on-card autographs of rookies wearing their NFL uniforms. Parallels come in the form of different colored ink, such as Blue, Purple, Green and Red.
Another place to find rookie ink is Turn of the Century Autographs. Base versions have no more than 199 copies each. They're complimented by Red (/99 or less), Purple (/49 or less), Orange (/25 or less), Blue (/10 or less), Gold (/5 or less) and Black (1/1) parallels.
When it comes to memorabilia cards, Moxie is bound to be one of the most colorful designs of the year. Prime versions are numbered to 49.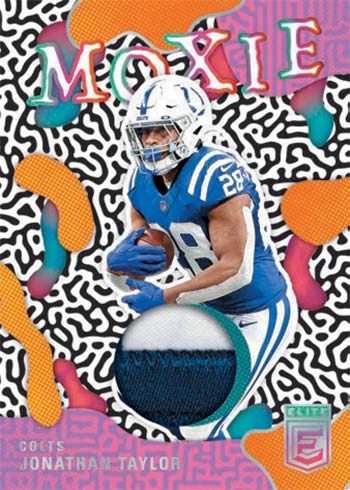 The bold designs carry over to other inserts in 2022 Elite Football. For starters, there's Playmakers, which is one of a handful of hobby-exclusives. Others include Elite Deck, High Life, Rookie Elitist and Rookie on Deck.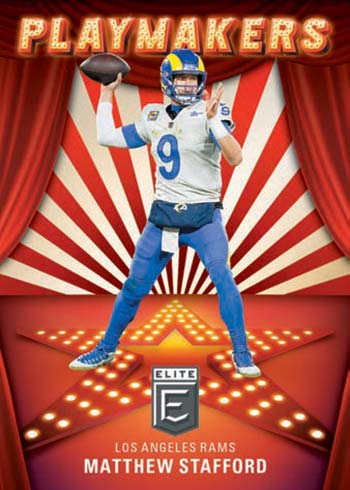 A-List, Star Watch and Whiz Kids are the tough case hit inserts.
Star Status cards come with a print run of 349 copies each along with Red (/99), Purple (/75), Orange (/25), Blue (/10), Gold (/5) and Black (1/1) parallels.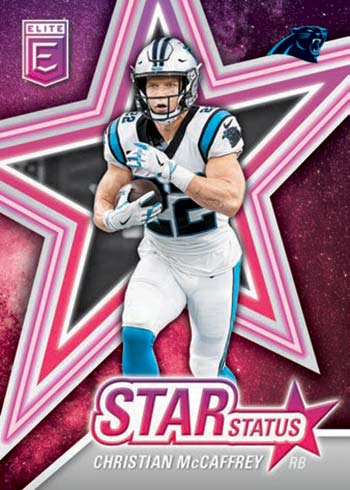 Going back a couple of decades for their design are 2002 Elite inserts, which has checklists for both veteran and rookie players. Aspirations Die-Cut (/99 or less), Status Die-Cut (/99 or less) and Black (1/1) parallels can also be found.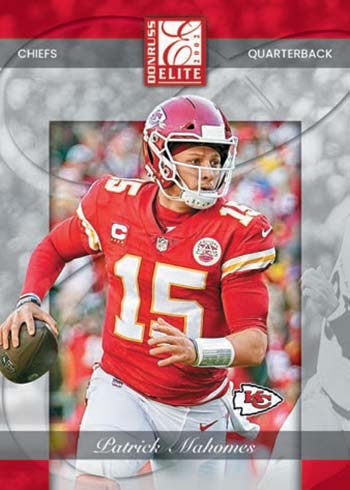 2022 Elite Football cards at a glance:
Cards per pack: Hobby – 5
Packs per box: Hobby – 20
Boxes per case: Hobby – 12
Set size: TBA
Release date (subject to change): September 9, 2022
Shop for 2022 Elite Football boxes on eBay:
What to expect in a hobby box:
Autographs – 2
Memorabilia Cards – 1
Inserts – 11
Parallels – 6
Rookies – 3
Recent Elite Football releases:
The full 2022 Elite Football checklist and team set lists will be added as soon as they're available, likely shortly before the product's release.