2021 Rittenhouse Game of Thrones Iron Anniversary Series 1 Checklist and Details
The last time Emilia Clarke signed new autograph cards was 2013's Game of Thrones Season 2 set. That changes in 2021 Rittenhouse Game of Thrones Iron Anniversary Series 1. Not only is her signature in the product, but so are inscriptions.
It's one of the many elements included in the product that takes a comprehensive look at the characters of the popular HBO series.
Overall, hobby boxes have two autographs. The checklist for the high-end release also has several other inserts including memorabilia cards.
2021 Rittenhouse Game of Thrones Iron Anniversary Series 1 Checklist Overview
The base set has 99 cards. Fronts center on characters and have foil stamping to give them some flair. Built for binders and pages, card backs double as nine-card puzzles.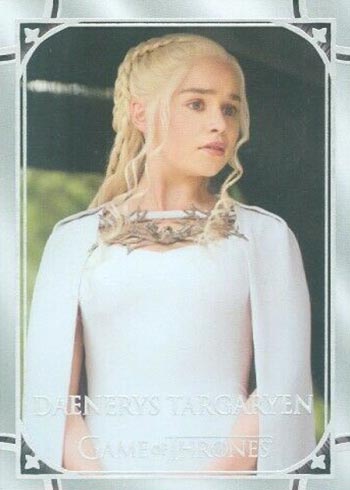 Parallels include Copper, Gold and Red (/50). One-of-one Printing Plates are also available. Iron versions, which are numbered to 99, are part of the 20-case incentive.
The base set is skip-numbered with several gaps throughout. These will be filled in with the Iron Anniversary Series 2 release.
Autographs
Sticking with a lot of Rittenhouse's recent products, there's some variety in the types of autographs in Iron Anniversary Series 1.
Of the two guaranteed signatures per box, at least one has an inscription — a small note or quote from the actor. This opens things up to a lot of variations and different avenue to chase.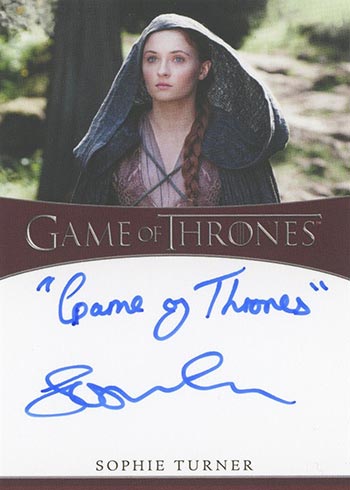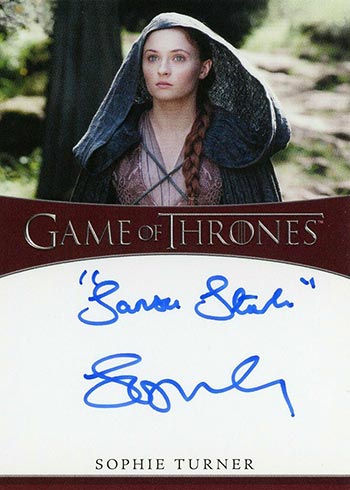 Besides Clarke, who played Daenerys Targaryen, other signers with inscriptions include Sophie Turner (Sansa Stark), Mark Addy (King Robert Baratheon), Alfie Allen (Theon Greyjoy), Jack Gleeson (King Joffrey), and Conan Stevens (The Mountain). You can download a full list of signers, individual inscriptions and print runs with this PDF.
There's a new batch of Dual Autographs. Maisie Williams (Arya Stark), Lena Headey (Cersei Lannister), Sean Bean (Ned Stark) and Nathalie Emmanuel (Missandei) can be found on these.
Among the other signature types are Autographed Relics, Autographed Relic Quotes, and Autograph Quotes.
Additional Inserts
Costume Relic Quote cards are also available without autographs. Daenerys, Jon Snow and Tyrion Lannister are all featured among these.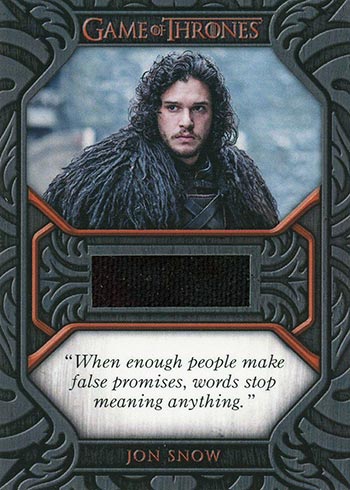 Sketch cards have long been cornerstones in Rittenhouse's Game of Thrones sets. Character and Scenic Sketch Cards are among the rarities available here.
Other inserts include Metal Expressions (18 cards), Artifex Metal (four cards, each /25), Gold Icons (five cards), and Battles and Blood (11 cards).
The Iron Throne is the backdrop for 3-D Dectation cards.
A couple of earlier sets get the Expansion treatment with new cards. Inflexions receives 25 additional cards as well as Silver (75) and Gold (/40) parallels. There's also 27 new Laser Cut Expansion cards.
2021 Rittenhouse Game of Thrones Iron Anniversary Series 1 trading cards at a glance:
Cards per pack: 6
Packs per box: 8
Boxes per case: 10
Set size: 99 cards
Release date: June 16, 2021
Shop for 2021 Rittenhouse Game of Thrones Iron Anniversary Series 1 boxes on eBay:
What to expect in a hobby box:
Inscription Autographs – 1
Additional Autographs – 1
2021 Rittenhouse Game of Thrones Iron Anniversary Series 1 Checklist
You can also download a customizable spreadsheet copy of the checklist: