2020 Topps Heritage Baseball Spring Mega Box Break
It's not just hobby boxes and traditional blasters for 2020 Topps Heritage Baseball. There's also a special Mega Box that's available at Walmart. These are the only place to find some of the year's Chrome cards.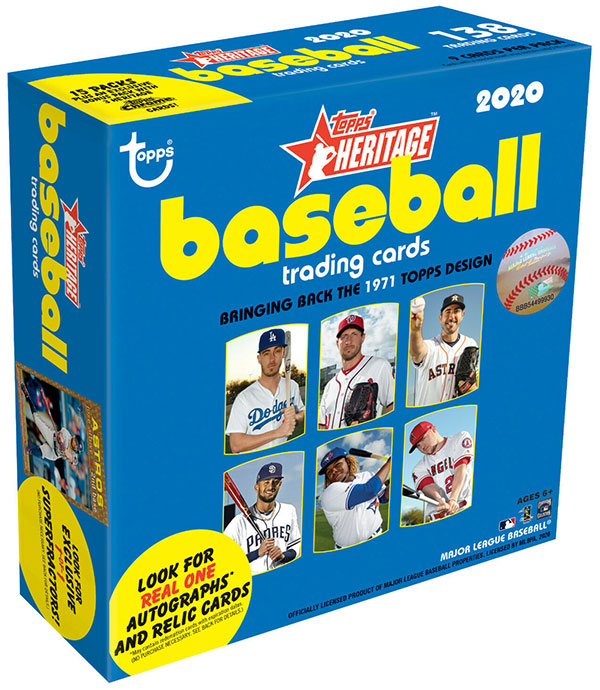 2020 Topps Heritage Spring Mega Box Breakdown
Packs per box: 15 + 1 Bonus Pack (3 Exclusive Heritage Chrome cards)
Cards per pack: 9
Cards per box: 138
Base Set Completion without SPs: (123/400) 30.75%
Base Set Completion with SPs: (128/500) 25.6%
Duplicates: 0
Parallels: 0
Inserts: 10
20 Gigantic Seasons: 1
Willie Mays
1971 Topps Scratch Offs: 1
Brian Anderson
Baseball Flashbacks: 1
Brooks Robinson
Chrome: 1
Carlos Correa/999
Chrome Spring Mega Box: 2
Kris Bryant /999
Blake Snell /999
Chrome Spring Mega Box White Refractors: 1
Dansby Swanson /71
New Age Performers: 1
Fernando Tatis Jr.
News Flashbacks: 1
Louie Armstrong Passes Away
Then and Now: 1
Harmon Killebrew & Jose Abreu
Only available at Walmart, these Topps Heritage Mega Boxes are popular for their exclusive Heritage Chrome cards. This is the second year that Topps has expanded the Chrome checklist by another 100 cards specifically for these boxes. You get three of these per box.
Like the Chrome inserts found in all packs, they are serial-numbered to 999. Mega Box Chrome cards do have parallels. I was lucky and I pulled one of the White Refractors serial-numbered to 71.
As you can see from my box, the regular Chrome cards are still available as well (1:60 Mega Box packs).