2020 Topps Garbage Pail Kids 35th Anniversary Checklist and Details
2020 Topps Garbage Pail Kids 35th Anniversary celebrates classic GPK characters in new ways. It also delves a little deeper into other themes that look both forward and ahead. And let's face it, if you've been around for all 35 years so far, they might just make you feel a wee bit older.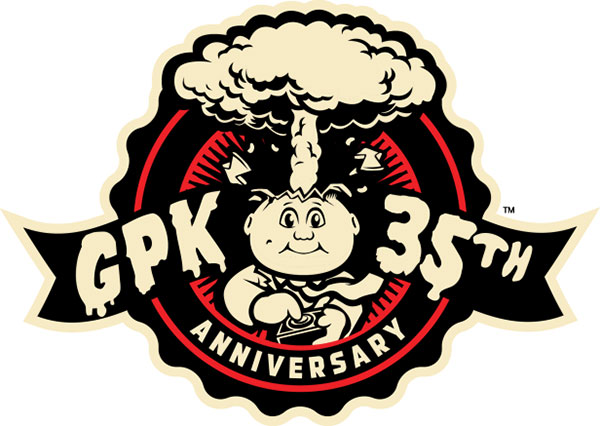 The year's second flagship-style Garbage Pail Kids release, it has a variety of configurations. At the hobby level, there's both regular boxes and hobby collector boxes that have additional exclusive content and come packaged in a commemorative trash can tin.
2020 Topps Garbage Pail Kids 35th Anniversary Checklist Details
The main set has 200 total stickers done in typical GPK fashion with A/B name variations. So, really, it's 100 different cards, each with two versions. The checklist, while one whole, has five different themed subsets:
All Grown Up
35 Years of GPK
Snot Another Anniversary
135th Anniversary Flash Forward
Battle of the Decades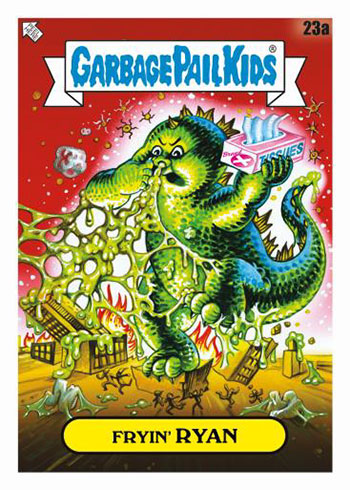 Longtime collectors will recognize different spins on old characters as well as some new ones.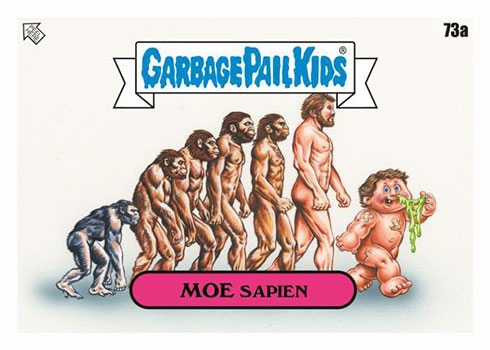 Parallels are available in a variety of styles. Booger Green are one per hobby and retail pack. Bruised Black are one per hobby collector pack. Other's include hobby-only Spit Blue (/99), hobby collector-exclusive Bloody Nose Red (/75), Fools Gold 35th Anniversary (/35), and Printing Plates (1/1). Artist Autographs are also available. These have on-card signatures.
A handful of chase sets are also available. Hobby packs are the only place to find "No Ragerts" Temporary Tattoos.
Every hobby collector box has a GPK Wacky Packages card. These have art that makes light of actual GPK merch.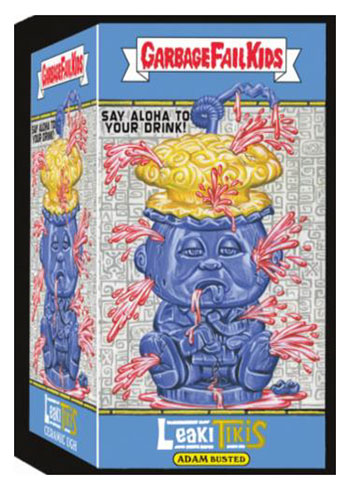 Location Relics (using the term loosely) have "items" like dirt or sand from where iconic Garbage Pail Kids characters might have "lived."
Sketch cards also return in a few different forms. Traditional sketch cards are found in hobby and retail packs. Shaped Sketch Cards and Triptych Sketch Cards are exclusive to hobby collector boxes.
2020 Topps Garbage Pail Kids 35th Anniversary trading cards at a glance:
Cards per pack: Hobby – 8, Hobby Collector – 8
Packs per box: Hobby – 24, Hobby Collector – 24
Boxes per case: Hobby – 8, Hobby Collector – 8
Set size: 200 cards
Release date: October 28, 2020
What to expect in a hobby box:
Booger Green Parallels – 24
What to expect in a hobby collector box:
Premium Inserts – 1
GPK Wacky Packages – 1
Bruised Black Parallels – 24
Commemorative Trash Can Tins – 1
2020 Topps Garbage Pail Kids 35th Anniversary Checklist
Base
Base Set Checklist
200 cards.
Parallels:
Booger Green – (1 per hobby/retail pack)
Bruised Black – (1 per hobby collector pack)
Jelly Purple – (1 per fat pack)
Phlegm Yellow – (1:5 blaster packs)
Spit Blue – /99 (hobby/retail display only)
Bloody Nose Red – /75 (hobby collector only)
Fools Gold 35th Anniversary – /35
Artist Autographs
Printing Plates – 1/1 (each has Black, Cyan, Magenta and Yellow versions)
All Grown Up
1a ADAM Bomb
1b ADAM Apple
2a ASHLEY Can
2b JACKIE Pot
3a BLAKE Flake
3b Finance FRANK
4a BONNIE Bunny
4b Women's LIBBY
5a Apple CORY
5b Organ NICK
6a CLAIRE Stare
6b REX Specs
7a DALE Snail
7b Sauteed SAWYER
8a Dial-A-TWYLA
8b Phone BELLA
9a Disgustin' JUSTIN
9b Motorized SCOOTER
10a Gooey GABE
10b HOMER Repair
11a HOLLY Wood
11b ABLE Table
12a Hot ROD
12b Electric CARL
13a JOE Blow
13b CHIP Dip
14a Jolly Roger
14b Yo Ho JOE
15a Leather HEATHER
15b JUDY On Duty
16a MAX Axe
16b AXEL Throws
17a New Wave DAVE
17b Street ART
18a Prickly RICK
18b Bloomin' BRADEN
19a SALLY Suction
19b Mocha LOTTIE
20a Shut Up SHERWIN
20b Winey WINFRED
Snot Another Anniversary
21a ADAM Bomb
21b Booger BILLY
22a Cracked JACK
22b Runny REGGIE
23a Fryin' RYAN
23b Blowin' BUSTER
24a Cranky FRANKIE
24b Bogey BRAD
25a Dizzy DAVE
25b Mucas LUCAS
26a JENNY Jelly
26b Pick 'N FLICKA
27a Spacey STACY
27b DOT Rocket
28a Split KIT
28b Snotty SAM
29a SY Clops
29b GUY Booger
30a Tongue Tied TIM
30b Sinus LINUS
135th Anniversary Flash Forward
31a A ISSAC
31b JAY I
32a WARREN Out
32b Hopeful HARPER
33a Crashed CRAIG
33b Martian MARTIN
34a Automated AUDREY
34b Lazy SUSAN
35a BROCK Out
35b Shreddin' KEVIN
36a Superior GENE
36b Designer BOBBY
37a Draining DYLAN
37b Diaper DONALD
38a Digital DAN
38b Upload ED
39a PETE N Greet
39b Greetings from EARL
40a Square EMILE
40b Cubed CALEB
41a GAIL Power
41b JENNY Justice
42a Rem BRENT
42b Tech GLOVER
43a Rubbish BEN
43b Trashy TRAVIS
44a Mutant MATT
44b LEN a Hand
45a Ultra VIOLET
45b SUNNY Flair
46a Social SOPHIE
46b Plugged INA
47a Rocketing ROCKY
47b Hurtling HAYDEN
48a Zapped ZACK
48b RAY Gun
49a ROBERT Overlord
49b ANDY Droid
50a SY Borg
50b Cyber BERT
51a Grey-Party ARTIE
51b Visible VICTOR
52a Portal PORTER
52b DALE A. Portation
53a Transcending TRAVIS
53b Medi TATE
54a Alien LANDON
54b Saucer SALLY
55a Virtual VAL
55b Unreal REYA
35 Years of GPK
56a JESSIE Jester – 1985 OS1
56b Foolish FELIX – 1985 OS1
57a Eroding ERNIE – 1985 OS2
57b Double ACE – 1985 OS2
58a LORNE Ranger – 1986 OS3
58b Masked MANFRED – 1986 OS3
59a Tin MANNY – 1986 OS4
59b EARL Can – 1986 OS4
60a Stink IRA – 1986 OS5
60b Tooting TITUS – 1986 OS5
61a Dangling DANIELLE – 1986 OS6
61b JESS Hanging Around – 1986 OS6
62a Tattoo LULU – 1987 OS7
62b Inked INGRID – 1987 OS7
63a AL Chemist – 1987 OS8
63b WALLY Warlock – 1987 OS8
64a DYNAH Might – 1987 OS9
64b Waiting WADE – 1987 OS9
65a Tow MITCH – 1987 OS10
65b Dragged DREW – 1987 OS10
66a TREY Dent – 1987 OS11
66b Po SIMON – 1987 OS11
67a Brush 'N ROSS – 1988 OS12
67b RUTH Brush – 1988 OS12
68a DOUG House – 1988 OS13
68b Chomping CHARLES – 1988 OS13
69a ABNER Cadabra – 1988 OS14
69b Magic MIKE – 1988 OS14
70a SVEN Sailing – 1988 OS15
70b Pillaging PAUL – 1988 OS15
71a RANDY Virus – 2003 ANS1
71b Dark WEBBER – 2003 ANS1
72a Feeding TIM – 2004 ANS2
72b CANDICE Opener – 2004 ANS2
73a MOE Sapien – 2004 ANS3
73b Devolved DEAN – 2004 ANS3
74a WYATT Ape – 2005 ANS4
74b Swinging STUART – 2005 ANS4
75a U.F. OWEN – 2006 ANS5
75b TP PETEY – 2006 ANS5
76a Waxy WESLEY – 2007 ANS6
76b MAX Wax – 2007 ANS6
77a MANDY Manga – 2007 ANS7
77b ANNIE-Me – 2007 ANS7
78a BROCK of Marble – 2012 BNS1
78b Master PIERCE – 2012 BNS1
79a Free MASON – 2013 BNS2
79b Illuminate NATE – 2013 BNS2
80a Beat BART – 2013 BNS3
80b WYATT You Little! – 2013 BNS3
81a Testy TONY – 2015 30th Anniversary
81b Little FRED – 2015 30th Anniversary
82a Hound DOUG – 2016 American as Apple Pie in Your Face
82b Jailhouse RICK – 2016 American as Apple Pie in Your Face
83a Quantum LEIF – 2016 Prime Slime Trashy TV
83b Sightseeing SAM – 2016 Prime Slime Trashy TV
84a Open CARRIE – 2017 Adam-Geddon
84b GUNNER Control – 2017 Adam-Geddon
85a Clashing CLARK – 2017 Battle of the Bands
85b LONDON Brawling – 2017 Battle of the Bands
86a Rockin' RIO – 2018 We Hate the 80s
86b Pasty PAT – 2018 We Hate the 80s
87a Gourdy GORDON – 2018 Oh, The Horror-ible
87b Pumpkin PATICK – 2018 Oh, the Horror-ible
88a Groovy GREG – 2019 We Hate the 90s
88b Rotten AUSTIN – 2019 We Hate the 90s
89a Killer CORY – 2019 Revenge of Oh, The Horror-ible
89b Edgy EDGAR – 2019 Revenge of Oh, The Horror-ible
90a MILT & Cookies – 2020 Late to School
90b Dairy LARRY – 2020 Late to School
Battle of the Decades
91a Tooth LES
91b T. rex
92a Oozy SUZY
92b MEL Tin
93a ADAM Bomb
93b Blastin' SEBASTIAN
94a Bony JOANIE
94b DAYNA Dead
95a Cracked JACK
95b ESTHER Basket
96a Ghastley ASHLEY
96b Ghastley ASHLEY
97a Hot SCOTT
97b Fallen ANGEL
98a JOE Blow
98b Bubble TATE
99a NAT Nerd
99b Comic CONNER
100a PETE Seat
100b Wranglin' RACHEL
Artist Autographs Checklist
4 artists.
Brent Engstrom
David Gross
Smokin' Joe McWilliams
Joe Simko
Inserts
2020 Topps Garbage Pail Kids 35th Anniversary Inserts Checklists
Fan Favorites Checklist
20 cards.
Fat packs only.
FV-1a ADAM Bomb
FV-1b Blasted BILLY
FV-2a JOE Blow
FV-2b ROD Wad
FV-3a New Wave DAVE
FV-3b Graffiti PETEY
FV-4a Leaky LINDSAY
FV-4b Messy TESSIE
FV-5a Boozin' BRUCE
FV-5b Drunk KEN
FV-6a Tee-Vee STEVIE
FV-6b Geeky GARY
FV-7a TOMMY Gun
FV-7b Dead FRED
FV-8a ALI Gator
FV-8b Marshy MARSHALL
FV-9a Nasty NICK
FV-9b Evil EDDIE
FV-10a Dead TED
FV-10b JAY Decay
GPK Wacky Packages Checklist
10 cards.
1 per hobby collector box.
WP-1 Leaki Tikis
WP-2 Bottom Burp Bag
WP-3 Loogie Bar
WP-4 Sicko Cereal
WP-5 Low Energy Snooze Inducing Drink
WP-6 Foul Mouth Enabler Hot Sauce
WP-7 Bars Attacks
WP-8 Plop!
WP-9 Cereal Barf
WP-10 Uni-Nostril Monsters
Location Relic Cards Checklist
10 cards.
LR-BH Wrappin' RUTH – The Desert
LR-FR Dead TED – Graveyard
LR-GS Run-Down RHODA – Highway
LR-PB ROB Slob – Farm
LR-RD Spacey STACY – Outer Space
LR-RF Hot SCOTT – The Underworld
LR-RH Brain Freeze BRIAN – Himalayas
LR-SO SFishy PHYLLIS – The Beach
LR-SU Gored GORDON – Spain
LR-TG Wrinkled RITA – Florida
Midlife Crisis Checklist
20 cards.
3 per blaster.
1a NICKY Hickey
1b DAYTON App
2a ADAM Bomb
2b Deflate TED
3a Grim JIM
3b Six Feet HUNTER
4a Double HEATHER
4b BROOKE Apart
5a Hurt CURT
5b Extreme DEAN
6a Losing FAITH
6b Bombs FAY
7a PETE Seat
7b NOEL Bowl
8a RUSSELL Muscle
8b NOAH Diet
9a RUSTY Heap
9b Fancy CARL
10a Tee-Vee STEVIE
10b Flat Screen GENE
No Ragerts Tattoos Checklist
10 cards.
Hobby/retail display boxes only.
1 Eagle
2 Sailor
3 Mermaid
4 Live Fast, Puke Hard
5 GPK's Ruin
6 Snake
7 Garbage Pail'd
8 Devil
9 Hairball
10 Skull
Sketch Card Artists
52 artists.
David Acevedo
Simone Arena
Quinton Baker
Bobby Blakey
John Brewer
Emma Burges
Neil Camera
Anutpong Chaimuang
Chenduz
Daniel Contois
Jasmine Contois
Sebastian Cortez
Jeffrey Cox
Jason Crosby
David Dabila
Gregory Fages
David Gacey
Robert "el smetcho" Garcia
K. GRiMM
Patrick Giles
GPKNIK!!
Kelly Greider
Jason Heil
Lowell Isaac Hildebrandt
Simon Jacobsohn
Robert Jimenez
Karl Jones
Rickey Kipfer
Mike McHugh
Rory McQueen
Chris Meeks
Lily Mercado
Rich Molinelli
Victor Moreno
DBA Ryan Morrison
B. Nygma
Darrin Pepe
Todd Rayner
Cathy Razim
Chad Scheres
Brent Scotchmer
Bekki Sharp
Anthony Skubis
Matt Steffens
Mike Stephens
Brandhen Synder
Greg Tilson
Toofless
Gavin Williams
Clinton Yeager
Yoga Demon
Ziggy