2020 Topps Garbage Pail Kids 35th Anniversary Looks Back and Ahead
2020 Topps Garbage Pail Kids 35th Anniversary celebrates classic GPK characters in new ways. It also delves a little deeper into other themes that look both forward and ahead. And let's face it, if you've been around for all 35 years so far, they might just make you feel a wee bit older.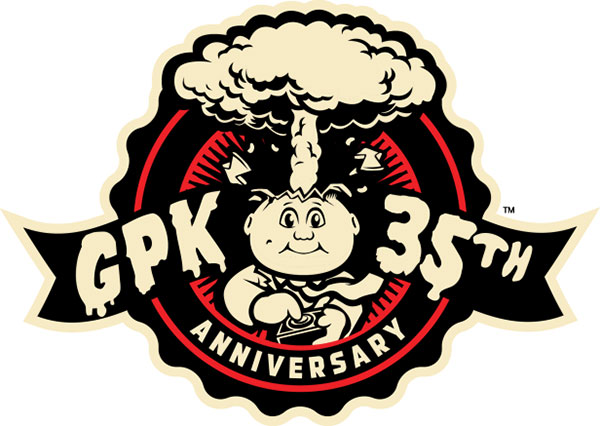 The year's second flagship-style Garbage Pail Kids release, it has a variety of configurations. At the hobby level, there's both regular boxes and hobby collector boxes that have additional exclusive content and come packaged in a commemorative trash can tin.
2020 Topps Garbage Pail Kids 35th Anniversary Overview
The main set has 200 total stickers done in typical GPK fashion with A/B name variations. So, really, it's 100 different cards, each with two versions. The checklist, while one whole, has five different themed subsets:
All Grown Up
35 Years of GPK
Snot Another Anniversary
135th Anniversary Flash Forward
Battle of the Decades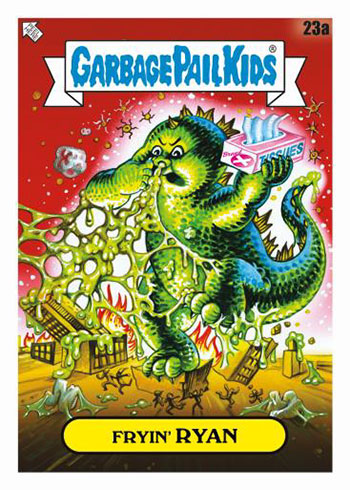 Longtime collectors will recognize different spins on old characters as well as some new ones.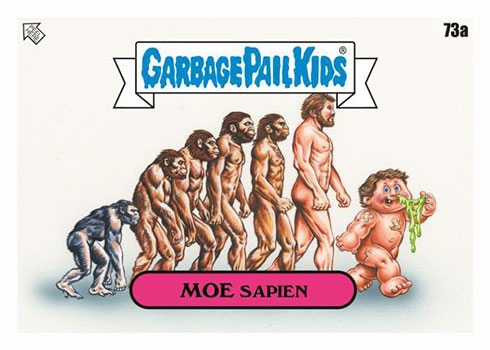 Parallels are available in a variety of styles. Booger Green are one per hobby and retail pack. Bruised Black are one per hobby collector pack. Other's include hobby-only Spit Blue (/99), hobby collector-exclusive Bloody Nose Red (/75), Fools Gold 35th Anniversary (/35), and Printing Plates (1/1). Artist Autographs are also available. These have on-card signatures.
A handful of chase sets are also available. Hobby packs are the only place to find "No Ragerts" Temporary Tattoos.
Every hobby collector box has a GPK Wacky Packages card. These have art that makes light of actual GPK merch.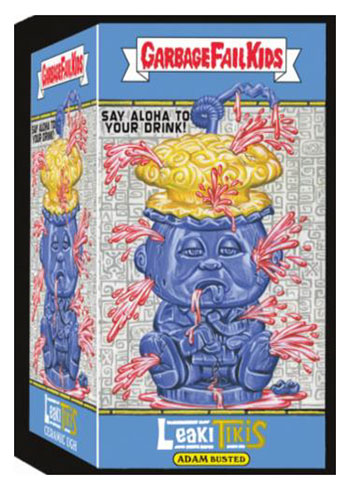 Location Relics (using the term loosely) have "items" like dirt or sand from where iconic Garbage Pail Kids characters might have "lived."
Sketch cards also return in a few different forms. Traditional sketch cards are found in hobby and retail packs. Shaped Sketch Cards and Triptych Sketch Cards are exclusive to hobby collector boxes.
2020 Topps Garbage Pail Kids 35th Anniversary trading cards at a glance:
Cards per pack: Hobby – 8, Hobby Collector – 8
Packs per box: Hobby – 24, Hobby Collector – 24
Boxes per case: Hobby – 8, Hobby Collector – 8
Set size: 200 cards
Release date: September 23, 2020
What to expect in a hobby box:
Booger Green Parallels – 24
What to expect in a hobby collector box:
Premium Inserts – 1
GPK Wacky Packages – 1
Bruised Black Parallels – 24
Commemorative Trash Can Tins – 1
The full 2020 Topps GPK 35th Anniversary checklist will be added as soon as it's available, likely shortly before it comes out.