2019-20 Panini Chronicles Soccer has a lot going on. Like Chronicles releases in other sports, there's the anchor of it being a place to find lots of Panini's lines in the same place. However, here it takes things even further by branching out into three different European leagues: Premier League, La Liga and Serie A.
Hobby boxes promise three autographs or memorabilia cards. With only three packs per box, that averages out to one per pack.

2019-20 Panini Chronicles Soccer Base Set Basics
Each of the three leagues in 2019-20 Chronicles has a different base set, each using a different brand.
Premier League is the biggest with 200 cards. It uses Donruss. Parallels include Mosaic, Press Proof Red Laser (/100), Press Proof Blue Laser (/75), Press Proof Green Laser (/50), Press Proof Gold Laser (/25) and Press Proof Black Laser (1/1).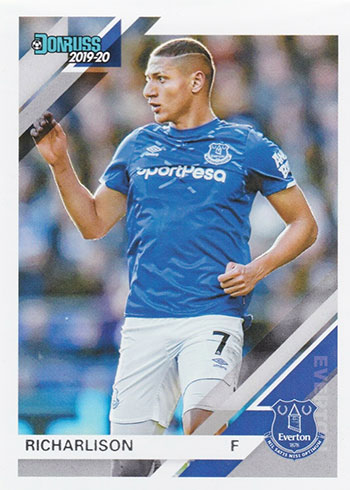 La Liga and Serie A both have 100-card sets. Panini is the basis for La Liga while Serie A adopts Prestige. Panini La Liga parallels can be found in Red (/100), Purple (/50), Canvas (/25), Silver (/10) and Gold (1/1). Prestige Serie A uses Xtra Points parallels: Red (/99), Purple (/65), Orange (/35), Platinum (/25) and Black (1/1).
Retail has some more parallels: Donruss Press Proof Orange Laser, Panini Blue and Prestige Xtra Points Blue.
Autographs and Memorabilia Cards
Autographs are exclusive to hobby packs.
All three base sets have autograph versions for select cards. These are all numbered to 100 or less with two additional levels of parallels that have ten and one copies respectively.
Silhouettes autograph memorabilia cards make their soccer debut in 2019-20 Chronicles. Emanating from the Crown Royale line, they have large memorabilia pieces on the bottom of the card with the player image and signature sitting on top. Premier League, Serie A and La Liga players are all on the Silhouettes checklist.
Memorabilia inserts include Tools of the Trade, dual-swatch Double Coverage, Rise and Shine, Fabric of the Game, and Throwback Threads.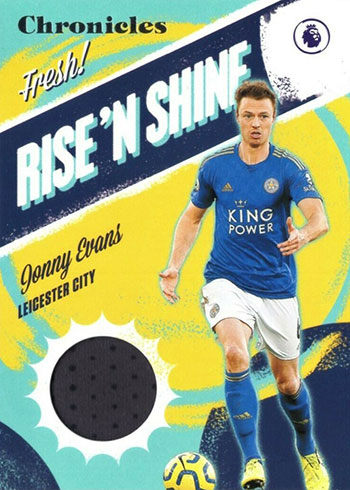 Additional Inserts
2019-20 Panini Chronicles Soccer brings several other brands onto the checklist through a variety of other inserts.
From Contenders, there are Rookie Ticket and Historic Rookie Ticket cards. Diamond Kings transforms into Pitch Kings with multiple tiers of rookies.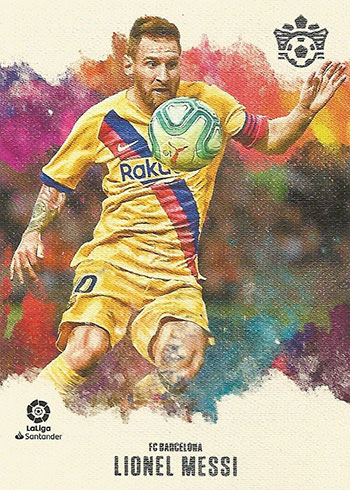 Other brands include Prizm, Absolute, XR, Illusions and Elite. And while it hasn't had a standalone set yet, there's also Titan. These are chromium cards that have a space theme.
Fuego and Forza are among the toughest cards in the product.
In addition to hobby boxes, 2020 Chronicles Soccer has retail multi-packs. These each have one league specific pack from Premier League, La Liga and Serie A.
2019-20 Panini Chronicles Soccer cards at a glance:
Cards per pack: Hobby – 15
Packs per box: Hobby – 3
Boxes per case: Hobby – 12
Set size: 440 cards (Donruss Premier League – 200, Panini La Liga – 100, Prizm Update Premier League – 40, Prestige Serie A – 100)
Release date: July 8, 2020
Shop for 2019-20 Panini Chronicles Soccer Boxes on eBay:
What to expect in a hobby box:
Autographs or Memorabilia Cards – 3 Total
Inserts or Parallels – 21 Total
2019-20 Panini Chronicles Soccer Checklist
The checklist is arranged by brand. Please navigate using the appropriate tab. Print runs for cards without serial numbers haven't been released.
You can also download the a full spreadsheet of the 2019-20 Panini Chronicles Soccer checklist so that you can sort by player, team or any number of ways:
Base
Absolute
Certified
Chronicles
Contenders
Cornerstones
Crown Royale
Donruss
Elite
Gala
Illusions
Limited
Panini
Pitch Kings
Prestige
Threads
Titan
Treble
XR
Team Sets