Racing cards don't have nearly the same number of releases as other sports like baseball and football. Since the earliest days of their NASCAR line, Panini has kept things tight in regards to the brands they've used. 2020 Panini Chronicles Racing opens that up wide, including lots of lines under the one umbrella.
Not only does every box draw from several brands and different styles of cards, but there are also three autographs and one memorabilia card per hobby box.

2020 Panini Chronicles Racing Overview
Variety is the key to every release under the Chronicles name, not just in racing. What does that look like here, though? More than a dozen Panini lines make the cut, each with their own look and angle. Besides more traditional types of cards, some use foil or chromium. 2020 Panini Chronicles Racing brands include:
Ascension
Cornerstones
Crusade
Illusions
Limited
Phoenix
Select
Score
Spectra
Status
Titan
Unparalleled
For many of these, it's the brand's first lap in NASCAR.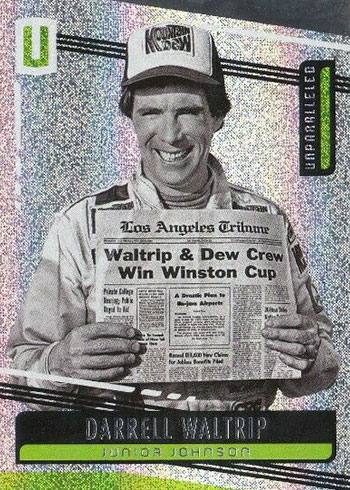 Besides lots of different styles, additional parallels expand the Chronicles checklist even further.
There's also a Chronicles base set that's 40 cards.
2020 Panini Chronicles Racing Autographs and Memorabilia Cards
On-card autographs are a key part of the premium inserts in Chronicles. In all, there are a dozen different signature sets. Chronicles Autographs and Score Autographs take a more traditional approach. Phoenix Autographs bring in the Chromium (as well as colorful parallels) and Cornerstones Materials Signatures are among the autograph memorabilia sets.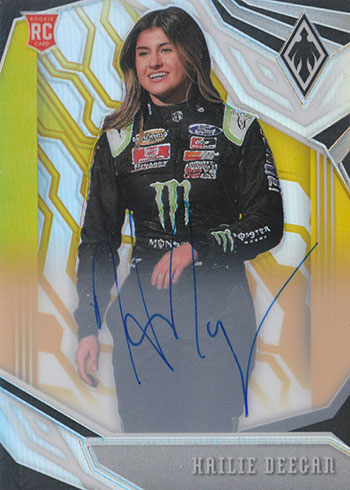 Prime Jumbo doesn't have ink but these cards do have massive pieces of patches. These are all numbered to 2 or less, although racers are featured on several parallels with different patch types.
Cornerstones Reserve Materials has multiple swatches, bringing in a variety of memorabilia including fire suits, gloves, sheet metal and tires.
2020 Panini Chronicles Racing at a glance:
Cards per pack: Hobby – 8, Blaster – 5
Packs per box: Hobby – 6, Blaster – 4
Boxes per case: Hobby – 16
Set size: 40 cards
Release date: August 7, 2020
Shop for 2020 Panini Chronicles Racing boxes on eBay:
What to expect in a 2020 Panini Chronicles Racing hobby box:
Autographs – 3
Memorabilia Cards – 1
Spectra – 2
Opti-Chrome – 12
Holographic – 12
What to expect in a 2020 Panini Chronicles Racing blaster box:
Autographs or Memorabilia Cards – 1
2020 Panini Chronicles Racing Checklist
You can also download a spreadsheet copy of the checklist:
Chronicles
Ascension
Cornerstones
Crusade
Illusions
Limited
Pedal to the Metal
Phoenix
Prime
Score
Select
Spectra
Status
Titan
Unparalleled