In case you were curious what a collegiate spin of Panini's portfolio might look like, there's 2020 Panini Chronicles Draft Picks Football. Like past releases in other sports, including the NFL, the idea is that the product takes a lot of different brands and packages them into one place. And because college sports don't have nearly the number of sets as the pro leagues, there's plenty of ground to cover. In some ways, it mimics those early years at university where you're not sure what to take so you sample several subjects before finding what's right for you.
Besides the variety, 2020 Chronicles Draft Picks Football hobby boxes are highlighted by three autographs and a memorabilia card.
2020 Panini Chronicles Draft Picks Football Overview
In all, more than 20 different brands are on the Chronicles Draft Picks checklist. As standalone releases, they range from affordable releases like Donruss and scale up more to the high-end with Spectra and Absolute.
On the regular card side of things, collectors can find college-themed Donruss Rated Rookies, foil with Elite (one of the lines that has had standalone draft sets in recent years) and chromium with Select. This adds another layer to the overall variety as cards also come with very different approaches and card stocks.
Each of these comes with its own mix of parallels also.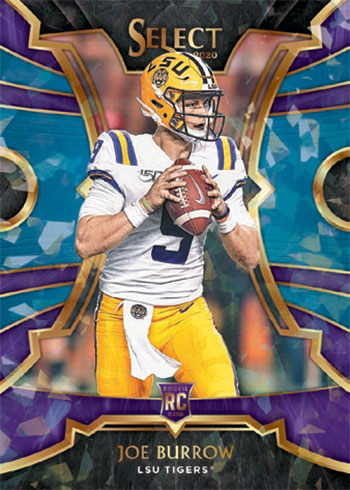 Donruss Optic, Spectra, Absolute and Select are some of the names bringing signatures. Some of these are on-card as well.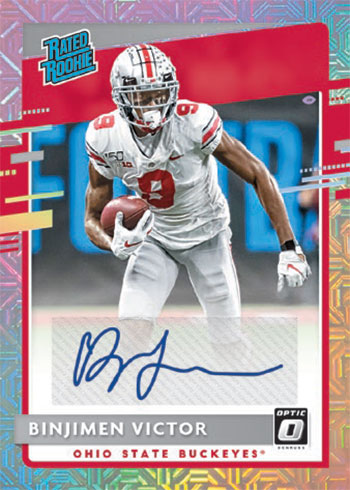 Spectra also has some patch autographs and a variety of colorful parallels. It's one of seven signature memorabilia portions on the checklist.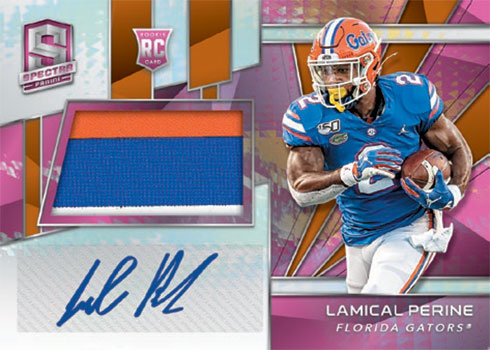 Strictly relic offerings are more limited in their variety with three sets available in hobby packs. These include Chronicles Alma Mater and Crown Royale Collegiate Silhouettes. As with virtually all sets, parallels bring premium swatches.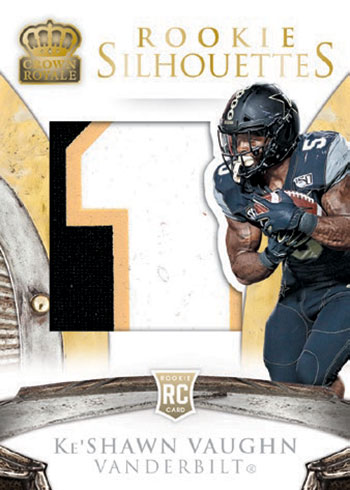 Downtown inserts are tough, landing approximately one per case.
And, yes, there is a Chronicles base set as well.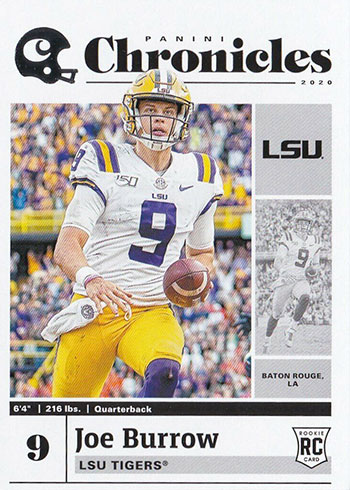 2020 Panini Chronicles Draft Picks Football cards at a glance:
Cards per pack: 8
Packs per box: 6
Boxes per case: 16
Release date: Hobby – July 10, 2020
Shop for 2020 Panini Chronicles Draft Picks Football boxes on eBay:
What to expect in a hobby box:
Autographs – 3
Memorabilia Cards – 1
Parallels – 2
2020 Panini Chronicles Draft Picks Football Checklist
The checklist is arranged by brand. Please navigate using the appropriate tab. Print runs for cards without serial numbers haven't been released.
You can also download the a full spreadsheet of the 2020 Panini Chronicles Draft Picks Football checklist so that you can sort by player, team or any number of ways:
Chronicles
Absolute
Certified
Crown Royale
Donruss
Donruss Optic
Elite
Limited
Phoenix
Playoff
Prestige
Prizm
Select
Spectra
XR