2021 Panini Chronicles Football Checklist, Team Set Lists and Details
When you click on links to various merchants on this site, like eBay, and make a purchase, this can result in this site earning a commission.
2021 Panini Chronicles Football has a lot going on. That's the point. The anthology-style release takes brands and designs from across the card maker's portfolio and puts them into one product. Most didn't get their own full-fledged releases on the 2021 football card calendar, but there are a couple that get tweaks and updates.
Hobby boxes have three total hits, two of which are autographs. There are also plenty of inserts and parallels per box.
2021 Panini Chronicles Football Checklist Overview
The Chronicles base set is a mix of vets, rookies and retired stars. All have six levels of parallels available in hobby packs:
Red – /399
Blue – /99
Purple – /49
Black – /25
Gold – /10
Platinum – 1/1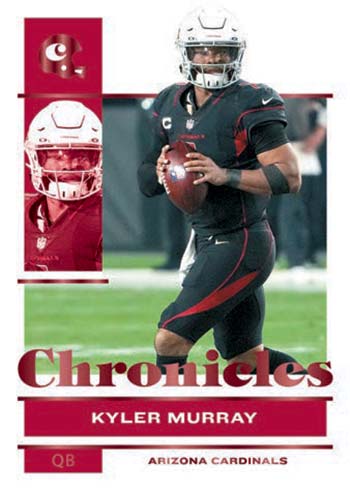 Select cards also have jersey versions, which max out at 199 copies each. Jersey Prime (/25) and Jersey Tag (1/1) parallels can be found for these.
Moving into the product's other brands, there's Prizm Black, a dark twist on the main Prizm line.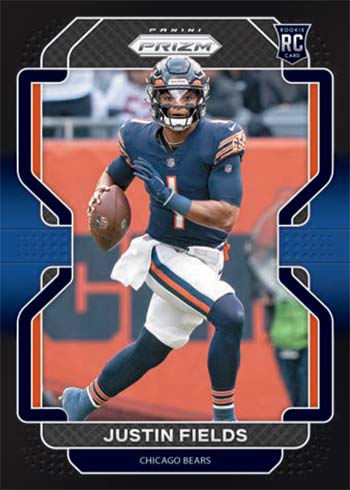 Compared to the regular set, the rainbow is much more subdued but there are still several colors:
Silver
Purple – /199
Red – /99
Orange – /75
Green – /49
Blue – /25
Gold – /10
Gold Vinyl – /5
Dynagon Rookies see a Pacific original return with a checklist consisting only of first-year players. The parallels for these are similar to Prizm Black.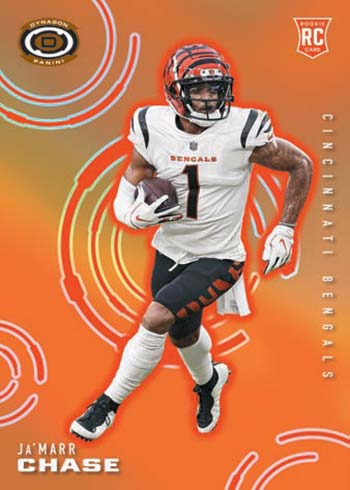 2021 Score and 2021 Panini Legacy both came out early in the card year with the original sets showing rookies in their college uniforms. Chronicles gives them each an update with new NFL photos and upgraded chromium stock.
Magnitude makes its football debut. These are done on acetate stock, giving them a see-through appearance. Additional parallels include:
Red – /199
Blue – /99
Purple – /49
Silver Holo – /25
Gold Holo – /10
Platinum Holo – 1/1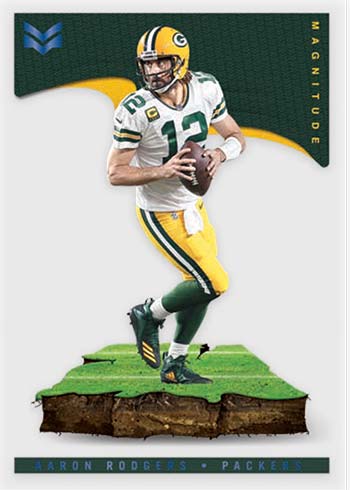 Plates & Patches shifts over to Chronicles with Rookie Jersey Autographs. Base versions have no more than 99 copies each. Prime (/25 or fewer) and Tag (1/1) versions are also on the checklist. There are also similar Rookie Jerseys, which have 399 or fewer copies.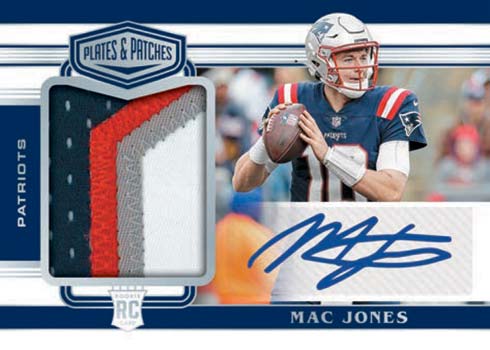 Invincible Autographs reach to the past, featuring ink from some of the game's greats. Red (/100 or less), Blue (/50 or less), Purple (/25 or less), Gold (/10 or less), Green (/5 or less) and Black (1/1) are among the versions.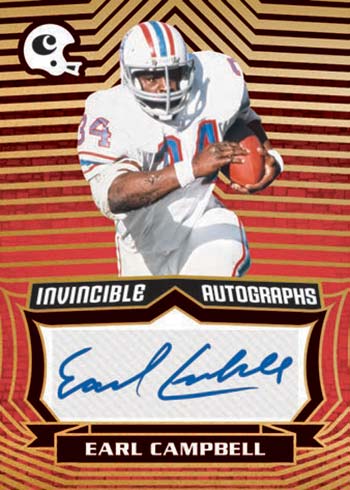 Additional Brands
Here are some of the other brands slated for the 2021 Panini Chronicles Football checklist:
Clear Vision
Crown Royale
Flux
Gridiron Kings
Panini
Playoff Momentum
Timeless Treasures
2021 Panini Chronicles Football cards at a glance:
Cards per pack: Hobby – 8
Packs per box: Hobby – 6
Boxes per case: Hobby – 12
Set size: 100 cards
Release date: July 13, 2022
Shop for 2021 Panini Chronicles Football boxes on eBay:
What to expect in a hobby box:
Autographs – 2
Memorabilia Cards – 1
Inserts – 26
Silver Parallels – 2
Additional Parallels – 4
2021 Panini Chronicles Football Checklist
You can also download a customizable spreadsheet copy of the checklist:
Please note that print runs for cards without serial numbers have not been announced.
Recent Panini Chronicles Football releases: