2019 Upper Deck Deadpool Trading Cards Checklist and Details
2019 Upper Deck Deadpool gives the Merc with a Mouth a set of trading cards he can call his own. And the hobby may never be the same again. Taking a similar comedic take as the character and the comic he comes from, collectors can expect a different attitude than a lot of other sets. And that includes Upper Deck getting self referential.
2019 Upper Deck Deadpool: What to Expect from the Base Set
Things kick off with a 100-card base set. Like the entire release, the focus is on the Deadpool comic, not the movies. Here, that means a look at the characters and major events in the expansive world the cheeky mutant inhabits.
Base cards have two types of parallels, including Pink that are inserted one per hobby box.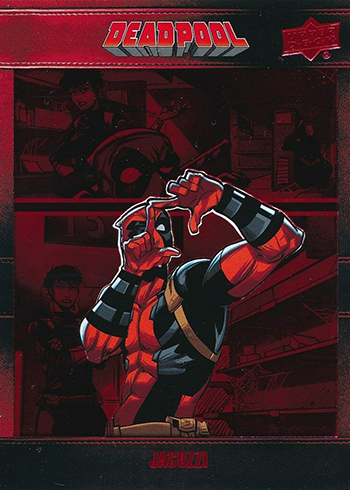 High Number cards expand the shell set. These land one per box as well.
Inserts
Every 2019 Upper Deck Deadpool hobby box has a pair of premium inserts. These come in variety of forms including sketches and cards that come with different materials like Dead Glass, manufactured patches and lenticular 3D cards. For an added challenge for set builders, Dead Glass and 3D cards both have short prints that are tougher to pull.
There's also Cut Comic cards that use panels from New Mutants #98, Deadpool's first issue. Some of these Cut Comic cards use pieces of the cover and come numbered to 10.
It's in the other insert sets that things get a little weird–just like fans of the character would expect it.
Chimichanga with Deadpool is a different type of recipe card. They go through the steps of making the deep fried treat. There's no guarantees you'll be able to beat Bobby Flay with his tips, though.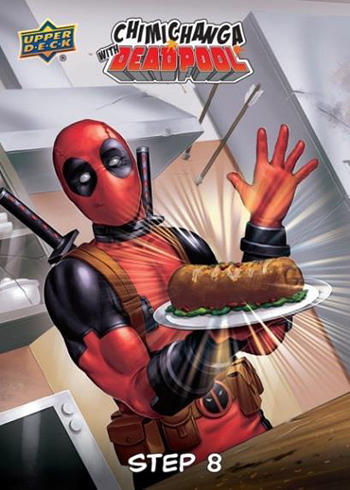 A couple of other inserts put a Deadpool spin on other parts of the hobby. Deadpool Bombing adds the character to Marvel trading cards from the past.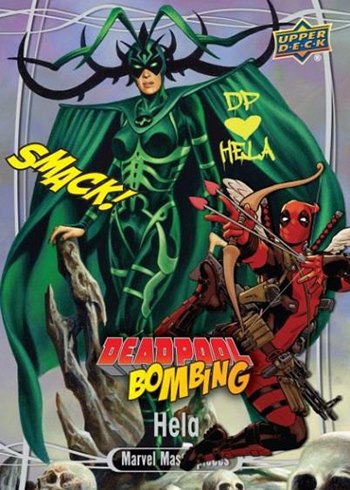 Sport Ball sees Upper Deck dip into its own portfolio of brands with Deadpool recreations of famous sports cards. Yes, that's Deadpool recreating the 1994 Collector's Choice Jose Canseco.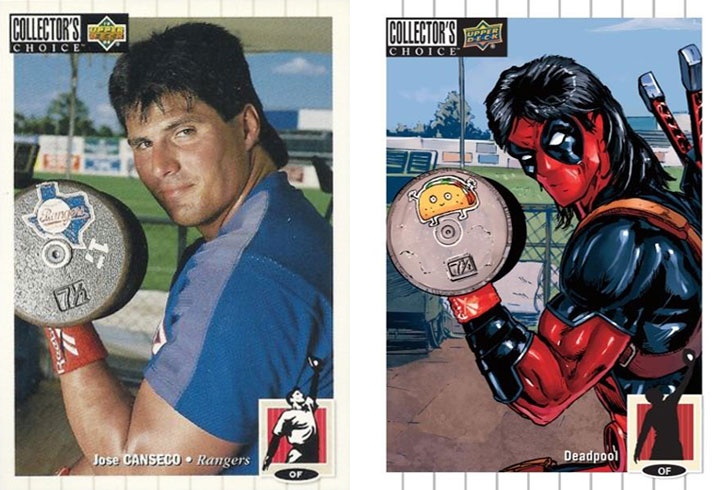 And here he is with Mickey Hatcher's giant glove circa 1986 Fleer Baseball.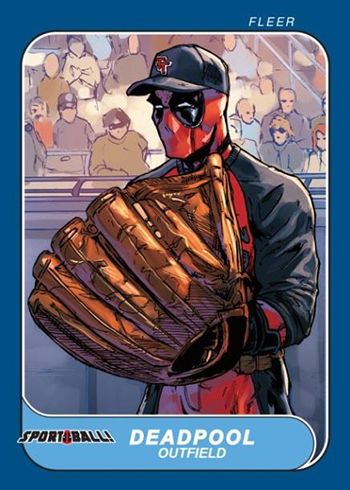 2019 Upper Deck Deadpool trading cards at a glance:
Cards per pack: 5
Packs per box: 18
Boxes per case: 12
Set size: 130 cards
Release date: January 30, 2019
What to expect in a hobby box:
Sketch Cards, Comic Panel Cards, Dead Glass, Patch Cards or 3D Lenticular Cards – 2 Total
Black Parallels – 4
Pink Parallels – 1
High Number Short Prints – 1
2019 Upper Deck Deadpool Checklist
Base
Base Set Checklist
130 cards.
High Series (#101-130) – 1:18 packs.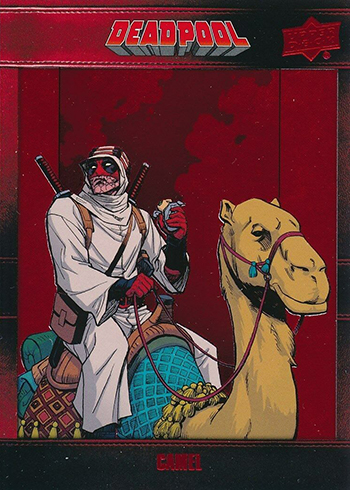 Parallels:
Black – (1:4 packs)
Pink – (1:18 packs)
1 Knock/ Knock
2 Have Some Fun
3 The End is Nigh
4 Adrift in time
5 Flyboy
6 Leave Him Be
7 Hit It!
8 Logic
9 Upside Down
10 Rooftop
11 Is That Thing On?
12 This Fight Is Over
13 Gotta Bounce
14 Outta My way
15 The Helmet
16 Sock Puppet
17 The Man
18 Hoboken
19 Yahoos
20 Rough Draft
21 Sunset
22 Funeral
23 D.P. Inc
24 Johnny Handsome
25 Wolvie
26 Hello New York
27 Hey Weasel
28 Bang!
29 The Mind
30 Young Deadpool
31 Tacos
32 Recap Page
33 Arms Crossed
34 Mans Best Friend
35 You'll Be Ok
36 Bunker
37 Open Mic
38 40 Years
39 World's Greatest Mercenary
40 Stitched Together
41 #1
42 Low Profile
43 At The Movies
44 Pool Cycle
45 Magneto Was Right
46 Alien Baby
47 Origin Story
48 Cool 30 Years Ago
49 What Now Boss?
50 I Can Explain
51 Storage
52 Garage
53 Taking A Call
54 Unicorn Backpack
55 Official Business
56 Abomination
57 The DP Corps
58 Crue!
59 Spring In Your Step
60 Who's Next?
61 Grand Design
62 Circus
63 Pandapool
64 Hero
65 Utility Belt
66 Wolverine-Pool
67 Not So Lucky
68 Married
69 Deadfist
70 Jacuzzi
71 Spirit Animal
72 Clean Up
73 Toy Box
74 Hire Me?
75 Camel
76 Have It Your Way
77 Kumite
78 Just Boo Boos
79 Pulled It Off
80 Ole!
81 Pleased To Meet You
82 Rehabilitate
83 Deadpool's Back!
84 Geez!
85 Tolliver I'm Home
86 Deadpool Vs. Domino!
87 Whaddo I Do?
88 Shatterstar
89 We Ain't Equals
90 Take Care Of Business
91 Wade Wilson's War
92 Packs Quite A Kick
93 Fallin'
94 Bad Mistake!
95 Yeeha!
96 Damage Control
97 It's Time To Die!
98 Get With The Program Cable
99 Paycheck
100 You're Wrong Deadpool
High Series
101 Earth-616
102 Accept No Substitutes!
103 Buzzkill
104 Chainsaw
105 It's A Trap
106 Boom!
107 Hiya/ Wade
108 Team 1
109 Team 2
110 6 Arms
111 Molson!
112 Snikt!
113 Dinosaurs
114 You Tell'Em!
115 Not In The Face
116 Action Montage
117 Action Montage pt. 2
118 Shark-Pool
119 Deadpool Inc.
120 Rain
121 Set Them Free
122 Last Deadpool Standing
123 Carbon-Fiber Katanas
124 Cut Cable's Heart Out
125 Nice Bone Structure
126 We Lost
127 Vs. Cable
128 Fun Right?
129 Regicide
130 You Killed My Family
Inserts
2019 Upper Deck Deadpool Inserts Checklists
3-D Lenticulars Checklist
42 cards.
1:23 packs.
Tier 1 – 1:27, Tier 2 – 1:180, Tier 3 – 1:864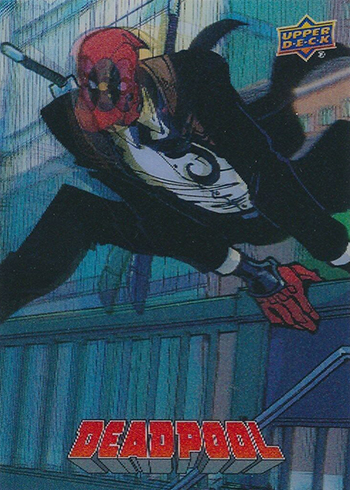 Tier 1
3D1 Cable
3D2 All Angles
3D3 King of Hearts
3D4 Target Practice
3D5 3-Dimensional
3D6 Daisy
3D7 Dinosaur
3D8 Top Rope
3D9 In Orbit
3D10 Vampires
3D11 The Corps
3D12 Ballerina
3D13 Cupid
3D14 Surface of The Moon
3D15 Train Robbery
3D16 New Challenger
3D17 Deadpool Party
3D18 Reading Comics
3D19 Don't Mess With Us
3D20 Ahoy
3D21 Lizard-People
3D22 Zero Gravity
3D23 Battlefield
3D24 Deadpool Rings
3D25 Coming Through
3D26 Fish Bowl
3D27 Selfie
3D28 Off The Page
3D29 Bats
3D30 Monster
Tier 2
3D31 Wanted
3D32 Sharp Edges
3D33 Under Control
3D34 Nick Fury
3D35 Pizza Time
3D36 Down The Middle
3D37 Celebration
3D38 Letters
3D39 Up In Flames
Tier 3
3D40 Head Stone
3D41 Parkour
3D42 The Holidays
Chimichangas with Deadpool Checklist
8 cards.
1:13 packs.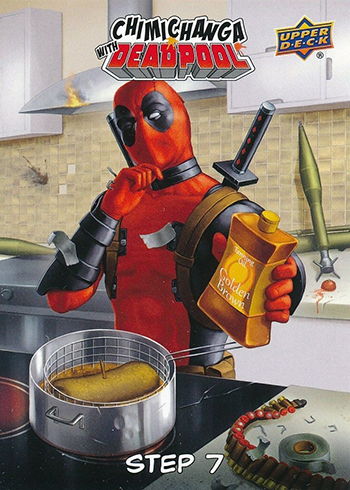 CWD-1 Step 1
CWD-2 Step 2
CWD-3 Step 3
CWD-4 Step 4
CWD-5 Step 5
CWD-6 Step 6
CWD-7 Step 7
CWD-8 Step 8
Deadglass Checklist
20 cards.
1:72 packs.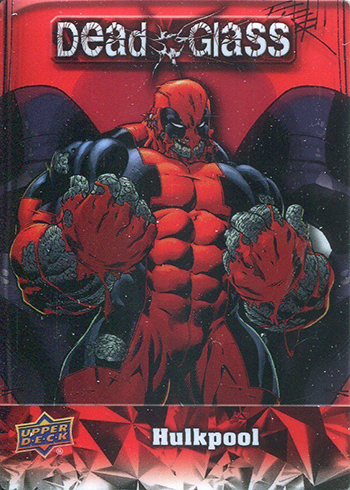 DG1 Kidpool
DG2 Venompool
DG3 Phoenixpool
DG4 Agent Emily Preston
DG5 Ellie Camacho
DG6 Green Deadpool
DG7 Sheriff Deadpool
DG8 Deadpool 2099
DG9 Ultimate Deadpool
DG10 Hellcow
DG11 New Costume
DG12 Dog Pool
DG13 Widdle Wade
DG14 X-Uniform
DG15 Wade Wilson
DG16 Thunderbolts Deadpool
DG17 Zenpool
DG18 Wolverinepool
DG19 Hulkpool
DG20 Pulp Deadpool
Deadpatch Checklist
42 cards.
1:24 packs.
Tier 1 – 1:32, Tier 2 – 1:144, Tier 3 – 1:360, Tier 4 – 1:1,800.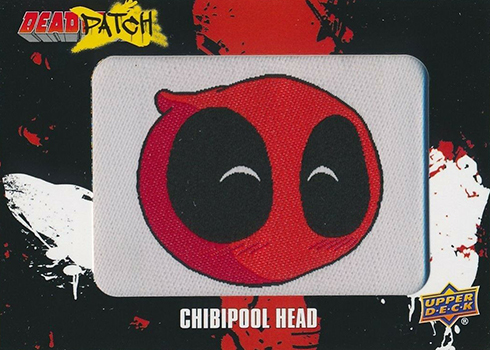 Tier 1
DP1 Dogpool Patch
DP2 Katana Patch
DP3 Dogpool Scratching Patch
DP4 D.P. Corps Patch
DP5 Headpool Patch
DP6 Lady Deadpool Patch
DP7 Lady Deadpool Katana Patch
DP8 Deadpool Blue Splash Patch
DP9 Power Wheel Patch
DP10 Dark Side Patch
DP11 Ladypool & Dogpool Patch
DP12 Deadpool Fam Patch
DP13 Kidpool Hoodie Patch
DP14 Outta The Way Patch
DP15 Graffiti Patch
DP16 Profile Patch
DP17 Arms Crossed Patch
DP18 Common Sense Patch
DP19 Chibipool Patch
DP20 No Deadpool Patch
DP21 Headpool Eye Patch
DP22 Headpool Zombie Patch
DP23 Propeller Hat Patch
DP24 Deadpool Mask Patch
Tier 2
DP25 Wade Patch
DP26 Chibipool Waving Patch
DP27 Deadpool-moji Patch
DP28 Psst… Patch
DP29 Here Comes Deadpool Patch
DP30 The Insufferable Deadpool Patch
DP31 Chibipool Head Patch
DP32 Incoming Patch
DP33 To Be Continued Patch
Tier 3
DP34 Waiter Patch
DP35 Toonpool
DP36 Swan Dive Patch
DP37 Classic Patch
DP38 !? Patch
DP39 Deadpool Speaking Patch
Tier 4
DP40 Flower Patch
DP41 Selfie Patch
DP42 Lost In Space Patch
Deadpool Bombing Checklist
12 cards.
1:8 packs.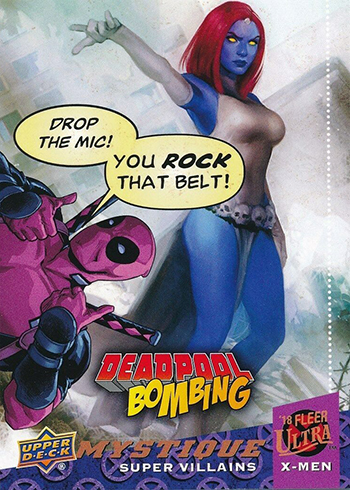 DB1 Ultron
DB2 Gorr The God Butcher
DB3 Shadow King
DB4 Omega Red
DB5 Arcade
DB6 Mystique
DB7 Loki
DB8 Bullseye
DB9 Red Skull
DB10 Juggernaut
DB11 Hela
DB12 Silver Samurai
Meet the Pools! Checklist
18 cards.
1:6 packs.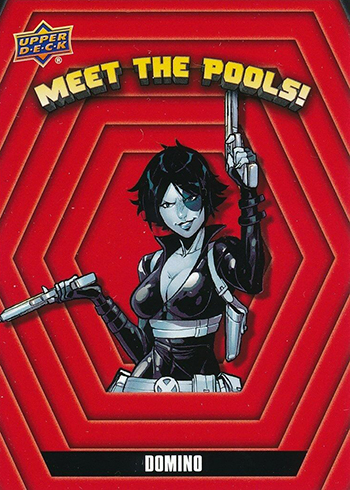 MTP1 Cable
MTP2 Wolverine
MTP3 Deadpool Pulp
MTP4 Wadey Wilson
MTP5 Hydra Bob
MTP6 Blind Al
MTP7 Weasel
MTP8 Negasonic Teenage Warhead
MTP9 Gwenpool
MTP10 Lady Deadpool
MTP11 Kidpool
MTP12 Headpool
MTP13 Dogpool
MTP14 Masacre
MTP15 Hit-Monkey
MTP16 Shiklah
MTP17 Domino
MTP18 Evil Deadpool
New Mutants 98 Comic Cuts Covers Checklist
9 cards.
NMC-1 Piece 1 (Top Left)
NMC-2 Piece 2 (Top Middle)
NMC-3 Piece 3 (Top Right)
NMC-4 Piece 4 (Middle Left)
NMC-5 Piece 5 (Middle Middle)
NMC-6 Piece 6 (Middle Right)
NMC-7 Piece 7 (Bottom Left)
NMC-8 Piece 8 (Bottom Middle)
NMC-9 Piece 9 (Bottom Right)
New Mutants 98 Comic Cuts Interiors Checklist
1 card.
1:432 packs.
NMI New Mutants #98
Sketch Cards
48 artists.
1:108 packs.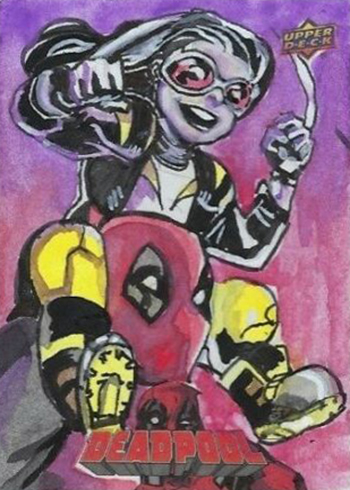 Adam Fields
Agus Sumantri
Ahjay Cerezo
Al Milgrom
Andrew Fernandes
Andrew Lopez
Andy Sparke
Anthony Figaro
Aposcar Guevara Cruz
Bryan "SilverBaX" Sheppard
Bryan Tillman
Cesar Flores
Chris Willdig
Criss Mitchell
Ed Mark F. dela Cruz
Elvin Hernandez
Ethan Castillo
Gary ODD Edmund
Gerardo "Todd" Vertiz
Glen Canlas
Gordon Wills
Harold George
Jadranko
Jeff Abar
Jeffrey Benitez
Jim O'Riley
Johnathan Ruple
Johnny Townsend
Jucylande Paula de Oliveira Jr.
Mai Irving
Marcelo Ferreira
Marlon Fernandes
Melike Acar
Mick and Matt Glebe
Mike Morrison
Omar Soto
Paul Hill
Peter Clinton
Phil Buckenham
Randy Martinez
Rhiannon Owens
Ruben Enriquez
Sean Forney
Shea Zubair
Sherwin Santiago
Tom Amici
Vicente Moavero
William Crabb
Sport Ball
12 cards.
1:8 packs.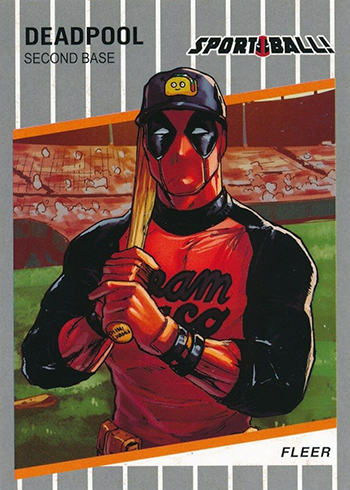 SB1 1989 Upper Deck Baseball
SB2 1989 Upper Deck Baseball
SB3 1992 Upper Deck Basketball
SB4 1989 Fleer Baseball
SB5 1987 Fleer Baseball
SB6 1990-1991 Upper Deck Hockey
SB7 1991-1992 Upper Deck Hockey
SB8 1989 Upper Deck Baseball
SB9 1994 Collector's Choice Baseball
SB10 1986 Fleer Baseball
SB11 1988 Fleer Baseball
SB12 1984 Fleer Baseball